We use affiliate links. If you buy something through the links on this page, we may earn a commission at no cost to you. Learn more.
Note: This is a 2nd opinion review of this product. We have another review of the Empire Builder bag that you might like to read as well.

For the past seven years, I've been using the same messenger bag as a laptop bag. I got it for free at a conference, and by the end of those seven years, it looked like they should have paid me to take it. So, when the opportunity arose to review the re-designed version of the Tom Bihn Empire Builder bag, I jumped at the chance.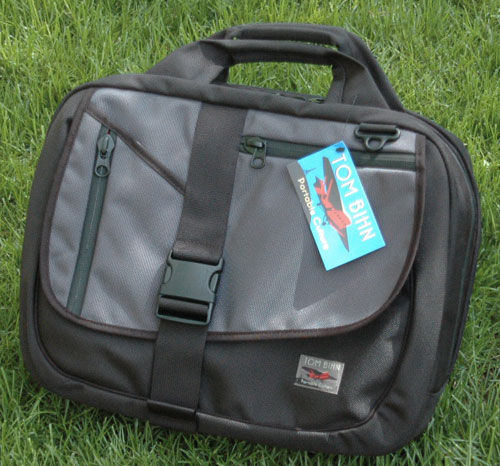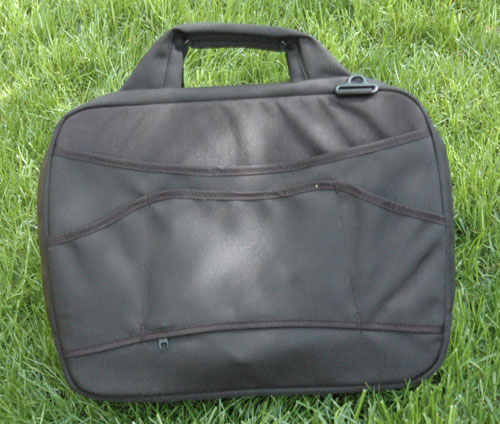 First Impressions
The most important concern for me in a laptop bag is functionality. At first glance, the Empire Builder appears to be an amazingly useful bag, with a large variety of pockets and pouches. Unlike many functional-looking messenger bags, the Empire Builder pulls this off while maintaining a stylish, professional appearance. This is a messenger bag I would not feel uncomfortable taking into a business meeting. (I should note that the folks at Tom Bihn refer to this bag as a briefcase, but given that it is made of ballistic nylon and Cordura and is designed to be carried via shoulder strap, it definitely gives more of a "messenger bag" impression than "briefcase" to me.) The ballistic nylon and Cordura make the bag very sturdy, and the fine construction of the bag shows the attention to detail that is common to Tom Bihn products.
The bag that I received has the "Black/Steel/Crimson" color scheme. The exterior is a businesslike black and grey, but upon opening the main compartment, the front flap or the front vertical pocket, you are greeted with a cheery bright red interior, adding a bit of playfulness and making it easier to find small items that would be lost in a darker interior.
Functionality
How many pockets are there on this thing, anyway?
The front flap has three external pockets – a small vertically-zipped pocket that is about the right size for a cell phone or PDA, a larger horizontally-zipped pocket which could carry a few CD's or DVD's, and a diagonal open pocket which would give easy access to plane tickets, passports, etc. The front flap is secured with a tough plastic 2″ side-release buckle (adjustable on the bottom side).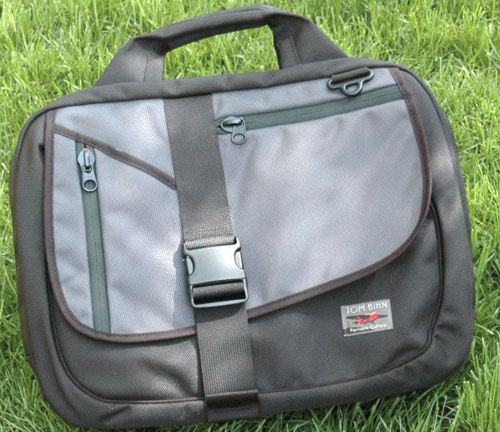 On the back, there is a large open pocket which could hold a few magazines or papers. Below this are three smaller pockets. The diagonal slash pockets on either side of the central pocket could hold a few pens, or a small cell phone, but the central pocket is the kicker: it has a zippered bottom, and when unzipped it becomes a slot that could fit on the extension handle of rolling luggage, allowing it to stack securely. When zipped, it's another pocket of roughly jewel-case size. The problem with using any of these as pockets for storage is that if you are carrying the bag using the shoulder strap, anything you have in there is pressing up against your body. If you use them for anything other than papers, magazines, etc, this would become quite uncomfortable. Additionally, since they are all open pockets, if you're caught in the rain anything inside them will quickly get soaked. On the plus side, I feel more secure carrying documents such as tickets or a passport in these pockets, secured against my body, than in the open front pocket designed for that purpose.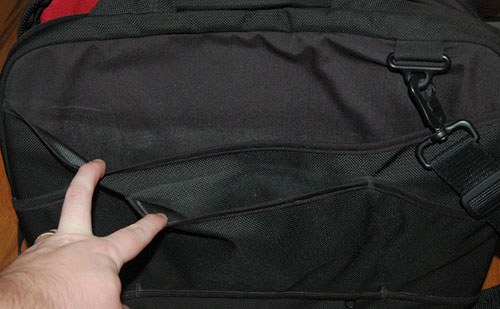 Opening the front flap exposes a huge open pouch with six pockets against the interior wall for holding pens, small electronics, eyeglass cases, etc. There is also a small ring with a key snap on the left side. Below the massive open pouch is another zippered compartment that extends for most of the length of the bag.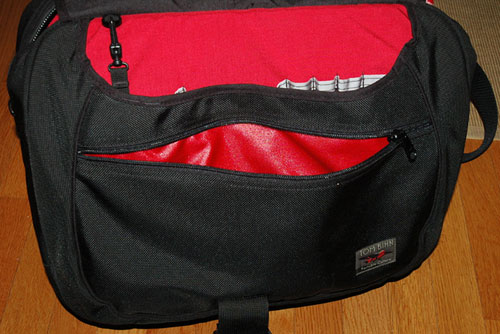 Good grief – all that and I haven't even talked about the main compartment yet. Let's take a few breaths, and dive on in.
The zipper for the main compartment goes almost all the way down the sides to allow easy access to the interior. However, it doesn't simply flop open. The main compartment is reinforced on the front, back and sides with 1/4″ Cordura-coated foam walls to provide additional protection to the bag's contents. The side walls hold the front and back of the bag together, but flexible attachments allow them to pull apart enough to access whatever you need inside.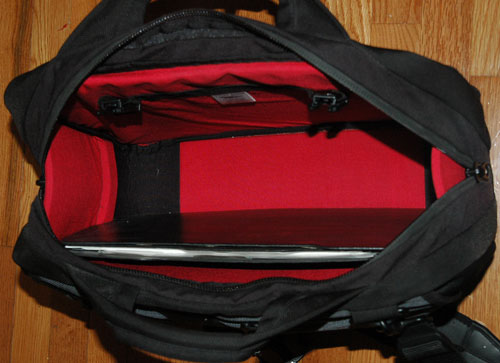 On the back wall of the main compartment there are two clips to secure a Tom Bihn Brain Cell laptop case (sold separately), turning the messenger-bag/briefcase/whatever-you-want-to-call-it into an incredibly protective laptop bag with minimal fuss. Oh, and there's yet another pocket on the Brain Case (snap shut, rather than zippered) for cords, small power supplies, etc.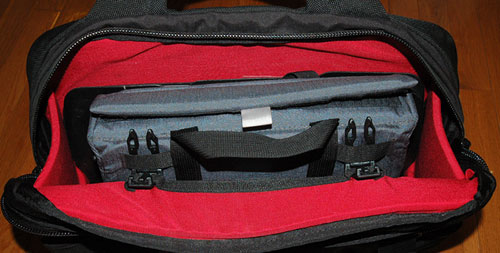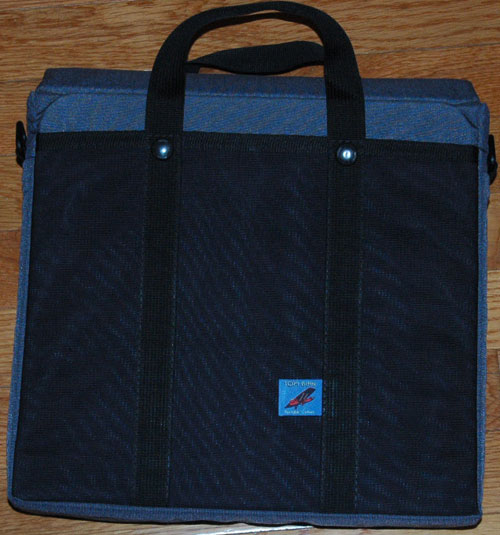 On the front wall of this compartment are three plastic dividers for papers, magazines, file folders, etc. These dividers can be removed or more can be added very easily.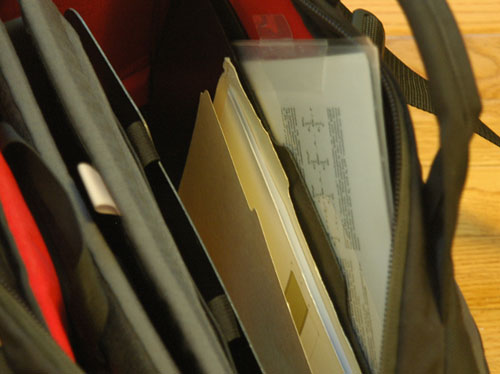 Two more storage areas, that I'm not sure were really intended, are on the sides between the external ballistic nylon casing and the internal foam reinforcement. Through extensive testing, I've discovered that as long as you don't slide the zippers down all the way, these makeshift pouches are the perfect size for storing twelve-ounce cans of your favorite beverage.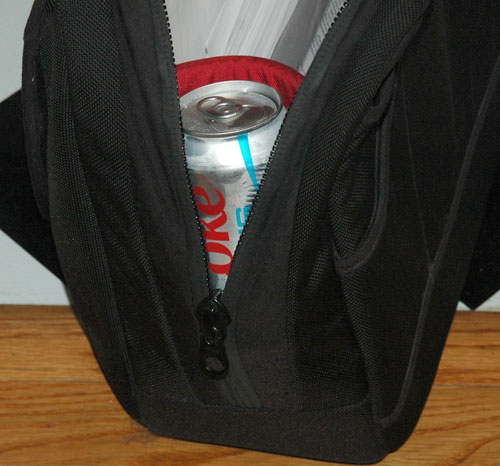 Whew. Those are all of the pockets/pouches/compartments that I've found so far. I'm sure that a year from now I'll find another few and wonder how they got there.
Later thoughts
Initially after transferring my gear to the Empire Builder, I found it somewhat uncomfortable to carry – it rested against my body in a different way compared to what I was used to with my old messenger bag. Within a day or two, though, I had either adjusted something, or had grown used to the way this bag is carried. I'm still not sure which. Now, the only time I have any discomfort while carrying the bag on my shoulder is when it is overstuffed, or when I'm moving quickly and it bounces against my body. These are problems with every shoulder bag I've had, so I'm not going to complain. The bag is rather bulky, and this can be a problem in crowded situations such as a city bus. I've lost track of the number of people who've received a ballistic nylon slap on their way to work. However, given the storage capacity of the bag this is not surprising, and muttered apologies seem to ameliorate the problem.
All in all, I'm very happy with the Tom Bihn Empire Builder, especially with the addition of the Brain Case laptop case. I plan on using this bag for many years to come. Given the sturdiness and excellent construction, I imagine it will still be in good shape for a long time.
Product Information
Price:
160.0
Manufacturer:
Tom Bihn
Pros:

Sturdy
Large carrying capacity
Good protection for contents
Comfortable to carry

Cons: