We use affiliate links. If you buy something through the links on this page, we may earn a commission at no cost to you. Learn more.
Product Requirements:
Any touch-screen PDA
Upon first glance, the Quill
Slant-Top Stylus, available from Stylus
Central, looks like a simple twist-action stylus. As I found out, looks can
be deceiving.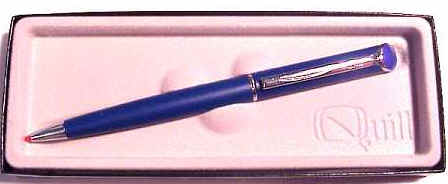 I was presented  with the blue model for this review, it is also
available in Black.
This Quill model, also called the 250S, is actually a dual end stylus and pen
combination. There is a cap that can be placed on either end, depending on which
you are using at any given time. The downside to this method is that this means
that at any given time, there is always one tip that will be left exposed.
Normally, it will most likely be the stylus tip.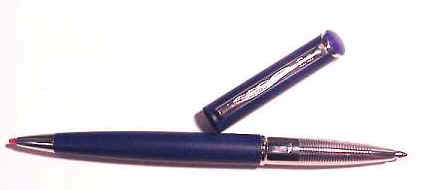 Comprised of a combination of what appears to be a baked on enamel and chrome
accents, the Quill Stylus certainly looks professional enough to carry into any
meeting.
As its name implies, there is a slant at the top of the stylus that can be
personalized with your initial.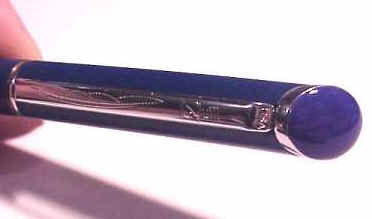 The Quill is 5.32″ (135.04mm) long, and .39″ (9.79mm) thick. This
pen is a little thinner than I like for extended writing – my hands have a
tendency to cramp, but for shorter periods of use it should be just fine for
everyone. The Quill's weight is comparable to other higher-end ball-points. My
Mont Blanc is only slightly heavier.
The Quill's stylus tip was a pleasant surprise. It is red in color, and has a
slight point to it. The surprise came when I began to write with it: I found
that it is spring loaded. Since I have not used a "floating tip"
stylus before, this was a new experience, and I like it!

For those of you unfamiliar with this type of tip. it is hard to describe,
but it seems to keep you from pushing too hard on your PDA's screen. The tip of
the stylus will actually move in and out as you write,  adding a balanced
feel to your writing.
The ball-point end of this combo is exposed by pulling off the cap. There is
a chrome end with slight ribbing for your grip.
I found the pen to write smoothly, and the ink did not skip. Refills are
available in Fine and medium, so there is something for everyone.

One of the more attractive features of this pen is that due to its design,
it is equally comfortable to use – whatever tip you are utilizing at the time.
Since the cap can be placed on either end, it seems equally balanced at all
times.
The Quill is a good choice for someone that wants both a pen and a stylus in
a single unit. The price is reasonable for such an attractive combo. As it is
not a traditional multi-pen, you'll be pleased that there is no rattle.
The only reservation I have is that as the stylus tip will be exposed most of
the time, there is a greater chance of it becoming damaged.
Price: $25.00 MSRP
Pen is available in Black or Blue

Pros:

Spring loaded tip
Smooth ball-point action
Professional appearance

Can be personalized on "slant"

Equally comfortable to use as stylus or pen

Comes with a lifetime guarantee against mechanical failure
Cons:
Exposed stylus tip
Product Information
Price:
$25.00
Manufacturer:
Stylus Central
Pros:

Spring loaded tip
Smooth ball-point action
Professional appearance
Can be personalized on "slant"
Equally comfortable to use as stylus or pen
Comes with a lifetime guarantee against mechanical failure

Cons: