We use affiliate links. If you buy something through the links on this page, we may earn a commission at no cost to you. Learn more.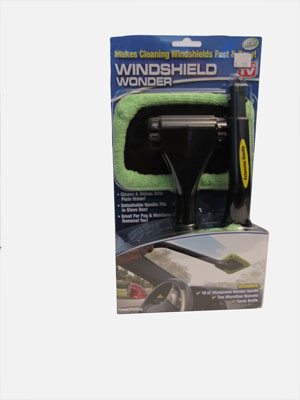 The Windshield Wonder is a small, portable wand with a microfiber cloth and pad that is meant for cleaning the inside of your windshield.  It looks like a no-brainer:  it is very small and can be broken down to fit into your glove box; its cleaning surface is very narrow (and small) and conforms to the curve of the glass, allowing you to maneuver it easily across the windshield; and it pivots, again making it perfect for the windshield.  And it comes with two (removable) cleaning pads and a mister for water (or other cleaning fluid).    All for $9.99.  Nice.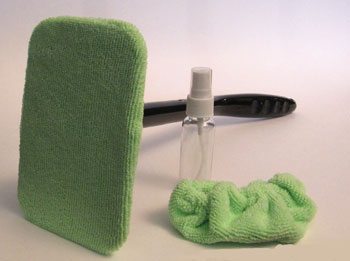 I'll get right to the point:  it works in the mechanical and ergonomic sense but leaves streaks.  If you were cleaning the windshield of an old beater car that you use occasionally, this would work for you.  It is convenient, compact, and not at all cumbersome.  But if you are faced with an Eastern commute in the morning and Western retreat in the evening, the streaks left by the device will leave you disillusioned (not only because you won't be able to see anything through the streaks).  I had a difficult time taking photos of the windshields of the cars I tested it on, so I took a few before and after photos using a mirror as the subject.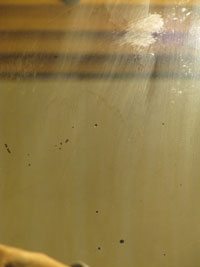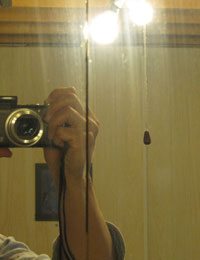 I zoomed in to show the nasty mirror, then cleaned it with the Windshield Wonder cleaning fluid that rhymes with "shindex" and then took another shot.  The "after" photo shows that the mirror is much cleaner than it was, but you can still see streaks.  For a mirror in a dark basement that sees very little traffic, or for a little old lady that only drives on Sundays, the Windshield Wonder will work okay.  But I really don't think a road warrior facing a highway in rush-hour traffic would find it satisfactory.
What is the alternative?  Hands down, the best way to clean glass without retaining streaks is to use wadded up newspapers.  This results in a ridiculously maddening ballet and a cursing torrent when engaging the technique inside a car.
How about a compromise?  This Gadgeteer uses a squeegee: the smallest squeegee that can be found.  But these can streak and smear too, so one needs vigilance in finding a high quality specimen.  It also has to be small so as to follow the curvature of the windshield.  Nevertheless, it's awkward trying to use a squeegee inside a car.  And it will leave some streaks.  So I still to this day sit in my car in traffic and daydream of an instantaneously clean windshield without the need for acrobatics.
Product Information
| | |
| --- | --- |
| Price: | $9.99 |
| Manufacturer: | WindshieldWonder |
| Pros: | Small, conforms to windshield, easy to maneuver, cheap, readily available in brick-n-mortar stores. |
| Cons: | |