We use affiliate links. If you buy something through the links on this page, we may earn a commission at no cost to you. Learn more.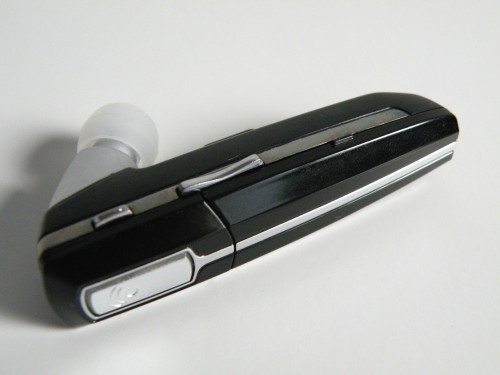 I have weird ears. In all the years that Bluetooth headsets have been available, I have had the hardest time finding a pair that fits into my ear canal (obviously, regular over-the-ear headsets fit.) I would have to be Dumbo in order for that to be a problem! I'm talking about the ability to wear those earbud types of headsets that block out noise from the outside world. My genetically mutated ear canals have continually blocked my efforts to have secure fitting earbuds. Most of the time they are either too big and fall out of my ears or are too uncomfortable and I can't wear them for long. Recently, however, I have had the good fortune of trying out a pair of Plantronics Voyager 855's.
This headset is stereo Bluetooth which means I can listen to my music in both ears and the sound is great. How do I know it's great? Because they stayed in my mutant ears! In the box, you get the headset with a detachable second bud for the other ear which I think is brilliant. You may not always want both ears plugged up if you aren't listening to music, so the ability to remove the second bud is a wonderful option in my opinion. You also get a carrying case, a lanyard for carrying the Bluetooth around your neck when not in use, two ear hooks, four sets of sound isolating earbuds (all silicone except for the one set of memory foam buds), charger and of course, the main headset.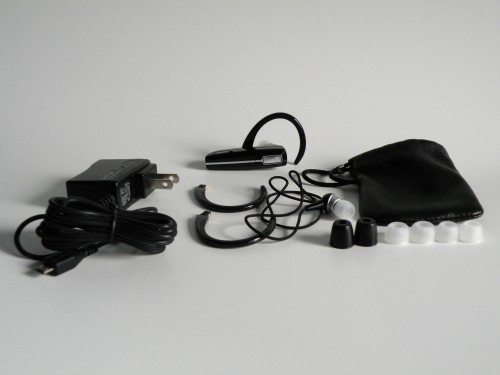 The earpiece charged up pretty quickly (about 3 hours) and then I proceeded to try on the different earbuds. The smallest ones fit, as well as the memory foam ones, but I decided to just leave the silicone ones on for the review. I've been using it for about a week now and here in NYC the weather has been changing a lot lately, giving me the chance to try them in different situations. The first thing I tried was the music and I was able to sync it immediately to my iPhone–it was the easiest pairing I ever experienced. I turned on my phone's Bluetooth and then turned on my headset for the first time. It was immediately recognized by the phone, I put in my passcode and that was it! I used the headset in stereo version (meaning I used both earbuds) and the music was clear and sounded great. I didn't even experience any "breaks" while the music was playing. You know that annoying thing that happens when the connection gets dropped momentarily and if you were on the phone, you'd be saying "Hello? Hello?" over and over again before the other person can hear you? I listened in my house for an hour then took a stroll outside to see if anything would change but the music played on. I even passed a construction site and I was still able to hear the music. However, it did give me a reason to play with the volume rocker button. I made the music louder but because of the good seal my ear had with the bud it really wasn't all that necessary. But one thing with the volume button is that it's too close to the mute button which I will talk about a little later. I was able to listen to my music for a few hours inside and outdoors and it continued to sound great and my ears didn't even hurt or get sore.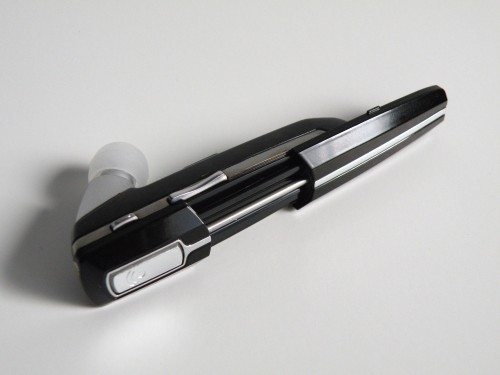 Finally my husband called me, causing the music to stop so that I could hear the ringing (or in the earpiece's case: the beeping.) I was thrilled to be able to try this cute feature the headset has for answering calls. You slide the microphone towards your mouth to answer and slide it back to hang up. You can also do the traditional button thing if you'd like but I hate pressing (or at least in my case) "trying" to press the button to answer a call. I always seem to miss at least part of the button whenever I have tried answering in the past and end up feeling like I'm poking myself in the ear just to answer a call. It was a bright, sunny day with no wind and the call went flawlessly. The battery life was also pretty good, it easily lasted 6 hours with me listening to my music and making and receiving normal phone calls. I say normal because I didn't try it when having a gabfest with one of my best girlfriends.
As I mentioned before the weather here has been changing a lot lately; two days later the wind was blowing all day 20mph and up off and on. I tried using the Bluetooth for making calls while I was outside. I have to say even though the makers tout the AudioIQ aspect of the headset which is supposed to keep calls clear "regardless of the noise around you", I found that in windy conditions, you can hear the caller but the caller has considerable trouble hearing you. On another occasion the caller wasn't able to hear me too well around a very loud motorcycle that happened to be passing me as I walked along the street as well. If you kind of cup your hand near the microphone it helped a lot. I had also wanted to raise the volume on the call because I was using the headset indoors beforehand, so I had the volume set low. But as I was reaching blindly around looking for the volume rocker I hit the mute button instead several times- which is why I mentioned earlier that I didn't think mute should be so close to the volume.
Now, is the last portion of my review a dealbreaker for me? Absolutely not because let's face it: how often do you use your Bluetooth in a wind tunnel? Realistically, the places I use my Bluetooth are usually enclosed areas- my car, the office and home. I very rarely walk around outside during windstorms trying to make and receive calls via Bluetooth. So, would I recommend it? Yes, it is a great headset overall and it doesn't have any issues that really bother me enough to not use it.
Product Information
| | |
| --- | --- |
| Price: | $149.95 |
| Manufacturer: | Plantronics |
| Pros: | Great sound, comfortable fit and good battery life |
| Cons: | Not good in windy conditions and questionable button placement |