We use affiliate links. If you buy something through the links on this page, we may earn a commission at no cost to you. Learn more.
Being an overweight diabetic is a pain in a lot of ways, but one of the biggest is the ongoing job of trying to lose weight- which always seems to find its way home. I welcome any tool in the fight, and CalorieKing's Handheld Diet Diary was brought to my attention as a possible ally.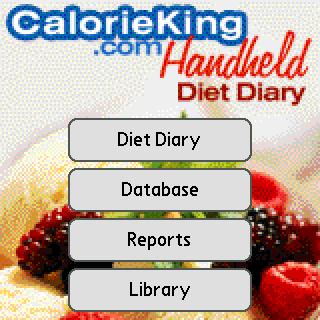 [CalorieKing Opening Screen]
Once I was through the simple installation process, I was presented with a few screens asking about my gender, height, weight, and average activity level which was used to calculate my Body Mass Index (BMI) and a calorie target. You can then go in and tweak the calorie target by adjusting target levels of carbs, proteins, fats, and fiber levels you wish to aim for every day.
So far, so good! Now you fill in the diet diary on a daily basis. Select a meal, enter the values, and sit back and watch the pounds roll off! Snicker! If only. If you know the values, great, otherwise we face the dreaded Food Database! When installing, you had the option of the Normal Database of 10,000 foods or the Full Database of 45,000 items. Most of the food databases I have encountered while trying to track my diabetes have annoyed the bejeezers out of me- what category is instant oatmeal in? How do I adjust for serving sizes? How do I count additives?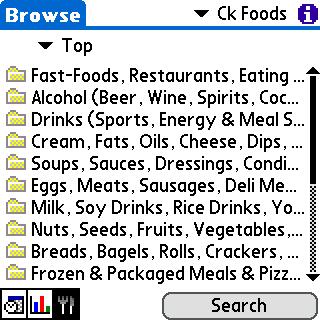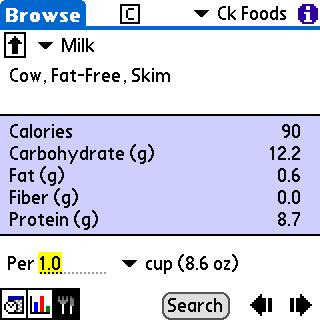 [The CalorieKing food database]
I found CalorieKing's food database to be better than average when I was using brand names- especially for common diet foods, and about average when I was looking for other foods. All in all, I find using carb reference books quicker and easier- look the stuff up and plug the numbers in. However, one thing that the database does allow is for you to put together elements for a meal and save them- useful if you often repeat meals. The database also lets you adjust serving sizes on the fly- saving you the math.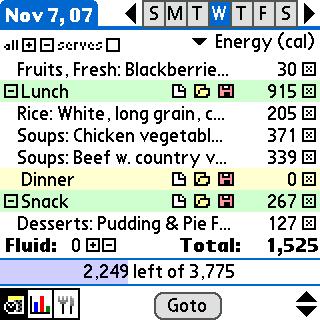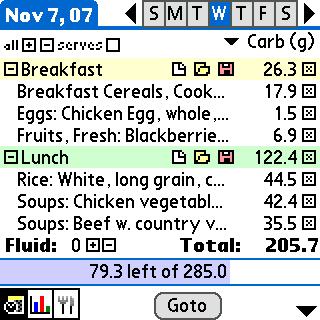 [The daily log- tracking 'energy' and carbs]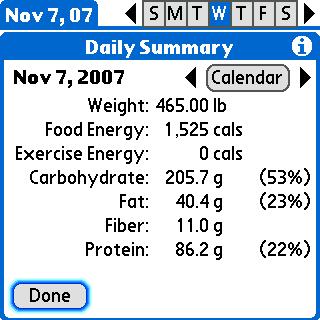 [A Daily Summary screen]
I like the diary screen and the flexibility of the options there. You can choose to display calories, carbs, fats, etc. and it shows a scroll bar and how you are advancing towards towards your daily goal. It allows you to track fluid intake as well, which is unique. Multiple show and hide, add or remove options exist all over. I found it to be well-designed and easy to use. A nice program from a company that makes several nice programs. The fact that the program syncs with a larger desktop version is just a bonus!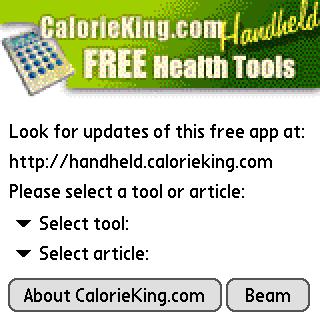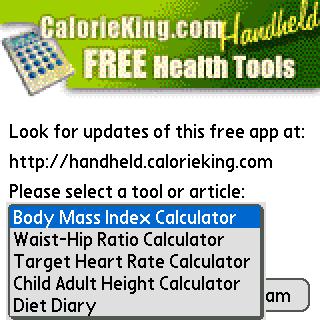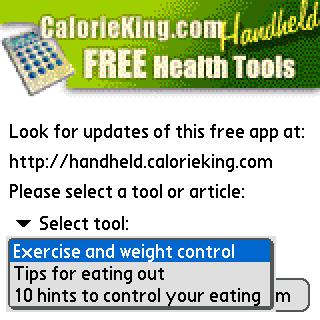 [Speaking of bonuses, the program is loaded with free calculators and articles]
There is no doubt that tracking calories and intake is a good way to accomplish weight management. Many experts recommend a food diary for most people to help them get a firm grasp on exactly what they are eating, in part because they often really do not track it and over-indulge. This program will help you do exactly this for $29.95.
On the flip side, $30 is more than I would spend for a good carb reference book, journal, and calculator, which is one strike against it. I think the paper system would take less time to use and be good enough for my purposes. A minor quirk is that the Daily Summary screen shows a place for 'exercise energy', but I cannot find a way to enter it into the Palm program. The biggest single thing I have against the program is just that it is kind of a drag- both to use and to be reminded of your physical state all of the time. I have to force myself to use it- which is not very rewarding or motivating.
Product Information
Price:
29.95
Manufacturer:
CalorieKing
Retailer:
CalorieKing
Requirements:

Palm OS operating system version 3.5 of newer
8MB free space on the main memory of your Palm OS device

Pros:

Good database, better than the average
Well-organized reports
Sync with desktop version

Cons: