We use affiliate links. If you buy something through the links on this page, we may earn a commission at no cost to you. Learn more.
Original review appeared May 20, 2004. An Update was
added November 17, 2005 and new remarks appear in red.
When Julie and I attended CES this
January, one of the items that caught my eye was the
KB-Reader Keyboard
by Atech Flash Technology which
featured a built in media card reader. My comment at the time was "I found my
dream keyboard. Imagine a keyboard with an SD/MMC, Memory Stick, and CFI & II
card reader built in. Impressive, don't you think?"
Of course, I didn't get to play with the CES display unit and by the time I
was approached by Atech about reviewing their keyboard, I had almost
forgotten about it. I received the KB-Reader in mid-April, and since then have
been using it daily. Has it lived up to my expectations? Read on…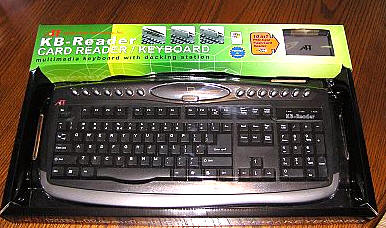 Included in the box was the multimedia keyboard, Pro Gear card reader, setup
disk, user's manual, and the USB cable for the reader.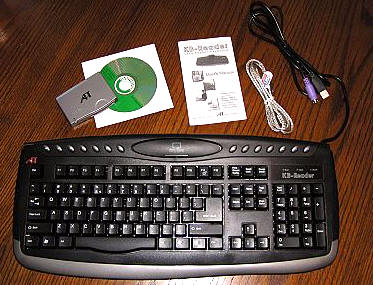 The keyboard is approximately 19" long x 8.5" tall by 1.5" thick. It is
composed of black plastic with a gray contrasting edge on the bottom. The
typical board keys are all black and the 14 "hot-keys" are in gray. The keys on
the board have what I feel is a satisfactory click, but if you are one that
prefers a "silent" keyboard then you might feel it is too noisy. I'll discuss
each of the hot-keys in a bit.
The keyboard is more of a classic style than some of the "natural" or wavy
ones available, which is fine with me – I prefer this type. At the top center
there is a door that when closed just adds to the finished look.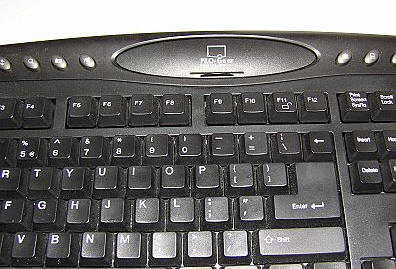 When the door is opened, a slot with centered mini USB connector is
revealed…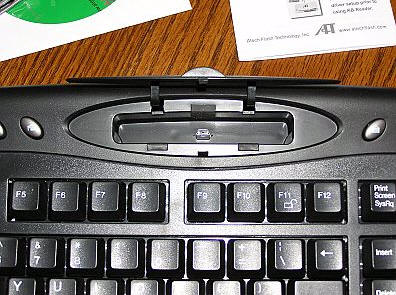 The included PRO Gear media card reader is designed to slide in and dock onto
the mini USB connector. It is quite compact, measuring 3.4" wide x 2.3" tall x
0.5" thick and weighing just 1.8 ounces.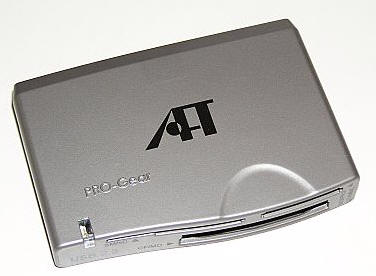 This reader can handle the following cards: Compact Flash™ Type I, Type II,
Microdrive™, Smart Media™, MultiMedia™, Secure Digital™, Memory Stick™, Memory
Stick PRO™, Memory Stick MagicGate™, xD-Picture Card™ . I was particularly
pleased with this reader since I just bought a Olympus C-750 which uses
xD-picture cards and I did not have a dedicated reader yet.      
Here you can see the back side of the reader and the mini-USB port which
docks into the keyboard.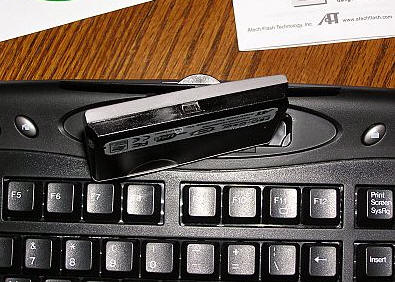 One of the extra features of the reader is that you can use it as a portable
when you travel with your laptop by using the included USB cable. It is
interesting to note that this same cable will also work with digital cameras
that have a mini USB port, so it may be handy to keep in your gearbag even if
you prefer not to carry the reader itself.
The keyboard plugs in with both PS/2 and USB cables. The PS/2 connections is
for the keyboard itself and the USB powers the card reader.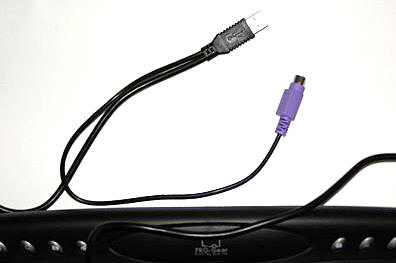 When you need to access information a memory card, you simply dock the reader
into the slot. A blue light will glow, showing that the reader is powered and
ready to operate. Depending on your personal preference, you can either keep the
reader docked in the port at all times, or you can remove it and close the door
when it is not in use.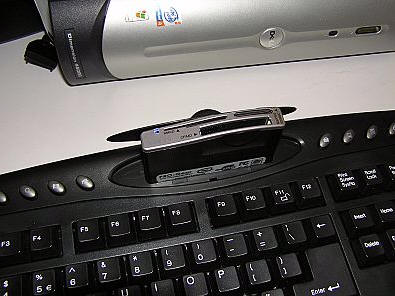 Four new drives will be displayed on your computer screen…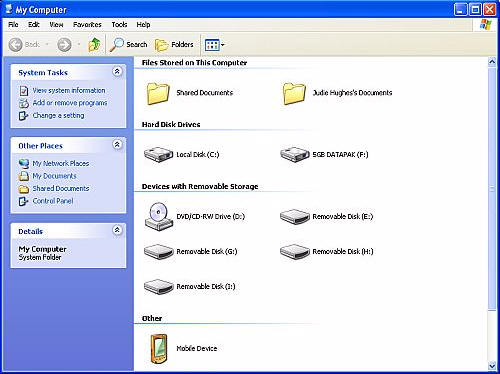 Once you insert a media card, depending on your settings, it should
immediately be accessible, along with the identity of the drive. Transfer rates
are up to 12 Mb/sec (via USB 1.1) and up to 480 Mb/sec (via USB 2.O).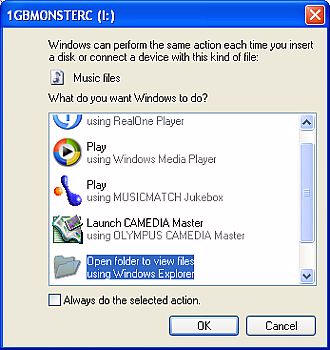 The built-in media card reader would be enough reason for me to be pleased
with this board, but there are actually 14 other features that add to it's
functionality – the hot-keys. They are broken into two groups of seven which are
on either side of the reader slot.
The first group of seven includes buttons that will perform the following
functions: Back an internet page, Forward an internet page, Stop
loading internet page, Refresh internet page, Search (when online,
it will pull up a default search page – if not online it will pull up the
windows search feature), online Favorites and Home.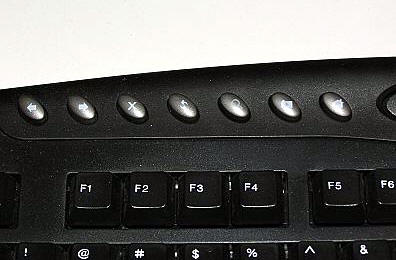 The second group of seven hot-keys will perform the following functions: open
default Mail program, open My Computer folder, initiate
Calculator, Power off/on computer, put computer in Sleep mode,
Wake up computer and Functions.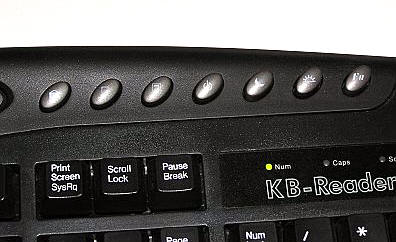 It has actually taken me a while to remember to use these hot-keys, because I
am so used to having to initiate all of these operations the traditional way.
When I do remember, these hot-keys save me a fair amount of time and
aggravation.
The KB-Reader Multimedia Keyboard is a gadget that has proven itself to be
both convenient and efficient. If you like the idea of having a card reader that
plugs directly into the top of your keyboard but that is also removable and
portable, then you might want to give the Atech a try. I am quite pleased with
mine.
KB-Reader drivers and manuals can be downloaded
here.
You can find retailers for this product
here.
Price as reviewed $50
Update added 11/17/05:
The KB Reader Multimedia Keyboard is now being offered
in a package which also includes a plug in iPod dock:
The KB Reader +
iPod Docking Keyboard. This updated package contains the KB Reader Keyboard,
an iPod docking adapter, a PRO-Gear Solo Reader, a  USB A to mini-B Cable,
a Setup Disk and the User's Manual, so in other words it is everything I had
reviewed previously, with the addition of a handy sync and charge dock which
plugs right into the port on the front of the KB Reader Keyboard.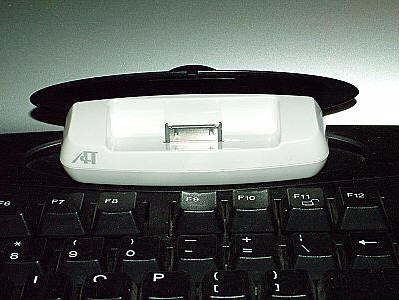 The new dock measures approximately 4" long x 1.25"
wide and 1.5" deep. It is composed of glossy white plastic which very closely
matches the finish on a white iPod. The dock will work with the iPod, iPod
Photo, and the iPod mini, and it does not require the original iPod
cable.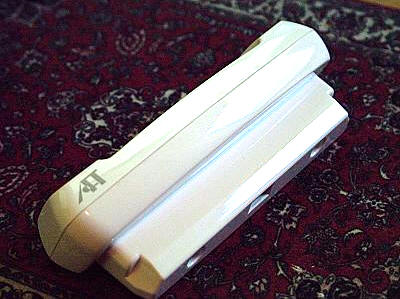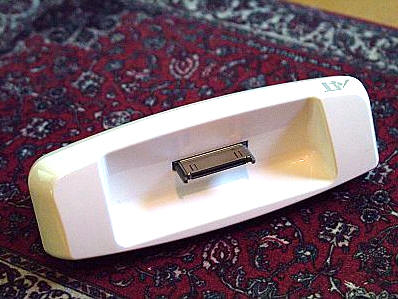 The iPod plugs directly into the dock, and it will
sync as well as charge through the keyboard. The main thing to remember is that when the user is ready to remove the iPod, it should always be ejected through iTunes to prevent any damage to the iPod.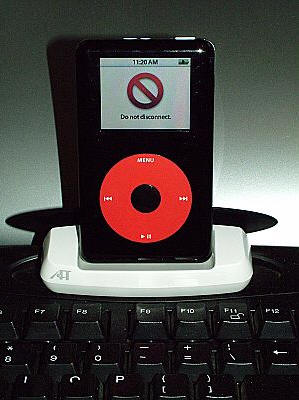 If you have been looking for a Keyboard that does more
than just enter data, then the Atech Flash KB Reader Multimedia Keyboard just
became an even more attractive choice.
Price as reviewed: $59.95
Product Information
Price:
Manufacturer:
Atech Flash Technology
Requirements:

Windows 98 & 98 SE / 2000, Windows ME / XP (no driver required)

Pros:

Built in media card reader dock
Removable and portable card reader included
14 hot-keys that serve convenient functions
Simple and sleek styling will match most PCs
Ability to sync and charge iPod through newly added dock

Cons:

Keyboard's keys may be too noisy for some