We use affiliate links. If you buy something through the links on this page, we may earn a commission at no cost to you. Learn more.
One of the fun things about finally owning an iPod is that I can now start
enjoying all of the nifty devices creative manufacturers are introducing to
further integrate the iPod into everyday life. While I have seen some strange
items that I wouldn't personally have a use for, like
the iGuy that
Julie reviewed, I have found one item which I was more than happy to add to
my desktop. The Atech Flash Technology
iDuo iPod Dock and Card
Reader is a free-standing device which reads the following types of memory
devices:
1. (CF) Compact Flash™ Type I,
2. (CF) Compact Flash™ Type II,
3. (MD) Microdrive™
4. (MMC) MultiMedia™
5. (xD) xD-Picture Card™
6. (SM) Smart Media™
7. (MS) Memory Stick™
8. (MG) MagicGate Memory Stick™
9. (PRO) Memory Stick PRO™ (true 4-bit support)
10.(SD) Secure Digital™(true 4-bit support)
All of these formats are worked into the three slots on the face of this
approximately 3.9" wide x 2.35" deep x 1.2" thick device. Included in the
package are the iDuo dock, a mini USB to full size USB cable, the setup disk and
a user's manual. I use Windows XP, so the disk was not necessary, but anyone
using Windows 98 or 98 SE will need the drivers included on the disk. The iDuo
will also work with Mac computers running OS 9.2 or later.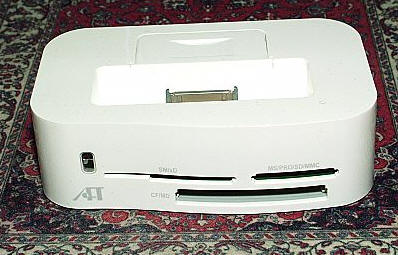 Available in either black or white, the iDuo I received is composed of glossy
milk colored plastic which will nicely match the front of white iPods. Located
on the top of the dock is a slot which will hold an iPod, iPod Photo or iPod
mini. A sliding plastic slug coming from the top rear of the iDuo may be slid
forward to support the thinner iPod mini, or slid into the rear position for the
iPod and iPod Photo.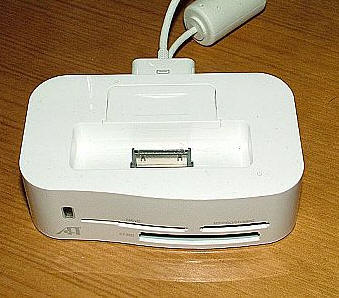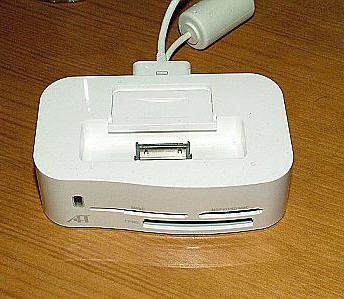 The card readers on the front of the iDuo use USB 2.0 and they have a reader
transfer rate of  up to 480Mb/sec via USB 2.0 or up to 12 Mb/sec via USB
1.1. Perhaps one of the most convenient features of this card reader is that
instead of having to guess which drive belongs to a particular card, they will
all be conveniently labeled upon the host computer. Even better, the currently
used drive will be colored blue instead of being gray.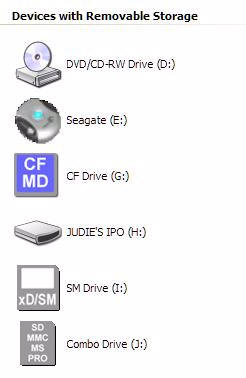 When a card is plugged into the reader, the blue light will glow on the side.
The light will flash as the card is accessed, but even when the card is
sitting idle the light will glow.
Never miss one of our posts again. Sent MON, WED, and FRI with the latest gadget reviews and news!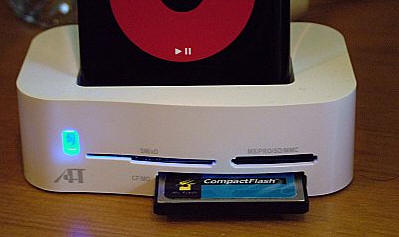 The only issue I had with the reader was that it would not open my Sandisk
2GB SD card. It recognized it and it showed it as being present, but it would
not open and read it.
The iDuo requires 5V DC, which is receives from the included USB cable. In
order to use the iDuo with an iPod, the iPods sync and charge cable must be
attached to the rear of the dock, which will require the use of another free USB
port on the computer.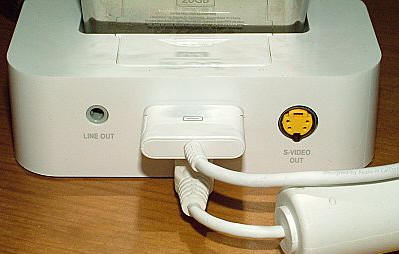 Located on the back of the iDuo are ports which will allow the user to plug
in a set of speakers and an S-Video cable for viewing pictures on a TV screen.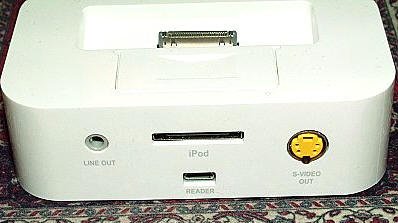 To use the Line Out or S-Video out options, the iPod cable should not be
attached to the rear of the cradle, as it will cause the iPod to display it's
"Do Not Disconnect" screen as it tries to sync with the computer. It probably
should be obvious, but I feel the need to state that when the iPod is docked in
the iDuo without its sync and charge cord connected, it will not be charging.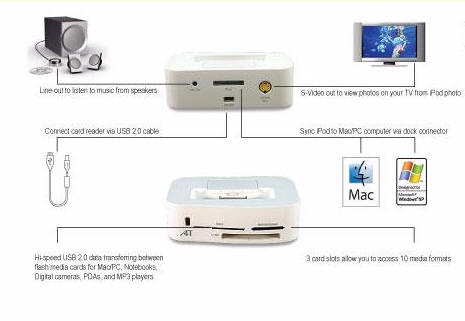 I have found it very convenient to use the iDuo as a cradle for my iPod. It
is very nice to have a place to set it , although I was a little surprised to
find that the blue LED which blinks as card info is being exchanged with the
computer does nothing when the iPod is docked. It's probably wisest to think of
the iDuo as two separate devices – a card reader with blue LED which is powered
by the included mini USB cable, and an iPOD sync and charge dock which is
powered by the iPod's USB cable.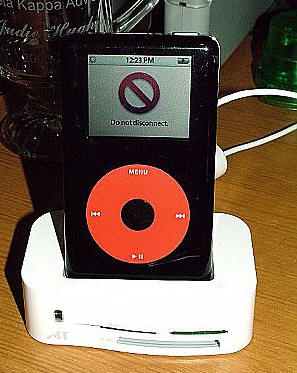 I have been using the iDuo for a little bit over a month and other than the
fact that it can't read my iPAQ's 2GB SD card, I haven't run into any other real
shortcomings, although I wish that there were a way to operate it with only one
consolidated USB cable. Otherwise, it has been extremely convenient, especially
since it does accept the xD card which my camera uses.
Update 12/10/05: My contact at Atech Flash wrote to tell me that after
this review appeared they confirmed that there was a problem with 2GB SD cards
and their engineers have
completed and posted a Firmware update. I have used the update and can
confirm that it works perfectly – be sure to download it!
If you have been looking for a card reader which can do more than just read
memory cards, or if you have been looking for an iPod cradle that does more than
just look pretty, then you may want to check out the
Atech Flash Technology
iDuo iPod Dock and Card
Reader.

Julie's comments:

Edge Tech Corp, another company that sells this same exact dock / reader combo contacted me asking if I wanted to take a look at it. Even though I knew that Judie already had one to review, I agreed to test it with my iMac, the iPod nano and my new Video iPod.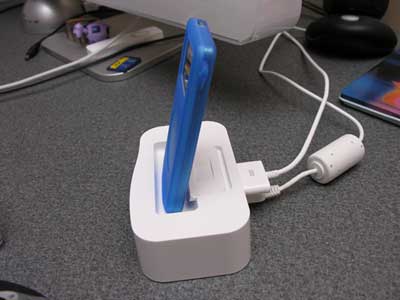 Here you see my nano in the dock. The size slider switch on the dock doesn't really help when inserting the nano, so you just have to be careful how you remove the player, so that you don't torque the connector.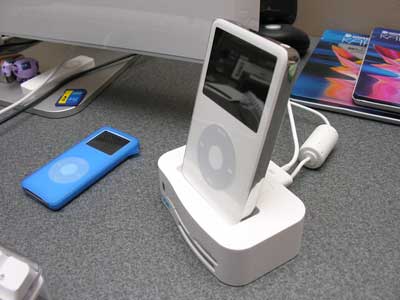 I gave it a test with the Video iPod too. No problems at all… The size slider is not needed here either.
I really like this device. It's combined two items that I already had on my desk to just one. But like Judie, I'm not thrilled that 2 USB connections are required. I'll deal with it though.
FYI: Edge Tech Corp sells the iDuo for less than Atech.
Product Information
Price:
59.95
Manufacturer:
Atech Flash Technology
Requirements:

Mac OS 9.2 or later
Windows ME / XP (plug & play), Windows 98 & 98 SE / 2000 (driver required)
iPod, iPd Photo, iPod mini

Pros:

All in one unit card reader
Syncs & charges iPod
Available in black and white finish

Cons: