We use affiliate links. If you buy something through the links on this page, we may earn a commission at no cost to you. Learn more.
Close to 3 years ago, Michael Shulver wrote an excellent review of the large version WaterField Cargo bag. Since that review, WaterField has updated their Cargo bag to include a leather flap and choice of flap buckle. Since I am not going to re-write Michael's review, I suggest that you go read it and then come back here to read about the differences in this new version and the differences between the Large and Medium versions of the bag, since that is the version that was sent to me for this review.
First of all, I just want to say that WaterField makes terrific gear bags. I've used their Cozmo bag on and off for the past 2.5 years. It still looks like new and barely shows any signs of wear. So it goes without saying that I was happy to take a look at their Cargo bag too.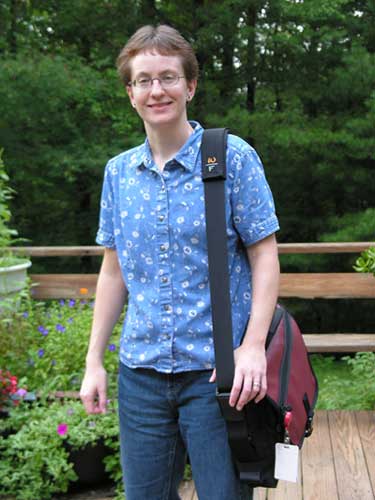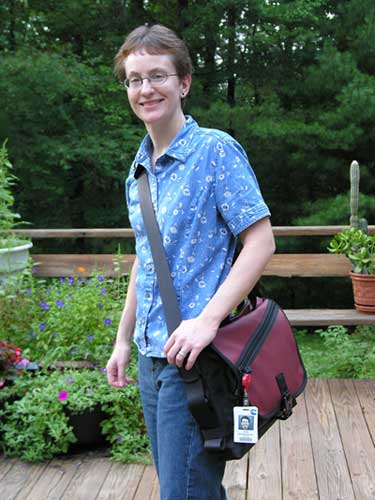 The medium sized Cargo bag is 16″ x 12″ x 3″ and 2.9 lb when empty. Even loaded down it is comfortable worn over the shoulder or bandolier style. The medium differs from the large in size (duh!) and lacks the hard plastic insert that the large has. This means the medium bag is a bit softer and contours to your body when worn.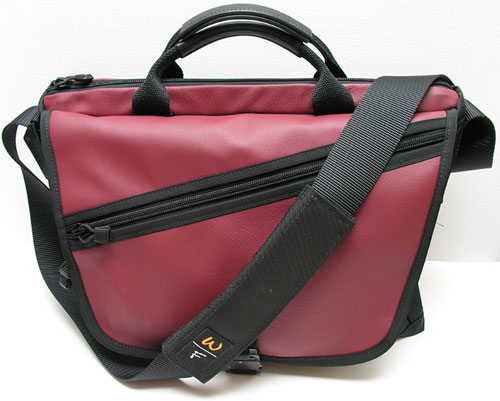 In addition to 6 colored checkerboard flap choices, for an extra $40 you can now choose a leather flap in 6 different colors (Black, Cardinal, Camel, Grey, Gold and White). I was sent the Cardinal version, which you can see is a deep ox blood color that is very unique and stylish.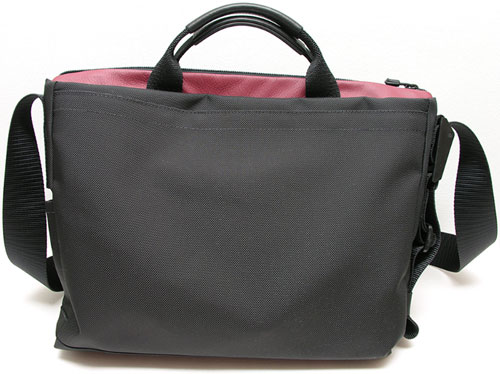 From the outside the large and medium sized bags are the same. Both have a front diagonal zipper, a large back Velcro closed pocket and a black plastic adjuster for the shoulder strap.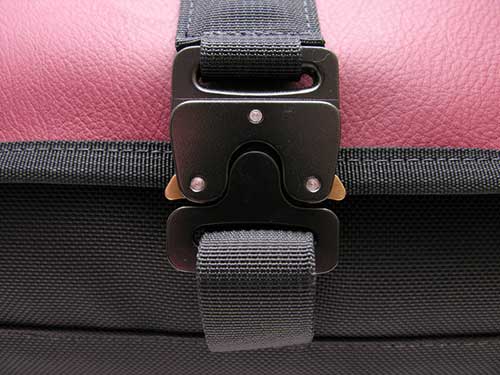 Besides new front flap choices, there is a choice for the type of flap buckle to use. The Aluminum aircraft seat buckle is still available, but now there's also the Para-glider style metal buckle. I really like the para-glider buckle, mostly because it's different. It does take a while to get used to opening it if you've never used one before. Basically you just run the index finger and thumb of one hand along the buckle edges, pressing in as you do so.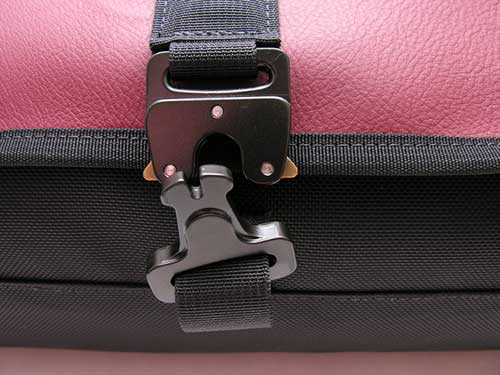 Your fingers will press the brass spring loaded latches in, which will allow the bottom part of the buckle to unlock. This is easy to do with one hand, but closing the buckle with one hand takes a bit of practice.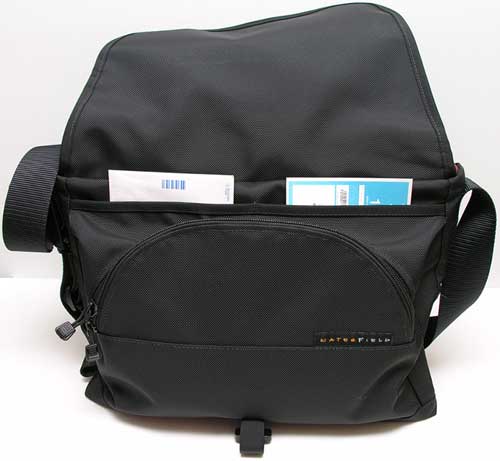 Under the front flap, you will find that instead of a zippered pocket, in its place there are 2 open pockets for papers or other large items. The main zippered compartment also lacks the dedicated laptop pocket. The medium bag can hold the size 9 laptop sleevecase. The rest of the main compartment pockets (shown and described in Michael's review) are still there though. The only thing I can really find a gripe with is that the main compartment feels a bit narrow to access. Once the bag is sufficiently broken in, this might go away though.
There you have it, not too many differences between the medium and large versions, but enough to warrant mentioning. I've been using this bag for about a month now and like it very well. I wouldn't say it is my end-all, be-all gear bag, but it holds a lot of gear, looks fantastic and is built to last for years and years.
Price: $229.00 (with leather flap), $189 (without leather flap)
Pros:
Holds a lot of gear
Leather flap looks great
Para-gliding buckle is unique
Cons:
Main zippered compartment feels narrow
Product Information
Price:
229.0
Manufacturer:
Waterfield
Pros:

Holds a lot of gear
Leather flap looks great
Para-gliding buckle is unique

Cons:

Main zippered compartment feels narrow