We use affiliate links. If you buy something through the links on this page, we may earn a commission at no cost to you. Learn more.
Device:
Any touch screen device
The Jornik Duo Penstylus which is available at Styluscentral.com and other retailers is an understated pen stylus combo that comes in two clip styles.
One version has a standard metal pocket clip and the other has a plastic pocket clip that can also dock inside the Palm V or m500 series stylus silos.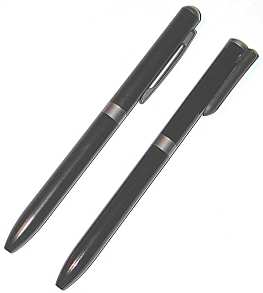 The Jornik looks like a typical business style ballpoint pen. The standard pocket clip version has a metal body with a black matte finish. The clip, top end and waist are a contrasting pewter colored metal. 
The actual pocket clip is very tight. I really think it's way too tight. I couldn't get it to easily clip to my pocket.
The pen has a nice weight and balance to it. It has just the right thickness to be comfortable in my hand.
It also doesn't rattle at all either when a tip is exposed or retracted.
The docking clip version of the Jornik is also black and pewter. But, the finish is shinier and the top end is flat instead of domed.
I think both pens would lend themselves well to having a company name / logo imprinted on them.
The pocket clip is black plastic and unlike the other version, is easier to actually clip onto your pocket. Besides using it as a pocket clip, it can also dock in the either stylus silo on the Palm V/Vx or the right silo on the m500/505. This isn't a feature that I get too excited over. The Jornik is longer than the PDA so when it is docked, it doesn't look quite right to me. But, if you want to dock it, you sure have that ability.
Never miss one of our posts again. Sent MON, WED, and FRI with the latest gadget reviews and news!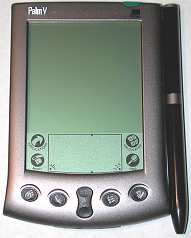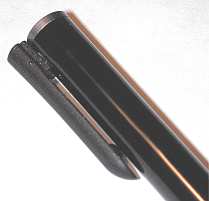 Both pens use a twist action to extend either a black ballpoint pen tip or the stylus tip. Twist the barrel one way to expose one tip, twist it the other way to expose the other. Do a quarter twist to retract the tip into the body.
I found the black ballpoint pen to write smoothly and without skipping for the most part… One of the pens would continually act like it had run out of ink only to write
fine a day or so later. I think it just must have had a bad refill in it.
The stylus tips are black pointy tips. Since the pen has a black body, I find that I don't care for the black stylus tip because it is hard to see. I would prefer a red or white tip. This is just
a personal preference though. The stylus writes just fine on every PDA touch screen
that I tried it on.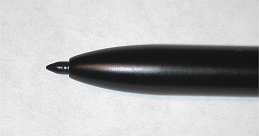 The bottom barrel of the pen can easily pull off to expose the tips when you need to refill them.
The Jornik isn't a flashy pen / stylus combo by any means. Instead it is a simple writing instrument that has a businessman's attitude at a pauper's price. 
Price: $19.95
Pros:
Inexpensive
Palm V / m500 series docking version available
Metal body
Nicely Balanced
Cons:
Black stylus tip hard to see
Metal pocket clip version has a very stiff clip
Product Information
Price:
19.95
Manufacturer:
Stylus Central
Pros:

Inexpensive
Palm V / m500 series docking version available
Metal body
Nicely Balanced

Cons:

Black stylus tip hard to see
Metal pocket clip version has a very stiff clip