The Gadgeteer is supported by readers like you! If you buy something through links on our site, we may earn an affiliate commission at no cost to you. Thank you! Learn more.
Device:
Supports all Pocket PC devices
Checkers uses approx. 62K
Dominoes uses approx. 280K
Being lazy is one of my favorite past times, but it just never seems like I
have enough of an opportunity to partake in it! When the moment finally comes
however, I am always up for a good game. 
Some of the best time-wasters around are the games many of us enjoyed in our
youths. Checkers and Dominoes were a couple of my favorites, so it was fun to
see that Omega One  had stepped up to
the plate and made Pocket PC versions of both. 
Checkers (v.1.0.10222):
Checkers is
just like you remember it, but with a twist: you can either play it against your
Pocket PC, or against another human. You can also set the difficulty to a
manageable level, as there are eight levels: Novice to Grand Master.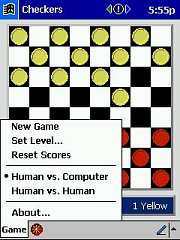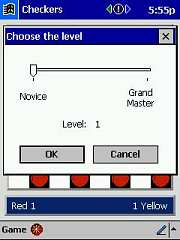 Once game-play actually starts, it is smooth and fast! You simply drag &
drop your checker to the desired area, and play til either of you wins. The
computer plays instantaneously after your move. I tried this game on my iPAQ,
Jornada 548, and Julie's EM-500. I noticed a slight speed difference between the
different PDA's response times, but it was not severe at all.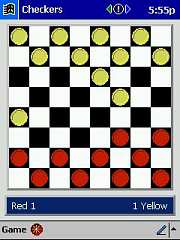 Once yours or your opponent's checker makes it to the opposite end of the
board, it is automatically "crowned", and it can move either forward
or backward.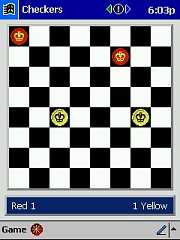 I saw this screen more times than I care to admit – even on the lower
settings, This version of Checkers can be quite challenging.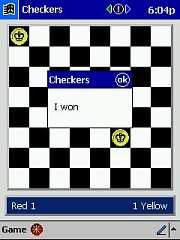 I did manage to see this screen a few times, though!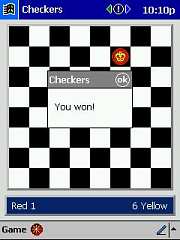 A new game is started by clicking the red checker next to the Game
button.
My only issue with this game is that there may be times when you are in the
middle of play and you are at a point where a jump is possible; but you don't
necessarily want to take it –  for instance when your opponent can turn
around and jump 2 or 3 of your men after you get just one of his. 
With this version, if there is a jump possible and it is your turn – you have
to make it.  I really think I would have been able to win more often if I
hadn't been forced to make those forced moves…but then, that could just be
sour grapes, too! 
Dominoes (v.2.210218):
Dominoes is a
game that I never really got the hang of when I was younger. We didn't play it
in any complicated manner, other than just making sure that you started with the
double sixes, and that you put a tile that would match whatever tile was open on
either end. My brother and I never kept "points', but we did play best out
of five.
The point of this, is that playing with rules is a little different for me,
but not necessarily a bad thing! :0P
This version of Dominoes is fun! You can choose standard or multiples, and
there are four settings from "Easy Peasy"  to "Tough as
Nails."
You can choose from several different backgrounds for your play area, too. My
favorite is the Hessian Fibers background.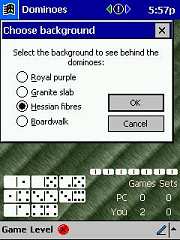 Once you are actually playing, the game progress quickly. You can choose your
tiles, and almost instantaneously the computer will respond. There is no option
to play another human on this game, but the computer is a worthy opponent.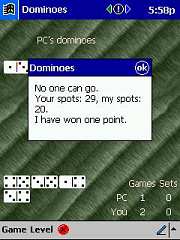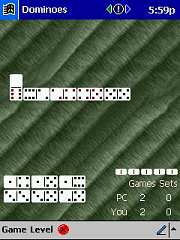 If you get stumped, you can hit the red button. When there is a move
available to you, you will get a hint, but if none are available, it will allow
you to "skip" your turn.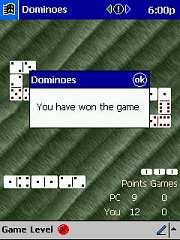 This game is fun, but a bit different than the way I am used to playing,
obviously. We always did it where you had to start if you had the double sixes,
but in this version, whoever goes first, goes first.
Conclusion:
One thing I would like to see implemented in future versions, would be an Exit
button on each game.
Both games are available as trial versions, and they are well worth
registering. I have wasted time playing these games that I should have been
using to write reviews – good thing I could call it "research"!!! :0)
Price: $14.99 each
Save money by purchasing
the games together for $19.99
Pros:
Fun, intelligent computer or human games
Cons:


Expensive, unless you buy them together
Product Information
| | |
| --- | --- |
| Price: | 14.99 |
| Manufacturer: | Omega One |
| Pros: | Fun, intelligent computer or human games |
| Cons: | Expensive, unless you buy them together |