We use affiliate links. If you buy something through the links on this page, we may earn a commission at no cost to you. Learn more.
Product Requirements:
Supported phones include:
Nokia 8210/8250, Samsung N628/T108, Nokia
7210/7250, Ericsson T28/T29, Motorola V998/T191 and other compatible models
Oh, to be fourteen again…back in the days before caller ID and *69. Back
when you could make a prank phone call without getting busted. You had better
believe that if I had owned a cell phone back in those days, and had I not been
afraid of being caught by someone's caller ID, I would have had a bit too
much fun with the JIAHE Caller Voice Changing Headset.
This headset is capable of changing a man's voice to a woman's and vice
versa. No, there are no crazy sound effects or outrageous vocal distortions, but
sometimes just being able to switch your gender while on the phone can be a
pretty good trick in and of itself. I can think of a couple of times when being
able to do so might be handy: receiving calls from an unknown number and not
wanting to let on that I am female, pretending to be my own "male secretary" and
just generally goofing around on someone who is calling and expecting to speak
with me.
In the package is the JIAHE Headset. The earphone is on a cable which also
includes the JIAHE Caller main unit. The earphone tucks into the plastic bulb
located on the neck strap when not in use, and at the end of the contraption is
a plug for the speaker-jack on the mobile phone.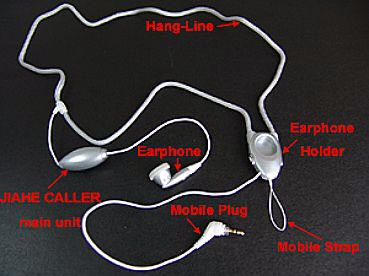 Photo courtesy of Mobile Brando
The main unit of the JIAHE Caller is laid out according to this diagram. When
the bud is tucked in your ear, the pod will hang near your mouth, enabling your
voice to be picked up by the microphone. You have the choice of switching the
inflection from male to female, and the Power switch allows you to turn off the
effects and use the device as a regular hands free headset.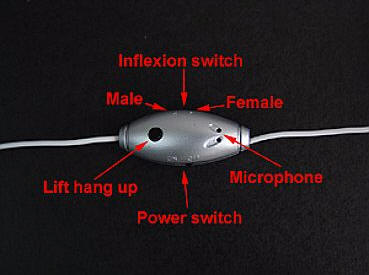 Photo courtesy of Mobile Brando
When you are not taking calls, the hang-line (or lanyard) is around your
neck, and the earphone can be tucked into the holder. There is a mobile strap to
attach your phone to the lanyard, so that you can wear your phone dangling from
your neck. For some bizarre reason, my Motorola V60.v is probably the only phone
available today without a lanyard hole. Go figure.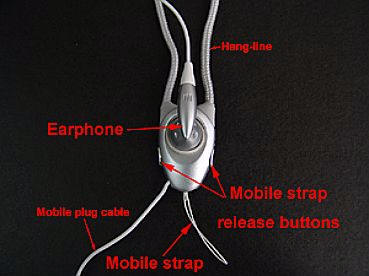 Photo courtesy of Mobile Brando
The two buttons on either side of the earphone holder will release the mobile
strap when pressed. A word of warning here – the mobile strap is not
super-secure in the slot, and being removable in nature, it does not take much
of a tug to dislodge it from the hang-line. You probably should not rely on it
to support your phone. The earphone is typical ear-bud style. It won't be
comfortable for long periods of time, but it will be okay for the occasional
call.
Actually trying out the JIAHE was an exercise in frustration. As I mentioned,
I have a

Motorola V60v. When I attempted to make or answer a call, the headset was
dead. Pushing the lift/hang-up button did nothing and so in frustration, I tired
it on my daughter's Kyocera, also with no luck. As a last resort, I tried it on
Steve's Samsung i500…no dice. You
would think that even if the lift/hang-up feature didn't work, the headset could
still function. Well crud. It's a bit frustrating to start a review and then
find out that nothing you own will work with the item…or if it even works at
all. :0(
Maybe it is just as well. The inner fourteen year old in me probably doesn't
need to be re-released on the world.
The JIAHE Caller Voice
Changing Headset is available from
Mobile Brando.
Price: $13
Pros:
Neat idea
Cons:
Mobile strap is not secure for hanging mobile phone from
The earphone is uncomfortable
Did not work with any of the phones in my household