We use affiliate links. If you buy something through the links on this page, we may earn a commission at no cost to you. Learn more.
I am always amazed when someone comes up with a simple solution that solves a
serious problem. You know, one of those types of  ideas or tools that makes
you smack your forehead wondering why you didn't think of it, once you've
learned of it. Some of the best ideas are those which can either dramatically
improve your quality of life or those that will noticeably improve your safety
as you enjoy life. The Glo Glov
easily accomplishes the latter.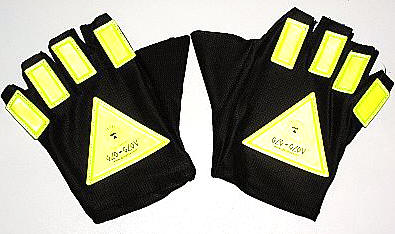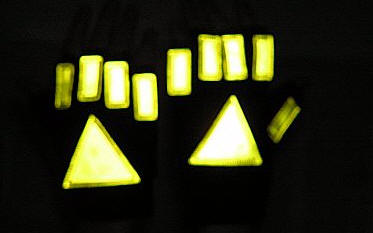 Comprised of non-fraying Tricot nylon
(spandex) with custom-shaped Reflexite retro-reflective vinyl patches,
the Glo Glovs will reflect light from up to a quarter of a mile away. Just to be
clear, the gloves do not emit a light of their own, and they do not glow in the
dark. What they do is very efficiently reflect light when it is shined on
them.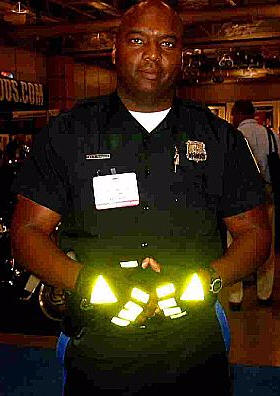 Officer Shay Sampson  Camden
Police Dept  New Jersey
Photo courtesy of the Glo Glov site
Invented by a former police officer's wife after she had a disturbing dream
about "an officer standing in the road at night, directing traffic and the
motorists could not see him," the Glo Glov is actually a great product for
anyone that needs the protection of maximum visibility in the dark.
There are several different styles available, but they all follow the same
basic design and principle. They are black, stretchy, fingerless gloves that
feature strategically positioned reflective patches. Sized to best fit a man's
hands, the only con I found when testing the gloves was that they were a
bit too large for mine. While I would have been more comfortable with a tighter
pair, they weren't exactly falling off either. I am 5'10 and probably have
larger than average sized hands for a woman. A more petite woman would
definitely find the gloves to be too large.
Removing size as an issue, the gloves are perfect for anyone that is
doing anything outside in the dark. While there are plenty of
testimonials from police
officers and Department of Transportation types, if you walk in the early
evening or morning, if you ride a bike or motorcycle or if you do anything that
you want to be seen while doing, then these gloves are exactly what you
need.
Because of this, I would really like to see these gloves offered in a
smaller size that would better fit women and older children. I definitely think
that these are two sets of people that would greatly benefit from them. I mean,
who else do you see in your neighborhood every day jogging, walking or riding
their bikes? With Halloween coming up later this month, purchasing a kid's
version would have  been a no-brainer.
With that said, lets take a look at the two styles I received…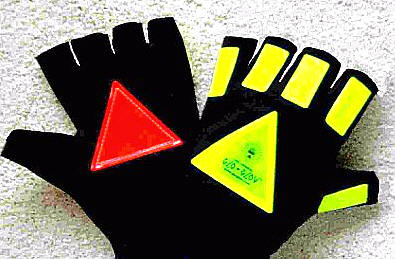 Picture courtesy of the Glo Glov web site
The original style Glovs are simple, non padded fingerless gloves that have a
strip of yellow reflective vinyl patched
onto the back of each finger and thumb. A yellow reflective triangle is situated
on the back of each hand, and in the palm is a bright orange reflective
triangle.
These gloves are great for walkers, joggers, policemen directing traffic –
and even motorists changing a flat tire on the side of the road. One cool thing
about the Glo Glovs is that they will stretch to fit over full fingered gloves.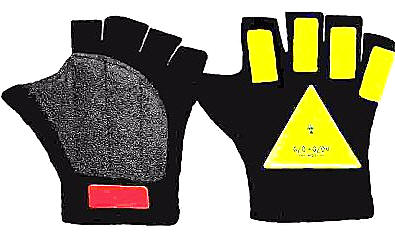 Picture courtesy of the Glo Glov web site
The main difference between these and the original Glo Glov is the addition
of a nicely padded palm. Therefore, instead of a large orange triangle in the
palm, there is a red reflective strip at the wrist. These gloves are prefect for
anyone that wants the extra padding motorcyclists, people that ride 4-wheelers,
bicyclists, kayakers, you get the idea.
There is also a style made only for traffic control professions. These are
similar to the original style, but they have a reflective red octagon "stop
sign" in their palm.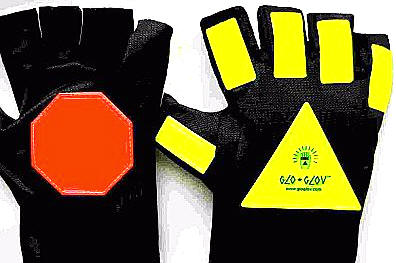 Picture courtesy of the Glo Glov web site
Glo Glov didn't send me any of those – I guess they were afraid I might take
it upon myself to do this guy's job… ;0)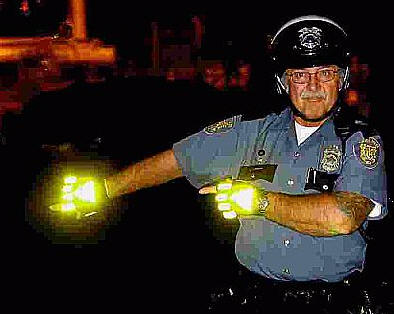 Picture courtesy of the Glo Glov web site
Even though the gloves are made to glow when light is reflected off of them
at night, the patches are such shocking florescent colors that they should also
be quite noticeable during the day.
Glo Glovs are compact and can easily be kept in the glovebox or under the
seat in your car for use during breakdowns. People who routinely jog or walk
outside will want to keep a pair by the door. I hope that they come out with a
children's size, because I think that they should be required gear – right up
there with a helmet for kids on bikes.
I wish that this idea had been mine…
Price: $19.95 (includes free shipping)
Volume discounts are available
Pros:
Offer the user exceptional night time visibility
Can be worn alone or over full-fingered gloves
Excellent safety tool
Cons:
Not currently available in women's and children's sizes
Product Information
Price:
19.95
Manufacturer:
Glo Glov
Pros:

Offer the user exceptional night time visibility
Can be worn alone or over full-fingered gloves
Excellent safety tool

Cons:

Not currently available in women's and children's sizes