We use affiliate links. If you buy something through the links on this page, we may earn a commission at no cost to you. Learn more.
Product Requirements:
Device:
Any audio device with a 3.5mm earphone connector
Personal audio devices are at the top of my favorite gadgets list. I love my
iPod
(yeah, I know you are all sick of hearing that by now…) and it goes with me
everywhere I go. The thing is, sometimes I don't want to wear my earbuds.
Sometimes I want to share my tunes with those around me, be it in
my home office, or at my day job in my cube. For those times, I really don't
want to let other people use my earbuds… can you say eeeeew? So, I've
been on the lookout for a nice set of speakers. Nothing too big, too loud, or
too expensive. They had to be jussssst right. I'm happy to say that I think I've
found what I'm looking for in the JBL On Tour Portable Music Box from
Harman Multimedia.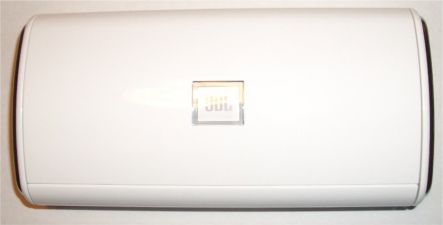 Hardware Specs
Input: 1/8in (3.5mm) Mini Stereo Jack
Drivers: Two Odyssey™ Neodymium drivers
Power Output: 3 watts per channel
Frequency Response: 100Hz – 20KHz
Input Impedance: >10Kohm
Signal-to-Noise Ratio: >80dB
Voltage Input: 100 – 230 Vac, 50 – 60 Hz
Dimensions: Width: 7 x 3.5 x 1.4in (175 x 88 x 35mm)
Weight: 12 oz (350g)
Package Contents
On Tour Portable Music Box
AC Adapter
3.5mm audio cable
Drawstring cloth bag
User guide
Taking a page from the Apple style book, the JBL On Tour looks like it was
made just for the iPod. Constructed of white plastic with polished chrome accents, and
smooth curves, I was already loving this product before I even had the chance to
turn it on.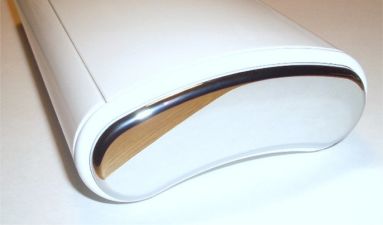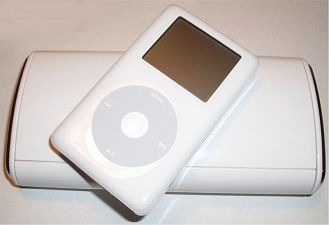 When the cover is closed the On Tour doesn't look like any set of speakers
I've ever seen. If I didn't know what it already was, my guess would have been
pretty far off the mark.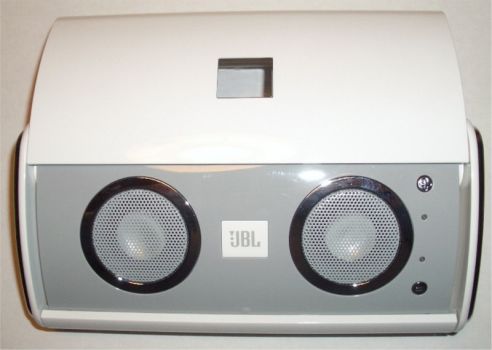 To open the cover, you just press the edge with your thumbs and slide it
back. Once the cover is open, the two speakers and volume controls are revealed.
Closing the cover will power the unit off. The speakers have metal grills over
them and on the right side are two volume buttons and two status LEDs. The
volume buttons are labeled + and – respectively (pressing both buttons at the
same time produce a Mute function). The top LED glows amber when the batteries
are low. The bottom LED glows green when power is on, and flashes green when
there is no input signal.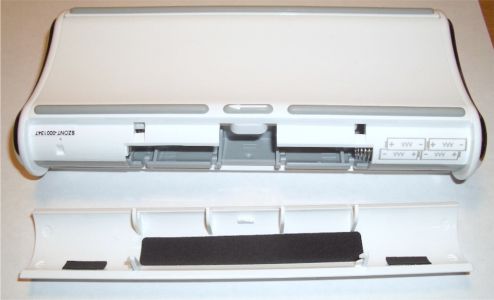 The On Tour can be powered using the included AC adapter, or with 4 AAA
batteries (not included). The battery compartment is accessed by turning over
the speaker and sliding the arrow to the left. A set of batteries should last
approximately 24hrs while playing music at normal levels. Not bad! But, I would
be much happier if the included AC adapter had the ability to charge an internal
battery pack.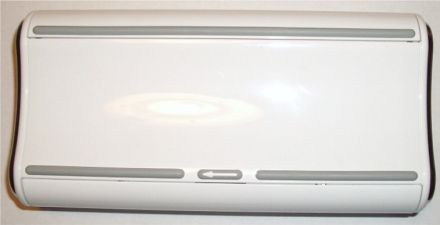 Although this speaker set looks like it's an iPod accessory, it will work
with any audio device that has a standard 3.5mm audio jack. Of course, the iPod
does, so that is the product I tested this set with. Connecting the iPod to the
On Tour is simple. Just slide open the cover, plug in the AC adapter (if you
haven't installed batteries) and plug in one end of the included audio cable.
Connect the other end of the audio cable to your audio device, turn it on, press
one of the volume buttons on the On Tour and enjoy the music!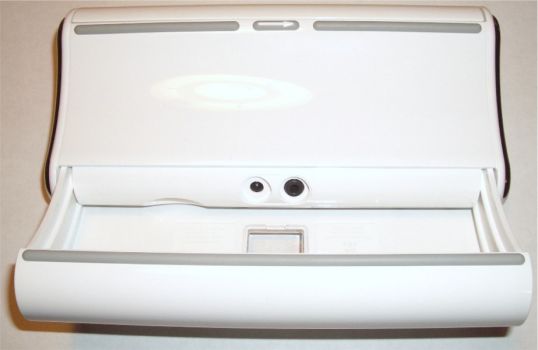 Upon first glance at the speakers, I was thinking that they would be too
small to provide quality sound. Luckily I was wrong. They have great sound for
such a small set. That said, you shouldn't expect the On Tour to sound like full
sized speakers. Sound quality is very clear and maybe just a bit too crisp. As
for bass, this little set can deliver some thump. Volume levels max out quickly
using the + button, but adjusting the volume on the actual audio device
connected to the unit can increase levels dramatically. I was very surprised at
how loud I could crank them up.
Although listening to music through the iPod / On Tour combo does not deliver
sound as full and rich as listening to the same tunes through the iPod and earbuds, the On Tour produces very good sound that is enjoyable to listen to for
long periods of time. In addition to digital audio device users, I think this product would be great for notebook users who
either travel a great deal, or don't want a whole 5 point surround sound system
hooked to their computer. I guess it's true what they say: Good things do come
in small packages.
Price: $99.95
Pros:
Compact package
Great sound for a small speaker
Cons:
Not rechargeable
Somewhat expensive
Product Information
Price:
99.95
Manufacturer:
Harman Multimedia
Pros:

Compact package
Great sound for a small speaker

Cons:

Not rechargeable
Somewhat expensive