The Gadgeteer is supported by readers like you! If you buy something through links on our site, we may earn an affiliate commission. Thank you! Learn more.
Six months ago we took a look at the
Anydrive
Car MP3 + FM transmitter from Merconnet.
It was the first USB / FM transmitter device that we had seen. Now there's a
smaller device available with similar features. The MP-308 Car USB / FM
Transmitter from Brando, is a very
small cigarette lighter adapter device that can be used to wirelessly play MP3
tunes thru your car stereo.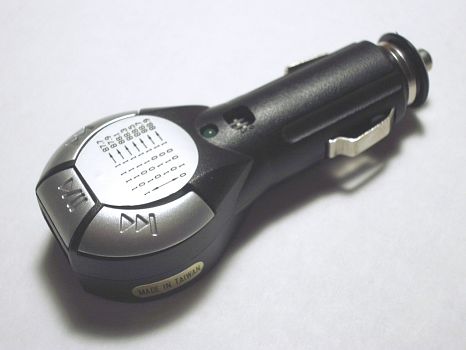 The MP-308 is small. Most of the device is the actual plug that is inserted
into the cigarette lighter. What is left sticking out is a roundish module with
a power LED, 4 dip switches, 3 buttons and a USB connector. The LED glows green
when it is correctly connected. The dip switches enable you to set the frequency
that you will transmit to. The 3 buttons allow you to Play / Pause and navigate
to next and previous sound tracks. The USB connector is a full-sized female
style connector. 
Using the MP-308 is simple. First of all you have to pick 1 of 7 frequencies
that you can transmit to. These frequencies are 87.7, 87.9 88.1, 88.3, 88.5,
88.7, and 88.9. The best thing to do is to tune your car radio to each of these
frequencies and pick the one that is not in use, or has the least noise. Using
the printed chart sticker attached to the module, you can flip the switches to
correspond to the frequency that you wish to use. The switches are very tiny, so
the tip of a pen or paperclip will be needed.
Next, you'll need to get a USB flash drive, or a USB card reader. For the
review, I used a USB CF card reader. I copied several folders of MP3 tunes to a
CF card, inserted it into the reader and then plugged it into the MP-308.

This is a very simple player. Like the Anydrive, the MP-308 plays the songs
in the order they are copied to the flash card. You can't create playlists, or
play the songs in random order. If you toggle power to the player, it will not
remember where it stopped playing and take off from that point. It will start
playing from the first song again. This makes finding a specific song pretty
difficult if you have quite a few songs on a flash card.
The MP-308 also comes with a AC to DC adapter that you can use indoors. Plug
the MP-308 into this adaptor and then plug the adapter into a standard wall
outlet and you're ready to transmit tunes through your home stereo or boom box.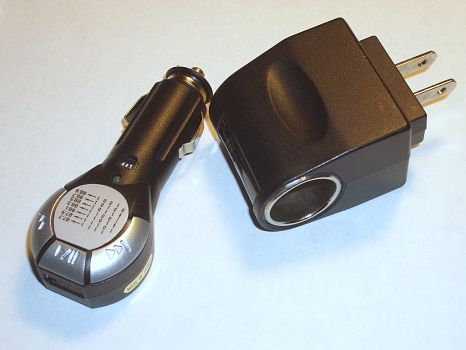 Only one of the FM frequencies was not in use in my area. I found that the
audio quality was better than some FM transmitters I've used in the past. It
seems that the lower frequency transmit range doesn't cause the music to sound
as flat as the higher frequencies do. Every once in awhile I'd hear some faint
static noise in the background as songs would play.
The MP-308 is a little pricey for what it does. I wouldn't give up my iPod for this device, but it is kinda
cool as far as a car gadget / novelty.
Price: $80.00 from
Brando Workshop
Pros:
Small compact package
Easy to use
AC to DC adapter included.
Cons:
Only 7 frequencies to choose from
Can't use playlists or easily find a specific song
Product Information
Price:
80.0
Manufacturer:
Brando
Pros:

Small compact package
Easy to use
AC to DC adapter included.

Cons:

Only 7 frequencies to choose from
Can't use playlists or easily find a specific song