We use affiliate links. If you buy something through the links on this page, we may earn a commission at no cost to you. Learn more.
Product Requirements:
Device:
iPod earbuds
You gotta know that you're doing something right when your product spawns a
legion of accessory manufacturers. Case in point: the
Apple iPod.
There are probably more  cases, cables, and plug-in doodads available for
this one digital music player than there are for all the different music player
brands and models combined! But now the bar has been raised yet another notch…
now there's even an accessory for an iPod accessory!
Griffin Technology, one of the
premier iPod accessory makers has just created a nifty little product that
enhances stock iPod earbuds.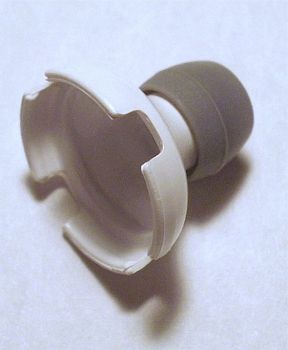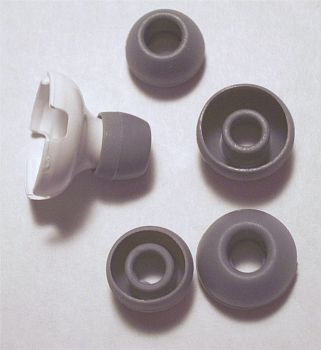 Griffin's EarJams are ingenious little plastic caps that snap onto the ends
of the earbuds and claim to do three things:
Raise volume levels by 10 decibels
Deliver massive bass and improved sound
Enhance comfort and fit
Pretty strong claims huh? Keep reading…
Made of white plastic, these little caps match the color of your existing
iPod earbuds perfectly. Installing them is a snap… literally. Just remove the
fuzzy pad from the earbud, and snap them on.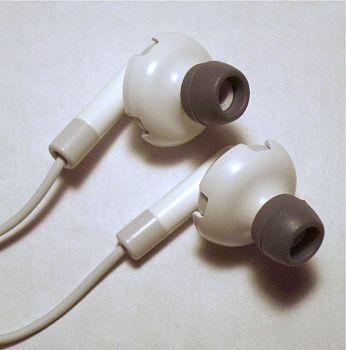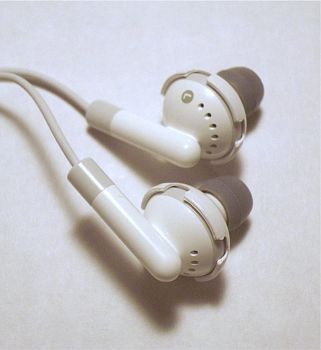 EarJams come with three sizes of washable / replaceable soft grey thin rubber
ear pads. The medium size is attached by default. Removing and installing the
pads is a simple operation. They easily pull off and slide on with minimal
force. The EarJams product will also ship with a small zippered carrying case
which is a nice touch.
This product effectively turns your stock iPod earbuds into the type of
earbuds that fit inside the ear canal and isolate you from outside noises. The
advantage to this style of earbud is that they tend to require a lower volume
level for comfortable music listening. Griffin claims that the EarJams increase
volume levels by 10db. Although there is really no way I could accurately test
this claim, I did definitely notice a difference while using them. I have two
iPods, so I have two sets of iPod earbuds. I attached the EarJams to one set and
left the other set as is. Using the non-EarJam iPod buds, I listened to several
songs and found that the volume set to approximately 33% was the most
comfortable for me. With the EarJams, I had to turn the volume down to about 20%
to get the same comfortable feeling.
The claim that the EarJams deliver massive bass is also true. They really do
make a big difference. As for improved sound, I'm not sure what they mean by
that exactly. Yes, the bass has a lot more thump, and yes the volume is louder.
But, along with that, I noticed that the sound was somewhat dulled. It's like
the treble has been turned down. Luckily the iPod has a treble booster setting
which remedies this problem. I think people that enjoy music with heavy bass
lines will really appreciate this product more than people that listen to other
types of music.
However, not everyone will find this style of earbuds comfortable to wear. I
personally can't handle having something stuck into my ear canal for very long.
Besides just feeling slightly uncomfortable to me, this type of earbud also
tends to make me feel cut off from my environment. Using them while on a plane
would be fine, but wearing them during my day job really wouldn't work out for
me as I would have to remove them every time someone would come to my cube to
talk to me. Regular earbuds don't have this problem because you can usually
still hear everything just fine as long as you pause the music.
EarJams are a unique iPod accessory that will turn your stock iPod earbuds
into in-the- ear-style earbuds at a fraction of the cost of real ones. While
they do increase volume and bass, the treble is sacrificed in the process. EQ
settings will help this situation, but I'm not sure audiophiles will be happy
with the overall outcome. That said, audiophiles probably wouldn't be using the stock earbuds (or maybe even
an  iPod for that matter…) in the first place though.
So, if you would like a boost in volume and bass, and don't mind this style of
earbud, this is a product you should check out.
Price: $14.99
Pros:
Easy to use
3 sizes of pads
Increases volume and bass
Cons:
May not be comfortable to wear
Dulls treble
Product Information
Price:
14.99
Manufacturer:
Griffin Technology
Pros:

Easy to use
3 sizes of pads
Increases volume and bass

Cons:

May not be comfortable to wear
Dulls treble