We use affiliate links. If you buy something through the links on this page, we may earn a commission at no cost to you. Learn more.
We've reviewed quite a few FM transmitters here on The Gadgeteer. But none as
simple as the ZUKZ FM Transmitter from
Crayton Electronics.
This product uses the cigarette lighter socket in your vehicle for power, so
you don't have to worry about batteries. It has one LED,  but no switches or
buttons.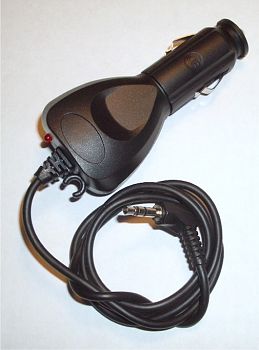 To use it, you tune your FM car radio to 107.7 +/- 0.5 MHz. Plug the ZUKZ
into the cigarette lighter socket. Plug the 30" standard sized phono connector
into the earphone jack any audio device such as an iPod, CD player etc. That's
all there is to it.
I am lucky that channel 107.7 is clear in my area. So, I didn't have any
problems using this device to transmit music from my iPod through my car stereo.
Depending on where you live, this may or may not be the case for you.
As far as audio quality, the ZUKZ suffers from the same problem that most FM
transmitters do. Music sounds dull / flat using this device. I prefer to use a
cassette adapter for the most part. I would only recommend this for people that
listen to audio books through their audio devices. I don't think dull / flat
audio would really matter while listening to the spoken word.
Price: $19.99
Pros:
Simple to use
Cons:
Only one frequency available
Music sounds dull / flat
Product Information
Price:
19.99
Manufacturer:
Crayton Electronics
Pros:
Cons:

Only one frequency available
Music sounds dull / flat