We use affiliate links. If you buy something through the links on this page, we may earn a commission at no cost to you. Learn more.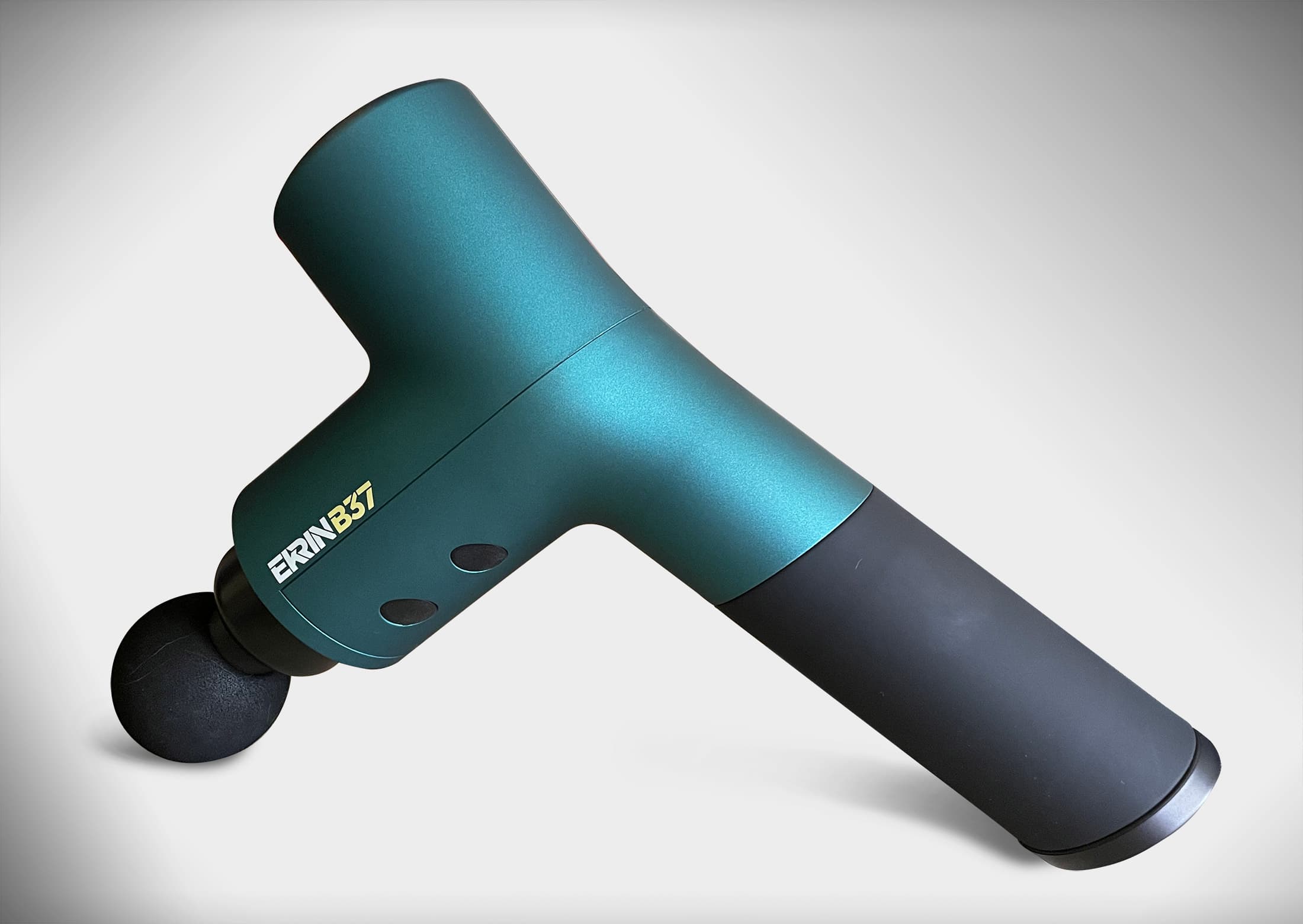 REVIEW – Fitness trends seem to come and go with a variable degree of longevity, but some trendy devices have the science and data to become mainstays. Are the recent wave of massage guns, like the Ekrin Athletics B37, muscle miracles or fitness flops?
What is it?
The Ekrin Athletics B37 Massage Gun is a handheld percussive therapy device developed for deep muscle massage treatment. It features 5 massage speeds, over 50 lbs. of force, and includes several attachments for use with different muscle groups.
What's in the box?
B37 Percussion Massage Gun
4 attachments
Charger
Travel case
Quick start guide
Device instructions
Hardware specs
Up to 56 lbs. of force
Travel Case Included
5 Speeds, 4 Attachments
Quiet 35–55dB noise rating
15º ergonomic handle
8 Hour Battery Life
Design and features
The massage gun itself is simple and sleek. It has a good amount of heft to it thanks to its powerful motor, but the distribution of weight feels balanced. The rubberized handle is slightly angled to reduce the need to flex your wrist at a sharp angle when in use.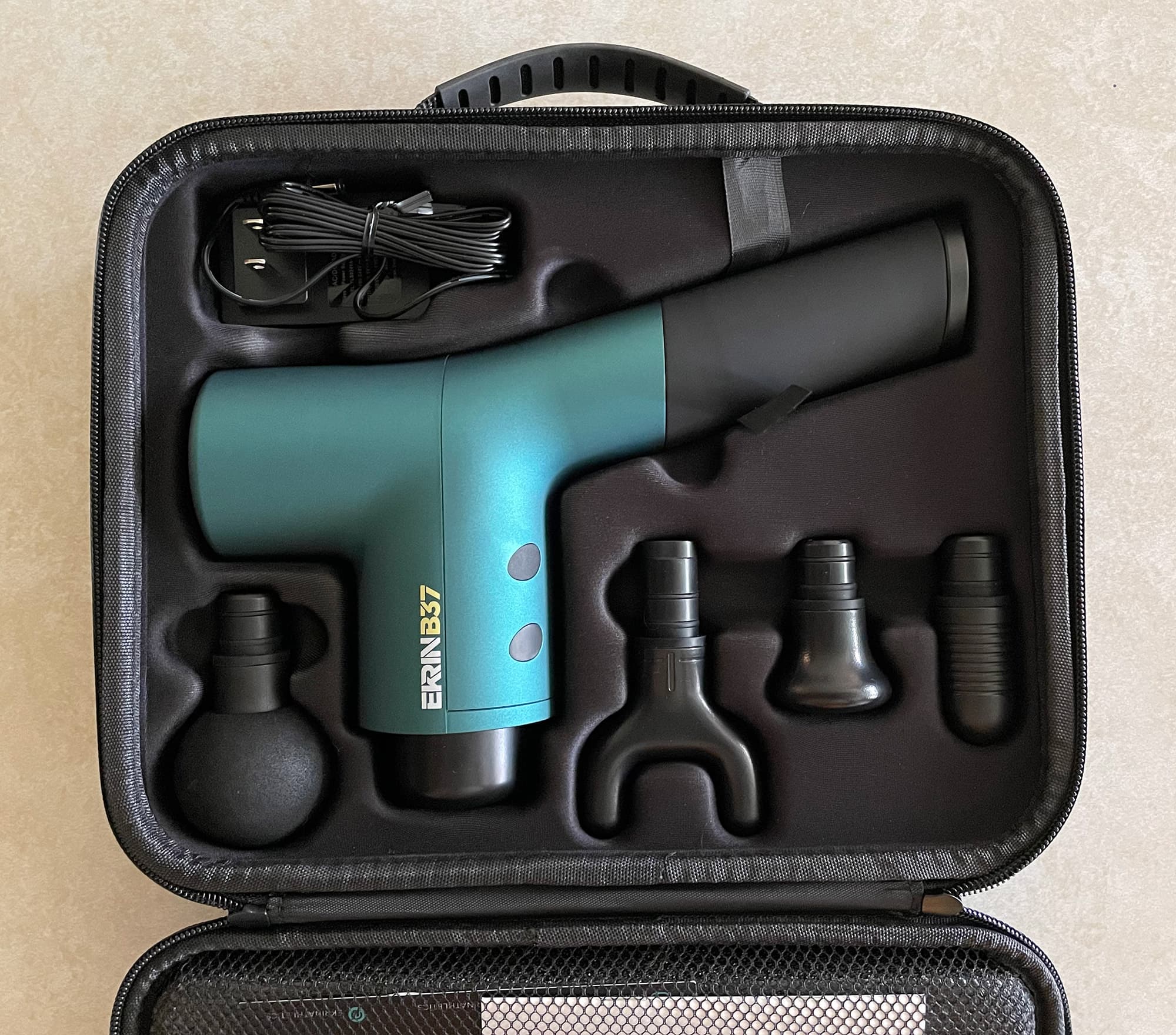 The rubber power button on the top of the gun is ringed with tiny white LEDs that indicate the power level and the massage speed. Pressing the button for a few seconds powers on the gun at the lowest setting. Each subsequent press of the button increases the massage level and lights up an LED to indicate which speed it is set to, one through five.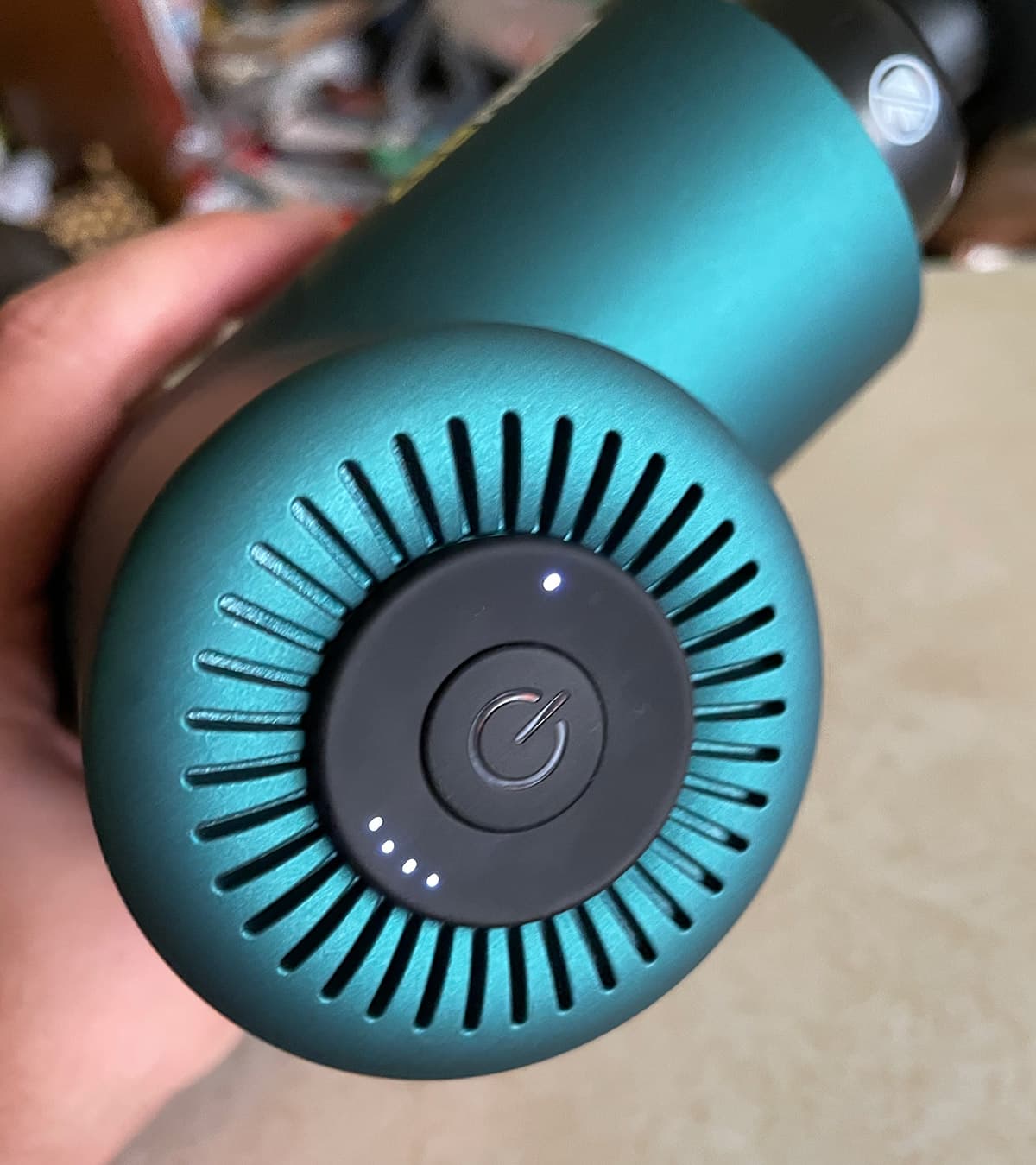 Securing the attachments is as simple as pushing them into the front of the gun, though it does require quite a bit of force for insertion, as well as removal. Of course, you wouldn't want a rigid foam bullet flying out of the front when it's rocking at 3200 RPM.
The only other feature on the device is the small round AC adapter charging port on the bottom of the handle.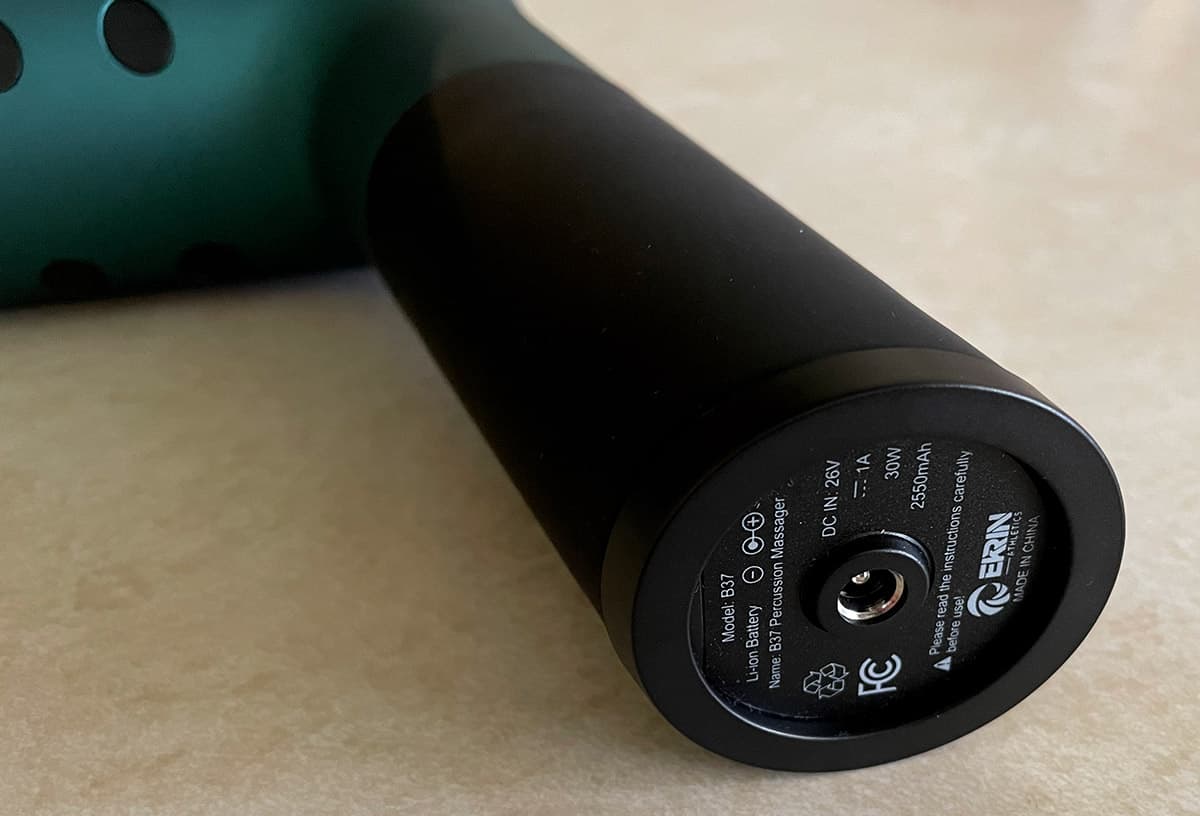 The included compact carrying case is a nice touch… there's a little space for the gun, attachments and charger.
One thing that was a bit disappointing was a lack of comprehensive instructions. Unless you visit the website, there is little in the way of knowing which attachment to use on what part of the body at which speed and for how long. A small book or foldout poster would have been super helpful.
Performance
I'll admit that I was a bit apprehensive to dive right in and start blasting away at my joints and muscles with this massage gun. I'm more accustomed to those little round handheld massagers that sort of just buzz in your hand and give you a tingle on your back or shoulders.
The B37, and other massage guns in general, are serious pieces of therapeutic equipment. Powering it on is closer to holding a small jackhammer, even on the lowest setting. That's a bit of a hyperbole, but honestly, it's a little intimidating.
I tried the flat attachment first, since it mentioned that it was good for general use, set the gun to massage setting 2, and started testing the business end against different parts of my body. It felt invigorating, almost uncomfortably so! It feels like more of a deep tissue massage than the mild vibration I was expecting.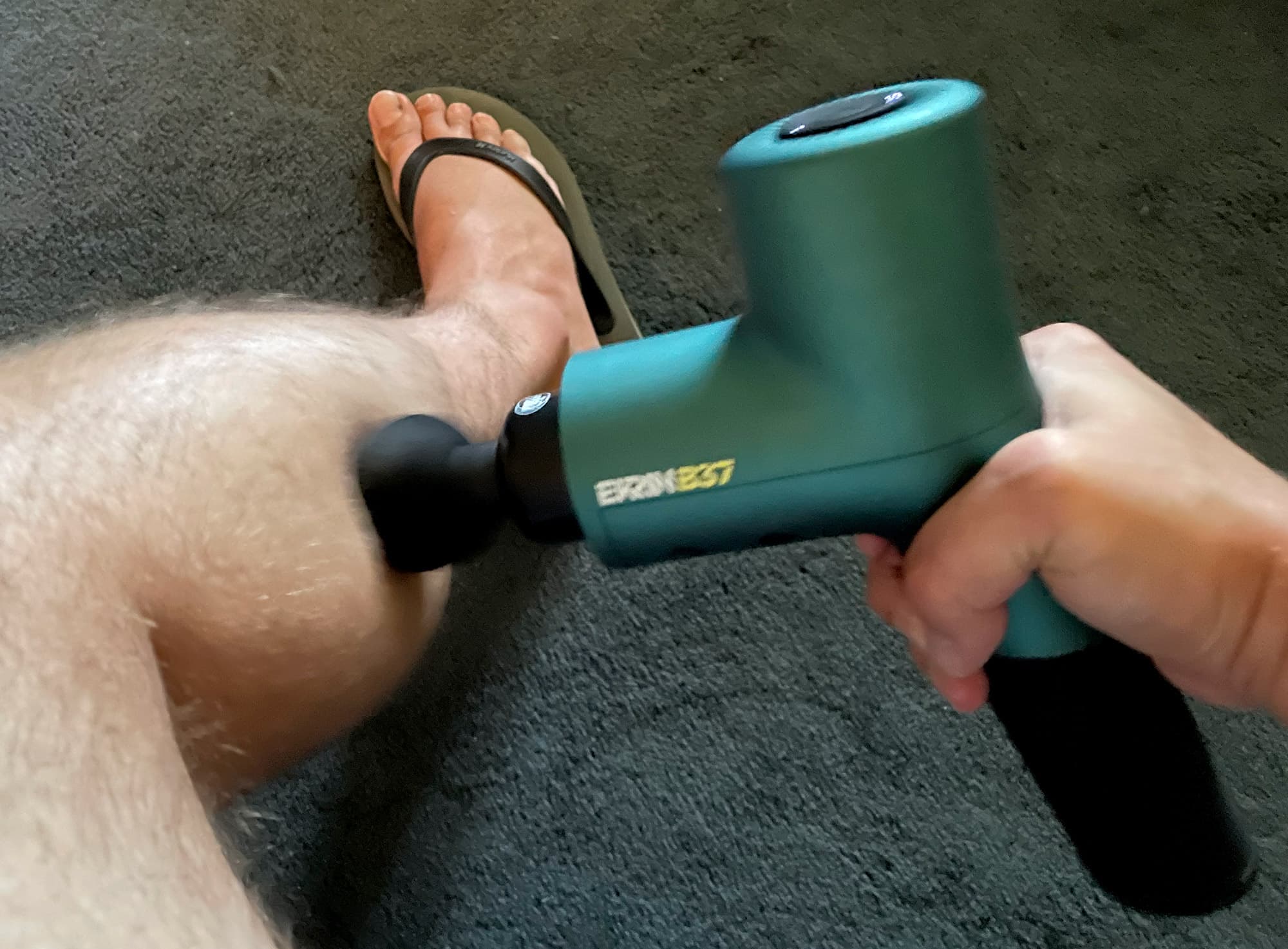 After testing it against my legs, thighs, calves, neck and arms, I decided a little research was in order to make sure I was using the right speeds and attachments. I wasn't exactly sure I wanted something this powerful jabbing away at my neck without making sure I wasn't going to stupidly injure myself somehow.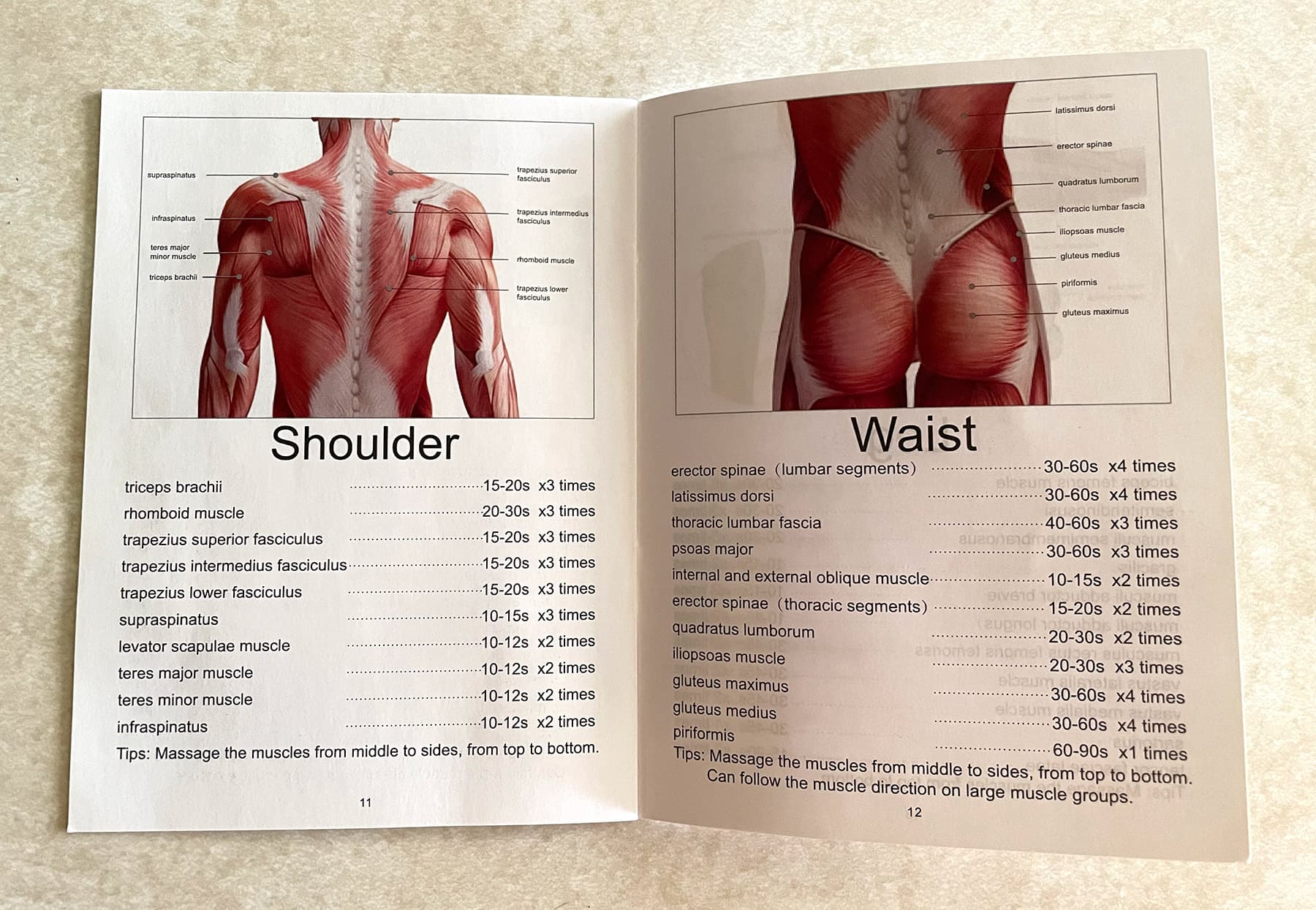 Ekrin includes a small reference guide in the case but has a much more comprehensive page on their site that explains in great detail the best use cases for each attachment and speed.
The four included attachments — flat, round, bullet and fork — have best-use cases for specific areas of your body, such as using the large ball attachment for large muscle groups and the forked attachment for your neck and spine.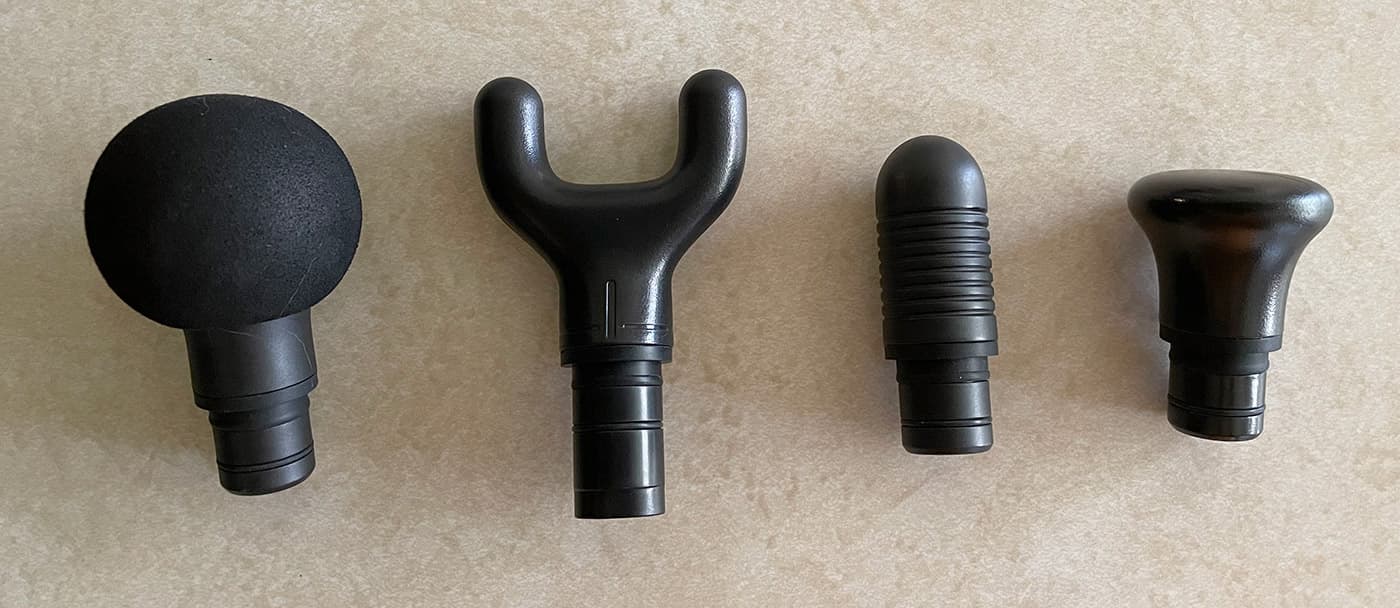 The 5 different massage and percussion speeds are actually best suited for specific muscle issues and activities.
Release muscle tension and soreness 24 hours after workouts
Promote recovery and flexibility 15 minutes after workouts
Remove knots and soothe chronic pain as needed
Relax tired muscles with stimulating massage as needed
Rapid massage to increase blood flow and warm up muscles pre-workout
After gaining a bit more knowledge, I tried again and had a better experience. I've got to admit, it still feels a little uncomfortable at first. I tend to get tension in my calves when I go out for long walks and runs, so I wanted to set the gun to the highest setting to warm up my muscles. Pressing the ball adapter into the side and back of my calf muscles is almost unbearable. I don't know if I'm just ticklish there or if it's my nerves. It isn't painful, it's just such an odd, intense sensation.
But it does work. After a good few minutes of hammering away at my legs, several minutes later they just feel ready to go. Loosened and energetic.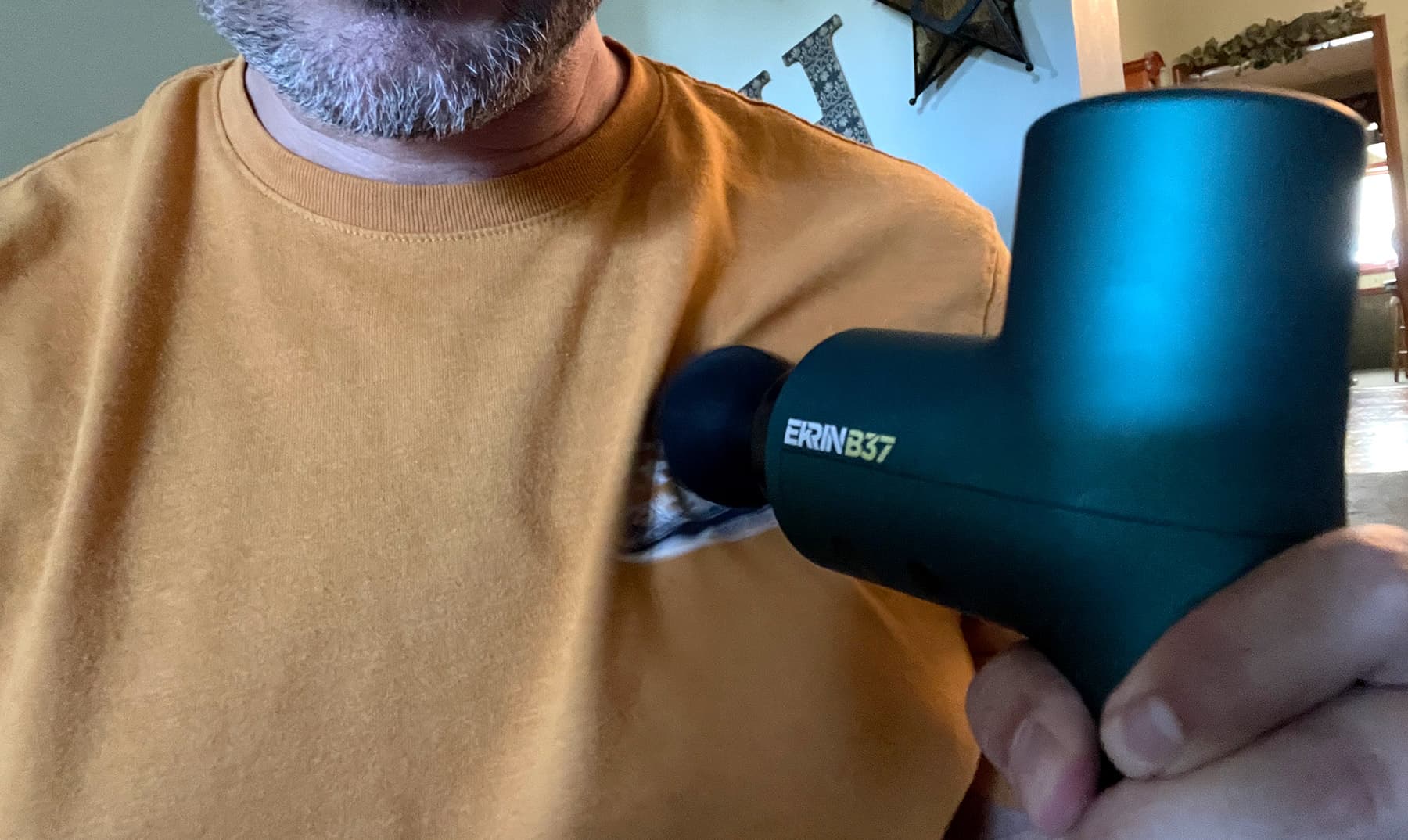 I also tested out the gun with my wife, who has chronic back pain and tension from working at a bank all day. She spends a lot of time on her feet, whisking around the bank floor between teller windows and desks, and often has a lot of knots in her back and neck.
So we set the gun to the correct speed and plugged in the forked attachment for the neck and back and tried it out. She experienced the same "wooo!" sensation at first, but also admitted that it subsided quickly and felt good. After about 5 minutes of running the gun over her shoulders, it seemed to work the knots out.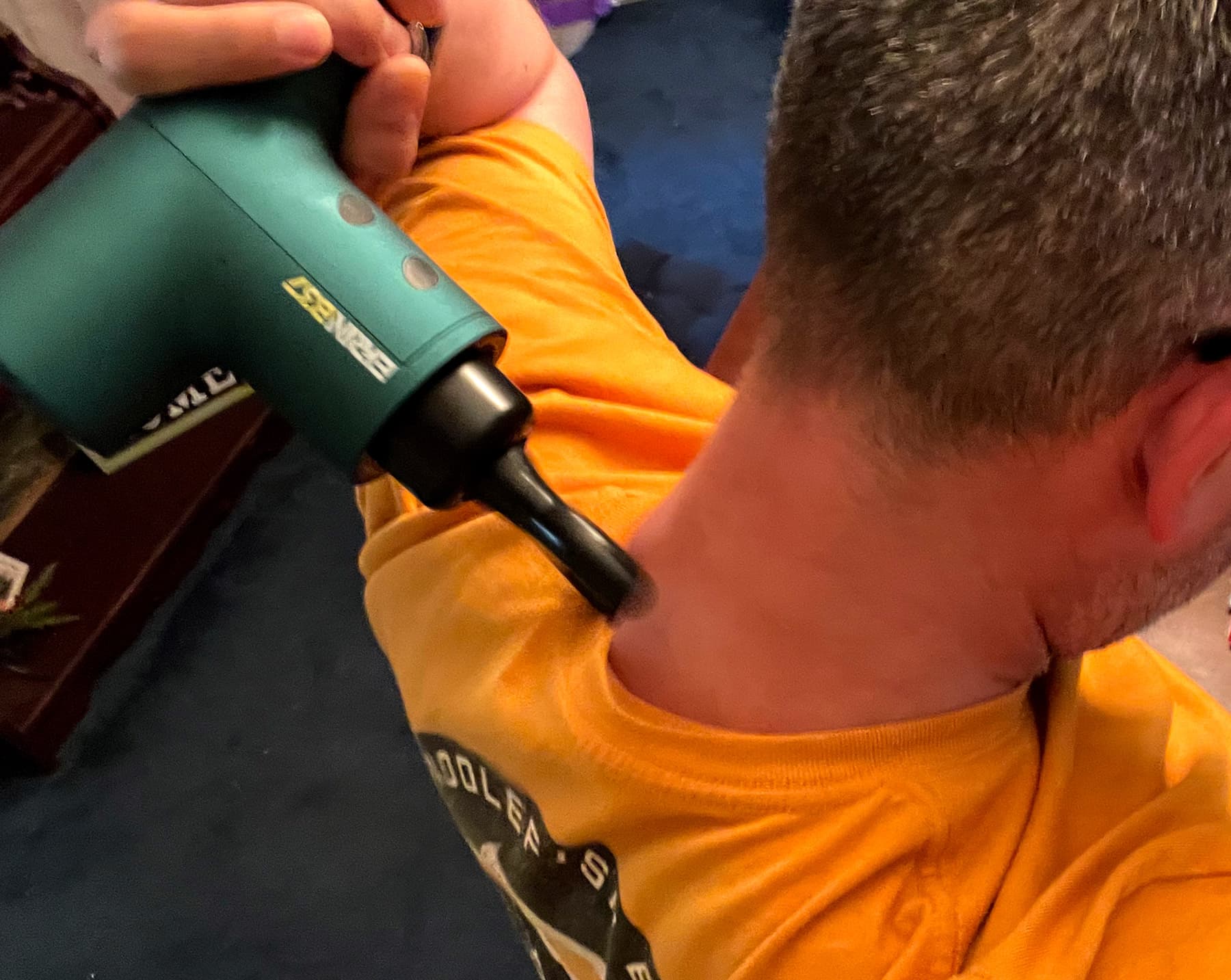 I asked her how her shoulders and neck felt after another 15 minutes and she said they felt much better. She's been using it at home over lunch breaks ever since.
After a couple of weeks, I noticed less soreness in general. I started a morning and evening walk routine that puts me at about 5 miles a day and having the B37 handy really helped for my tired legs and calves.
I imagine this is one fitness trend that will stick around for a while.
What I like
Hefty, solid construction
A myriad of attachment and setting combinations
Honestly improved muscle recovery and pain!
What I'd change
More comprehensive guide or booklet, perhaps a fold-out poster with attachment and speed mapping
The price may fend off those casually interested in trying out massage guns
Final thoughts
While percussion massage guns like the Ekrin B37 seem more geared toward athletic types, there's a good amount of evidence that supports their use for any sort of muscle soreness and tension. I would say that the more active you are, the more likely and more often you'd use a massage gun, and the Ekrin B37 is the complete package at a decent price.
Price: $229.99
Where to buy: You can purchase the Ekrin Athletics B37 Percussion Massager directly from their website.
Source: The sample of this product was provided by Ekrin Athletics.