We use affiliate links. If you buy something through the links on this page, we may earn a commission at no cost to you. Learn more.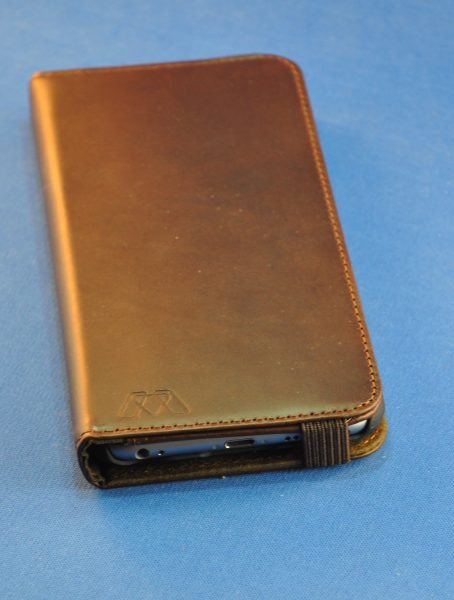 Wallet phone cases have been around for a while. Not the slip-a-few-cards-in-the-back cases, but the fold-over, cover-the-screen type wallet cases. Most have an elastic band to hold them closed, but they are all fraught with difficulties, not the least of which is holding your entire wallet up to your ear during a phone call. Enter the Wizards at MOS (which stands for Magnetic Organizing System – more on that later!) They have developed a nice leather fold-over wallet system for the iPhone 6/6s and 6 Plus/6s Plus phones that not only gives you all the benefits of screen protection and having your ID/cards at hand, but also lets you release the phone easily for phone calls. The case is called the Stash, and comes in a smooth brown leather with a suede interior in the same shade.
Note: Photos may be tapped or clicked for a larger image.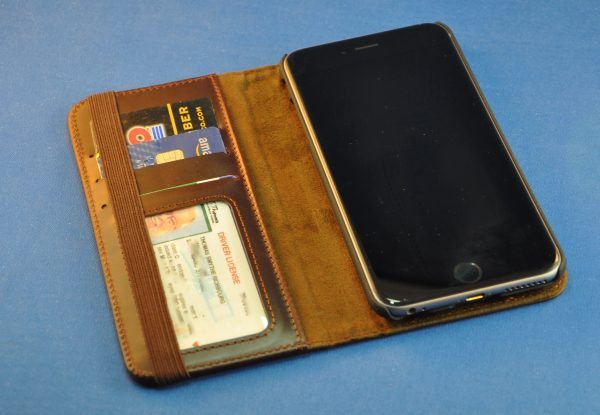 The first thing you notice is, of course, that the case is quality leather, with even stitching and tucked in edges. There's not a raw leather edge to be found anywhere, inside or out. The next thing you notice is probably the fact that the inner plastic frame where you put your phone comes off easily, but can be reattached magnetically. It has a leather insert on the back, so it looks classy, even when it's not hooked into the whole cover.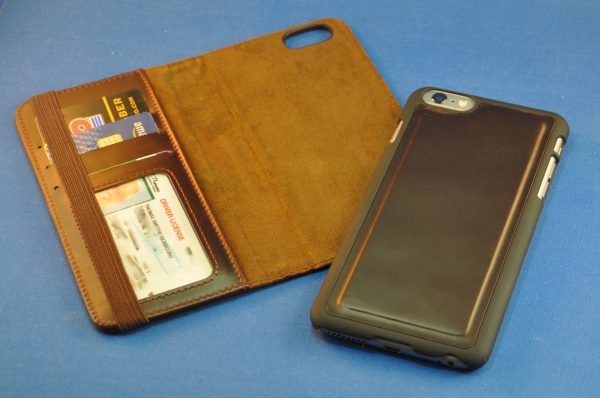 The magnets are perfectly positioned so that the cutout for the camera on the plastic holder aligns exactly with the punch-out in the leather. The leather inside the camera port is also buffed or coated with something to be smooth and free from any stray bits of leather. I seriously can't tell if there is an insert into the hole, or if it's just highly polished and stained. When you have the elastic holding the wallet closed, it also protects the camera lens from damage.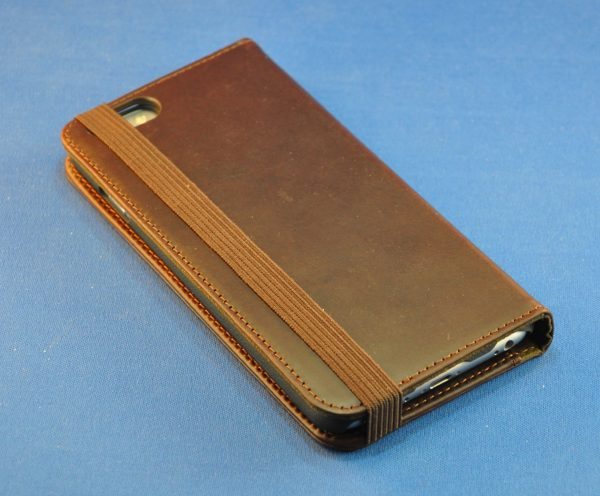 On the cover side of the flap, there are three card slots, one of which has a transparent cover for your ID. There is also a full-length pocket behind the card area, which is just too short for unfolded US currency on the Plus model. But there is enough slack to allow for folded bills, receipts, or another card, if three slots aren't enough.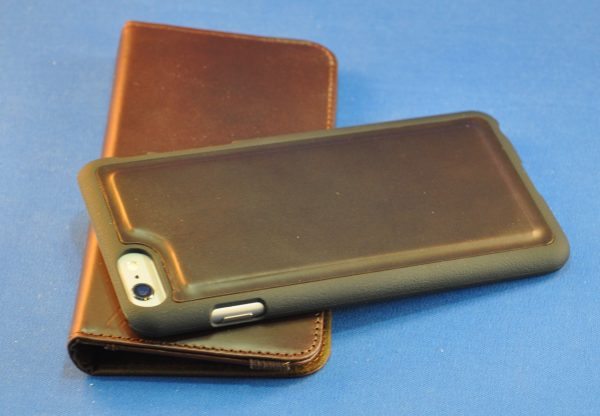 I really like the case, and wanted to make it my daily driver, but a few little things held me back. First, if I have put my ID and payment cards in this case, and then remove the phone in its holder, what do I do with the rest of the wallet? It's not like I can leave it on my desk, because then I don't have my ID with me. Sure, I can put it in my pocket while I'm on the phone, but what's the difference between that and having a separate wallet?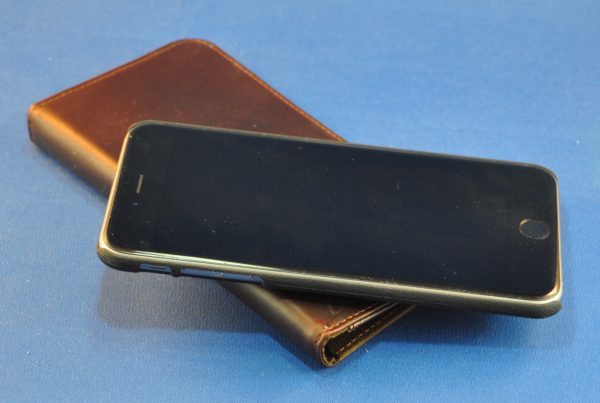 Second, the card slots are really tight. I was worried that I'd not be able to get my driver's license out of the pocket! And, in my experience, having cards offset like this and carrying it in your pocket is a good way to have your credit cards get split. Also, I'm one of those guys that need more than three spots for cards. Driver's license, main (family) credit card, secondary (business) credit card, insurance card, Costco card. Then cash, as well. And maybe an ATM card. Life is hard in the 21st Century.
These folks at MOS are quite creative in using magnets to do things for you. One of their first projects was a desktop weight that would hold on to cables magnetically. If the cables have enough ferric attraction, they would stick to the heavy-duty magnet. If not, there are magnetic tabs to attach to the ends so that they hold tight and don't drop into the Realm of the DustBunnies.
The photo below shows the positioning of the magnets. The internal plastic frame never once slipped, and I tried almost everything I could to shake it loose.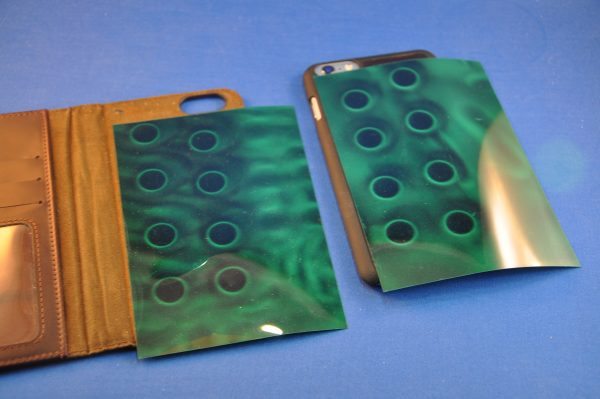 (My son-in-law offered to help try and shake it loose, while we were out at a restaurant with a concrete floor. I heeded my daughter's wise counsel and quickly retrieved my phone!) But the magnets are pretty darn strong. And, with the pattern and the polarity set the way it is, when it gets close, it sticks tight.
If you can overcome the few gripes I have with the case, it's well worth the cost. I think you'll find it easy to carry and, should wireless headphones be in your future, very flexible.
Source: The sample for this review was provided by MOS. Please visit their for more info and Amazon to order.

Product Information
Price:
$30
Manufacturer:
MOS
Retailer:
Amazon
Requirements:

iPhone from covered list (6/6s/7 and the Pluses for each)

Pros:

Quality leather and workmanship
Magnetic holding of phone case to wallet is secure, but easy to remove
Very protective

Cons:

Wallet only holds 3 cards and folded cash
When you have the phone off the wallet, what do you do with the wallet?