We use affiliate links. If you buy something through the links on this page, we may earn a commission at no cost to you. Learn more.
Product Requirements:
Device:
Any touch-screen PDA
Are you still looking for the perfect multi-pen? Had you just about given up
and decided that you would never find something that looked great, worked
as advertised, and that wouldn't break the bank? If so, then you should take a
look at this!
The Yafa Quadro
multi-pen is one of the best combinations of style and function I have seen in a
long time, and the price makes this pen an absolute bargain.
The Quadro is available in Red, Purple, Green, Charcoal, and Brushed Alloy.
With that type of choice, you are sure to find something that will appeal to
your sense of aesthetics.
You'll be able to consolidate your pen and pencil collection into this one
writing implement because the Yafa includes not only the standard black
ball-point pen and stylus tips, it also has a 0.5mm mechanical pencil and an
orange ball-point high lighter.
So without further ado, let's take a look at this multi-pen…
As you can see by my pictures, I received the green Yafa. Never mind the fact
that green is my favorite color; that was just the icing on the cake, as I would
soon discover.

The shape of the Yafa is classic. A long smooth shaft, accented with chrome.
The top of the Yafa is a chrome plunger that also serves to hide a standard
size pencil eraser.
The various tips available for the Quadro are either spelled out with words
or indicated with an icon, around the top of the pen's barrel. Selection is
achieved by holding the barrel of the pen in such a manner that the written name
of the desired tip is facing up. You then press the plunger to expose your
selected tip. This method is quite easy to use, and I found that it was
generally fool-proof.
The pocket clip is chrome, with YAFA printed in black near its end. It has a
black plastic wedge near it's top, which is what you press to release a selected
tip.


Once you get to the grip, the Quadro suddenly no longer looks like other
multi-pens we have examined here in the past. This area has a slight hourglass
shape; and the ten deep grooves cut into the grip add to it's stylish effect. I
won't say that the grooves actually help you hold the Quadro any more securely;
but the shape of the grip does make it quite comfortable for extended periods of
writing.

The Yafa has a great weight to it, and the width is quite comfortable to
hold. This pen weighs 1.1oz. (30g), which is slightly heavier than a classic
Mont Blanc ball-point pen. The length is 5.75" (146.13mm) including the fully
extended plunger, and the width of the pen is 0.41" (10.4mm) at the grip. When
holding the Yafa, it feel substantial without feeling too big or too heavy.
Each of the writing tips are standard multi-pen refill size. The included
black ball-point writes slightly finer than I would like; but that is easily
solved by adding a different ball-point multi-pen refill.
The 0.5mm pencil can hold three or four leads max. This isn't a great
solution if you are someone that uses a mechanical pencil for most of your
writing, but if you only need to be able to do an occasional amount of
"figuring," you should be quite safe.
The highlighter is basically a fat, neon orange ball-point pen, suitable for
either underlining or striking through words; I prefer using it to underline.
The Yafa's stylus tip is light yellow and slightly pointy. I found that it
wrote equally well on my PDAs, whether they had screen protection or not.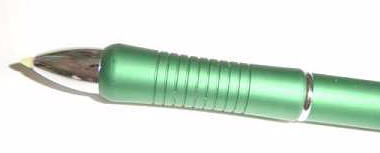 Like most multi-pens, there is a very slight rattle when all of the Quadro's
tips are retracted into the barrel. Unlike other multi-pens I have tried, the
rattle is very slight. When a tip is selected, there is almost no perceptible
rattle.
I think that the Yafa Quadro is a sharp looking, extremely functional and
value-priced multi-pen. I would have expected a higher price tag for a pen such
as this, and I don't think you will disappointed with it, should you get one.
The Yafa Quadro is available from
Stylus Central and other fine
retailers.
Price:  $29.95
Available in Red, Purple, Green, Charcoal, and Brushed Alloy
Pros:

Four available tips – should help with pocket clutter
Comfortable to hold for extended periods of time
Stylish design with vivid colors
Cons:
None