We use affiliate links. If you buy something through the links on this page, we may earn a commission at no cost to you. Learn more.
If you've been visiting The Gadgeteer for any length of time, you'll have
noticed that so far, I've not done any mobile phone reviews. I've always had an
interest in phones, but since I happen to live in what I like to call the "town
before technology", I've not had any way to test the really cool phones…
The ones that require digital service instead of analog. Luckily
Sprint PCS rolled into good old Columbus,
Indiana a few months ago.  So when Samsung
contacted me, I  gladly accepted their offer to review the
SPH-N200.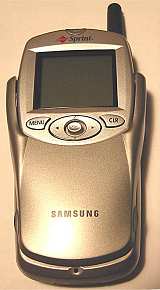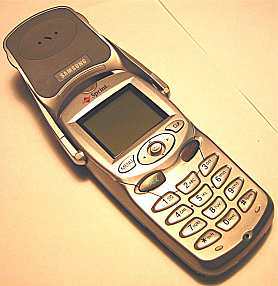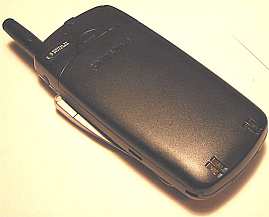 The SPH-N200 is a dual band mobile phone which means that you can use it in areas
with digital coverage (CDMA) as well as those areas with only analog coverage
(AMPS).
Let's first take a look at the hardware and then talk about actually using the product.
Hardware Specs:
Mode: Dual CDMA/analog (AMPS)
Service Provider: Sprint PCS
CPU: MSM 3000C
Memory: ROM – 16M, RAM – 4M
Audio: Ear Piece Hearing Aid compatibility (T-coil)
Antenna: Retractable type
Display: 128 x 96 Pixels Graphic LCD (6 lines)
Navigation: Directional joystick
Weight: 4.7 oz. with standard battery- Li-Ion 3.6V, 800mA
Dimensions: 4.3" x 1.9" x 0.9"
Standby time: 146 hours digital, 18 hrs analog
Talk time: 150min digital, 120 minutes analog
Style-wise, the phone is available in either blue or silver. I was sent the silver version for review.
Physically, the phone is a great size. I've been using an older Ericsson AF-778
for over a year now and find that it has actually been too small when I compare it to this Samsung. This phone has just the right size keys and display to allow for easy
use.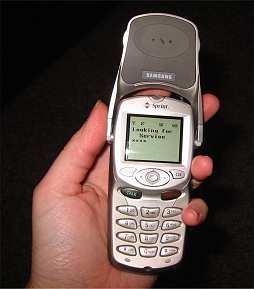 The SPH-N200 has a flip-up lid design. The ear piece folds down covering the keypad
when the phone is not in use. This helps to give the phone a sturdy feel. I didn't worry at all about putting this phone in my back jeans pocket.
With the flip lid closed, the keypad is covered while the Menu, and CLR buttons are
exposed along with the joystick. When the flip lid open, all the standard keys are
available, including Talk and End buttons. The keypad is also backlit. On the left side of the phone, are small volume control buttons. And on the top of the phone is a standard headphone jack and a red LED message light. There's also a pull-up antenna. I didn't find it necessary to raise
the antenna to improve reception though. At the bottom of the phone is an expansion connector for data cables and car recharging solutions.
I found all the buttons to be easy to activate one handed using my thumb. I really liked the joystick navigation. By using your thumb, you could scroll up, down, left and right thru menus and screens. Pressing the joystick in, was like pressing select or OK. The stick felt like an easy and natural navigation method. Although I've not used any other phones with a joystick or joypad before, I instantly liked this feature and will make sure my next phone has something similar and equally easy and comfortable to use.
The LCD display on the SPH-N200 is really nice. It is backlit, and can show six lines of text. After using a phone that can only display one line of text, I found the SPH-N200 to be excellent. The clarity of the screen reminded me of the current crop of Palm OS mono displays which are easily visible in a variety of lighting conditions.
What about battery life? The standard lithium-ion battery is rated for up to
150 minutes of digital talk time and 146 hours of digital standby time. The
charge on the review unit that I had, seemed to last forever. I fully charged it on a
Wednesday before going on a trip and it still had a quite a bit of juice left when I returned
from my trip late the following Sunday.
The phone comes with a desktop charger with a long cord that you plug into a regular
wall outlet. The phone snaps into this charger and takes about two hours to completely recharge the battery. An LCD on the front of the charger lets you know when the battery
is done charging. I didn't really like the charger because it seemed clunky. It worked fine though.
Now let's take a look at actually using the phone's features…
You have a choice of several ways to dial numbers on this phone. You can enter numbers
manually on the keypad and press the Talk to connect calls or you can dial from the
built in address book. The address book stores 238 entries with 6 different numbers per
name. Each entry supports up to 32 digits and 12 characters. Depending on which memory slot each number uses, it can be accessed with one, two, or three-touch dialing.
The phone also includes voice-activated dialing so you can just say a name and the SPH-N200 dials the number. This is a really cool feature that worked well. You can setup 20 voice dial numbers. I didn't have any trouble getting the phone to recognize names
that I would say. You can even set the phone to prompt for a voice dial name as soon as you
open the flip lid. Or, you can set the Talk button as the voice-dialing prompt. Then, pressing and holding that button will initiate
voice dialing and you will be asked for a name to call.
The other feature that I played around with was the wireless web minibrowser. Unfortunately, in my area, digital coverage still isn't the best so I wasn't able to really get a lot of time
browsing with it. Basically, you can surf quite a few text based sites for news, weather, business,
and entertainment sites.
The joystick control button makes navigating wireless Web sites really easy. It is
possible to surf comfortably through menus using just using your thumb.
You can also send SMS messages and email with this phone. The SPH-N200 has the T9 Text
Input feature built in which enables you to enter text easily. T9 (which stands for
text on 9 keys) requires only a one-key press per letter and quickly recognizes the most
commonly used word of a numeric sequence. For example, to enter the word
"hello," you would spell out the word by pressing only five keys, 4-3-5-5-6. T9
knows that the most commonly used sequence for that numeric sequence is
"hello." Sometimes two or more words share the same numeric sequence. In that case, T9 provides the most commonly used word by pressing the 0 key. You press the 0 key repeatedly to display all of the available words and when the word you want comes up,
you can select it.
The phone has 20 preset ring tones, 3 customizable ones, and a vibrate mode. I found the speaker to have adequate volume… I would have liked it to be just a bit louder though for noisy situations. I sometimes found myself needing to stick my finger in my opposite ear in order to hear better in crowded areas.
Other features that this phone has are a calendar, a to-do list and data-sync capabilities
(with Microsoft Outlook). Also included are a calculator, multilingual capability, 10-number incoming, outgoing, and missed call logs, and an airtime tracker. The airtime tracker
allows you to check the length of your last call and the total number of minutes you've logged on the phone since its activation. This is a nifty way to keep track of your total billable minutes per month if you write down the total number at the start of each month.
Like most phones, the SPH-N-200 supports carrier-dependent features such as caller
ID, three-way calling, and call forwarding. It also offers standard security
features. You can lock both the phone itself to prevent outgoing calls (except
to emergency numbers) and the keypad to prevent accidental calls if the phone
is in your pocket or bag.
All in all, I found myself really liking this phone and was sorry that I had to send it back after the review. If digital coverage were better in my area, I think I'd really take advantage of the wireless web and SMS features. But even without using those features, I found this phone to be easy to use and dependable. I wouldn't have a problem recommending it to anyone.
Price: $150 to $200
 
Pros:
Joystick
Large display
Wireless web
Small size
Cons:
Bulky travel charger
Product Information
Price:
150.0
Manufacturer:
Samsung
Pros:

Joystick
Large display
Wireless web
Small size

Cons: