We use affiliate links. If you buy something through the links on this page, we may earn a commission at no cost to you. Learn more.
Product Requirements:
Device:
Pocket PC
207 K free RAM
The Programs, Plans and Philosophy 
At last count, I have more than one hundred registered games running on my PPC. Yet when I have one of those rare spare moments on the road, the game that I almost always turn to is
Peter's GameBox! In fact it is the only game I keep
in my Pocket PC's RAM. Why do I play a free game (surely it can't be very good?) so often and leave
the commercial stuff pretty much on the shelf? For the answer to this question, let's look at the program.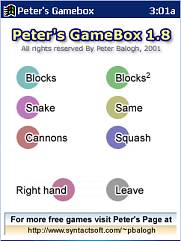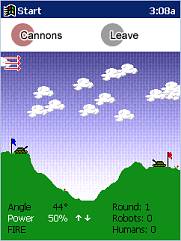 The Program
The current Peter's GameBox consist of 6 games. The finished product will have a total of 10 games – more on this later.
Every one of these games is carefully selected for their suitability for PDA gaming as well as their value of enduring interest. No wonder I keep coming back for more!
Let's take a look at the current crop of games. First there's Blocks aka Tetris – everybody's favorite indulgence. There are probably more
handheld Tetris games on the market than any other game in history. Peter's Tetris plays as good as it looks. I really liked the stylus input as it is more accurate.
Blocks 2 is a rather unconventional Tetris with more irregular shapes providing more challenge than the normal run-of-the-mill stuff. However, it just doesn't have the classic look and feel, so it is the game I
play the least of the 6.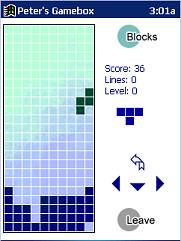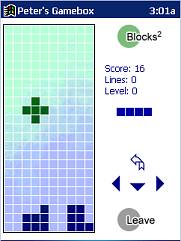 Another game that I enjoy very much is Cannons. It is one of my first computer games, and after all these years it is still a lot of fun. The graphics are very detailed, but the computer opponent is either too clever or too lucky. Anyway, it is better to have someone to fight with, especially when we can't find another human who will play with you.
Snake reminds me of my Apple ][ days when Snake Byte burned many of my weekends in blissful distraction. The new enhanced graphics are very nice, but I rather liked the
gridlines which make the game less chancy. There is a likely possibility that gridlines may be back in future updates!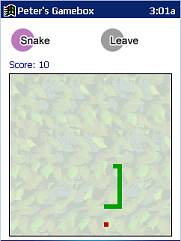 Same Same is a great thinking game where you score big time if you are willing to sacrifice other colors just to concentrate on one. It is one of my favorites among the lot.
Last but certainly not least is Squash aka Breakout. The game plays well
with the stylus, though the ability to use the hard buttons would also be nice. Instead of levels of difficulty, Peter has opted
for random levels which I have no quarrel with.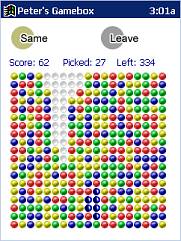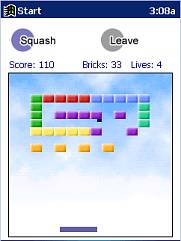 As you can see for yourself, all the lovely screenshots with this article, Peter's
GameBox is no simpleton homebrew amateur stuff. The screens are well laid out; not too busy. The graphics are elegantly crafted, with each release enhancing them further. But wait, that's not all…
The Plan
In my emails to Peter, he talks with great passion of his plans for this project. Allow me to share some of the exciting enhancements to come in Peter's
GameBox v2.0.
For those of you who are bemoaning the fact that there is no sound, high score or such… do not worry,
they are just round the corner, in the next update. V2.0 will sport a new design as well as
accommodate Pause, Level settings and a High Score table for every game.
Sound for every game will also be added in this update. Other games that will be amongst the stable of 10 will be just as carefully selected, crafted and presented. Long-time favorites like
MasterMind and 5-in-row will be among of them. There will also be Tetris-like logic game and Snake-like single/multiplayer
Tron game.
We can look forward to v2.0 supporting 640×240 and enhancements to existing games such as Single/Multiplayer for
Squash and Cannons. These games will use just one device for two styli as well as infrared beaming.
As we eagerly look forward to the realization of these goodies, do not hold your breath. It will be some time before the next version of
GameBox is ready, because Peter is pretty busy with many irons in the fire. Right now he is also working on several
other WinCe applications as well.
In addition, he is working on this fun stuff with fellow programmers:
In cooperation with Oliver: Oliver's ActionPack/Galaxy clone
In cooperation with Susan: Susan's Sheepfarm ScreenSaver
In cooperation with Debbie: PocketHamster, a virtual pet/screensaver
In cooperation with Somara: Peter's Board Games featuring chess, reversi, etc, with changeable skins.
The Philosophy
What drives a person like Peter to do all this stuff? In particular, I want to know why Peter is giving away Peter's
GameBox for free. He could easily reap in a tidy profit by selling it for just $14.99.
I'd be the first to stand in line to buy one.
Peter tells me that he has plans to have all these games translated to run on platforms for Palm and EPOC32 (Psion, Nokia 9210), also for free. If just a small faction of the millions of owners of
Pocket PC, Palm and EPOC would purchase Peter's GameBox (I know I would; so would many of my pals), he
would be a rich man. If just Nokia licenses Peter's GameBox (instead of those crappy games we are stuck with on our mobiles), he would be a millionaire. Yet, he is giving 'em away for free. Why?
In an email I received from him recently, Peter told me that 'the fact is that we're earning rather well from our job as programmers and I don't think that the CE market is big enough yet. The prices on the CE game market are extremely high… I want to make a difference in how software companies behave on the CE game market. We have plans on asking money for software, but that will be applications and
utilities.'
What a tremendous attitude! The WinCe community is richer and blessed because of gracious guys like Peter who
are willing to give back a little (actually a lot) of what he got out of. This is the very reason that inspires me to do this
review.
May his tribe increase.
Price: $FREE
Pros:
Games of enduring interest
Well crafted; beautiful graphics and layout
Good game play; 6 games to choose from
Small footprint; easy to get in and out
Free
4 More games coming
Sound, Hi Score, Pause etc.
Still Free
Cons:
None
About the Author:
Dr. Henry Kong is a self-confessed PDA-addict, starting with the first Palm Pilot. He has been in the ministry for over 35 years and has a popular personal website which he fondly calls,
Henry's 3Cs' – computer, church and
cuisine.