We use affiliate links. If you buy something through the links on this page, we may earn a commission at no cost to you. Learn more.
The Wrap2 case by Innovations
to Industry is a leather case for the PalmPilot. The Wrap2
comes in several varieties. The differences between the case are
color, decorative metal corners and a quick release belt clip.
The colors that the case is available in are Black, Navy,
Burgundy, British Tan, Nubuck Red and Nubuck Petrol Blue. The one
I received to review was their Black Wrap2 without the quick
release belt clip. The Wrap2 is made very well. The leather is of
very high quality as is the stitching.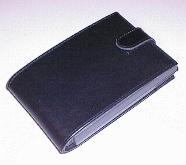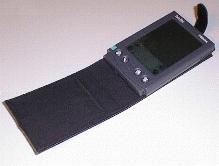 The Wrap2 is just that, a wrap around case. It forms a 'U'
around the Pilot leaving the top and sides of the PDA exposed.
The Pilot is held in the case by a strip of Velcro (eck) that is
attached to the top of the memory door. The strip is about 1 inch
high and runs the width of the memory door. I also must comment
that the adhesive that is used on this Velcro strip is extremely
strong. During my review of this case, I had the Velcro on the
back of my Pilot for a little longer than a week. When the time
came to remove the Velcro, it took me quite awhile to pull it
off…. it took quite a bit of force. It didn't leave any residue
though.
The Wrap2 has one slot that can hold a few business cards or
credit cards. The card slot is in the screen protection part of
the case.
Opening and closing the case is easy. A Velcro strap at the
top holds the case together. I think it might be nicer if the
case was made so that a wider strap was used. This would protect
the top of the Pilot better.
Some nice features of this case are that the Pilot doesn't
need to be detached from the case in order to HotSync. You can
use a HotSync cable, The Bridge
or the cradle while the case is attached. Also, nothing obstructs
the stylus, buttons or contrast wheel while using this case.
All in all, I find the Wrap2 to be a nice minimalist type
case. It doesn't add much to the overall size of the Pilot and is
easy to slip in and out of a pocket. If you don't mind that the
sides and top of your Pilot are exposed, this might be the case
for you.
Price: £15.00 – £18.00 (check
current exchange rates before ordering)
Pros:
Compact
Well made
Play through
Cons:
Uses Velcro
Top and sides exposed