We use affiliate links. If you buy something through the links on this page, we may earn a commission at no cost to you. Learn more.
Program Requirements:
Device:
Palm III, Older PalmPilots that have been upgraded to the Palm
III level with the 2meg upgrade board (with IR), Any Palm OS PDA with the OmniRemote
external IR module
36 K free RAM
Pacific Neo-Tek has done what everyone said
couldn't be done… allow the Palm III to be a universal remote control using its built in
IR receiver / transmitter.  The OmniRemote software accomplishes this feat and does
it extremely well.  One of the reasons why people said this couldn't be done was
because of the weak IR transmitter in the Palm III. It is just too dim causing the IR
range to be very short. And, they weren't wrong, it is true that the range is short. But,
Pacific Neo-Tek solved that problem also with their optional external IR module. It
increases the power of the built in IR beam to as much as 400% and does not require
batteries.  This module is required for non Palm III PDAs or PalmPilots that have not
been upgraded with the 2meg upgrade that includes the internal IR.  The module plugs
into the hotsync port of your PDA.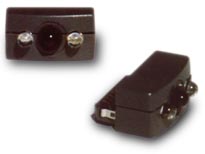 I tested OmniRemote on my Palm III with and without the external module. I also did the
testing using a fresh set of batteries.
The first step in turning your Palm III into a remote is to create the remote screens
that you'll see on your PDA. You can create up to 15 different screens. Screens are made
up of labels and buttons.  Buttons can do one function like power on a device or can
be a macro that includes lots of different functions.  The OmniRemote software is
quite nice in that you can draw the buttons on the screen and then later resize, move,
delete and edit them if you wish.  Buttons can have text descriptions or can have
graphical icons.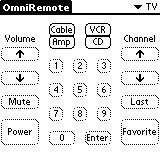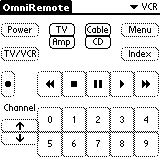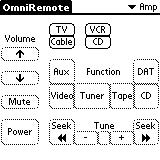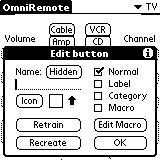 After you have created the screens, then you have to learn the commands that you want
each button to perform.  This requires you to first change to training mode. You then
hold your physical remote control near the IR port on the Palm III and press the
appropriate button on the screen that you want to learn and then the physical button on
the remote. The actual training of the screens is what is the most time consuming in
setting up this software. But, you only need to do it once so the time spent is worth it.
It is best if you do the training in a dim room. The software will beep at you if
conditions are too bright.  If you have problems training a certain remote control,
you can also change the receive frequency.  During my testing, I just set it on
'auto' and had no problems training my Magnavox TV, RCA VCR and RCA DSS Satellite system.
After I had trained my three devices, I conducted a test to see how strong the internal
Palm III IR was versus the external OmniRemote IR module. Here were my findings:
| | | | |
| --- | --- | --- | --- |
| | Magnavox TV | RCA VCR | RCA DSS Satellite System |
| Max range using internal IR | 5ft | 3ft | 3ft |
| Max range using external IR | 7ft | 14ft | 12ft |
As you can see from the above results, the external IR module really makes a
difference. I also found that the Palm III's internal IR was much more sensitive to the
angle of the remote. I had to hold the Palm III's IR almost perfectly horizontal with the
device I was wanting to control in order for it to recognize my commands.  My
Magnavox TV was the pickiest in this respect.  After I plugged in the external IR
module, things were much better. I could actually sit in my LazyBoy chair and hold the
Palm III at a much more comfortable angle.  A neat feature of the software is the
ability to flip the screen around so that it won't be upside down when you're using the
external IR module.
I also found that the external IR seemed faster than the internal IR. I say this
because I created a macro button called VH1. This macro would change to channel 263 on my
DSS.  When I used this macro while using the internal IR, it would sometimes switch
to channel 23 or 63 because it would miss some of the numbers. The external IR worked fine
every time.
OmniRemote will also let you create up to 32 timers that let you schedule macros for
unattended operation. Of course, you'll have to leave your Palm III in front of the device
that you want to control in order for this to work 🙂  Timers can be set to repeat
daily, weekly, or every week day. Timers have a start operation and end operation. For
example, you could create a macro called TAPE ER that would turn on your VCR, turn to NBC
and press REC. Then create a macro called STOP TAPE that would press STOP on your VCR and
then power it down.  You would then create a timer in OmniRemote for the desired
time, set the Start operation to your TAPE ER macro and the end operation to your STOP
TAPE macro.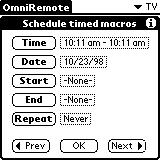 I found that the timers worked fine but, there are 2 little annoyances. The major one
is that you MUST make sure that OmniRemote is the last application that you were running
when you turned off your Palm III. If it isn't, the timers will not turn on your Palm III.
The other annoyance is that when a timer is fired, it turns on your Palm III and
plays the start macro and then just sits there till the Palm III turns off from
inactivity.  I think it would be nicer if the Palm III turned on, played the start
macro, then turned off the Palm III. This would save your batteries a bit.
In summary, OmniRemote is a very geewhiz piece of software. The ability to turn your
Palm III into a remote is very cool.  Some people might say "why use a $300 PDA
as a TV remote…", I say "why not!".  It just shows that our favorite
PDA can do almost anything!  Give this software a try. A demo version is available on
the Pacific Neo-Tek website.
Price: $20 OmniRemote software, $40 OmniRemote external IR
module w/software included
Pros:
Works with the Palm III's internal IR.
Inexpensive software.
Optional external IR module available that is much more powerful.
Cons:
Palm III internal IR has limited range.
Using timers requires you to leave your PDA in front of the device you will be
controlling.
Product Information
Price:
$20.00
Manufacturer:
Pacific Neo-tek
Pros:

Works with the Palm III's internal IR.
Inexpensive software.
Optional external IR module available that is much more powerful.

Cons:

Palm III internal IR has limited range.
Using timers requires you to leave your PDA in front of the device you will be
controlling.