We use affiliate links. If you buy something through the links on this page, we may earn a commission at no cost to you. Learn more.
Two of the most annoying things about the Pilot are the inability to do an
easy restore after a crash & the length of HotSyncs when you have a lot of
data. BackupBuddy Software has a
solution to that with BackupBuddy.
BackupBuddy backs up your entire Pilot, apps & all, so that if your Pilot
crashes, it will reinstall all your data with your apps. After that full backup,
BackupBuddy will only do incremental backups of changed data or new apps or
updates.
It's a pretty easy process. Install BackupBuddy, mark everything for backup,
do a HotSync, check off the QuickSync option, & leave it alone. You never
have to mess with the program again if you don't want to. BackupBuddy will do
incremental backups for you & tidy up your backup file on the desktop to
reflect only what is actually on your Pilot. If you do have a crash, all your
apps & data are waiting in your backup file to be restored by the desktop. I
have had some problems with Doc & other apps needing to be deleted &
reinstalled again after a restore, but that isn't BackupBuddy's fault. Some apps
have trouble being installed with their data.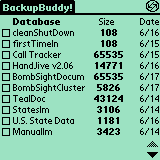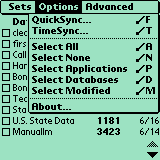 There are some special pointers & features to be aware of. Doc files
& Image Viewer files can be very large & are modified when you open
them. Checking these off to not be backed up will greatly speed your backups.
You can then save these in a set so that you don't have to check them off at
every HotSync.  You can load this set & add other items to it any time
you wish.  In addition, if you're someone who leaves your Pilot in the
HotSync cradle & would like a hands-free HotSync while you're asleep, for
instance, you can set up BackupBuddy to automatically initiate a HotSync at any
time you specify.  This is a feature called TimeSync. Be aware that leaving
your Pilot in the cradle does drain a small amount of power unless you've
performed the cradle modification detailed at http://www.conklinsystems.com/pilot/drainfix.shtml.
This would be a cool way to have your Pilot automatically synced with your
AvantGo data, mail & any other data you need ready to go & waiting for
you to pick up on your way out the door in the morning.
Overall this is a very seamless app that does what it's supposed to &
stays out of your way.
Price:  $15.00
Size: 12K
Pros:
Quick HotSyncs
Tidy backup file
Easy restores
Cons:
Some apps don't reinstall easily