I've always liked the cases that the E&B
Company creates and the Futura 50 is no exception. The Futura 50 is a black leather
zippered case that fits palmtops that are 6.5 x 3.75 x 1.25 in or smaller. This case fits
the Psion Series 5 palmtop perfectly and that is the palmtop that I used during this
review.If you don't mind putting Velcro on the bottom of your PDA, you can even use
this case as a play through case. The case comes with 4 small Velcro stick on circles.
The case has a heavy duty zipper that seperates the top and bottom half of
the case. The bottom half is flat and Velcro compatible so that you can use the PDA while
it is attached to it. It also has a hard insert to protect your PDA.The top half also
has an hard insert for protection. There are also 4 credit card or business card slots,
one money slot, a pen or stylus holder and an elastic battery holder that can hold 2 AA
batteries. I did find that with 2 batteries in this holder with the Psion, closing and
opening the case was a bit hard. It made the case too snug.
The elastic battery holder also conceals a hand strap. This strap can be
pulled out and used to carry the case. The only bad thing is that when you use this strap,
you can't zip the case up all the way.  I personally don't care for handstraps like
these and just left it concealed in the battery holder. I'd rather have a little suitcase
type handle on this case. Or a handle that could be attached and removed when needed.The
Futura 50 is made very well. The leather and stitching are both premium quality. The
zipper is also very good quality and is easy to use. This is a case that both looks good
and works well for medium sized clam shell palmtops.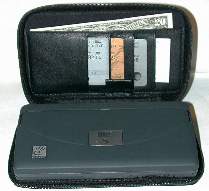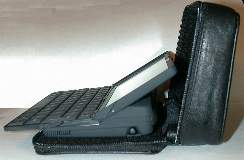 Price: $44.95
Pros:
Play through.
Card and money slots.
Made very well.
Cons:
Using the handstrap doesn't allow you to completely zip up the case.
Check out these great stories too