Ever wish you could easily hotsync your PalmPilot  with the cradle while it is still in a case?  Well, thanks to a new product called The Bridge, you can.  The Bridge is a cradle extender made by Midwest PCB Designs and available for purchase at PalmPilotGear H.Q.
The idea was created by Don Damiani who is part of Midwest PCB Designs and who has written quite a few reviews for The Gadgeteer. We work together at our 'day jobs' 🙂
The idea began when I would bring in new cases that I was reviewing, and would often complain to him that I hated having to remove the case in order to hotsync. I also didn't like having to use a hotsync cable because that required you to manually turn on the Pilot, navigate to the hotsync application and then initiate the hotsync via a screen tap.  I'm lazy by nature and just like to pop the PDA in the cradle, press the hotsync button and go.
Don listened to my complaining and then went off and created a solution.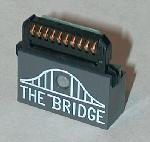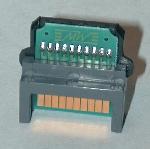 The Bridge is a small extender that connects with any existing PalmPilot or Palm III cradle.  It is made of hard molded plastic and fits snuggly on the cradle. Inside The Bridge, a circuit board with gold plated contacts extends the signals to the Bridge's connector.  To use it, you just plug it in and leave it. Then when you want to hotsync, you just place the PDA on the connector like normal and press the hotsync button.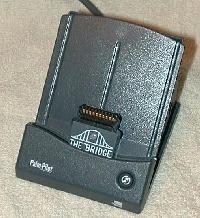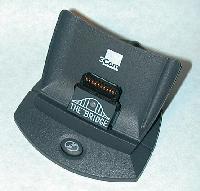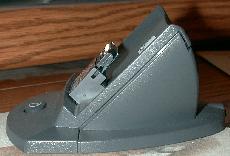 A great side effect of The Bridge is that it will let you sync a PalmPilot in a Palm III cradle.  But the main feature of this product is that if your case has an opening in it for the hotsync port, you can now hotsync without using a cable or taking your PDA out of the case.  Some of the different cases that work with The Bridge are: the DVP7 and DVP9 by Devian, Pilot Angel and Pilot Armor cases by Okmik Productions, Data Glove by Levenger, and the Pilot case by Targus.  Any case that has an opening for the hotsync port should work fine with The Bridge.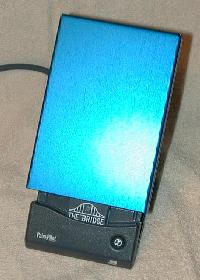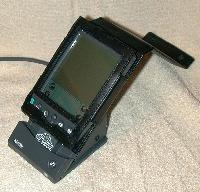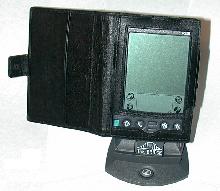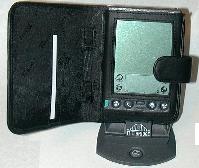 Using The Bridge is much quicker than taking the PDA out of the case or using a cable. The Bridge has a permanent home on my hotsync cradle.  There is really only one negative side to this product.  If you have a very worn connector in your cradle, you might need to do a slight modification to The Bridge to ensure that it has proper contact with the connector on the cradle. This modification is simple and is explained in the instructions that come with The Bridge.
Check out these great stories too