We use affiliate links. If you buy something through the links on this page, we may earn a commission at no cost to you. Learn more.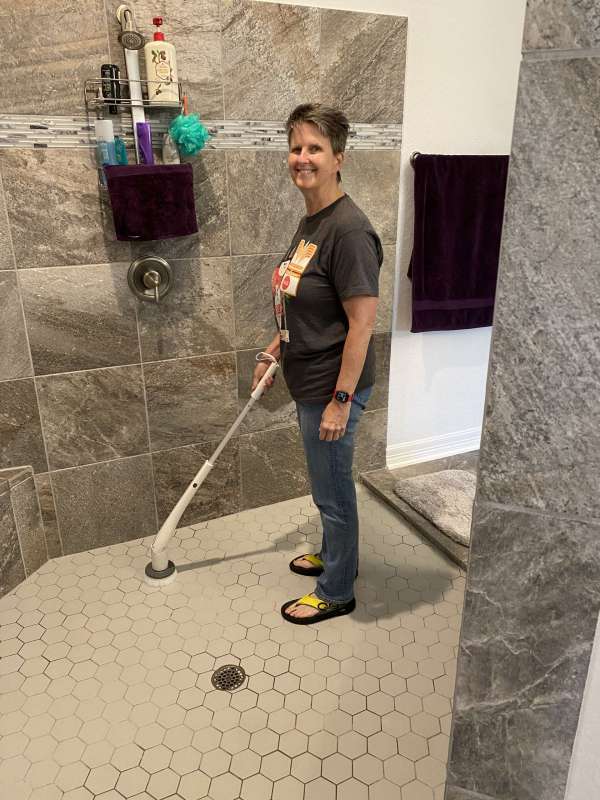 REVIEW – Even though I am smiling in this photo I HATE housework.  I would rather be outside in 100-degree heat working in the yard rather than dusting, mopping floors, and cleaning bathrooms.  I am always on the lookout for things that can potentially make housework easier.  We recently moved into a new home that has a very large shower area.  The thought of getting down on my hands and knees to scrub that floor just makes me cringe.  The Tiswall Electric Spin Scrubber promises to get you off the floor and make things like scrubbing tile, tire rims, and even scrubbing your toilet a much easier task to accomplish.  Let's see how it works out.
What is it?
The Tilswall Electric Spin Scrubber (hereinafter to be referred to as the scrubber) is a cordless and rechargeable spin scrubber that comes with multiple brush attachments.  It can be used on almost any surface like tile, glass, tire rims, toilet bowls, etc.
What's in the box?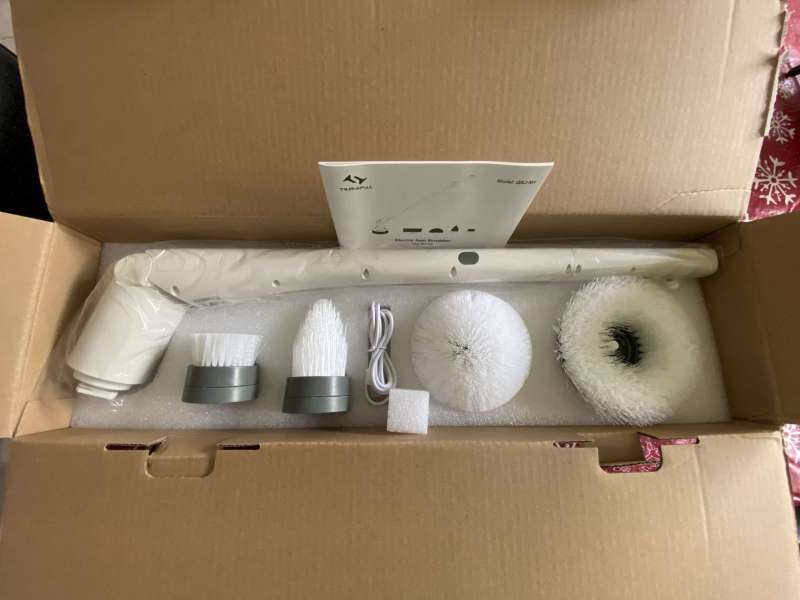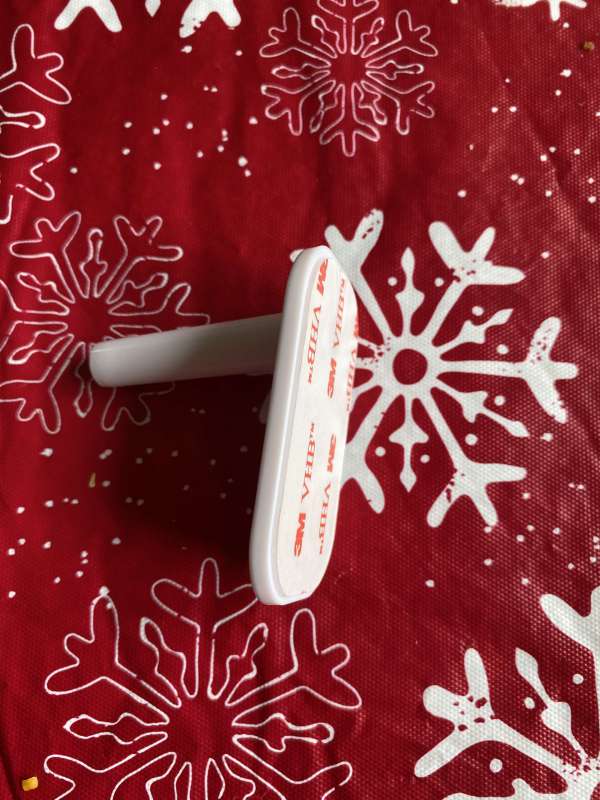 I took a picture of everything as it came in the box.  It was all nicely packed.  I would think it would be a good place to store the scrubber and brushes if you did not have a good place to put them.  I would make sure the brushes were dry before storing them.
One cordless electric scrubber
One user manual
One micro USB cable – no plug attachment was included
One hard flat brush
One small flat brush
One corner round brush
One pointed brush
One hook to mount on the wall to hang the brush
Hardware specs
3.7V 4000mah increases speed up to 300RPM and torque up to 35.4 Kgf. cm

Max working time can reach up to 180 minutes ( 3 hours); Operating volume is less than 70dB

Update the current to 12A to withstand higher resistance and reduce approximately half of the issues caused by resistance

Instead of plastic, PATENTED poly-ring ring and metal parts of inner structure increase durability to withstand 60kg of torsion

Tool-free extension arm allows to change the scrubber length from 27.6 inches all the way up to 43.3 inches; Extra hook up included for easy storage

The depth of bristle is more than 7mm, repeated practical use turns out to be not easy to shed and won't leave any scratch
Design and features
As stated above, the scrubber has an arm that when you push two buttons on the side that will extend from 27.6 inches to 43.6 inches.  The picture below shows the arm fully extended.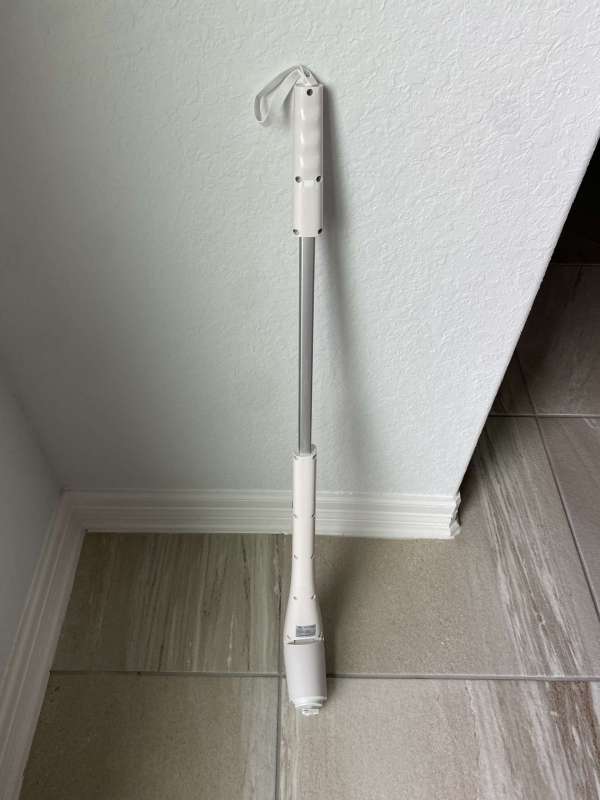 The head can rotate 80 degrees from straight on with the handle.  The head rotation is very stiff.  It clicks into place when it is even with the handle.  I found that putting the head at the angle I wished it to be at meant that it would stay in place.  It was not wobbly at all.  It felt very heavy duty and never slipped positions on me.  The whole scrubber felt very sturdy and weighs around 878 grams.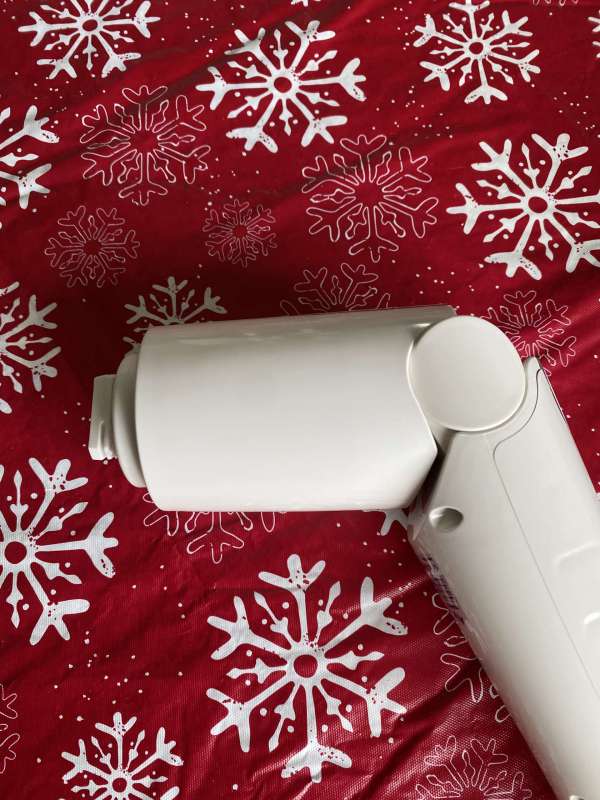 I took a picture to show the head fully laid out flat to lie even with the handle.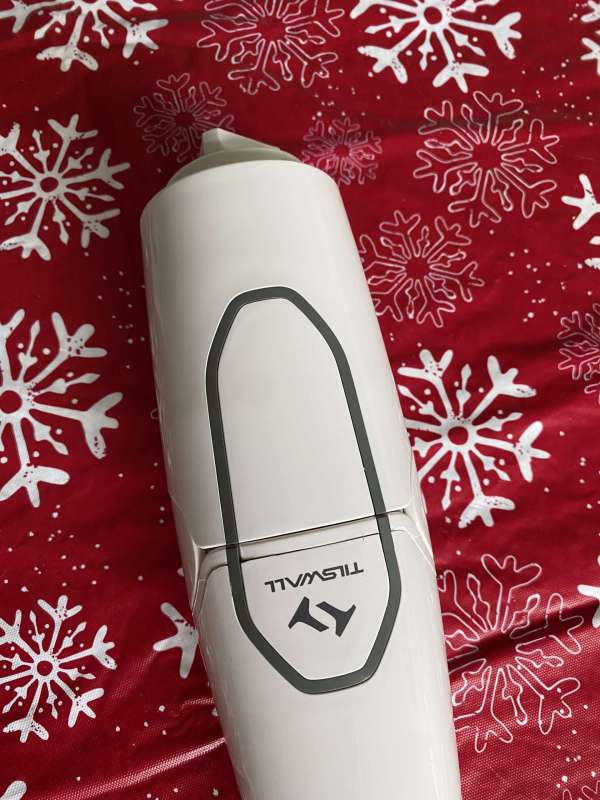 The bottom of the scrubber has a triangle that is used to attach the various scrub heads.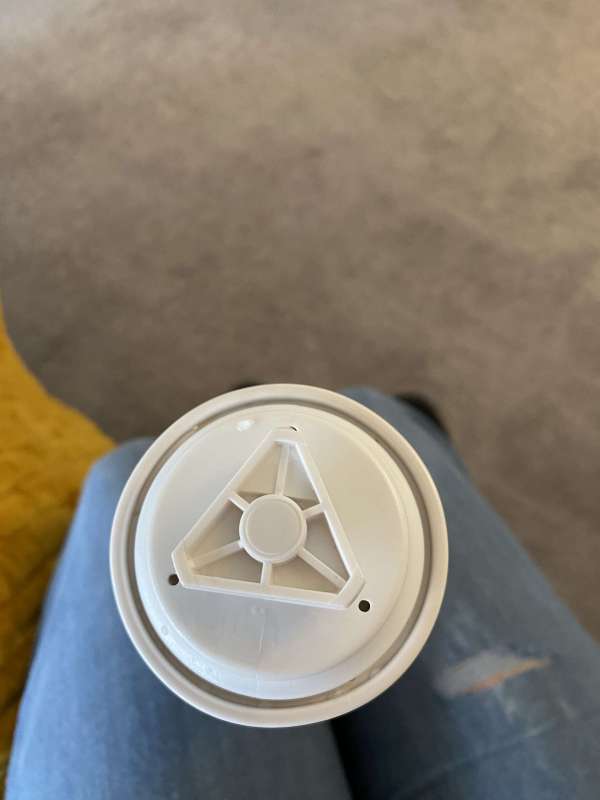 Here is a picture of the bottom of one scrub head.   Since the scrubber does not have a lock to hold the rotation locked in place, you have to rapidly twist to the right (as you face the brushes) to lock it into place and rapidly twist to the left to remove it.  This stumped me a bit at first.  I was able to get the head attached pretty easily.  When it came time to remove it, I was twisting slowly and only making the entire brush and locking mechanism turn to the left.   Once I made it a quick twist to the left, it came right off.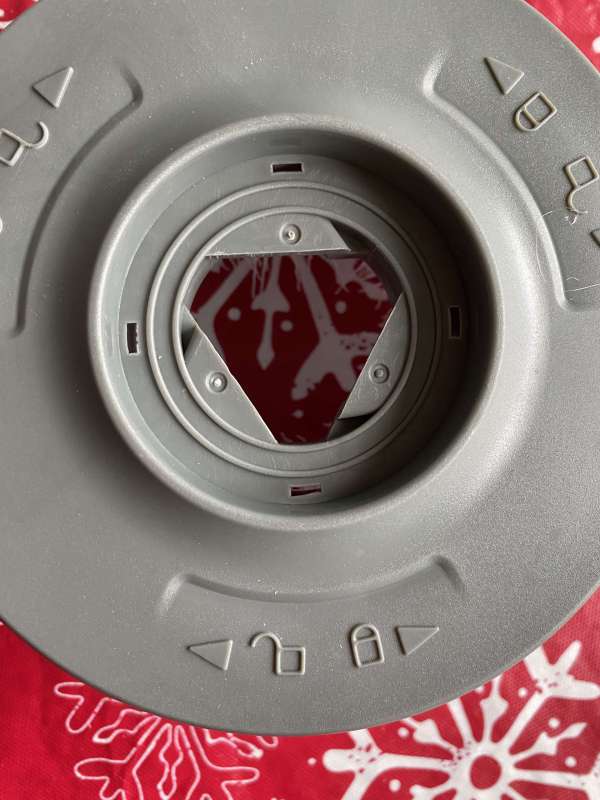 This next picture shows you one of the two buttons on the top side of the handle.  Squeezing both of these rubber buttons lets you extend the top part of the handle to its full 43.3 inches.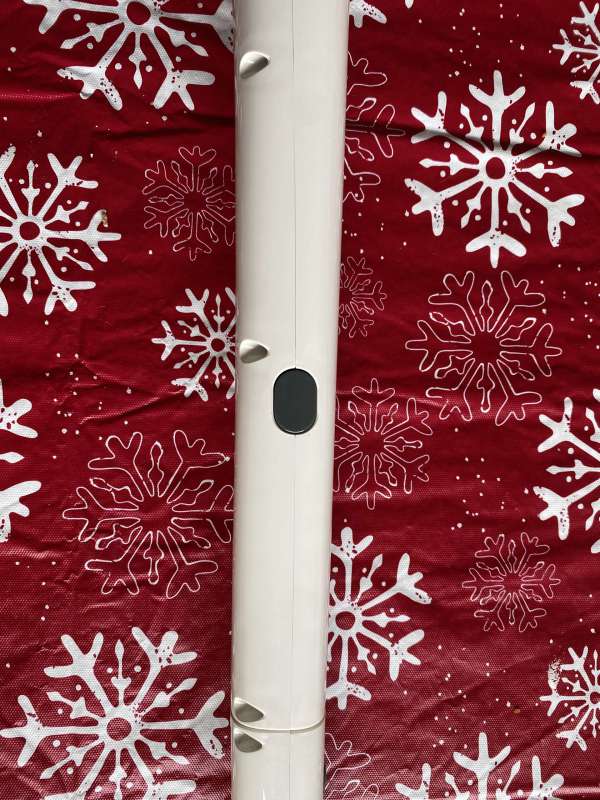 At the top of the handle that can extend you will find the power button and three small LED lights to show you the power level of the battery.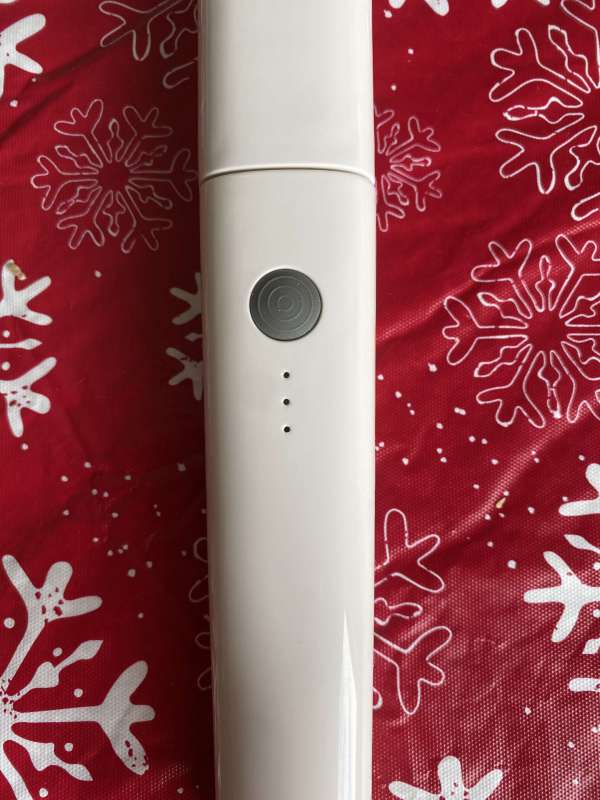 When all three are lit, the scrubber is fully charged.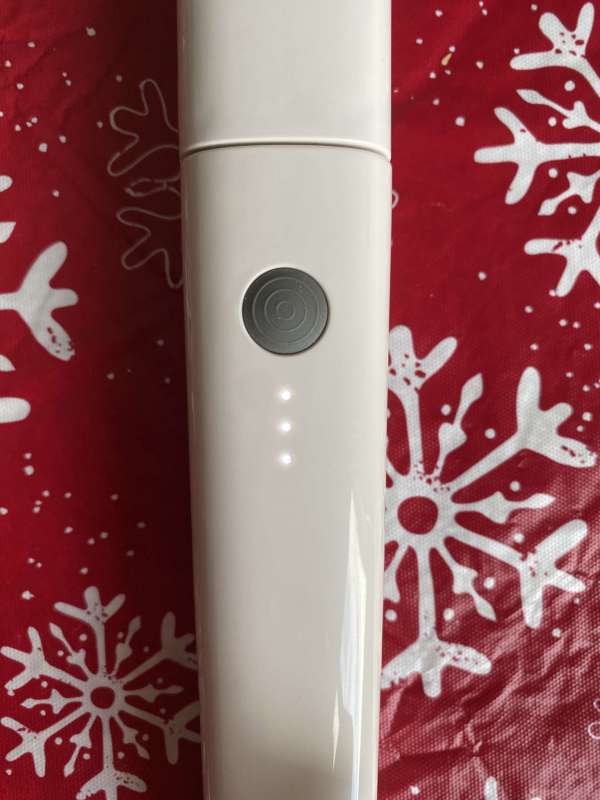 Setup
Setup was really easy.  Underneath the top part of the handle behind the power button is the micro-USB charging port.   It is covered by a silicone cover to help keep the device protected from water.  I did note that it had no IPX water rating at all.  The instructions do say not to submerge the device in water.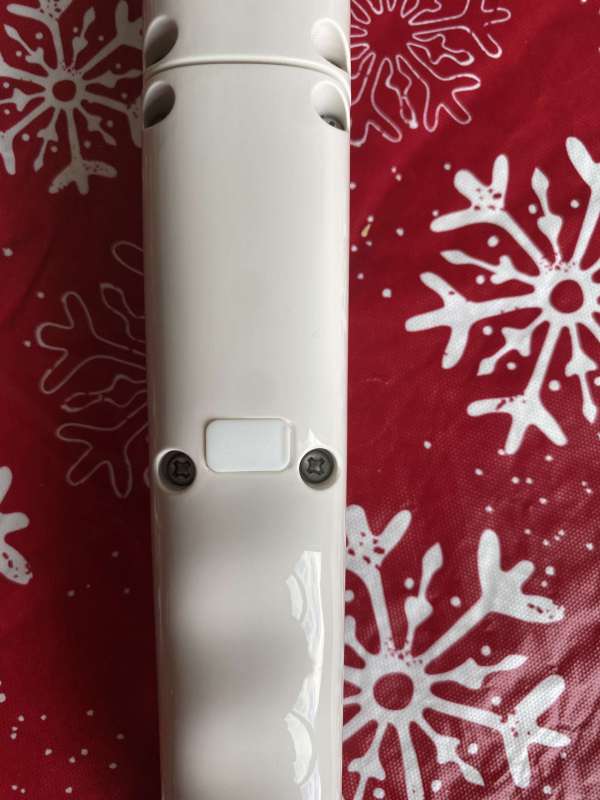 The silicone cover is attached to the scrubber head by a small lanyard.  I think that is a great feature because I have lost lots of those rubber covers on several devices in the past few years.  I think they have disappeared in my dog's stomach!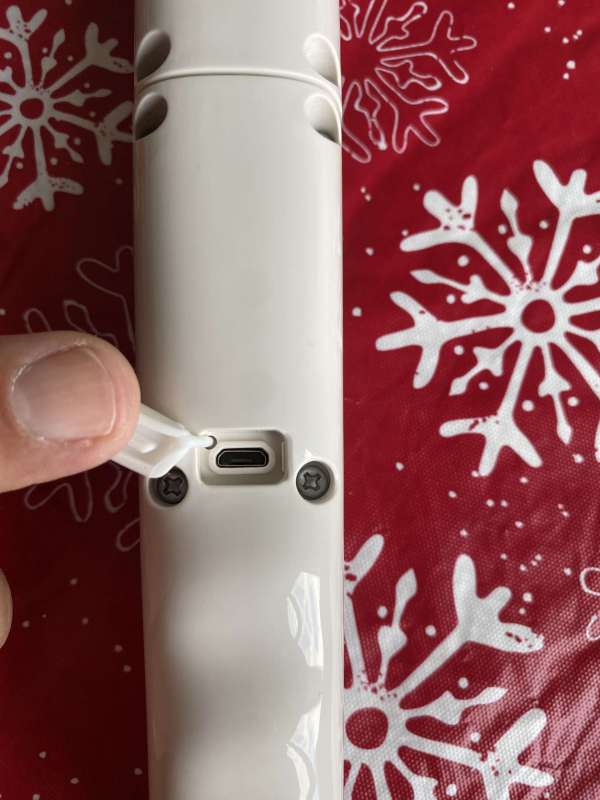 Performance
Here is a shot of the aforementioned shower.   You can see there is a lot of tiles to clean.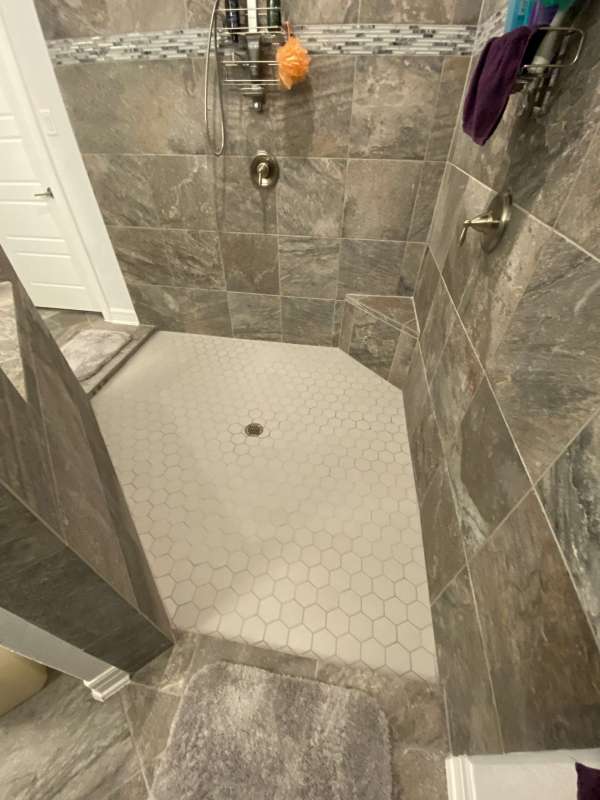 I had my hubby take this picture to show you that I could hold the scrubber in a scrubbing position without having to bend over.  I am 5 feet 7 inches tall and my inseam is around 32 inches.  My elbow was pretty bent.  I am sure someone a couple of inches taller would also have no issues.   Now, holding the scrubber like that when it was actually running was another issue entirely!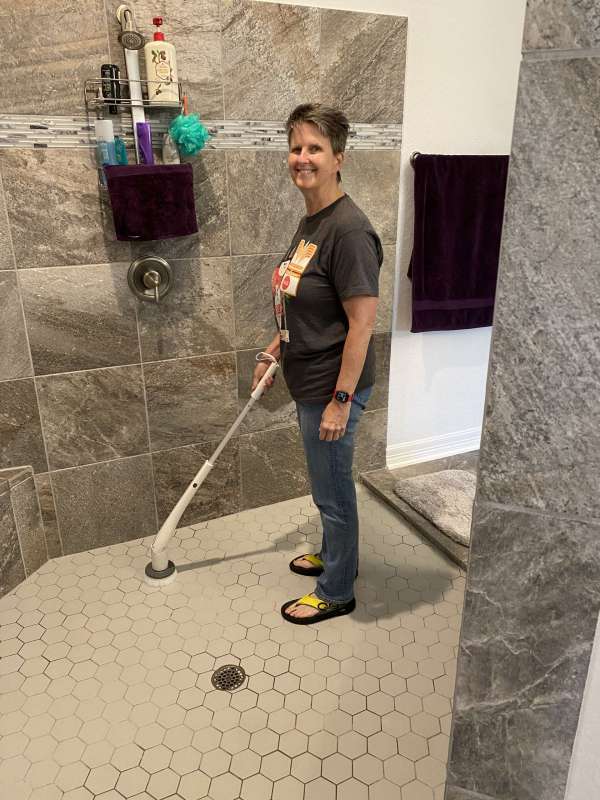 I took a couple of close-up pictures of our tile.   The grout is supposed to be a light grey and there were several dark and almost black areas in the tile.  Our home-building experience this past year was not perfect.  I felt that sometimes they got guys to do the work by finding anyone willing to do the job and did not worry about their skills.   Looking closer at a few of the dark areas I found that we are actually missing grout in some places or have very little.  I know this scrubber won't fix that, but there were some other dark areas that could be cleaned.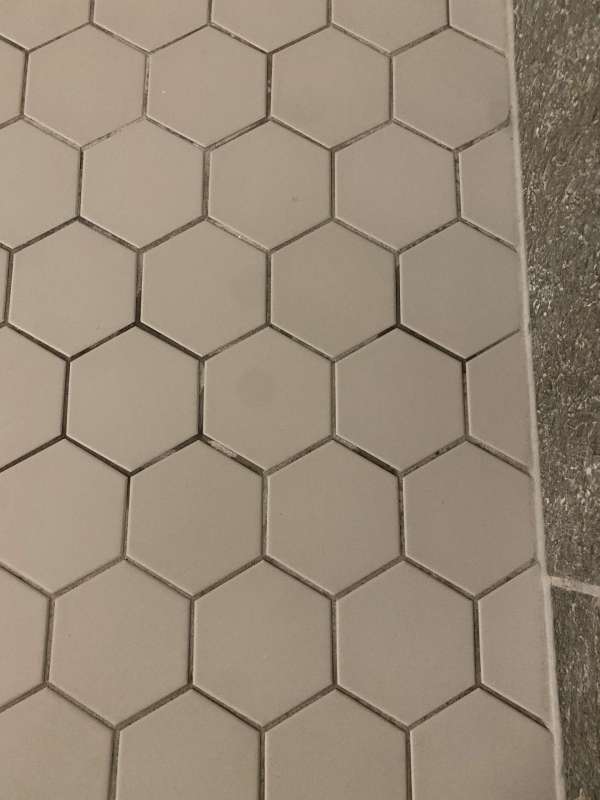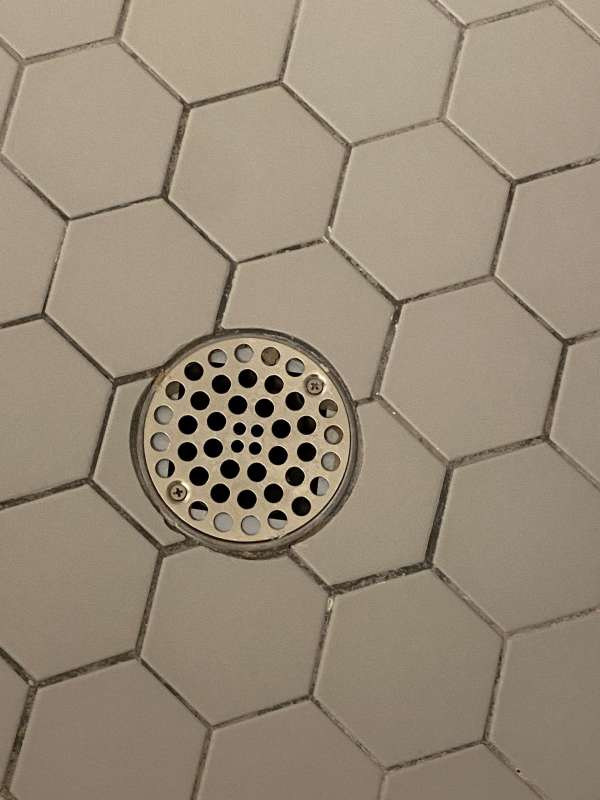 Here is a video of the scrubber in action.  You can see how it wants to skitter left.  Holding it with one hand did not give me the control I wished.  I ended up having to hold it with two hands and bend down a bit to put some pressure on the brush.  It only has one rotation speed.  I do believe it is adequate for a majority of your cleaning jobs.  I put some really hard pressure in areas where I knew we had dirty grout and the scrubber never slowed down.   It continued to work as it should.
Being as that our house is only six months old, I found that all the black grout areas that I took pictures of were simply bad grout.  Those areas were there when we moved in, and we now have an open issue with our builder to come to fix them.    I found that the scrubber did an excellent job of scrubbing the tile and grout.  I had one small spot that I could not remove from the tile before I used the scrubber on it.  Unfortunately, I did not take a picture of it beforehand.   It was literally a black dot.  The scrubber removed it!   My husband commented that he thinks the tile looks much cleaner than before, but any pictures I took after it dried did not show the true difference.
I can say that cleaning that tile floor and walls of the shower took me only about 20 minutes with the scrubber vs a good hour and a half on my hands and knees.  I also feel like the scrubber made me go over areas several times because it was so easy to do.
What I like
Very sturdy and well built
Holds a charge a long time.  20 minutes of use did not even make a dent in the battery charge
It comes with 5 different brush heads.
Rotation is strong, you are able to put pressure down on the brush and it still rotates just fine
What needs to be improved
Need a button to lock the mounting head in place in order to make removal of brushes consistent with other rotating devices like drills.
It would be nice if the scrubber were even longer.  I would make the base longer.  I still had to bend over to use two hands in order to hold the scrubber in place when using it.
Final thoughts
I really like the Tilswall Electric Scrubbing brush.  I had my doubts as to if it would be sturdy enough to handle the kind of pressure I wanted to put on the brush and it did a great job.  It has a long battery life and comes with multiple brushes.  It certainly made my job cleaning bathroom shower tile a lot easier than before and less time consuming.
Price: $64.99
Where to buy: Amazon
Source: The sample of this product was provided by Tilswall.