We use affiliate links. If you buy something through the links on this page, we may earn a commission at no cost to you. Learn more.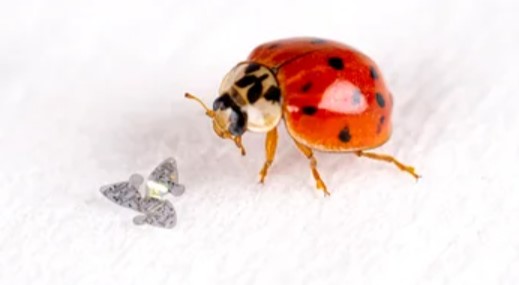 ARTICLE – Do you remember my article on microswimmers? Well, now engineers have developed microfliers – electronic microchips with wings! I first discovered this fascinating news on Jalopnik and dove further into the details on Northwestern University's website.
According to the Northwestern Now article, engineers John A. Rogers, Yonggang Huang, and others from Northwestern University were inspired by the aerodynamics of various wind-dispersed plant seeds, and more specifically, Tristellateia plant seeds (Australian Gold Vine seeds). They noticed how slowly the seeds floated in the air. "This behavior stabilizes its flight, ensures dispersal over a broad area and increases the amount of time it interacts with the air, making it ideal for monitoring air pollution and airborne disease."

According to the Northwestern University news article, the microchips they created are as small as a grain of sand and include sensors, memory storage, a power source that gathers energy from the environment, an antenna to transfer the data wirelessly to a device, and even a pH sensor in one microchip "to monitor water quality and photodetectors to measure sun exposure at different wavelengths."
They can disperse these winged microchips from high altitudes to collect and transmit that data. The microchips are even made of materials that will degrade in water over time when they are no longer needed so you don't have to worry about computer chips littering the environment. How awesome is that?
If you're curious about these tiny gliders, there's a Nature article, Three-dimensional Electronic Microfliers Inspired by Wind-dispersed Seeds, that goes into much greater depth about them.
I remember being captivated by maple seeds twirling gently to the ground. As a kid, I'd even throw them back up into the sky to watch them fall again (I still do every now and then!), thus new tech like this makes me think, "Now why didn't I think of that?"
Check out the following video to see the winged microchips in action: