We use affiliate links. If you buy something through the links on this page, we may earn a commission at no cost to you. Learn more.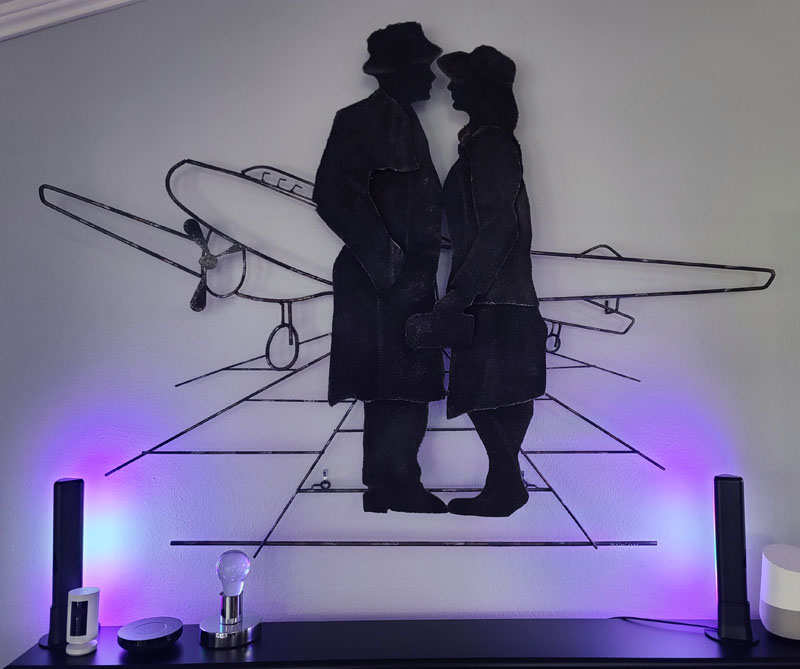 REVIEW – There are lots of different LED lighting solutions out there.  Govee introduced their new Flow Plus smart light bar solution into this crowded market.  Let's dig into these and find out if they bring something new to the market or are just another dull addition.
What is it?
Govee Flow Plus smart light bars are a set of two light bars that can provide warm white, cool white, and full-color accent lighting. Each bar can be lit in single or multiple colors.  The bars can be controlled with the connected controller, an application, and via Amazon Alexa and Google Home voice commands.
What's in the box?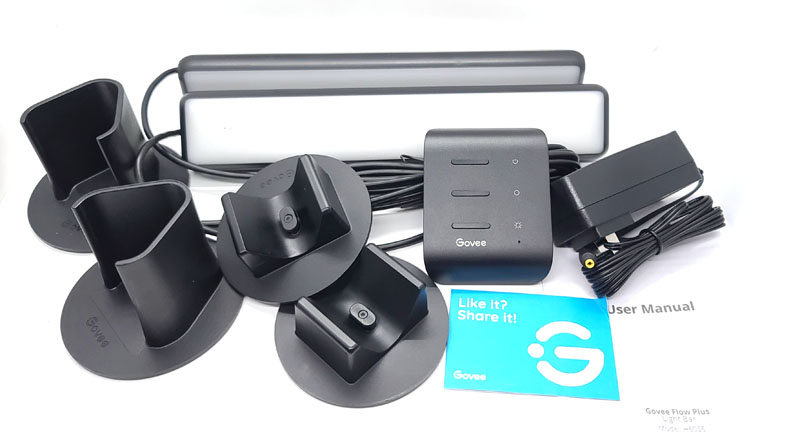 Twin light bars with connected cord
Control box with adhesive pad
Power puck with cord
Two vertical stands
Two wall mounts with adhesive pad
Help card
User manual
Hardware specs
Model: H6056
Color: RGBICWW
Dimensions: 10.47*3.31*3.31in
Control methods: voice control (Alexa, Google) + app + control box
Working voltage: AC 100-240V
Working Temperature: -10°to 45°C(14°to 113°F)
Connectivity protocols: Bluetooth, Wi-Fi
Construction: ABS, plastic
Power cord length: 6′
Light cord length from "Y": about 4′
Max distance between light bars: about 7′
Design and features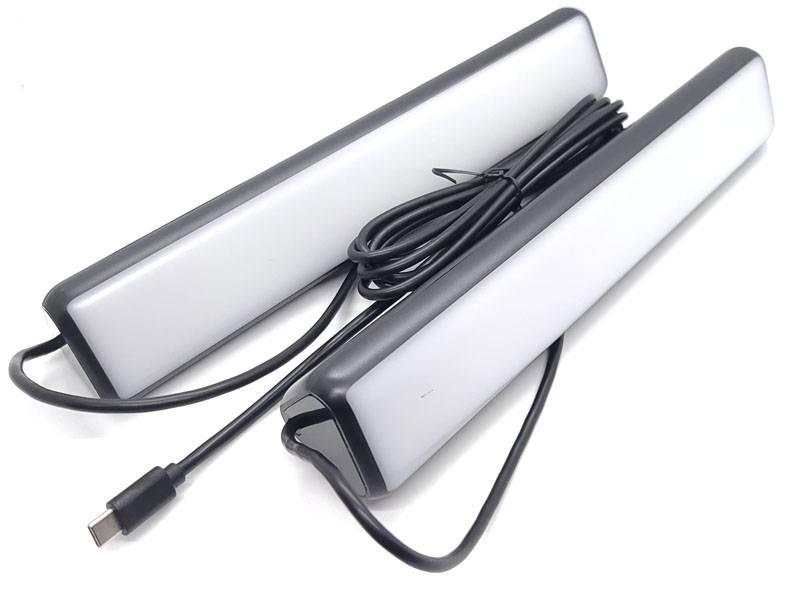 The light bars are connected with a power and control cord that terminates in a USB-C connector.

The cord splits into a Y-shape with a single line running to each bar.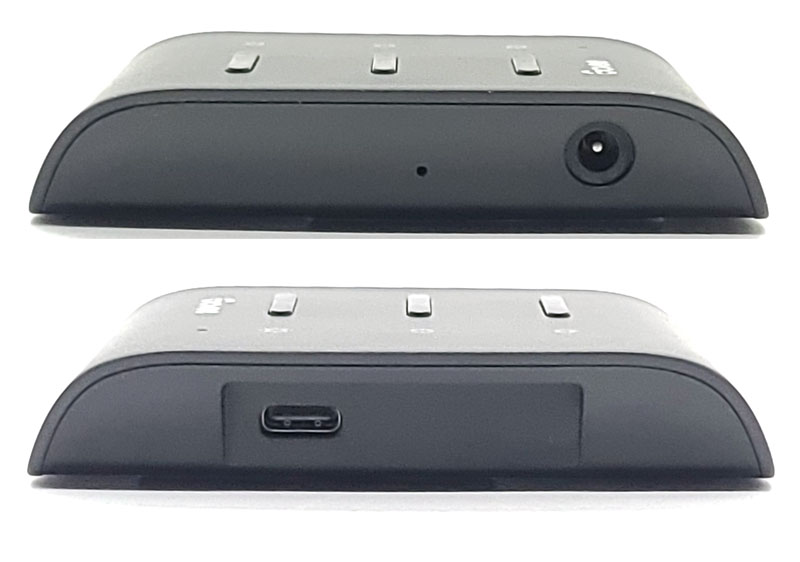 The USB-C connector plugs into the right side of the control box and the power cord into the left side.
Never miss one of our posts again. Sent MON, WED, and FRI with the latest gadget reviews and news!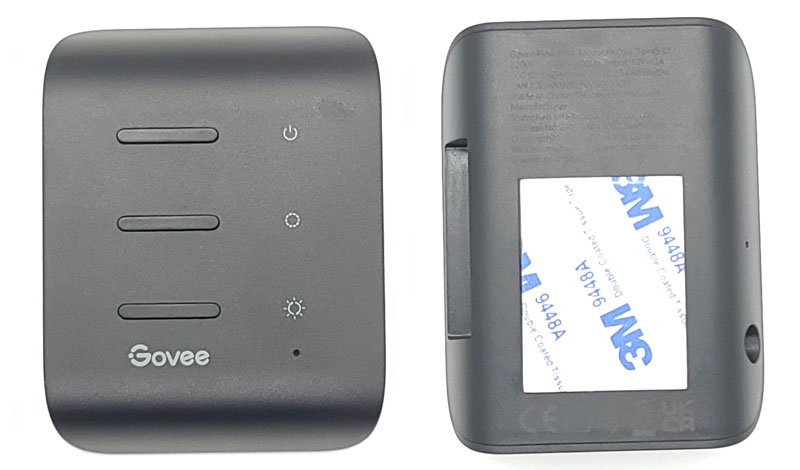 The control box has three buttons.  From top to bottom, they are power, light color, music modes/dimming.  They include an adhesive mounting pad on the back of the controller.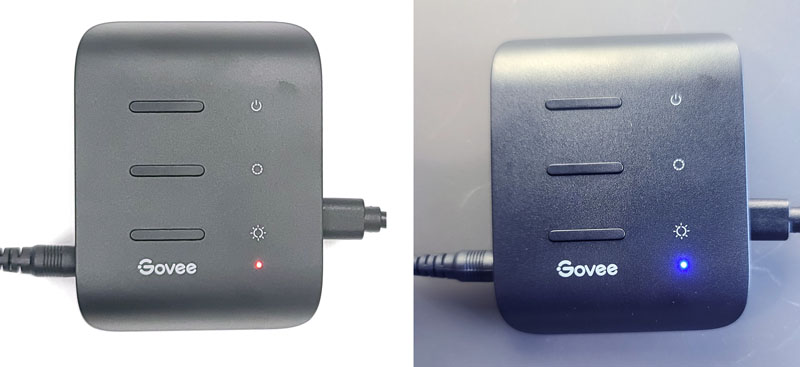 A small LED on the controller glows red initially to indicate power and blue when it is connected to your Wi-Fi network.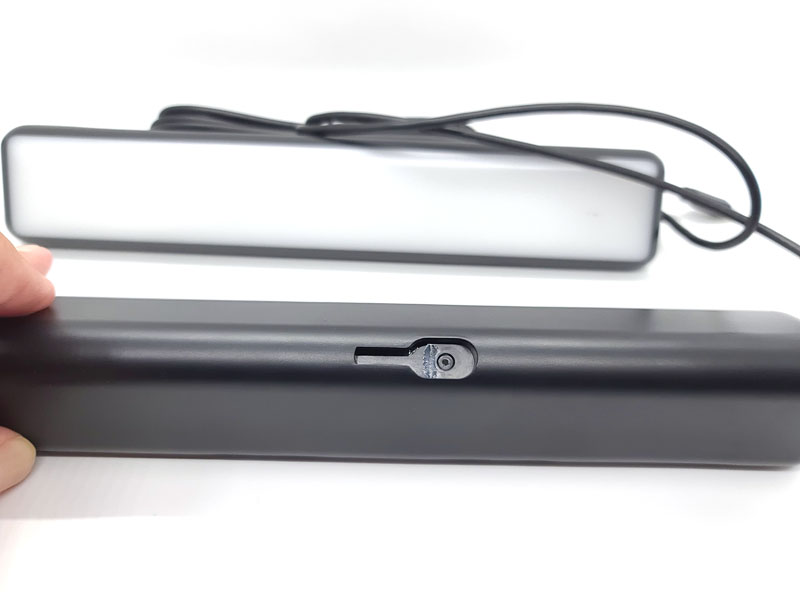 There is a notch on the back of each bar.  What could that be for?  There are two mounting options.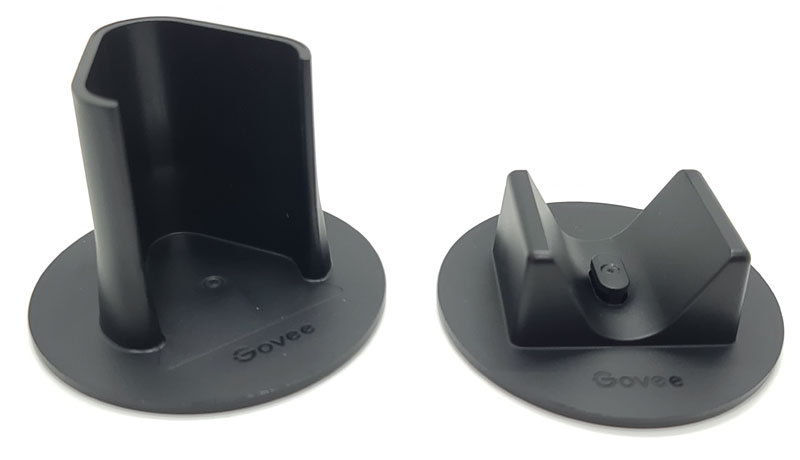 On the left, we see the stand.  The bar fits into this vertically and will stand on any flat surface.  The notch is designed to lock into the tab on the right-hand mount.  That mount is backed with an adhesive pad so you can place the light bar just about anywhere.
Setup
To power up the light bars, you plug the power cord into the control box and then plug the light bar cord into the control box.  The lights can be controlled from the box.  If you want to use voice or app control, you need to install the Govee app and then connect the lights to the app. The app then can connect the lights to your Wi-Fi as well as your Alexa and/or Google. Lucky for me, since I reviewed the Govee RGB+WW H6188 WiFi light strip, I already had the Govee app installed so I could get to testing.
Performance
Astute readers might notice that these look familiar.  That's because Joe Porletto reviewed the very similar Govee Flow Pro Wi-Fi TV light bars back in February 2021.  The Flow Plus light bars I'm reviewing here are nearly the same, but these do not come with a camera to mimic the colors it sees on a TV.  The Flow Plus is designed for entertainment and accent lighting and not cinema lighting.  Now that's out of the way so let's look at how these work.
Let's start with the control box.  You can turn the lights on and off, change colors, dim, and turn on music response modes right from the control box.
You can get more complete control of the lights via the Govee app.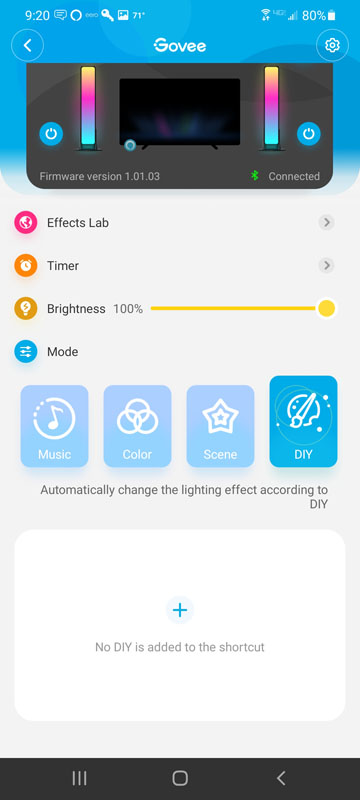 You can use several different music modes and choose whether you want the lights to listen to their internal microphone on the control box or the microphone on your phone.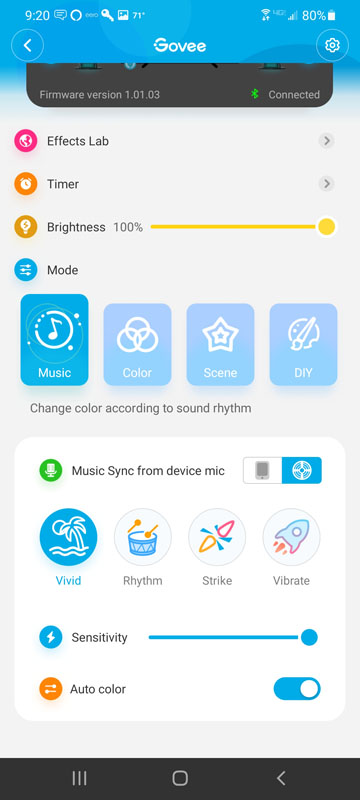 Multiple color scenes are included as well.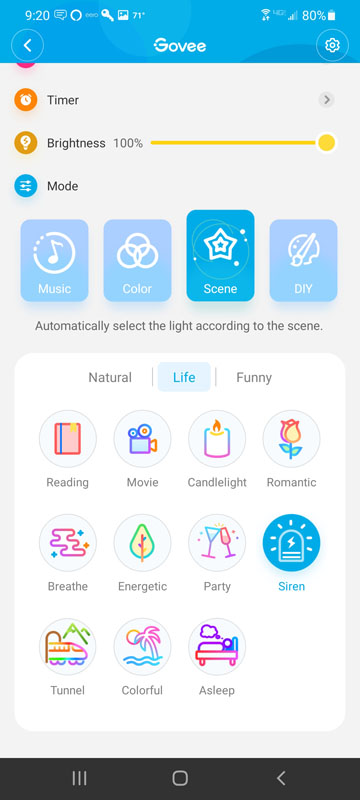 There are also multiple included color schemes. Everything can be customized and configured.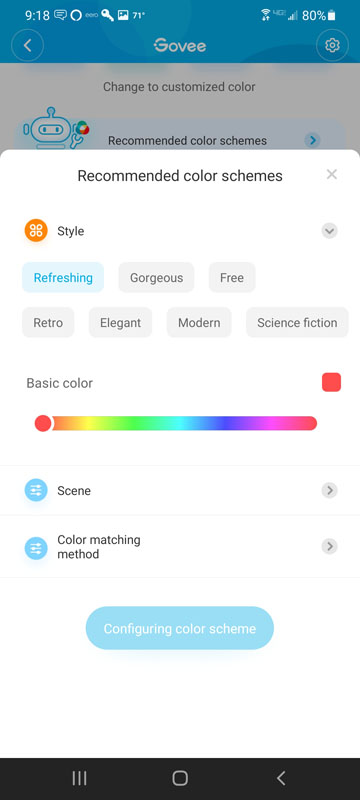 Speaking of configurable, you can control each light bar independently. Since the bars are made up of six LED segments and each of those segments can also be controlled individually.  You could display 12 different colors simultaneously if you wanted to. That's pretty cool.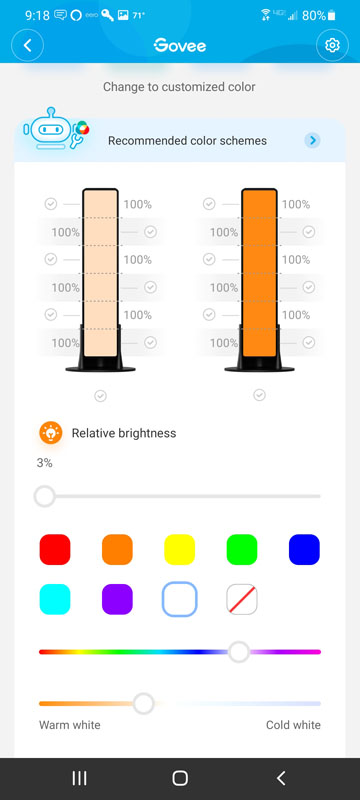 As I mentioned, you can also control the light bars with your voice, assuming you use either Alexa or Google Home.  When I added the light bars to the Govee app, Alexa automatically picked them up and added the device to the Alexa app.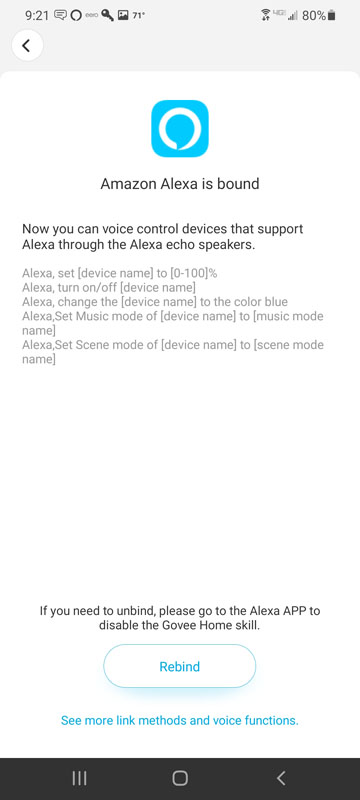 Let's take a look at how you can use voice commands to control the light bars.  I cleverly named the device "Light Bar", so that will explain the commands in the following video.
You can also set timers in the app.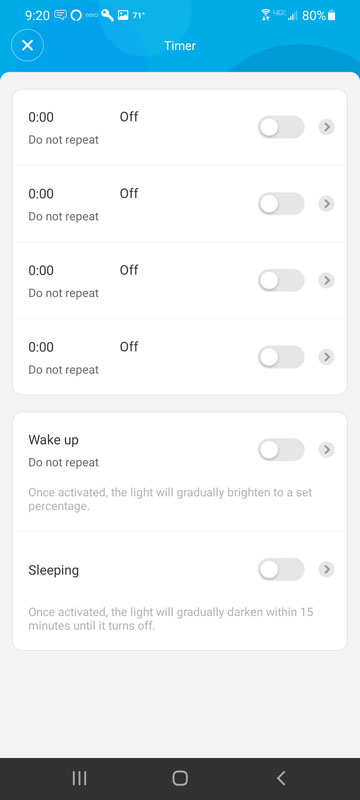 I typically don't use application features like that. I prefer to use Alexa for those types of automation.
What I like
Easy setup
Lots of cool lighting options
Feels well-made and durable
Excellent options for controlling the lights
What I'd change
Final thoughts
I didn't expect a lot when I agreed to review these.  They're LED lights – so what?  Well, color me surprised and impressed.  These can provide some nice accent lighting and/or party lighting. Including mounts to stand the bars or mount them on a wall is a nice touch. Add in three different ways to control the lights and you have a versatile and fun white and color LED lighting solution. I'm searching for the perfect place for these to add some accent lighting into our home.
Price: $64.99
Where to buy: Amazon; Govee
Source: The sample of this product was provided by Govee.