We use affiliate links. If you buy something through the links on this page, we may earn a commission at no cost to you. Learn more.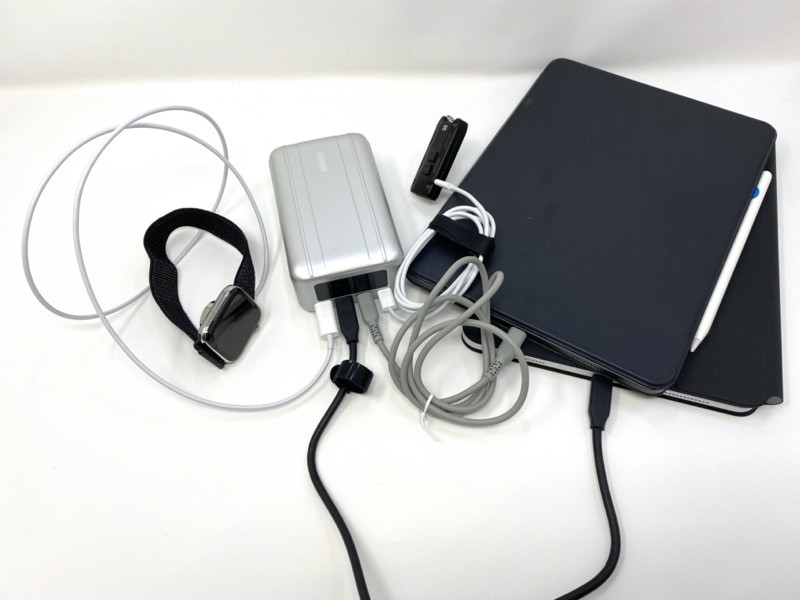 REVIEW – I've shied away from giant USB batteries for camping because it means lugging them around. But when I look back, a majority of my expeditions are "car camping" where weight isn't an issue. More and more of my gadgets are finally coming with USB-C. Let's take a look at the Zendure SuperTank Pro 26,800 MAH / 100WH USB-C battery.
What is it?
The SuperTank Pro is a 26,800 milliamp-hour, 100WH max output battery with four USB-C ports.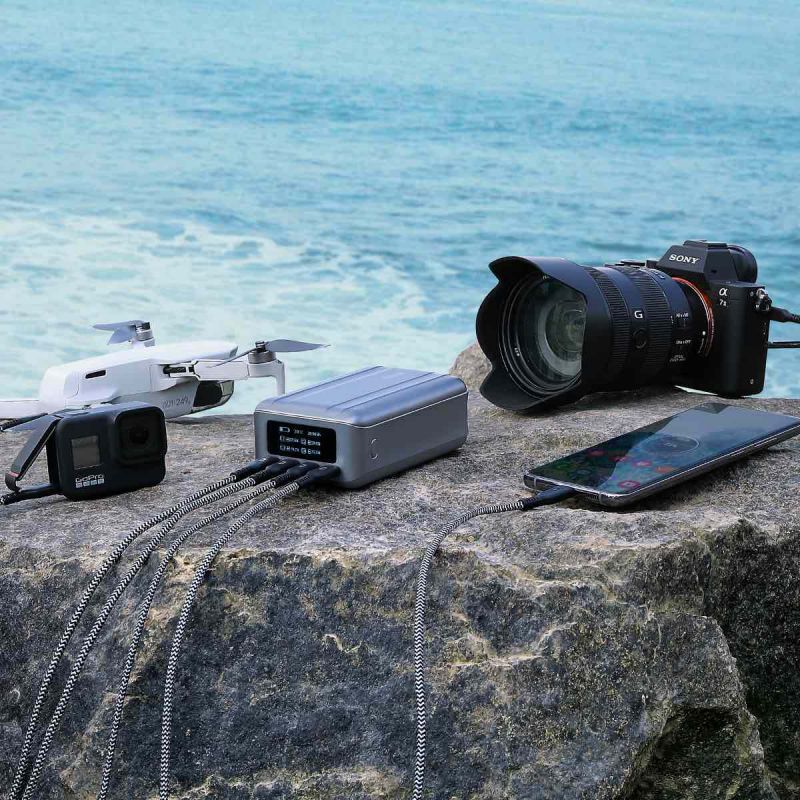 What's in the box?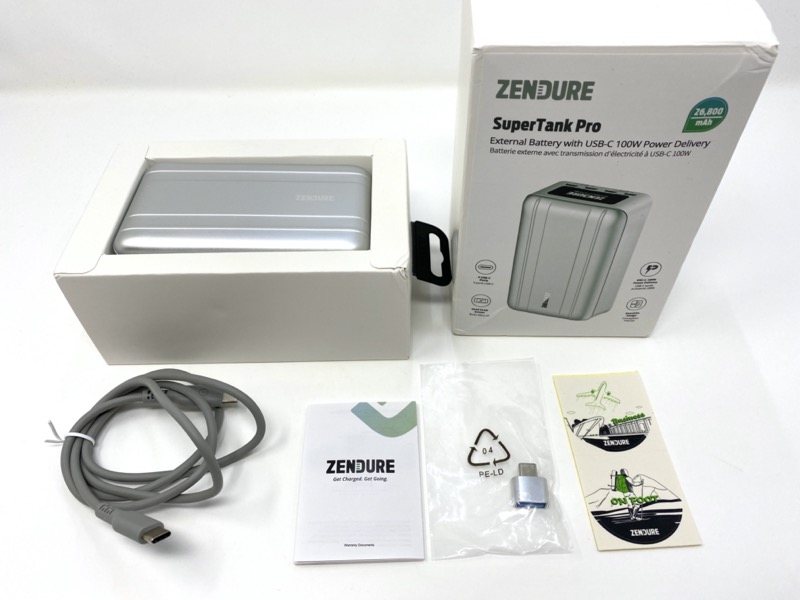 26,800 MAH battery
USB-C cable
MicroUSB adapter
Pamplet and stickers
Hardware specs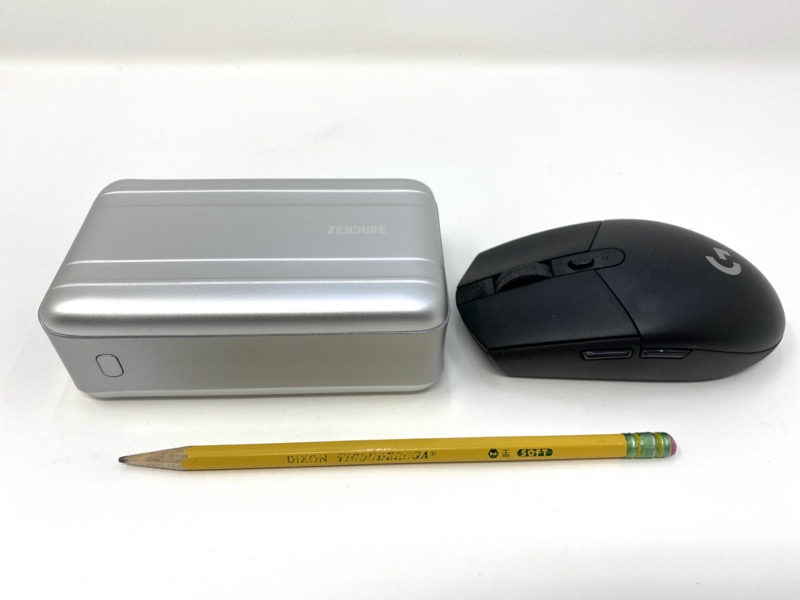 Dimensions:  4.9″ x 2.9″ x 1.8″ (124mm x 74.5mm x 45.5mm)

Weight:  20.5oz / 580g

Input:           USB-C1 / C2: 5V/3A, 9V/3A, 12V/3A, 15V/3A, 20V/3A, 20V/5A, 100W Max;

Output:

USB-C1: 5V/3A, 9V/3A, 12V/3A, 15V/3A, 20V/3A, 20V/5A, 100W Max;

USB-C2: 5V/3A, 9V/3A, 12V/3A, 15V/3A, 20V/3A, 20V/5A, 100W Max

USB-C3 / C4: 5V/3A, 9V/2A, 12V/1.5A, 18W Max

Total DC Output:  138W

Firmware Upgrade:  Yes; connect to PC software via USB-C port

Display:  OLED Screen

Material:  Aluminum Shell + abs & pc midframe
Design and features
This thing looks big, but it's got nicely rounded corner and a pretty slick looking metal case. Reminds me of those fancy aluminum briefcases. It's definitely beefy and I can't wrap my hands around it.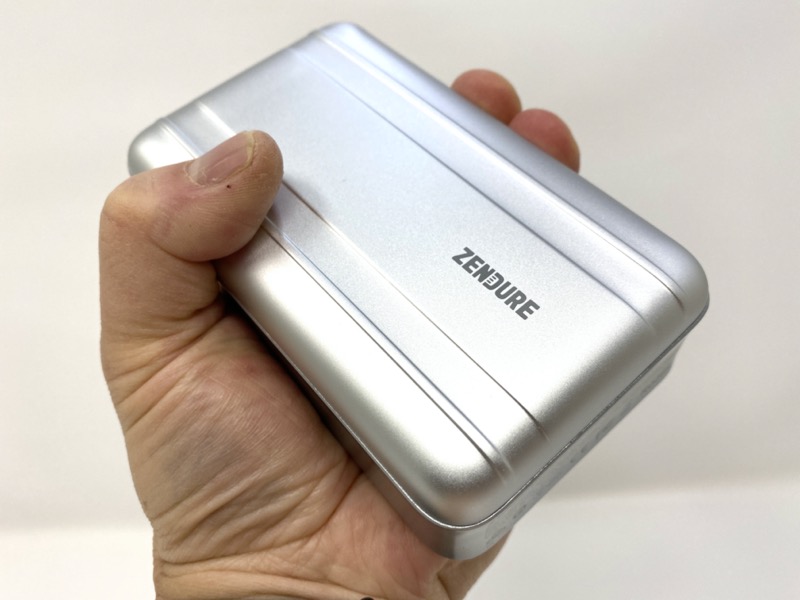 An OLED screen provides critical information, such as battery level, discharge rate, charge status, and power draw per port. The ZENDURE logo appears at first for a few moments.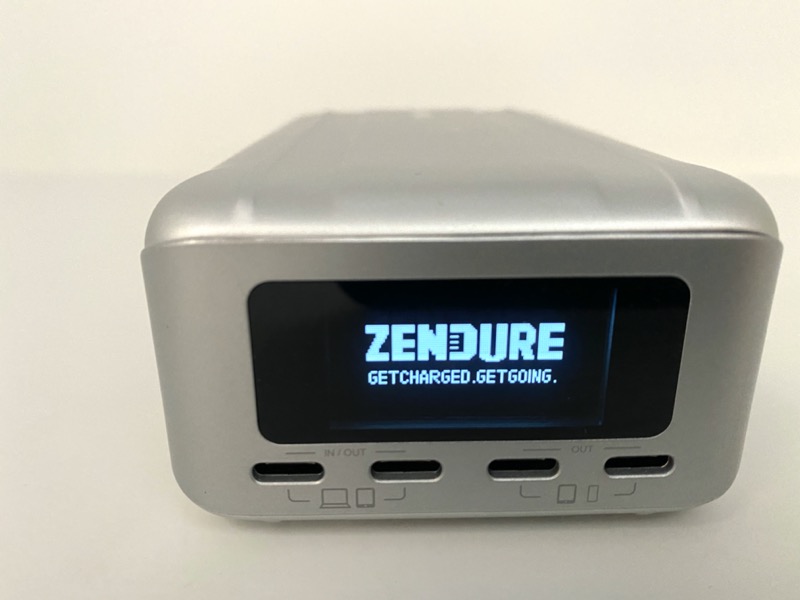 Here's the display at idle (not charging or providing a charge). After a while, the screen switches to a simplified display just showing total power in and out (Watts).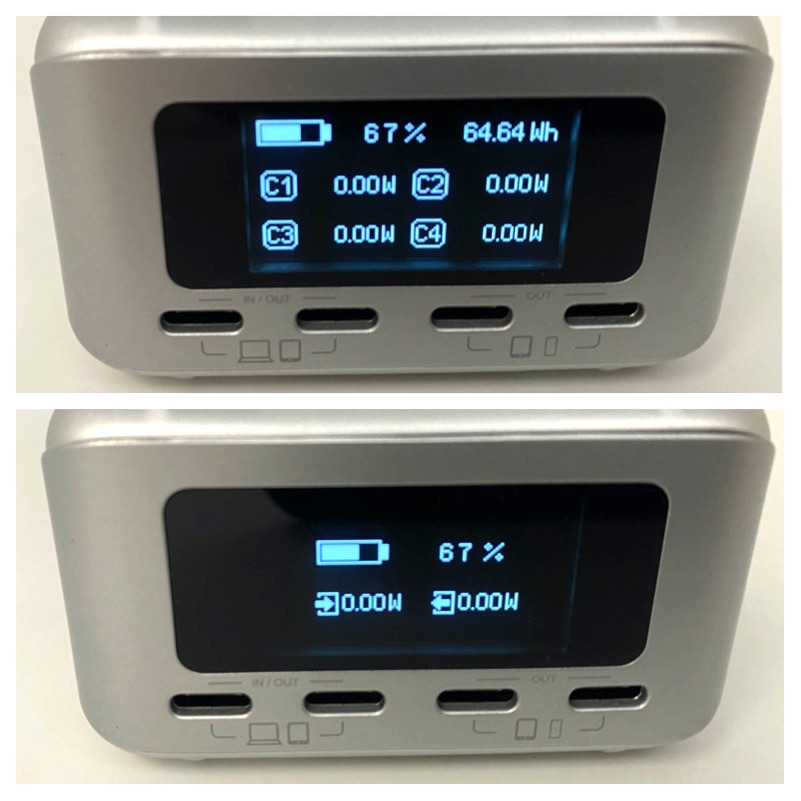 There is a single button on the side. Pressing it once wakes up the OLED display but does not toggle between screens. Pressing/holding for 10 seconds resets the SuperTank Pro.
Setup
Here I am charging the battery with a 60W USB-C charger (not included) that I own. Note the countdown clock that shows estimated hours/minutes left to full charge. Ports C1 and C2 are designated for charging up the battery.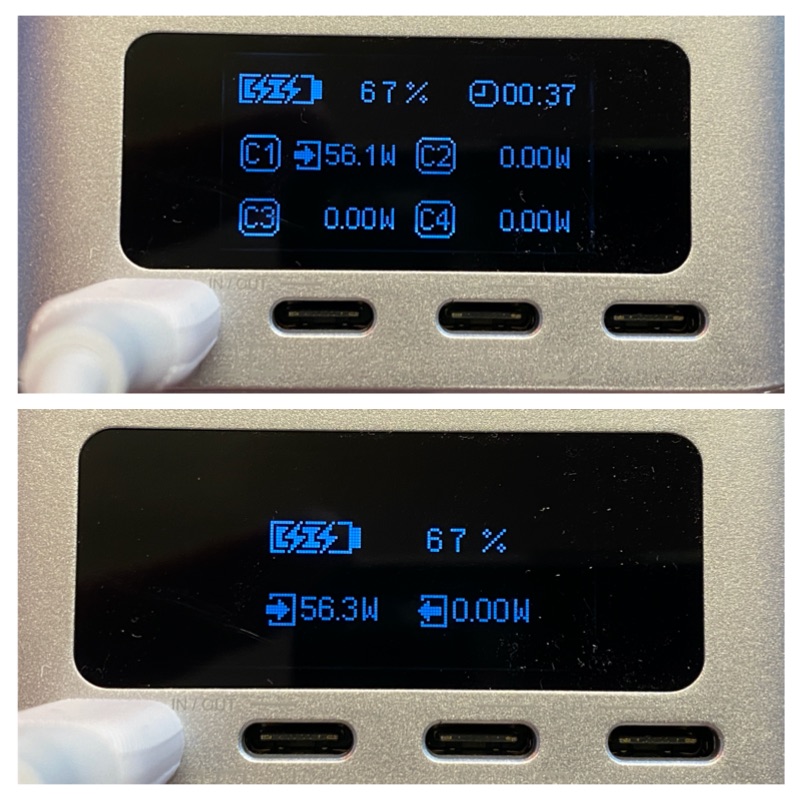 I did not notice the battery warming up at all under charge. The OLED display goes blank after a few moments.
Performance
I connected four USB-C devices: An Apple Watch, two iPad Pro 11s, and the Nitecore TIP SE flashlight.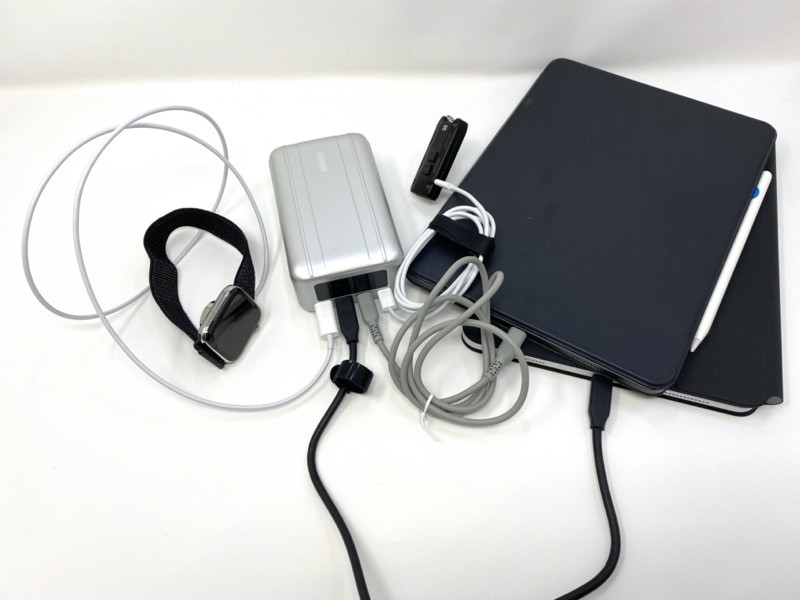 The OLED provides a wealth of information. The upper right screen (top) shows the estimated capacity in watt-hours, and each port (C) shows the power consumed by the connected device. In this case, the Apple Watch (C1) is drawing the most at 1.51 W. It looks like the two iPads are full.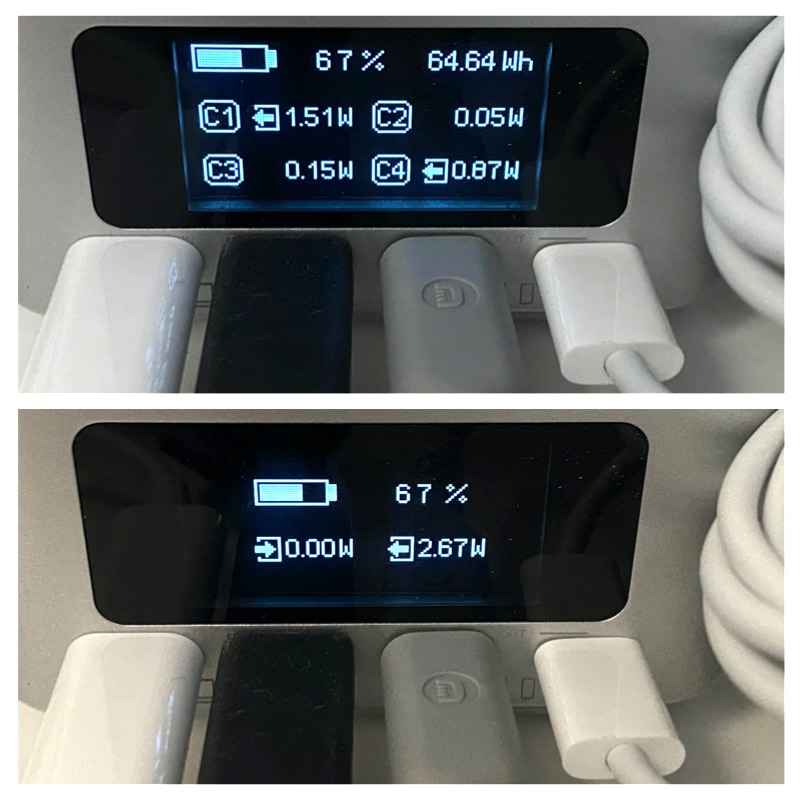 Ports C1 and C2 are rated at a maximum of 100W output. Ports C3 and C4 are limited to 18W max.
After a few moments, the OLED switches to a shorter, summary view.
What I like
High capacity (26,800 MAH)
High output (up to 100W max)
OLED provides lots of good information
What I'd change
A way to toggle between displays manually. The SuperTank Pro is firmware updatable so maybe it will in the future.
Final thoughts
If weight isn't a concern and you're a long-endurance road warrior who loves USB-C, the SuperTank Pro lives up to its name.
Price: $229.99
Where to buy: Amazon
Source: The sample of this product was provided by Zendure.