We use affiliate links. If you buy something through the links on this page, we may earn a commission at no cost to you. Learn more.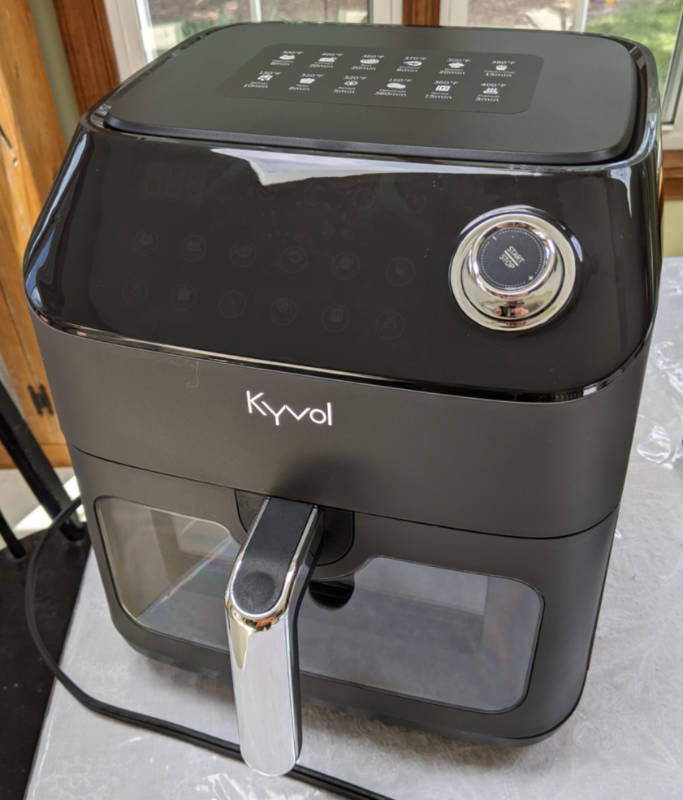 REVIEW:  The best thing I can tell you about the Kyvol AF600 air fryer is this – when Kyvol accidentally sent me two of them, my daughter who helped me test it was almost ticked that I was 'Mr. honest' and sent one back. She recovered and may be getting a Kyvol. Her help was valuable with this device because she has an air fryer of another brand (not a cheapie) and the Kyvol AF600 is my first. She has nothing but compliments for the Kyvol and I'll highlight her input in the review. We're 3 adults and 3 kids in our house this summer and that headcount provided for good testing opportunities for an air fryer.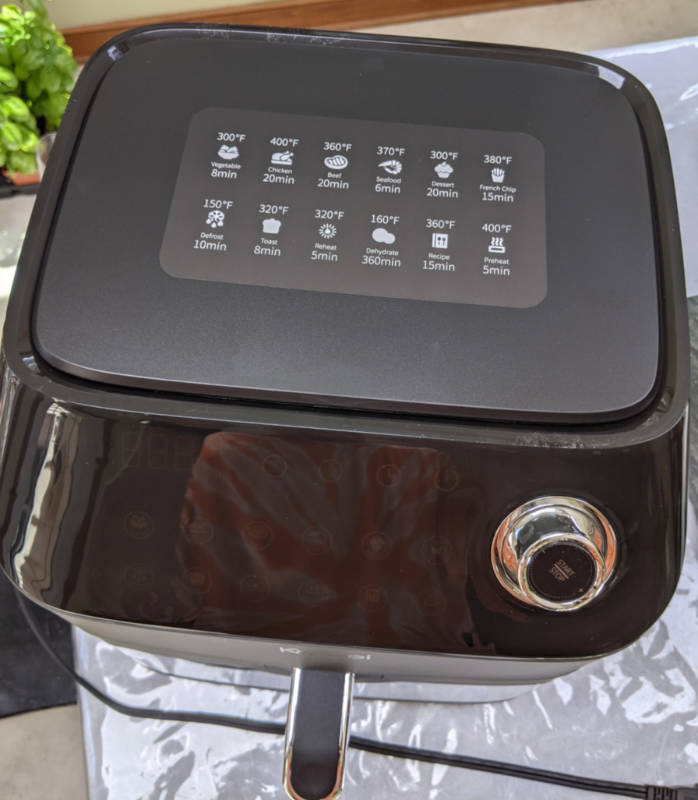 What is it
The Kyvol AF600 is a new model, 6 quart capacity, electric 'air fryer'.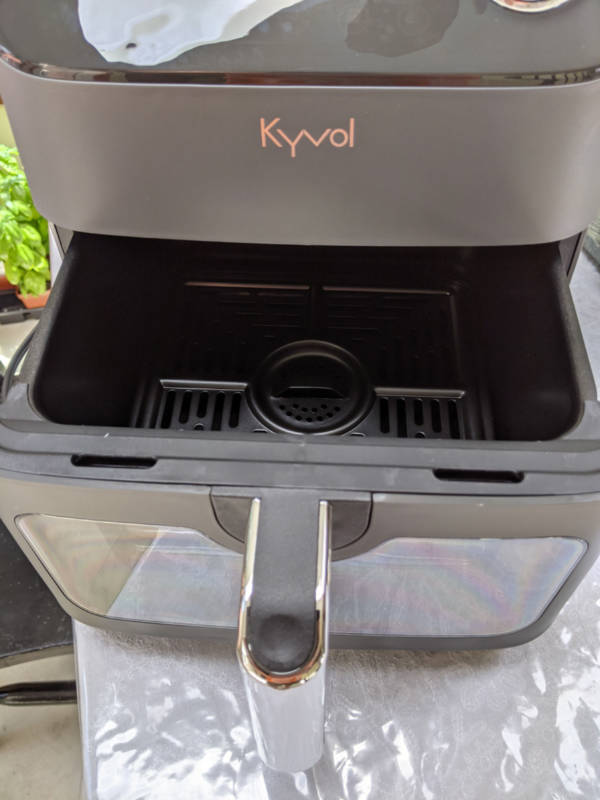 What's in the box
Kyvol AF600 air fryer

User manual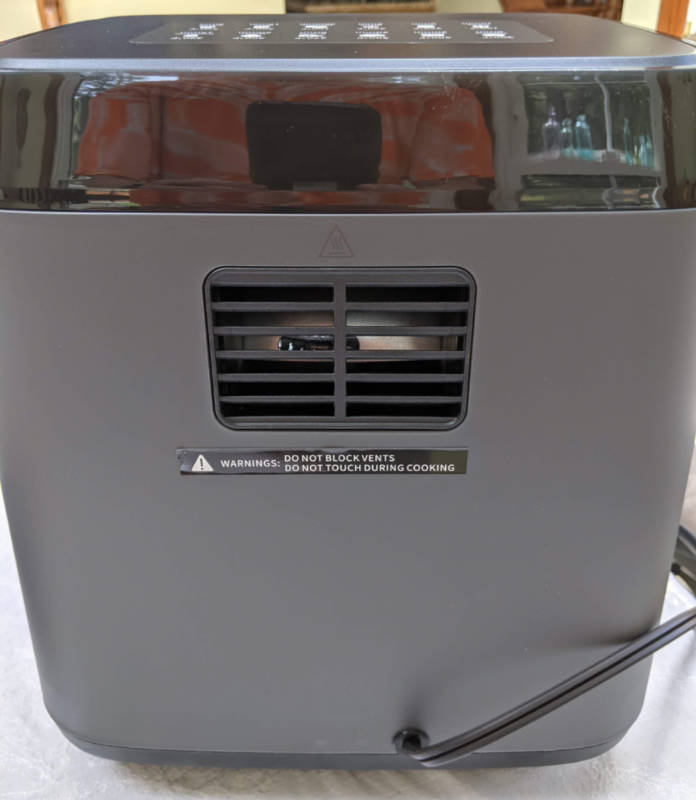 Hardware specs
Capacity: 6 quarts 

Carbon fiber heating element

Non-stick coating on cooking surfaces

Crisper plate (which I left in place during all cooking)

Cooking area: Width 8.75" x Length 8.25" x  Depth 4" with crisper tray in place

Runs on standard U.S. AC current. Cord is built-in.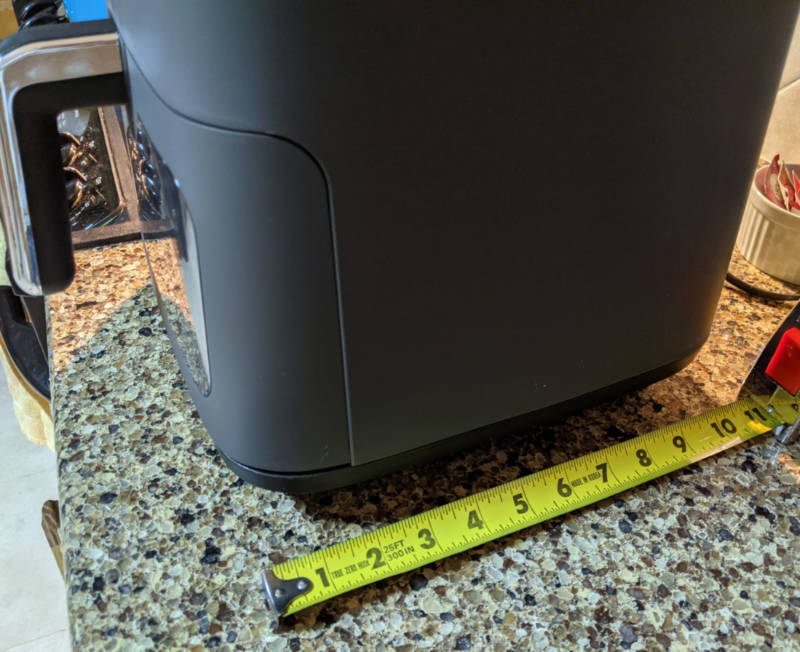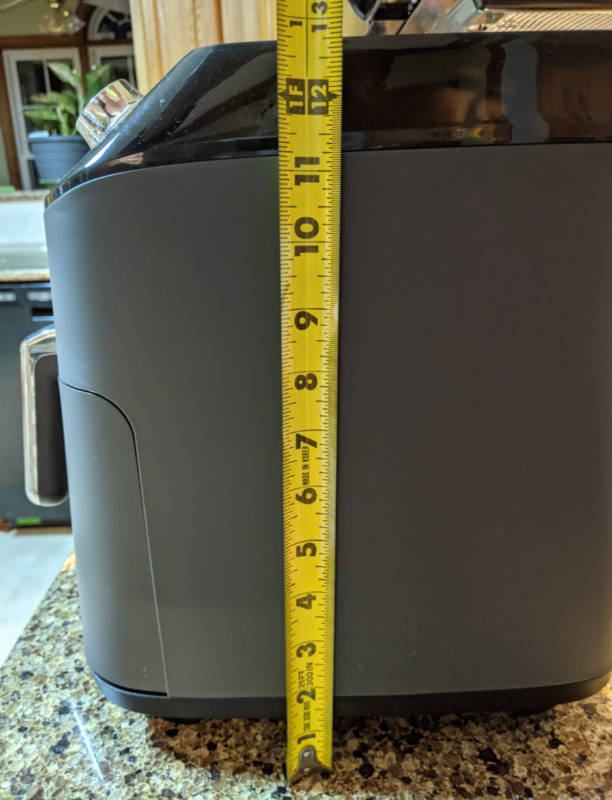 Design and features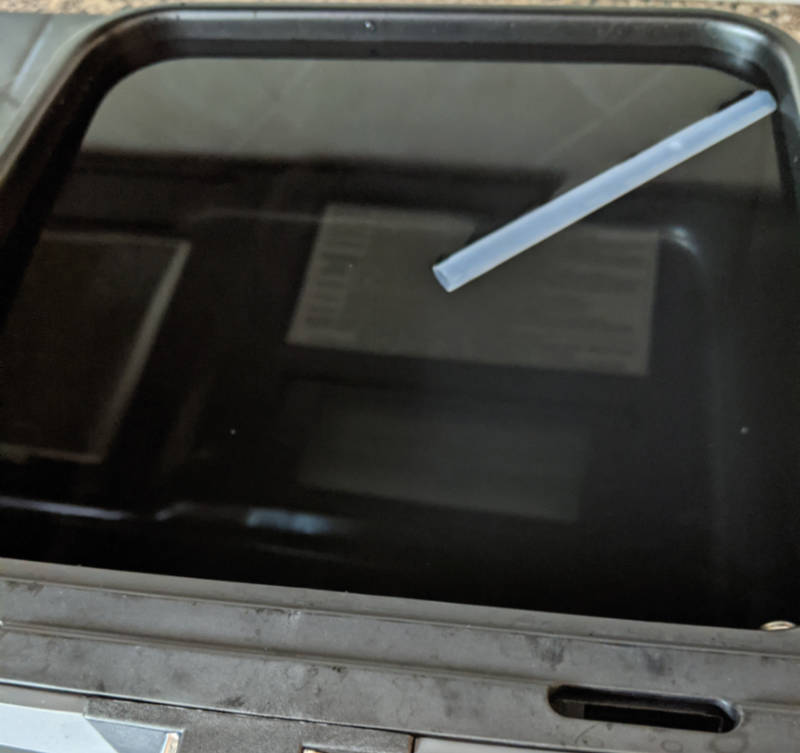 The Kyvol AF600 holds up to 6 quarts of food (verified by adding 6 quarts of water – floating straw for effect) and has a 'crisper plate' that allows air flow under the food as it cooks via convective heat. The device is controlled with several touch controls and a wheel control for time, temperature adjustment and to start cooking.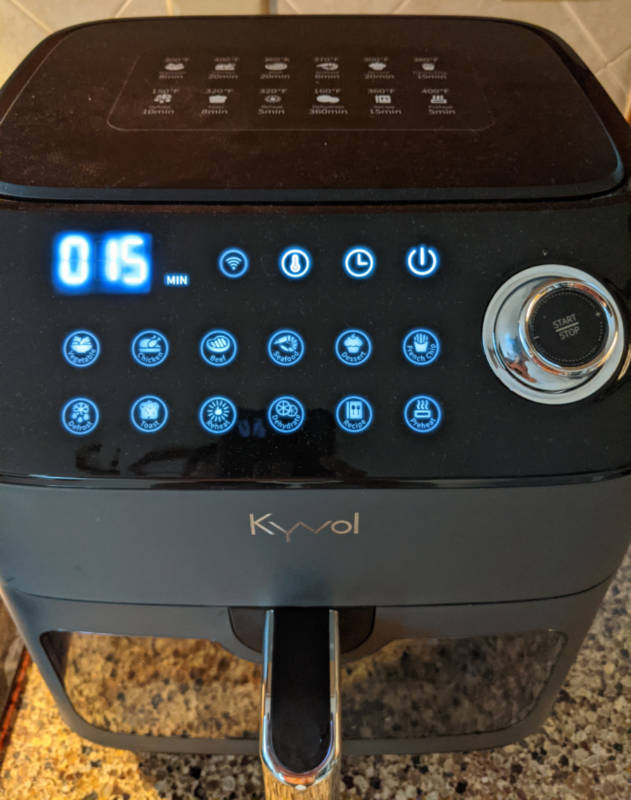 There are 12 one-touch preset cooking programs on the LED display, which include chicken, beef, french fries, defrost, seafood, toast, reheat, preheat, and dehydrate.
The graphics on the top are illustrative but are not buttons.
I've discovered with several device reviews recently that white digital displays photograph as blue-ish.  The Kyvol AF600 display has bright, white characters and they are sharp and clear in the real.
The 6 quart capacity can up to contain 3.7 pounds of fries, 4 pounds of whole chicken, 6.3 pounds of wings, 6.4 pounds of drumsticks, according to claims at the Amazon listing. The preset programs are based on half the maximum capacity, so you may need to increase baking times.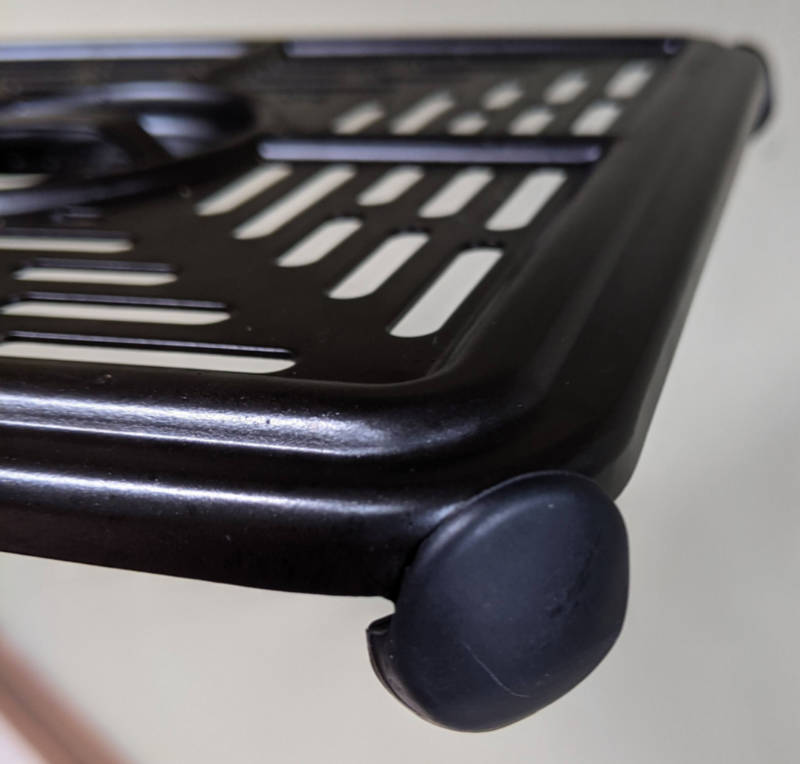 The crisper plate has soft pads on all four corners so it does not scratch the cooking surface. I'm guessing it's something heat-safe like silicone.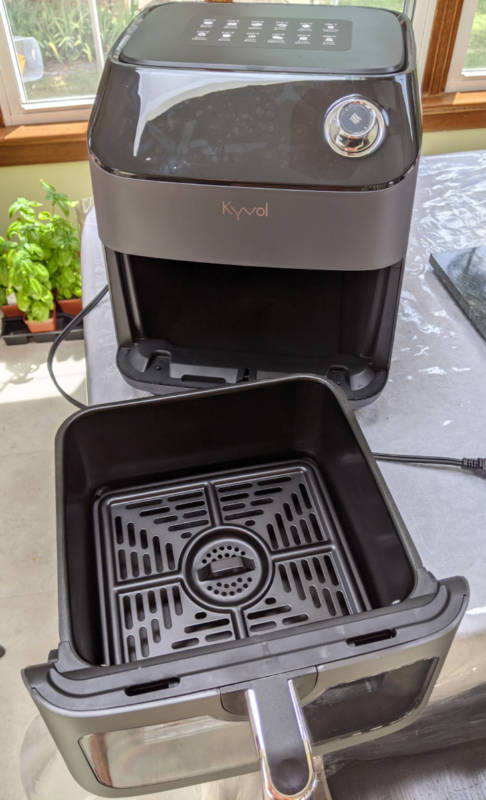 Installation and Setup
An initial soap and water washing of the food drawer and crisper tray is recommended so I did that. I call it 'washing the factory off'. 
When you've dried the parts, plug in the power cord to an AC outlet.
A 30 minute 'burn-off' period at the pre-heat setting is recommended which was also good advice. During the burn-off some of the components gave a mild odor that might not be pleasant if the food adopted that taste. 
Testing and observations
May I persuade you that there is no such thing as 'air frying'? There certainly is baking, convection baking, roasting, and broiling, and those forms of cooking are what air fryers actually do. The Kyvol AF600 is a convection food cooker, and it does that job very well. I'm not trying to reverse the tidal wave of marketing language-force that has made air fryers so popular so I'll play along and call it what it's called. 
The big news is that this Kyvol does a number of cooking tasks quickly, nicely and is very easy to clean. After my month of testing the AF600 looks as new as when it came out of the box.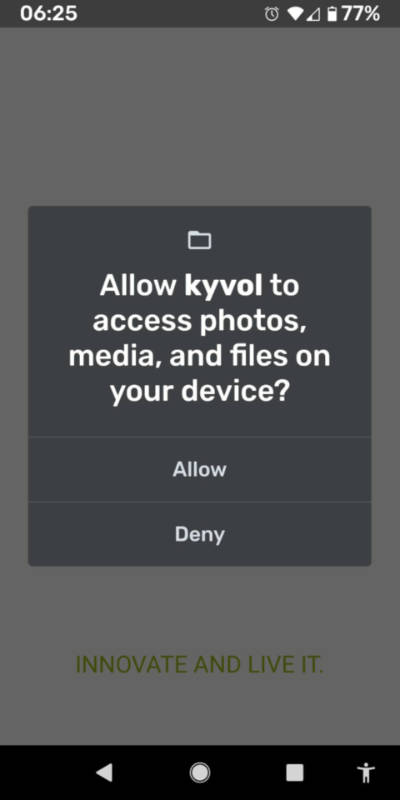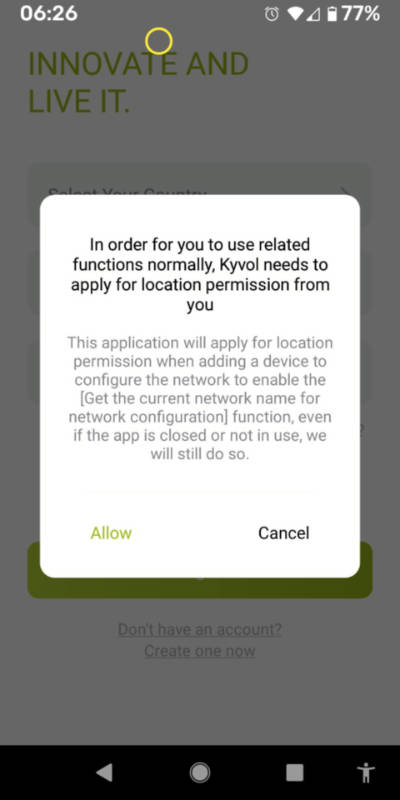 If you want this air fryer to be wifi connected so you can control it with a Kyvol app, and if you find the phone permissions it requires to be acceptable, 'there's an app for that'. I deleted the app after installing it because it required access to my location, photos, media, and files. Nah. I'm happy to use all my kitchen devices while in the kitchen, and interact personally with their built-in interfaces.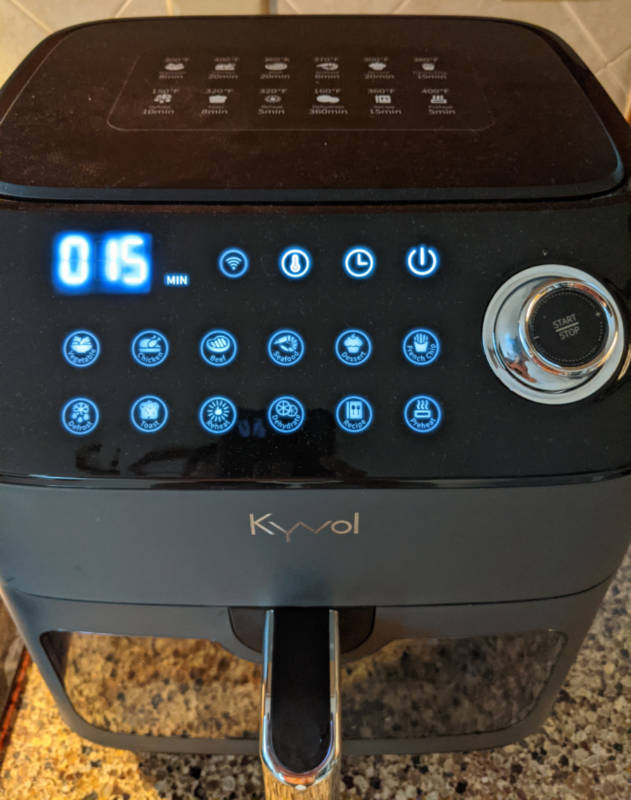 When we turned on the AF600 it defaulted to 360 degrees and 15 minutes. If that's suitable, with two button pushes of the main, round control wheel, you're almost off and cooking. For some reason the AF600 stopped after 15 seconds and I'd have to restart it, then it would resume cooking at 360 for 15. When I used a preset mode (Toast, Bake, etc.) the unit started cooking immediately. If another temp or time is needed we just rotated the wheel to the temp we wanted, pushed in on the same wheel, then chose the cook time and a wheel push confirmed and started the fryer. 
Pre-heating is required for some items but we tended to start from zero since target temps for such a small cooker were reached pretty quickly.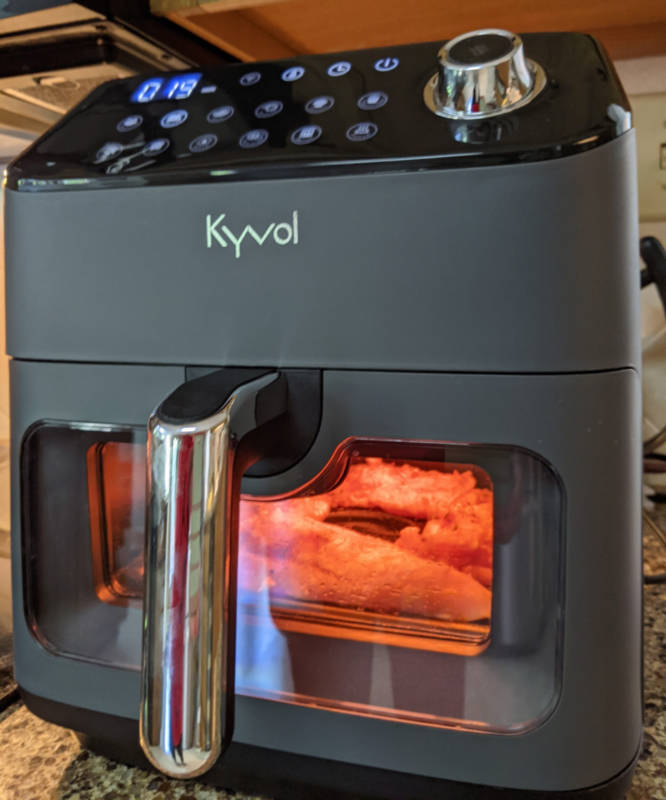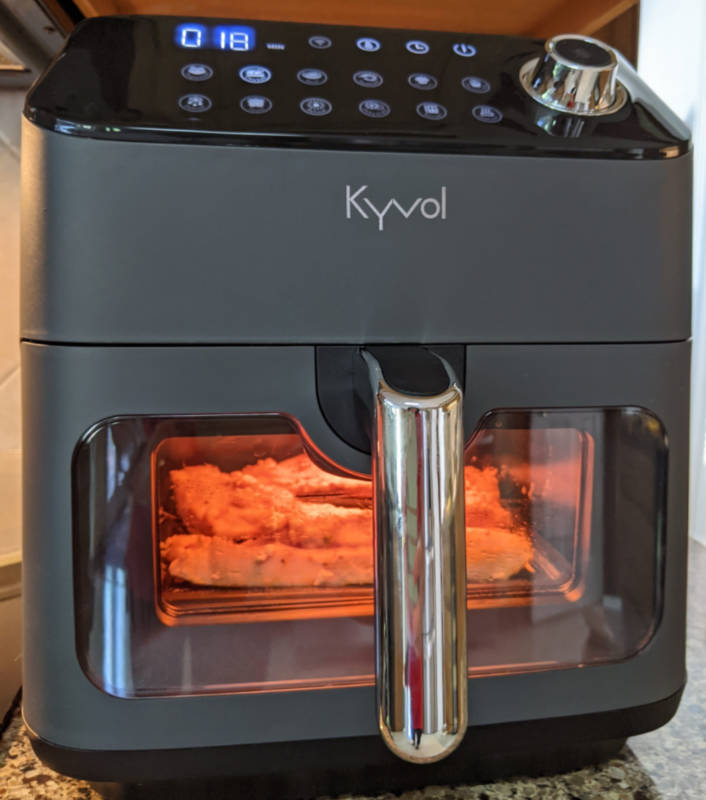 In a breaded chicken cutlet test, the Kyvol AF500 won the appearance test. We compared batches with our GE convection oven built into our over-the-oven microwave. While the Kyvol chicken was dryer than the GE, it looked much better and wasn't that dry. We figured we'd get better results as we got to know the Kyvol, and lower the temperature or cooking time, next time.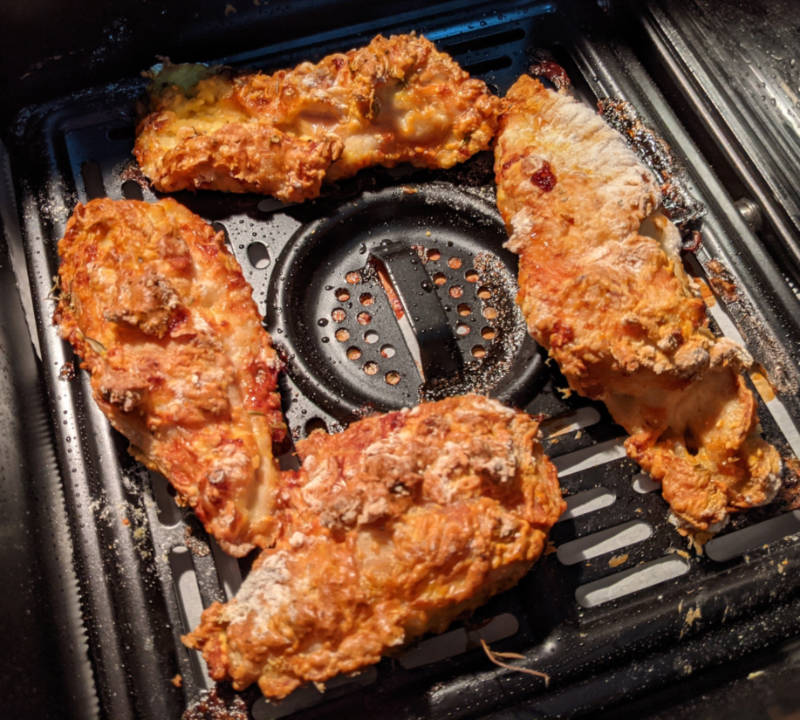 The pieces of chicken that had the white flour showing after baking was a puzzle.  We thought the convective air circulation should have caused the pieces to cook evenly. Would we have to rotate foods in the air fryer to achieve even cooking?  This didn't seem to be a persistent problem.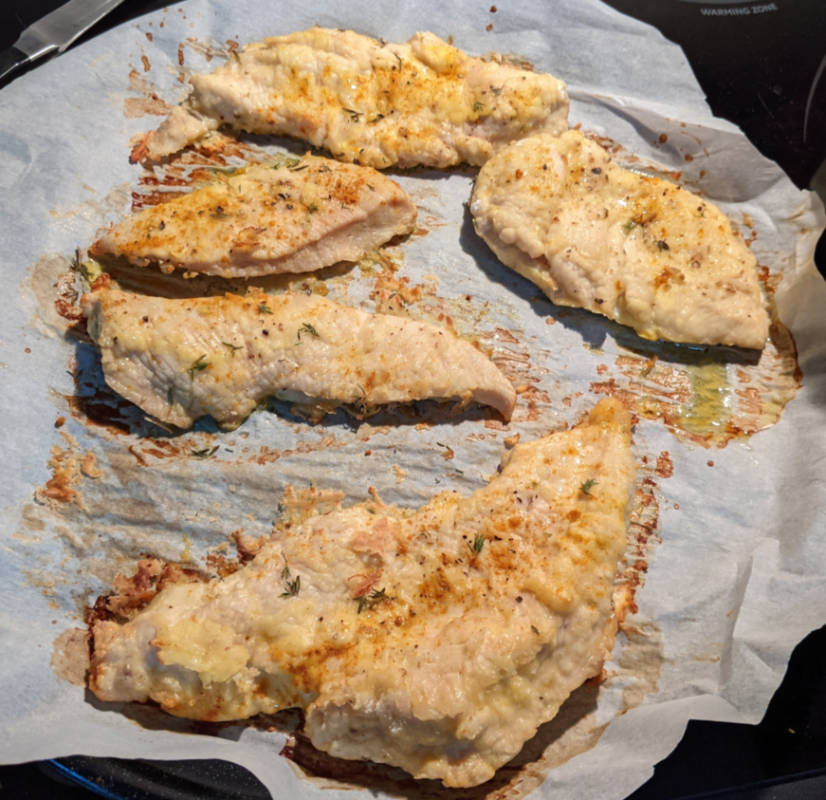 This ugly chicken was done in our convection oven microwave.  It tasted great and was more moist but was a clear loser if looks counts.  We wouldn't normally cook chicken using our microwave oven's convection feature but did this for the sake of comparison.
Fresh sweet potatoes cut into french fry sized slices, seasoned with salt, pepper and olive oil, got nicely done in 10-15 minutes in the AF600.  More cooking time might have crisped them but we like them before they might blacken.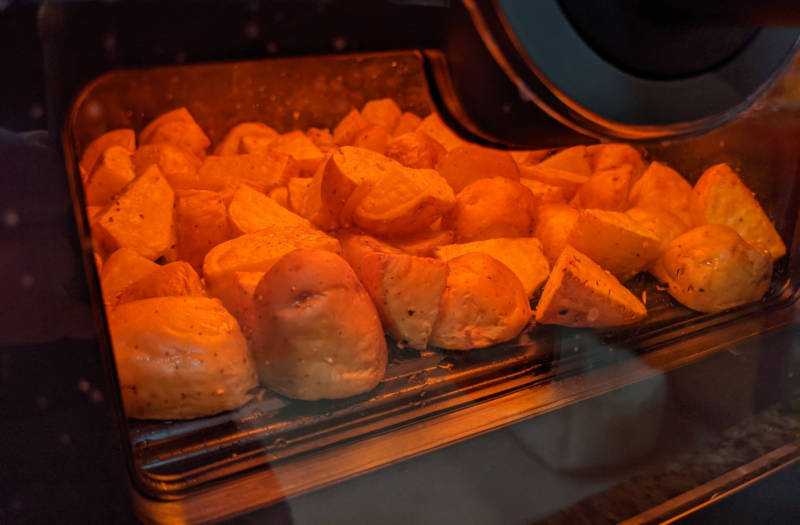 These are sliced 'new potatoes'.  My daughter was impressed with the viewing window of the AF600 as hers has a solid front. We could see through to the food when cooking so didn't really need to pull the drawer to look at items. When we did pull the drawer open to check something for doneness the device instantly shut off. When the drawer was reinserted, the fryer restarted at the time and temp where it had been operating.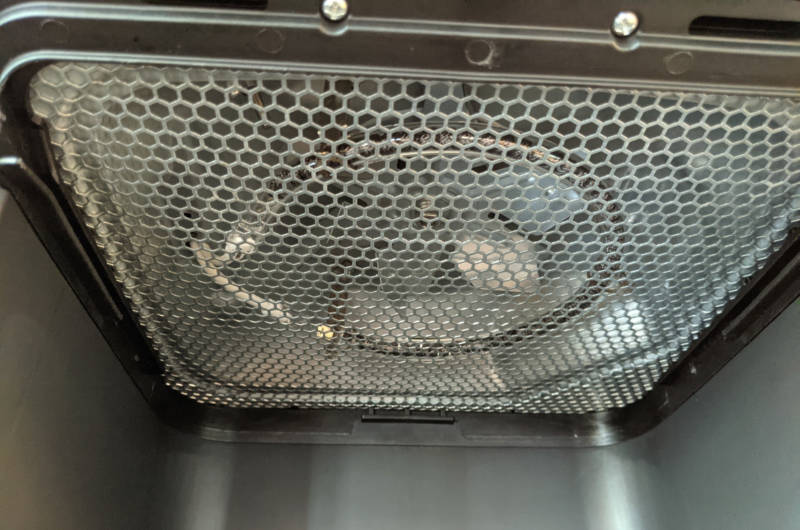 My daughter also liked the grid covering the heating element of the device. Her air fryer has no protection over its heating element and splatters get on it, causing smoke and smell. We encountered no smoke or excess odor when cooking with the AF600.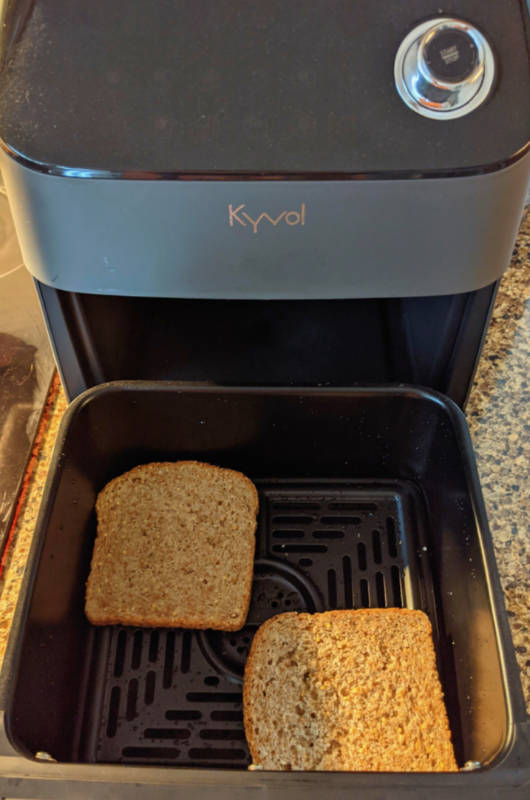 Bread before toasting.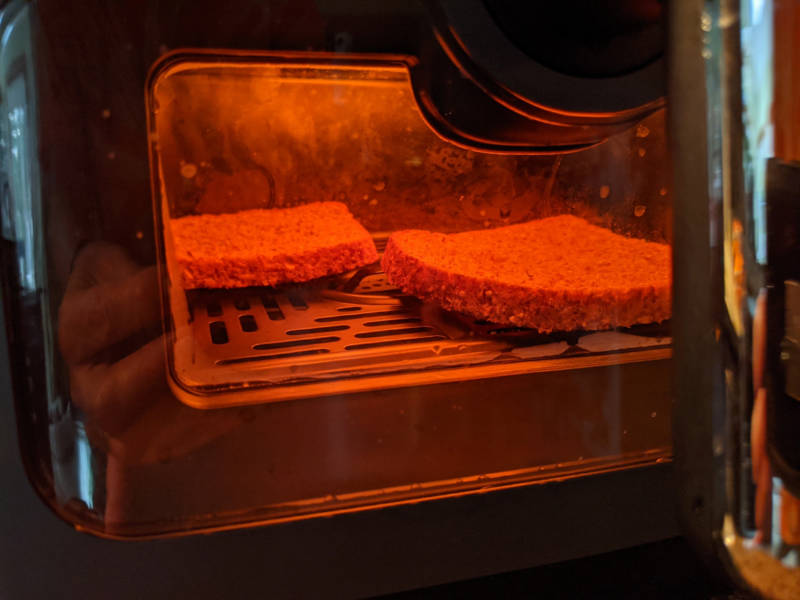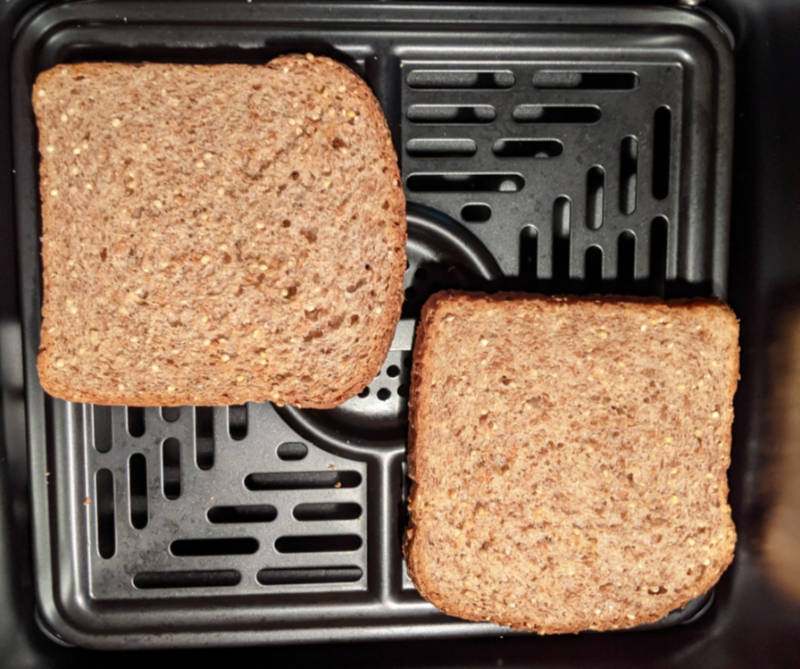 We even toasted bread with the AF600. Frozen 'potato-bread' hotdog buns got to a golden brown in 3-4 minutes at 350 degrees.  My 'Ezekiel bread' (low carb – pictured) toasted at 360 degrees in about 3 minutes. We put our standard toaster away. It used to take about 2:30 to make toast. At 3 minutes in the AF600 the bread was hot and crunchy but didn't have a brown toasted appearance. That bothers me not. It was toasted. The bread is brown which may be a factor, and I'm sure with more cook time it would have browned as the hotdog buns had done right out of the freezer.
With almost every cooking mode we used, the food was done before the preset would have stopped. Stated positively, it's more efficient than the company knows, but actually, the presets may need some reconsideration.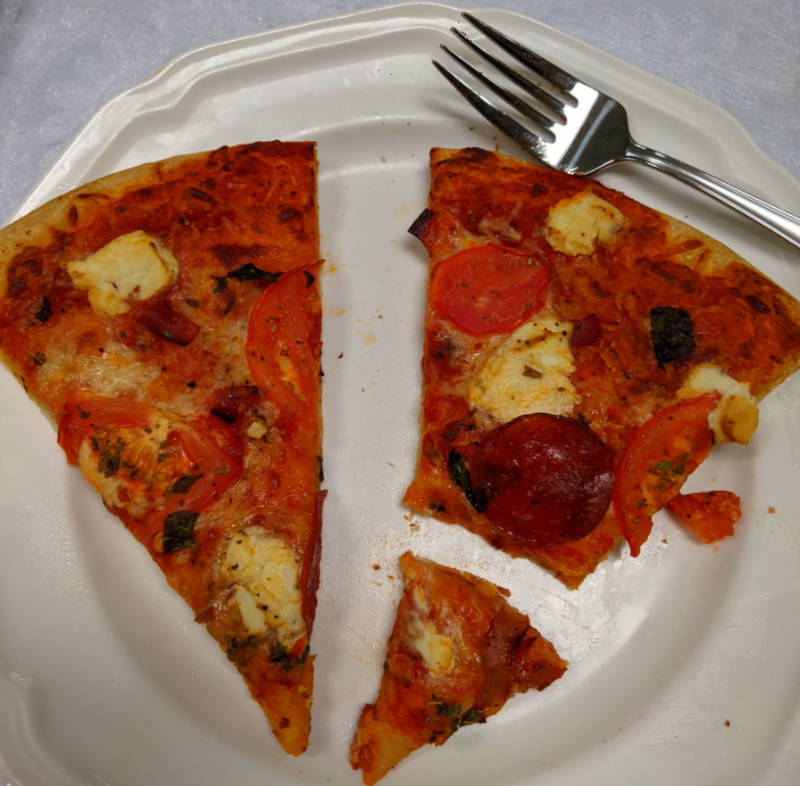 This is smoked, home-made pizza baked on a gas grill. (First time I've done this and we plan to repeat it OFTEN. We'll just work out more.)  Back to the review – these pizza pieces reheated quickly in the Kyvol AF600.  The pizza was refrigerated and I used 360 degrees for about 4-5 minutes.
If you're thinking of making thin crust pizza from scratch, you must consider the weight of the little pie. We wanted to do personal pizzas using soft tortillas for kid lunch, but they fly around in the fryer on 'Toast' or any other cooking mode due to the convection air circulating. If sauce and grated cheese is added, the cheese flies off, and the sauce-wet tortilla blows around with it all. We might have tried more sauce and sliced cheese for added weight, but heck, it was only for the kid's lunch, and the microwave is only 2 feet away.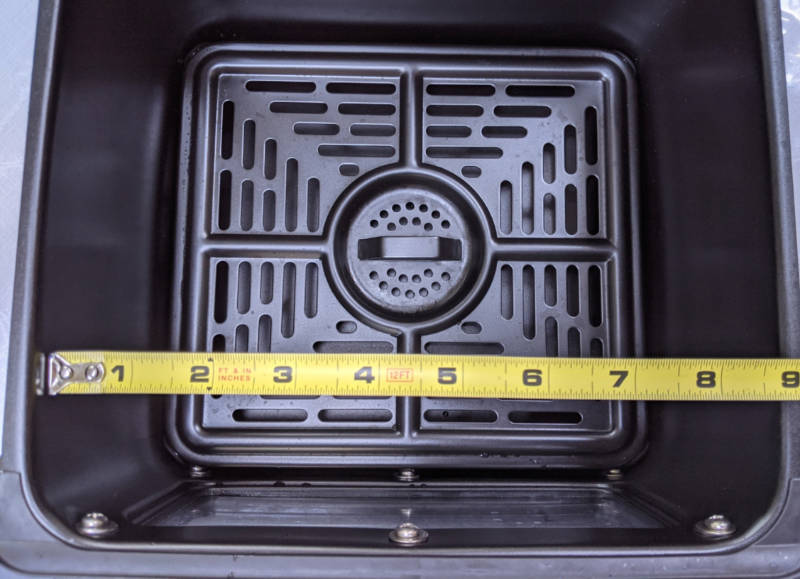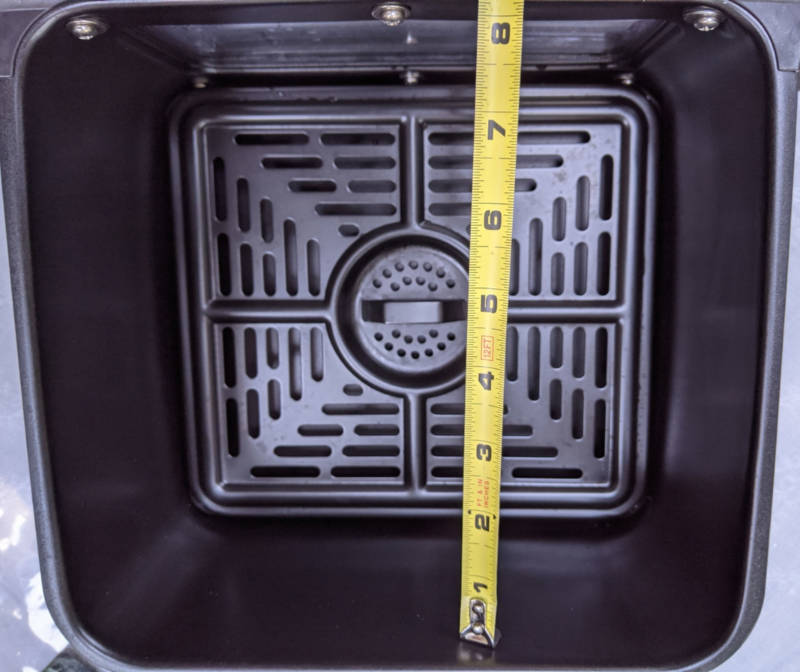 Given the smallish cooking area of the AF600, and maybe most other air fryers, we gravitated towards using the device to prepare side dishes and less entrees. If one were cooking entrees for one or two people I think the AF600 would do the job well. When we're back to only two people in the house in late summer we'll surely be using the AF600 for some entrees.
What I like
Great visibility of all of the controls

The cooking drawer viewing window

The protective metal grid over the heating element

Quick time to reach cooking temperatures and quick cool-down.
What I'd change
Preset cooking times may need to be shorter than programmed.

The grip piece in the center of the crisper plate feels a bit sharp. It may be a hazard if one got a finger stuck in it. Just grip it loosely with thumb and two fingers and you'll be fine.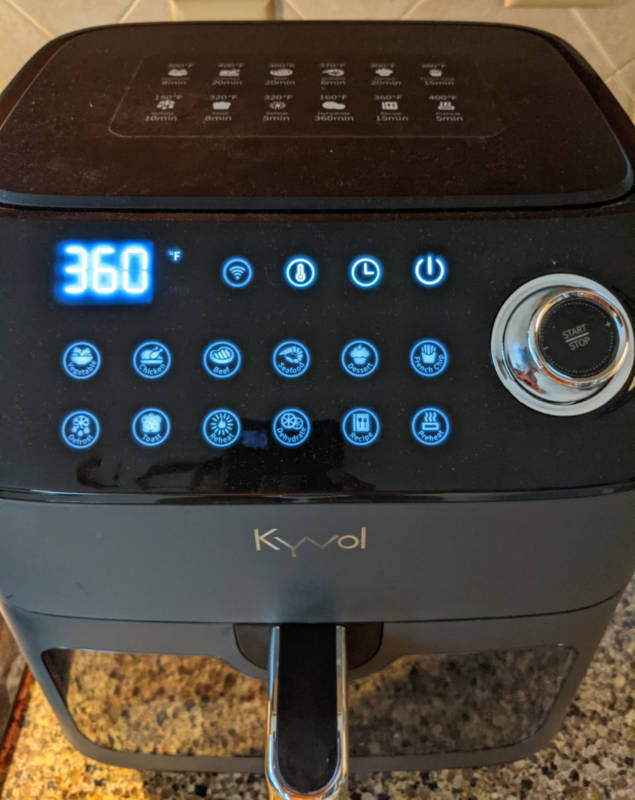 Final thoughts
My wife admits she's a 'kitchen counter-space miser'. The Kyvol AF600 was adopted for a position atop our counter. That almost calls for a few moments of silence. It speaks to the utility of the device, i.e. how often we use it, and her thumbs up on how it looks in our kitchen. We can give a unanimous, all-family recommendation of the Kyvol AF600 Air Fryer. 
Update 3/10/22
We just noticed that Kyvol is no longer on Amazon. They now seem to be selling only through their website. Here is the link to the Kyvol AF600W (they added the 'W' to the model number).
https://kyvol.com/products/epichef-f6w-air-fryer
Price: $109.99
Where to buy: Amazon (Save 50% with coupon code: GPCWWV4W Expires 08/27/21)
Source: The sample for this review was provided by Kyvol.