We use affiliate links. If you buy something through the links on this page, we may earn a commission at no cost to you. Learn more.
Product Requirements:
Device:
Any touch-screen PDA

Do you remember that Friends episode where the old lady died at the
end of the show, because she had just seen "everything"? Well,
if you're near the point where you might need to worry about that, then don't
get this stylus – because it might just send you over the edge!
The Massage Stylus
is a unique product, to say the least. Within its normal looking, matte-silver
exterior, hides a vibrating massager. Yes, you read that right.

By pushing the little black button on the pocket-clip, you will activate the
pen's vibrating action. There is a black bump-covered nub at the top of
the pen, which I suppose is there so you can press it to different pressure points
on your body.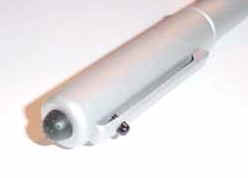 I don't know what I was expecting; but instead of the massage being more
centered on the top end, it seems as if the whole pen's body vibrates. I am
no expert on Reflexology, so I couldn't tell you if the vibrating action is
actually doing anything or not. It seemed a little silly to press the nub to my
temples, or the side of my neck, but hey – I'll try almost anything once.
:0)
Although I doubt I will be doing this much in public, there
is something kinda fun about sitting at your desk and buzzing your
brain…especially when you are in the process of writing a review…
Being a bit of a practical joker, I had more fun "activating" the
massager as I handed the stylus to others, when they asked to borrow a pen. It
reminds me of the old hand-buzzer gag, in a way.
Although the Massage Stylus starts it's life as a regular pen, the folks at
Stylus Central have replaced its ball-point refill with one of their white
replacement stylus tips. You access the tip by twisting the barrel halves in
opposite directions. The tip is recessed by twisting back the other way.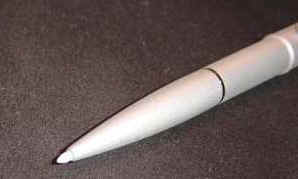 The Massage Stylus is substantial, weighing 1.6 oz (47g). It is 5.9"
(15cm) long, and measures .4" (1.1cm) wide at the grip. While this stylus
is fine for jotting quick notes on your PDA; if you use it for extended periods
of time, you'll get the sense that it is a bit top-heavy. This is most likely
due to the battery and massager-mechanism's guts  residing in the top
portion of the pen. 
The Massage Stylus comes complete with an odd little battery, that looks like
a AAA that was cut in half. I've been "playing" with it for a couple
days, and it appears to be still going strong…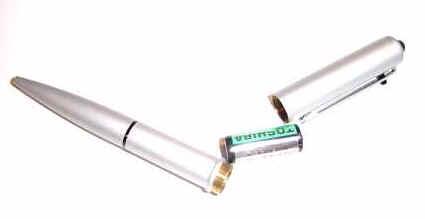 The Massage Stylus comes with a simple reflexology chart, which will give you
a general idea of the areas you might be affecting should you press hard enough.
I see this stylus as more of a fun gift for the person that has everything. Who
knows – it might even manage to free up a kidney stone…if you massage in the
correct spot!  
You can find the Massage Stylus at Stylus
Central. 
Price:  $19.99
Pros:
Would make a fun gift for "the person that has everything"…
If you like a weighty stylus, this might fit the bill
Cons:

More of a gimmick than a true massager
Seems top-heavy for extended periods of writing