We use affiliate links. If you buy something through the links on this page, we may earn a commission at no cost to you. Learn more.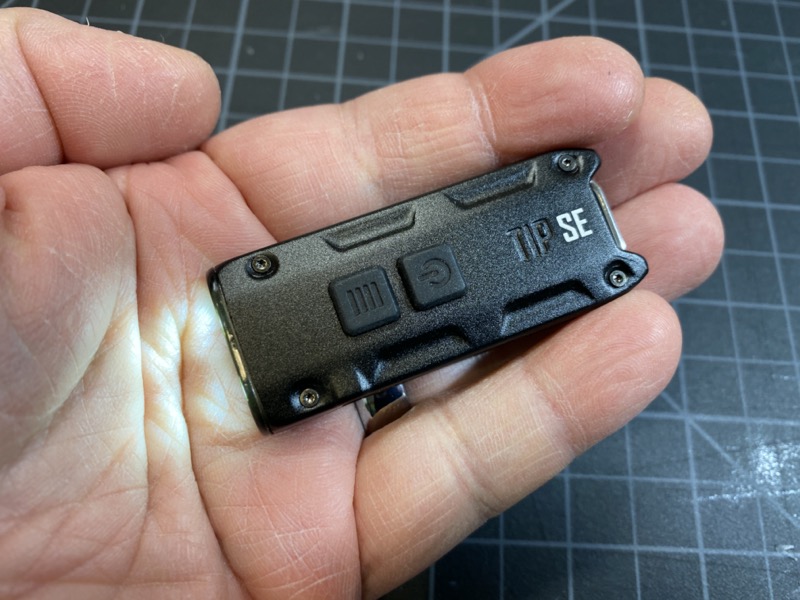 REVIEW – One of my favorite kinds of flashlights are the kind that are keychain-sized, and rechargeable via USB. Today I get to try out a successor to one of my favorites. Will it take the top spot as my go-to everyday carry flashlight?
What is it?
The TIP SE is a 700 lumen USB-C rechargeable EDC flashlight that will run up to 50 hours on low (1 lumen)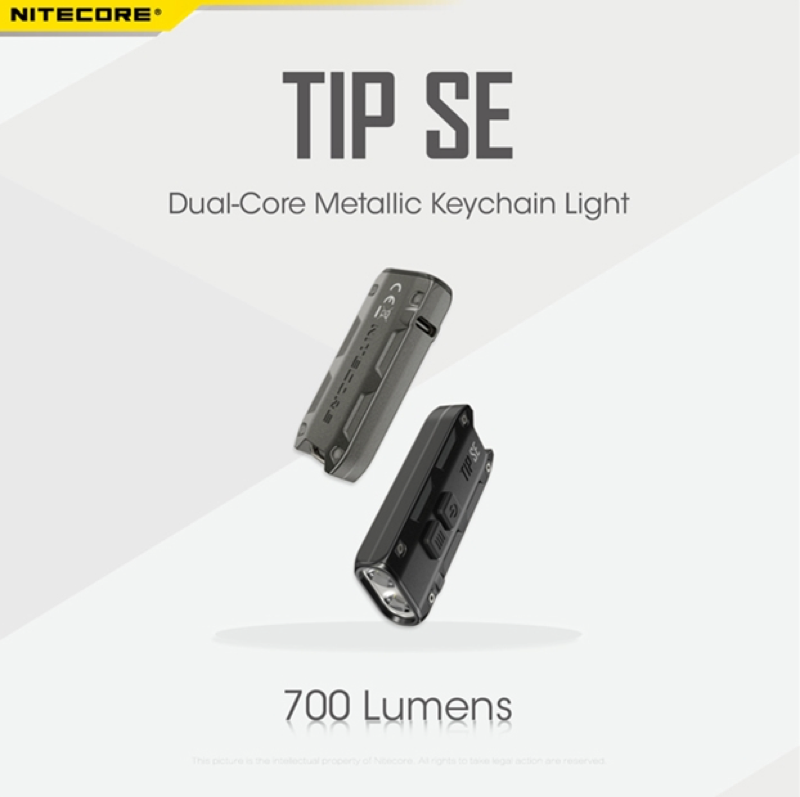 What's in the box?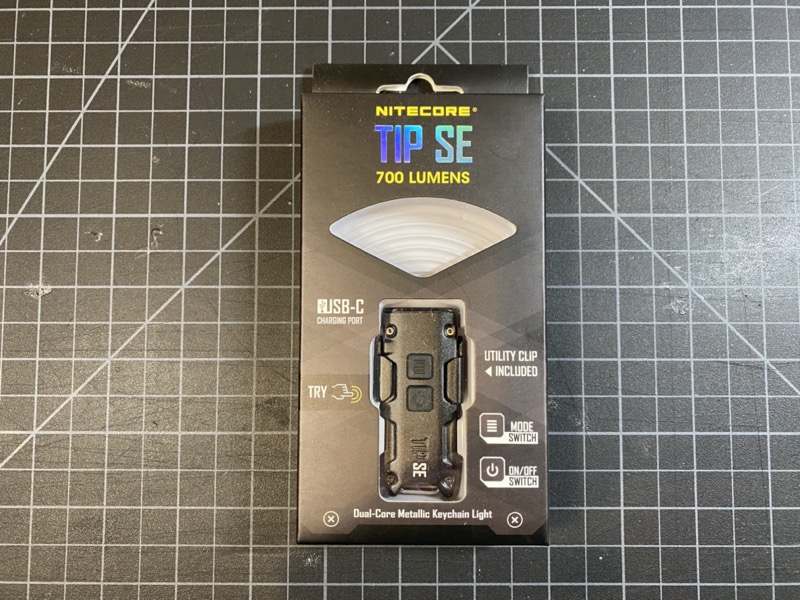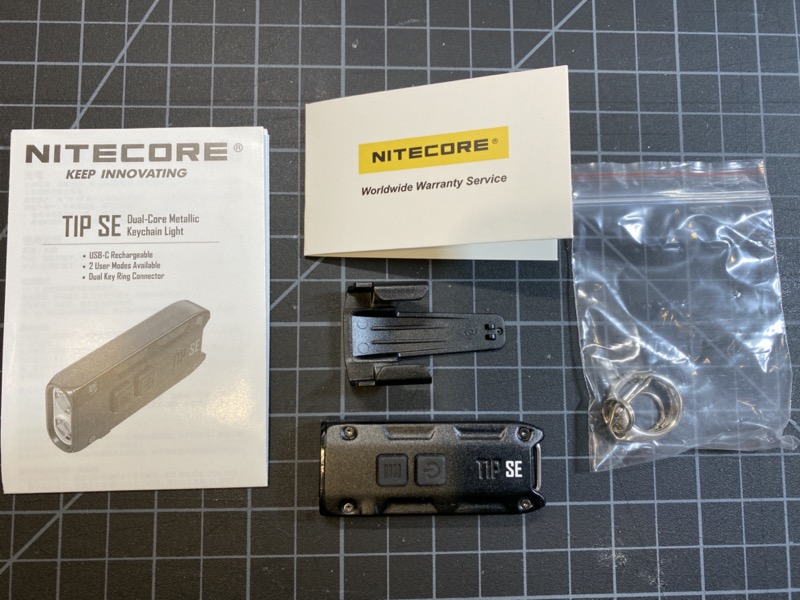 Instructions
TIP SE
Clip
Keyring
It's interesting to note that there is no USB-C cable. That's good, because I've got too many of those short, cheap ones.
Hardware specs
LED 2x OSRAM P8
Maximum Brightness 700 lumen
Peak Beam Distance 98 yards
Peak Beam Intensity 2100 cd
IP Rating IP54
Impact Resistance 1 m
Dimensions L-2.36″ x W-0.96″ x H-0.54″
Weight 0.92oz
MODE / OUTPUT / RUNTIME
Turbo / 700 lumen / 15 min
High / 180 lumen / 1 hr 30 min
Mid / 30 lumen / 8 hr
Low / 1 lumen / 50 hr
Design and features
Perhaps the most distinctive feature of the TIP SE is the dual LED configuration. They both turn on at the same time.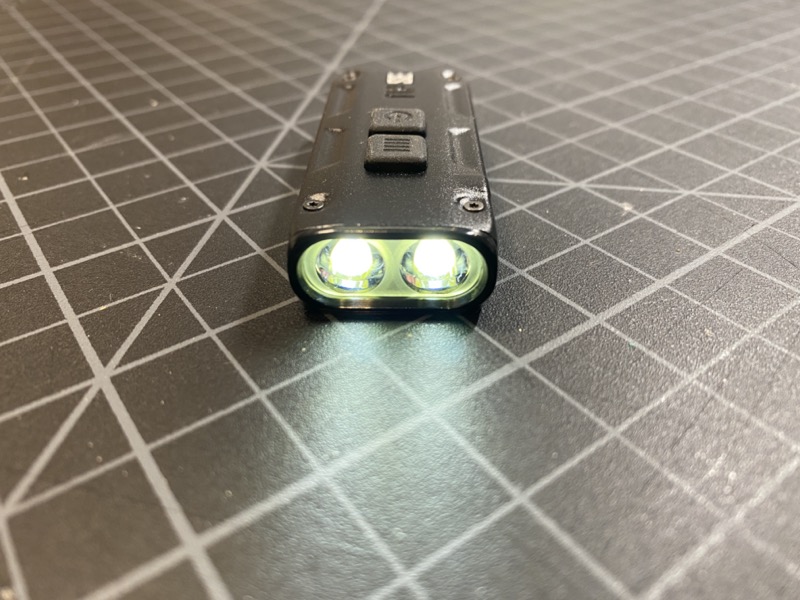 The black color I received has a matte finish. The plastic clip is reversible and can cover the buttons to prevent accidental activation.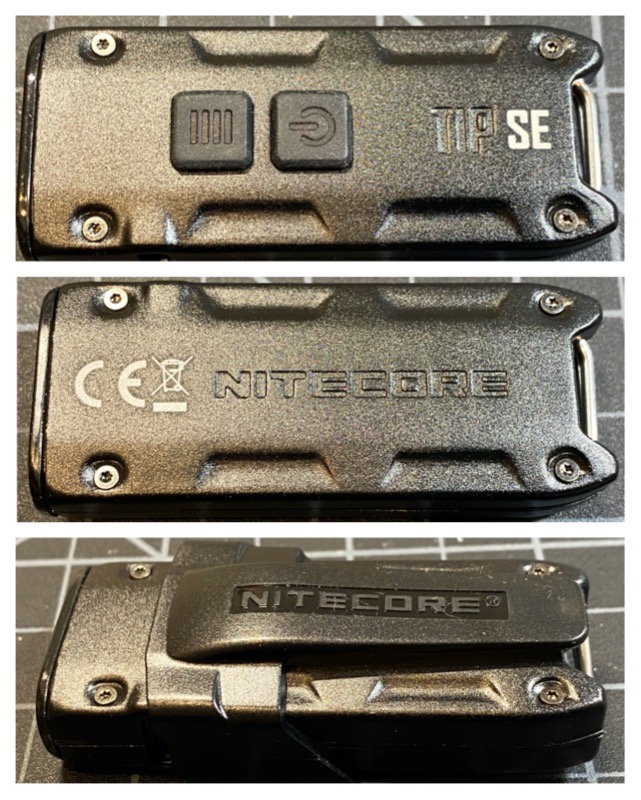 My favorite EDC flashlight is the older Nitecore TIP SS 2017 model in a fingerprint-magnet chromed finish. The TIP SE is slightly shorter, and a little lighter (0.92 oz vs. 1.13 oz)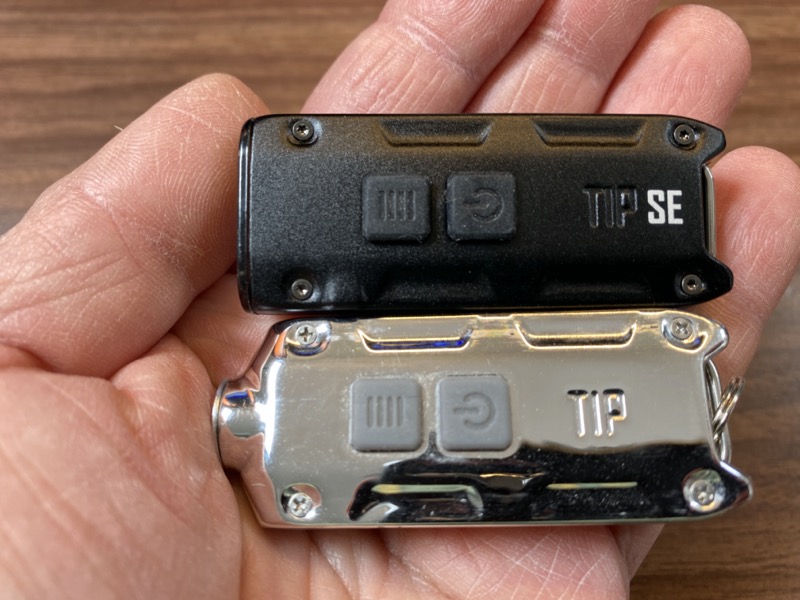 Setup
I really like USB-C over micro USB, mostly because of the reversible design. Here's the TIP SE fully charged: You can see the green LED glowing under the buttons. It glows red when charging.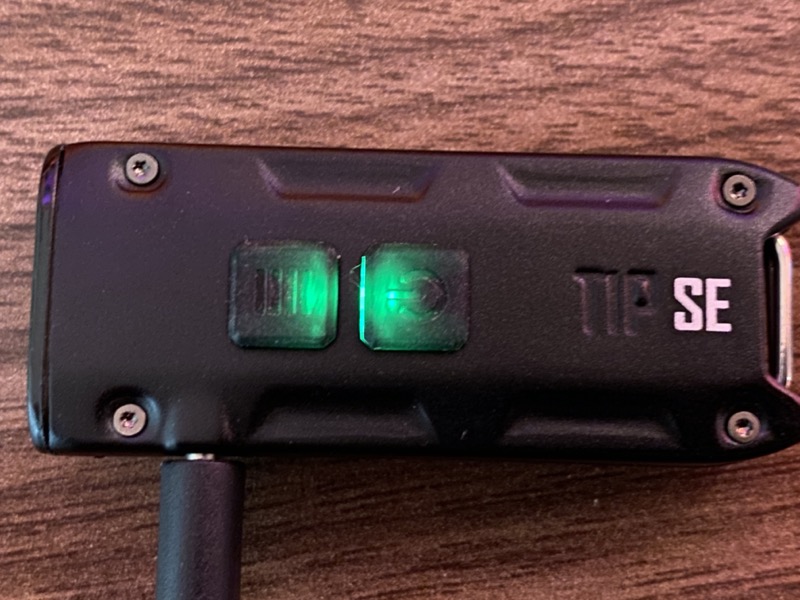 Like previous TIP flashlights, you can tap the mode button (three lines) and the red LED will blink to indicate power level: Three times above 50%, twice below 50%, and once when below 10%.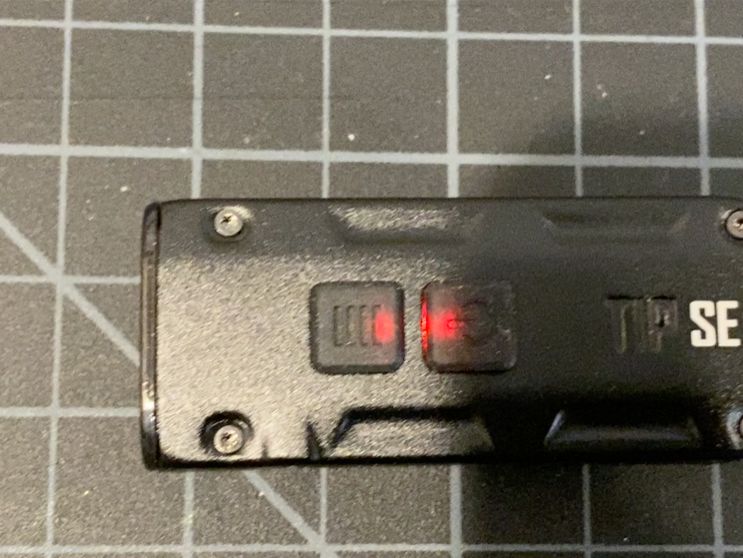 Performance
In general use, you press the power button to turn the light on, and cycle through Low-Mid-High with the mode button. Press and hold the mode button to access the turbo setting.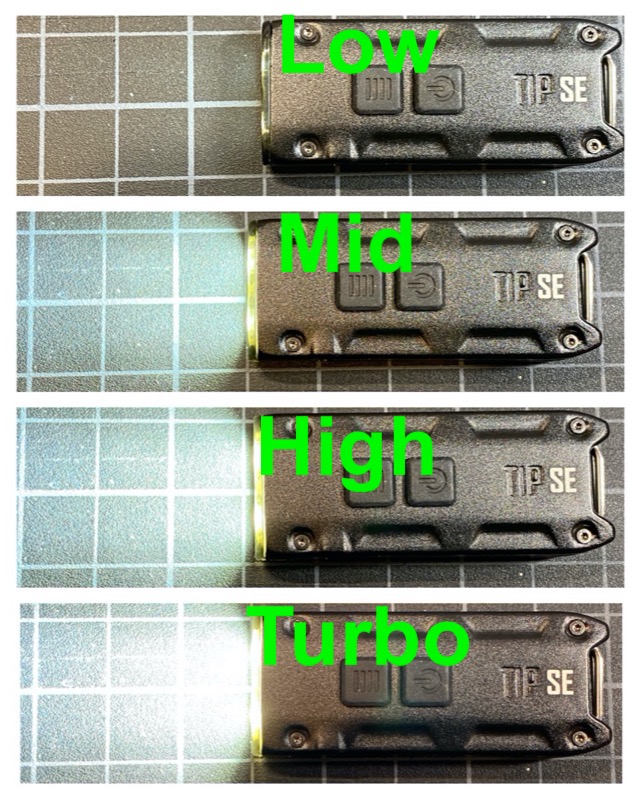 How does the TIP SE compare to my TIP SS 2017? It's very difficult to capture the difference with an iPhone camera, but they're both plenty bright. What's more important is the color temperature. The TIP SS 2017 (left) has a whiter, cooler color. The TIP SE (right) is warmer.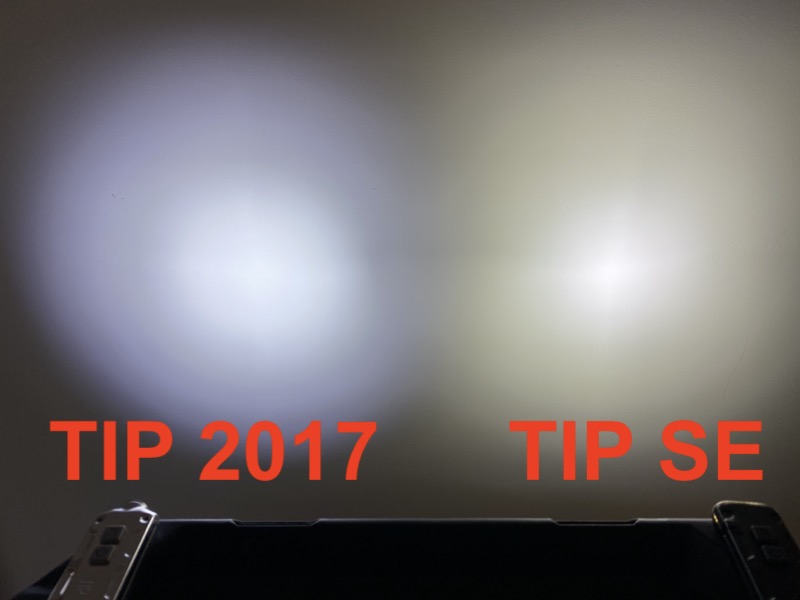 The TIP SE is rated brighter at Turbo than the TIP SS 2017 (700 lumens for 15 minutes vs. 360 lumens for 30 minutes) but I don't think the human eye is a very good judge of that.
Let's compare the runtimes for both:
Turbo: (TIP SS 2017) (TIP SE)
(360 Lumens for 30 min) (700 lumens for 15 min)
High: (TIP SS 2017) (TIP SE)
(150 Lumens for 1 hr 30 min) (180 lumens for 1 hr 30 min)
Mid: (TIP SS 2017) (TIP SE)
(35 Lumens for 6 hr 30 min) (30 lumens for 8hr)
Low: (TIP SS 2017) (TIP SE)
(1 Lumen for 46 hr) (1 lumen for 50 hr)
What I like
Slightly smaller and lighter than the TIP SS 2017
Warmer color temperature (my preference)
Longer runtime at Low and Mid than the Tip 2017
USB-C charging
What I'd change
Choice of CRI/color temperature.
Final thoughts
For brightness, they're both perfectly usable. But the addition of USB-C is the real winner here for me.
Price: $29.95
Where to buy: Nitecore and Amazon
Source: The sample of this product was provided by Nitecore.