We use affiliate links. If you buy something through the links on this page, we may earn a commission at no cost to you. Learn more.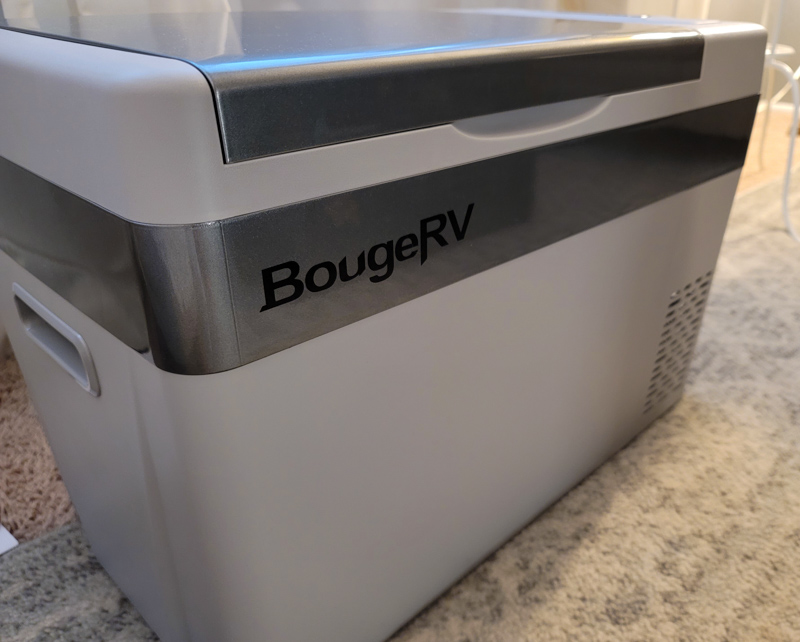 REVIEW – If I had a dollar for every time I went camping or took a trip and had a bad experience with a cooler and ice, I would have at least three dollars. Traditional coolers can have a variety of issues like leaks, soggy food from melting ice, broken backs from the weight of ice/melted-ice (also known as water), as well as a built in expiration of cooling capacity (unless you keep removing melted ice and add new ice as you go). Enter the BougeRV 30 Quart (28L) Portable Refrigerator/Freezer which can be powered by either AC or DC power (wall or car plug/solar/battery-generator). This relatively small refrigerator/freezer looks like the perfect solution for long road trips, extended camping trips, or any other event where you need either refrigeration or freezing for an indefinite period and have a power source.
What is it?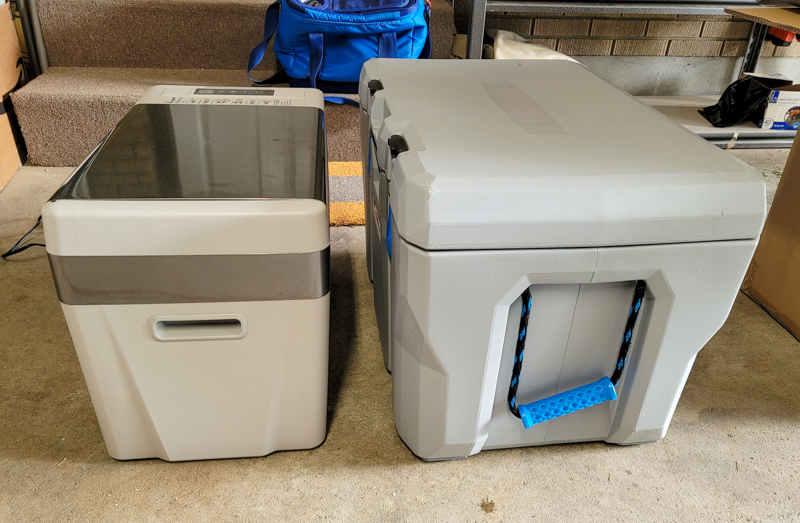 The BougeRV 30 Quart (28L) Portable Refrigerator/Freezer is a small fridge or freezer that is the size of a standard cooler, making it great for car/RV trips or any other scenario where you need a fridge or freezer in a small space. I keep saying "fridge or freezer" because it can only be set to one temperature for the entire unit: you can't keep both frozen and cold food in this simultaneously. As shown above next to our 50 quart traditional cooler, it's a large cooler, but not massive.
Where to buy: BougeRV (Use coupon code: AFFfridge to save $47 off this cooler and 15% off any other BougeRV car cooler – Expires 12/31/2021)
What's in the box?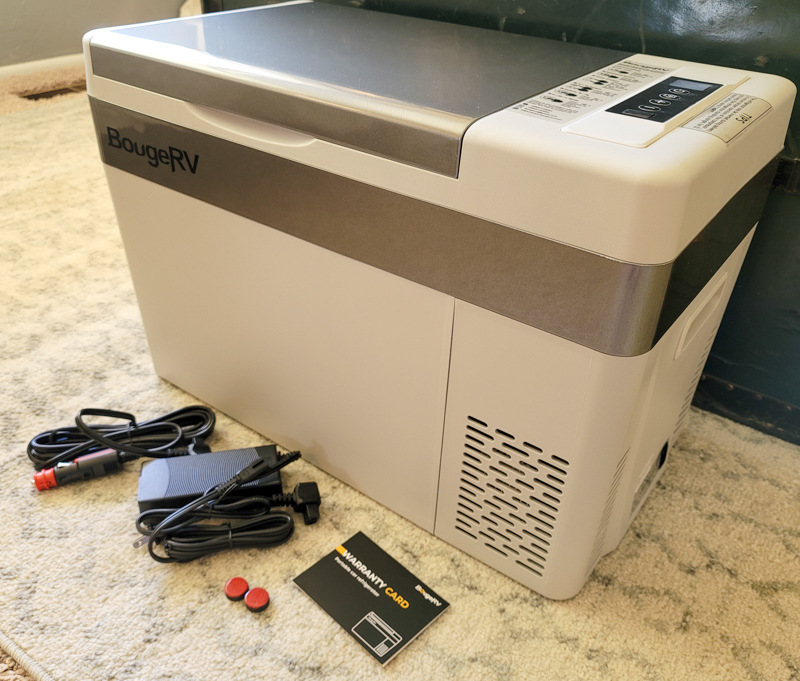 BougeRV 30 Quart (28L) Portable Refrigerator/Freezer
User Manual
12/24V DC power cord
120/240V AC power adaptor
Hardware specs
Capacity: 30 Quarts / 28 Liters / 0.99 cubic feet / 50 Imperial Pints
Dimensions width x depth x height: 22.68 x 12.60 x 15.55 inches  (76.2 x 32 x 39.5 cm)
Refrigeration Range: -7℉~50℉ (-21.6°C~10°C)
Weight: 22.8 lb (10.3 kg)
Voltage: 12/24V DC or 110/240V AC
Wattage: 45W-60W (eco/Max modes)
Noise: ≤45 dB
Refrigerant: R134A
Design and features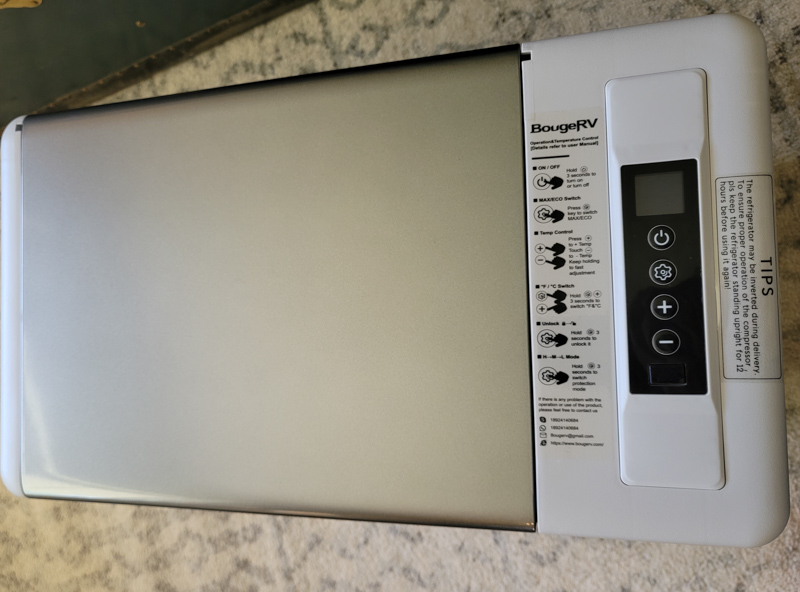 The BougeRV 30 Quart (28L) Portable Refrigerator/Freezer is a mostly plastic affair, but it all seems like high impact plastic and built to last.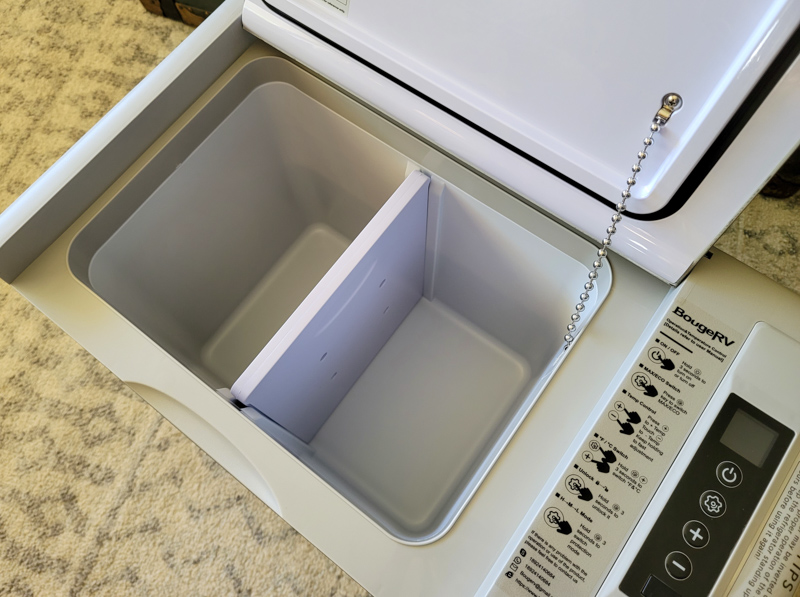 The top opens up for access, and the divider is removable. The LCD screen to the right is surrounded by helpful instructions, after skimming the manual I didn't need to refer to it again thanks to these instructions.  The LCD is bright and readable even in sunlight. It automatically locks after a few seconds which is really nice if you have inquisitive little ones around that like to push buttons, in this case they won't be able to turn off the unit or change the temp and thaw or freeze things that shouldn't be thawed or frozen.
Never miss one of our posts again. Sent MON, WED, and FRI with the latest gadget reviews and news!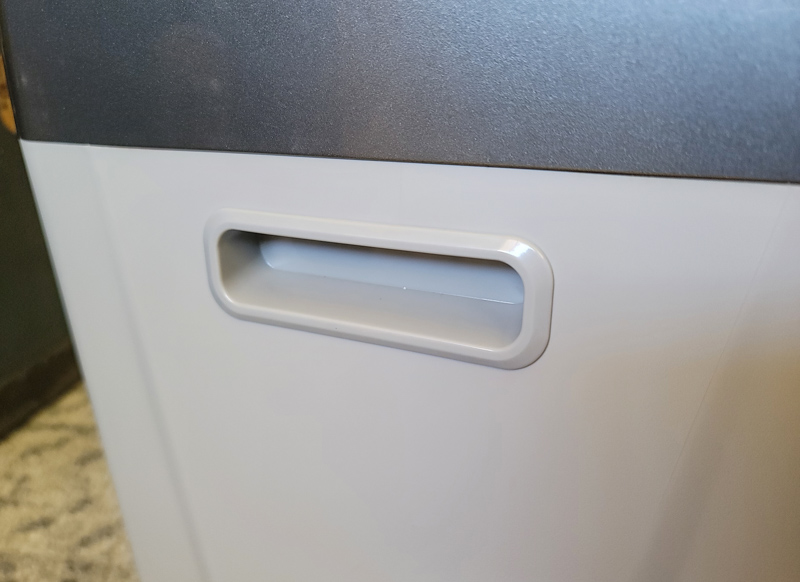 The side handles are plastic but even fully loaded they seemed sturdy, and it was easy to lift the unit.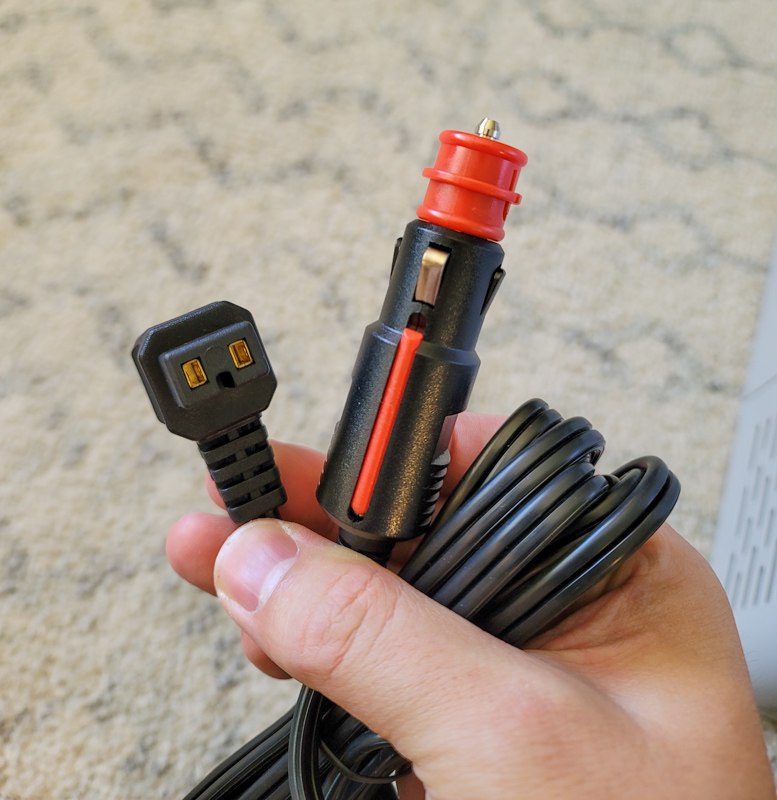 The BougeRV 30 Quart (28L) Portable Refrigerator/Freezer can be powered from an AC wall outlet, or a car 12v DC plug (this used to be called a cigarette lighter plug for anyone over 30).  You could also power this device from a generator or battery backup unit like the Puleida Portable Power Station that I reviewed recently.  This device even has a nifty undervoltage protection feature: this can be set to low/medium/high, displays the voltage level coming in, and automatically shuts the unit off if the voltage drops too low. This prevents the Refrigerator/Freezer from draining a car or RV battery so low that you can't start the car/RV.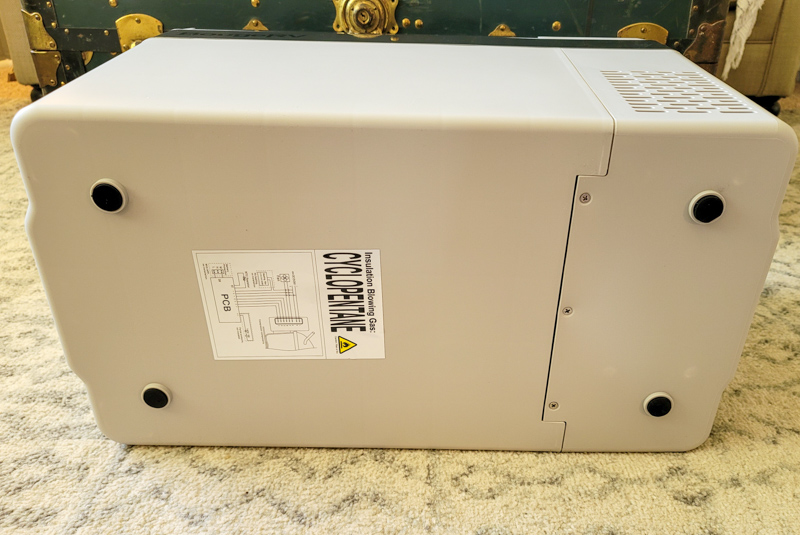 The bottom of the unit has 4 rubber feet to prevent sliding on hard surfaces, they worked great for the few weeks I was using it, and there are a couple replacements in the box in case they eventually come off.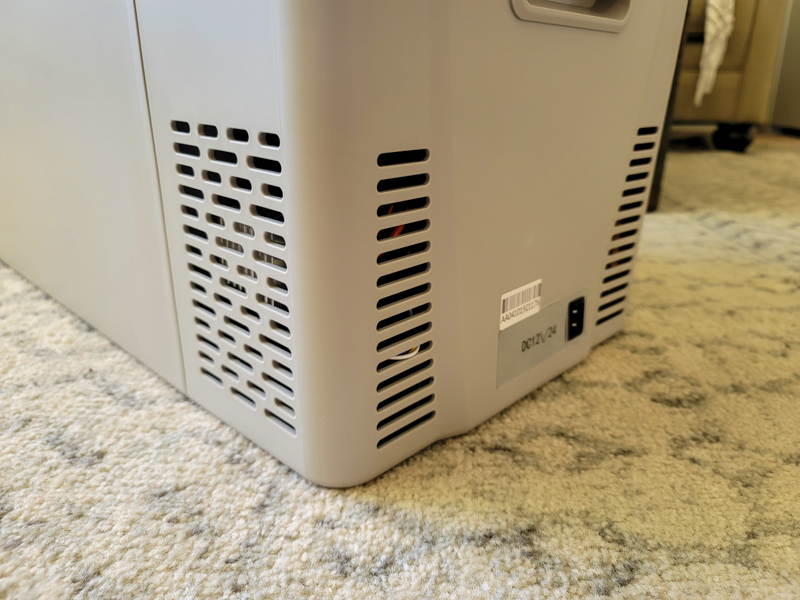 Fan vents on the right side allow for the refrigeration unit to do its thing. The fans and refrigeration unit were very similar to the small fridge/freezer I have in my office closet: you can hear them when they're working, but they're not intrusively loud.  I never noticed the white wire trying to poke itself out of the fan vent in the picture above until writing the review, but it doesn't seem like it gets quite far enough out to snag on anything so I'm not too worried.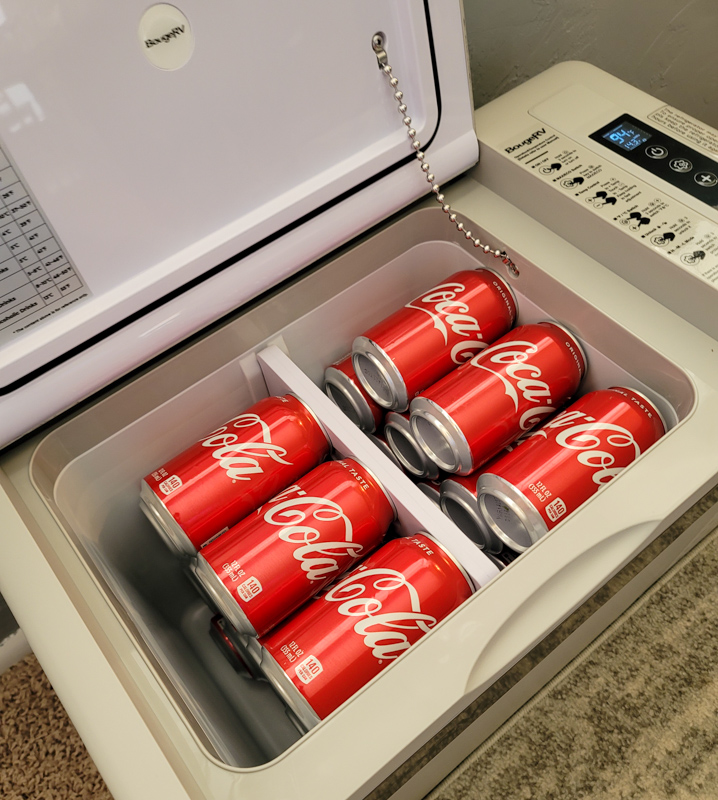 The BougeRV 30 Quart (28L) Portable Refrigerator/Freezer can hold about 30 standard soda cans in either vertical or horizontal positions. It is just wide enough to take "tall boy" cans as well, and if you're trying to fit anything larger like 2 liter or wine bottles the middle divider can be removed. This storage space is smaller than the overall footprint of the unit, but with traditional coolers you have to put in a bag of ice so it ends up being pretty equivalent in terms of storage space for overall volume.
Installation and setup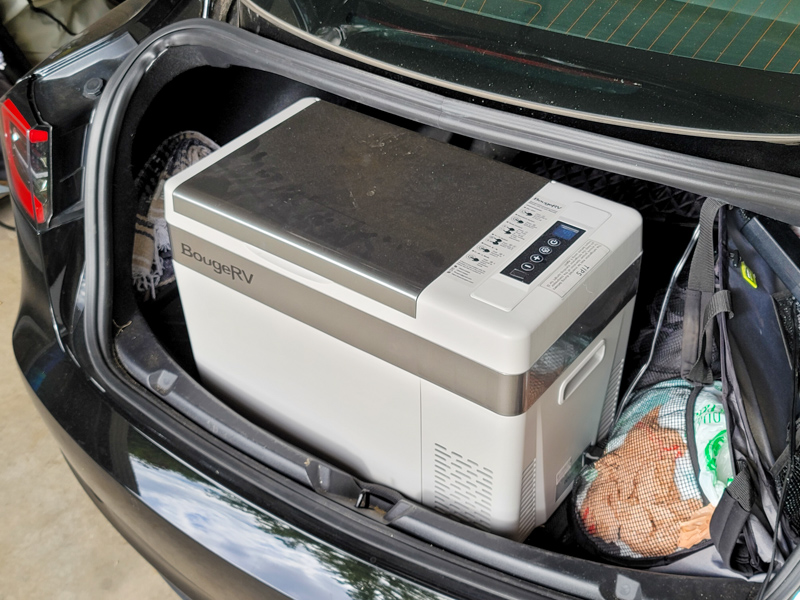 Installation is very simple: first you move the BougeRV 30 Quart (28L) Portable Refrigerator/Freezer to where you'd like to use it, be it an RV, car, or around your home or cabin.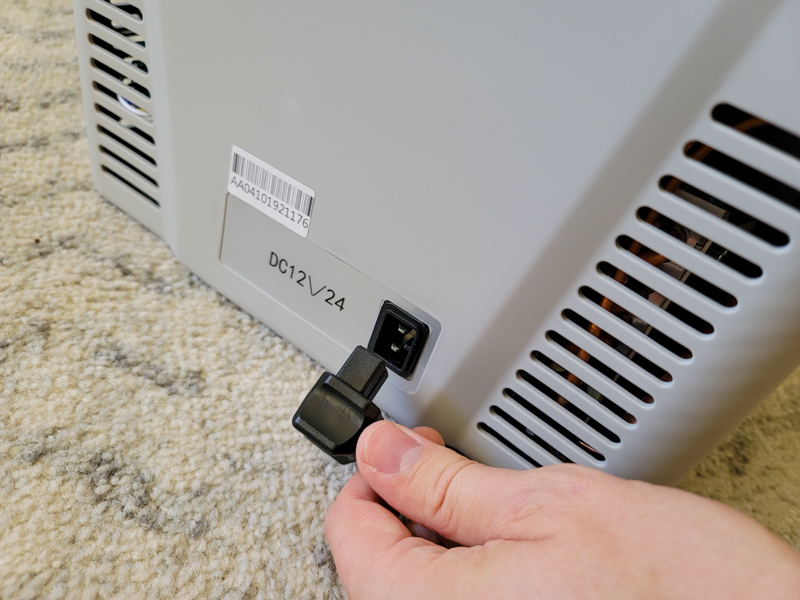 Next, you plug into a power source (AC or DC).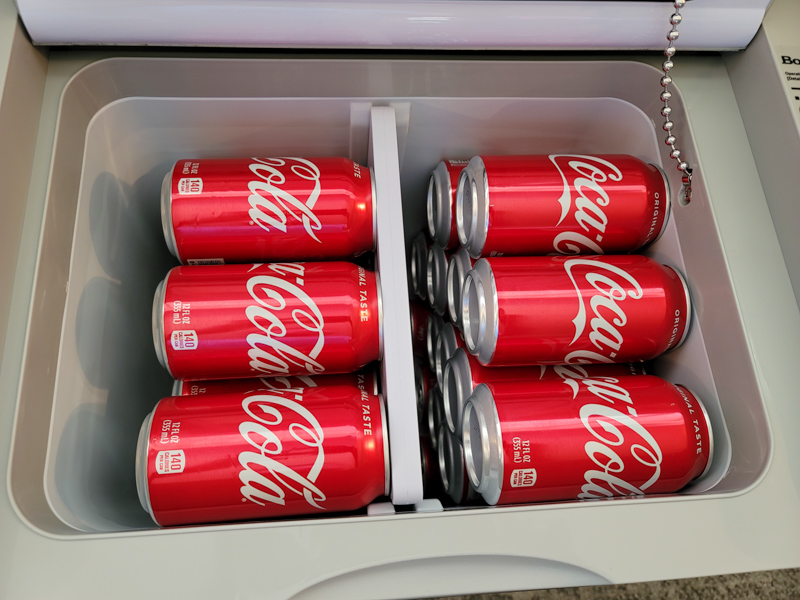 Then load up the fridge/freezer with the items to be chilled, set the temperature, and in a few hours it'll be to that temperature. If you're going to store frozen items, you'll want to plug it in and cool it first since it can take a few hours for it to get to temperature, especially if it starts hot.
Performance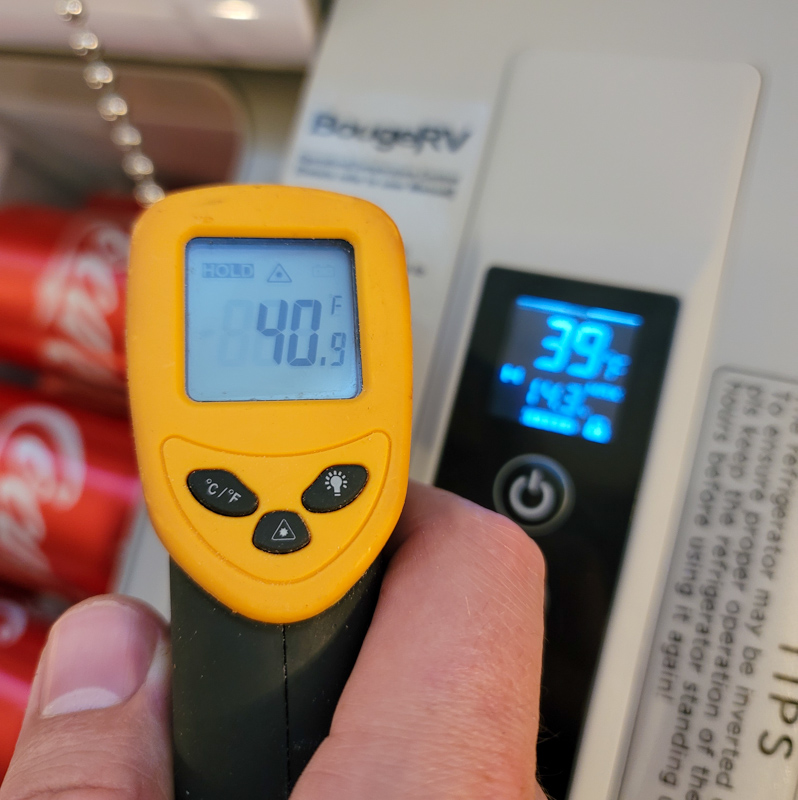 We used the BougeRV 30 Quart (28L) Portable Refrigerator/Freezer for drinks storage for an event during this review period, as well as transport for car daytrips. I set the temperature to 40℉ for drinks storage, and it cooled down from a toasty 90 degrees (sitting in a garage on a hot day) to the 40 degree mark in a couple of hours. As shown above, the unit was consistently a degree or three lower than what we set it to, we had Coca Colas bordering on slushies (which I love).  If you're using it for frozen foods it gets quite cold (BougeRV rates this to -7℉), but you can't mix and match frozen and refrigerated items, it's one temperature for the entire unit.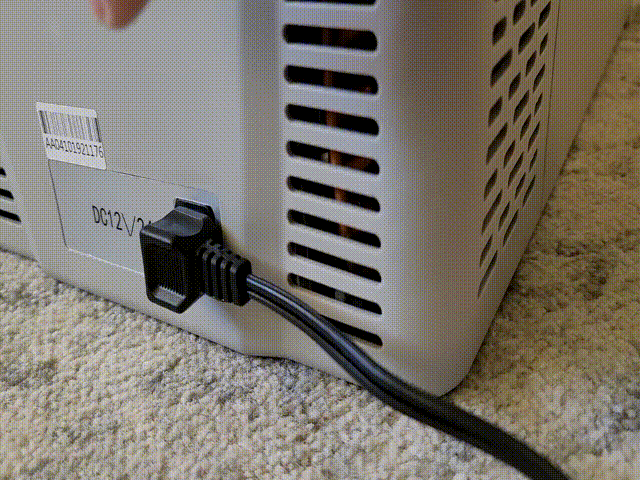 My only (mild) concern during the review period was the flex around the power plug. As shown above, the plastic has quite a bit of flex right next to the essential power connection. During normal use the power plug is very snug and I'm not worried about it unplugging, but if there was one thing I'd want improved, it would be this area.
What I like
Solid refrigeration/freezing
Fairly large storage capacity for the size
Undervoltage protection to prevent dead car batteries
What I'd change
Plastic flex around the power plug connector
Final thoughts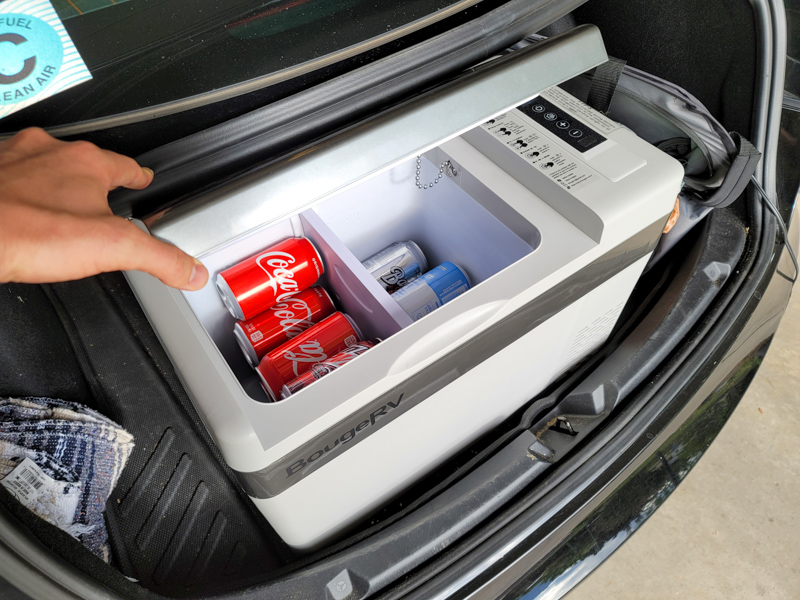 The BougeRV 30 Quart (28L) Portable Refrigerator/Freezer was a fantastic gadget to use and review. I love it when a device is truly useful during and after a review period, and this device has earned a permanent spot in our garage for additional cold drink storage. It was a reliable and handy travel cooler, and great for the 30+ person event we held a few weeks ago. I like the ease of use, reliable refrigeration/freezing, battery protection feature, and the flexibility of power inputs.
Price: $269.99
Where to buy: BougeRV (Use coupon code: AFFfridge to save $47 off this cooler and 15% off any other BougeRV car cooler – Expires 12/31/2021)
Source: The sample for this review was provided by BougeRV