We use affiliate links. If you buy something through the links on this page, we may earn a commission at no cost to you. Learn more.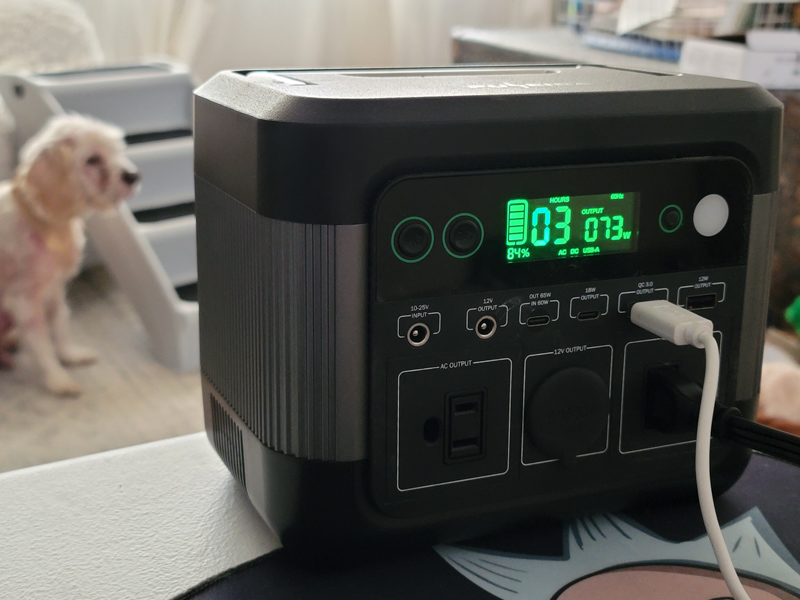 REVIEW – We've been getting quite a few power stations sent to us for review here at The Gadgeteer lately. The Puleida Portable Power Station caught my eye because it was the antithesis of the last power station I reviewed (the massive Bluetti AC200P power station – which is most definitely not very portable). Puleida's marketing material shows their power station being held in a hand and says it's "palm size", so it looked perfect for overnight camping or other portable power needs. I used it heavily over a multi-week review period, and it worked great for most scenarios.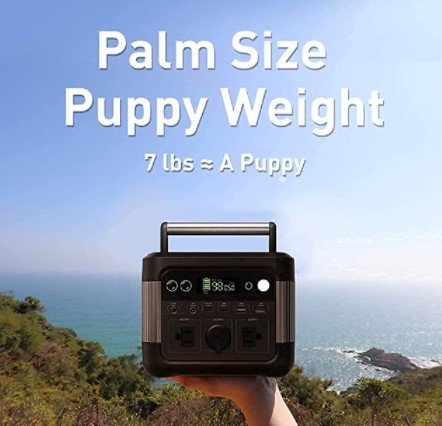 What is it?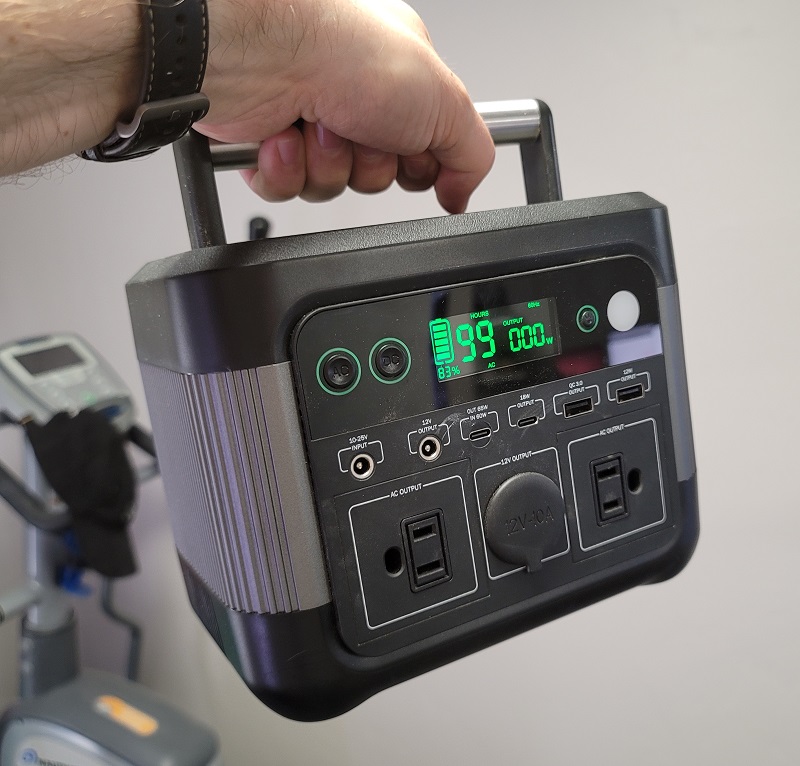 The Puleida Portable Power Station is a power station. Which is to say, it's a portable battery that can power a variety of devices for an extended period of time.  The Puleida Portable Power Station boasts faster charging than most other similar power stations on the market, and has some pretty nifty tricks up it's sleeves as well. It has a 300 Watt-hour battery, which roughly translates into powering a 100 watt device for 3 hours (or a 10 watt device for 30 hours, etc.).  This power station has a wide variety of inputs and outputs, and is fairly small and portable (it seems a bit smaller than most other 300 Wh devices I've researched).
What's in the box?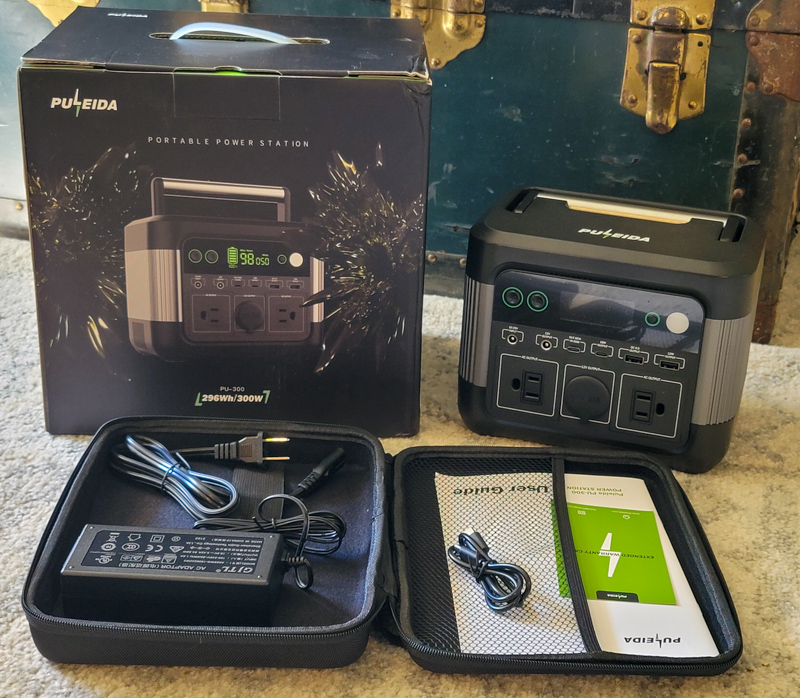 Puleida Portable Power Station
AC Adaptor/charger
User manual
Accessories bag
Hardware specs
Capacity: 300 Wh (80,000 mAh @ 14.4V)
Battery type: Lithium-Ion Battery
Input: 60W DC + 60W USB-C PD (Power Delivery), up to 120W max
AC Output: 300 Watts @ 110V (500 W peak)
DC Output: 12V/10Amp "car port", 65W max USB-C PD, 18W USB-C, 18W USB-A (Quick Charge 3.0), 2 x USB-A standard (5V/2.4A)
Weight: 7 lbs
Dimensions: 8.1 x 5.5 x 6.5 inches
Design and features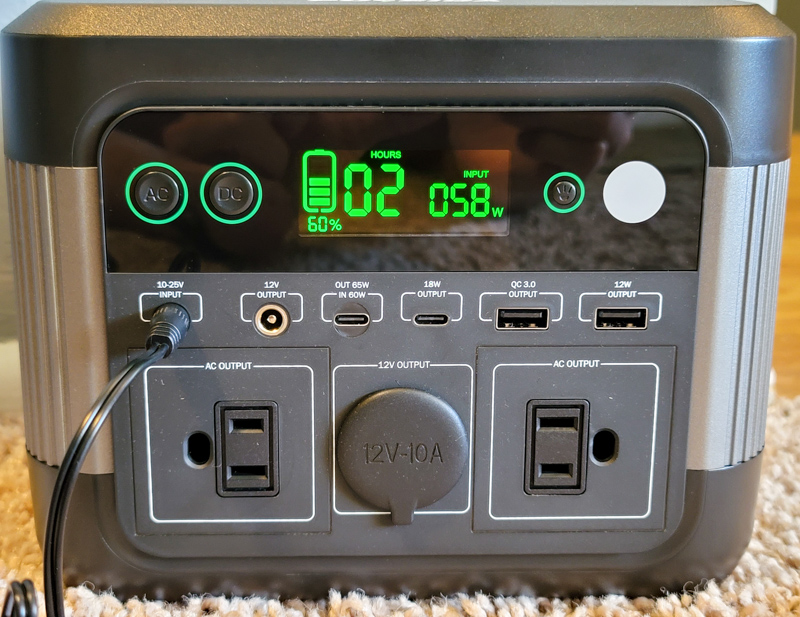 Front and center on the Puleida Portable Power Station is a decent monochrome LCD panel. This conveyed all the relevant information I wanted in an easy to read format, easily visible in anything but bright sunlight (and then just shading it with my hand resulted in decent readability).  This display shows time remaining estimated on current input/output, battery life, and the number of watts going in or out. With power stations, I especially like the time-remaining estimates: if you're dealing with a power outage or need to run a cooler or something overnight it's essential to know if it's going to make it or not.  You can power up to 8 devices simultaneously as long as they combine to use less than 300 watts with no peaks/spikes.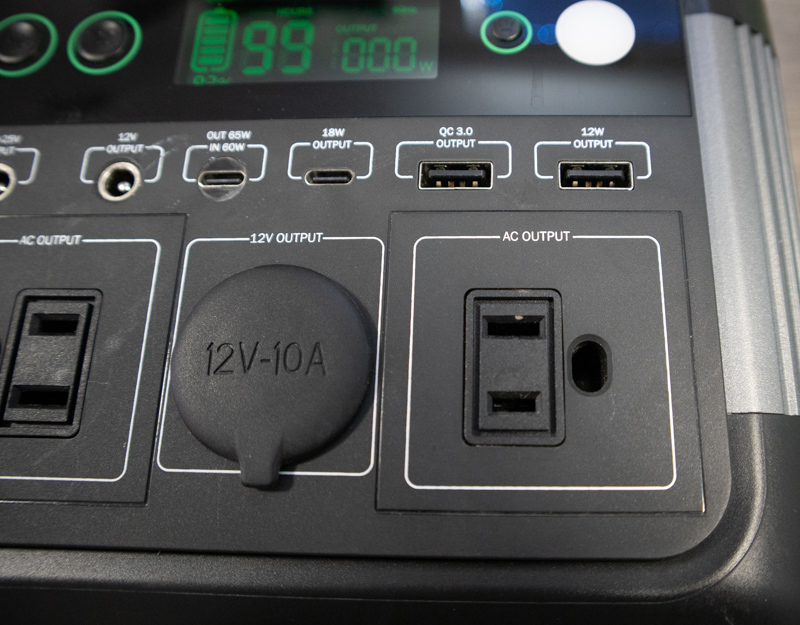 Never miss one of our posts again. Sent MON, WED, and FRI with the latest gadget reviews and news!
The Puleida Portable Power Station is roughly half the size of a standard 12-volt car battery, making it fairly portable. It has two USB-C type outputs: one rated for up to 65 watts out (PD – Power Delivery) and 60 watts in, and the other up to 18 watts output-only.  There's also a pair of USB-A ports, one rated at up to 18 watts and supporting Quick-Charge 3.0, while the other is a standard 12 watt port.  I was able to use a Macbook Pro and my Asus ROG Zephyrus G15 gaming laptop from the 65 watt USB-C PD port, as well as from the AC ports.  There are two other DC-based outputs: a car-style 12 Volt / 10 Amp plug and a 12 Volt barrel-plug DC output.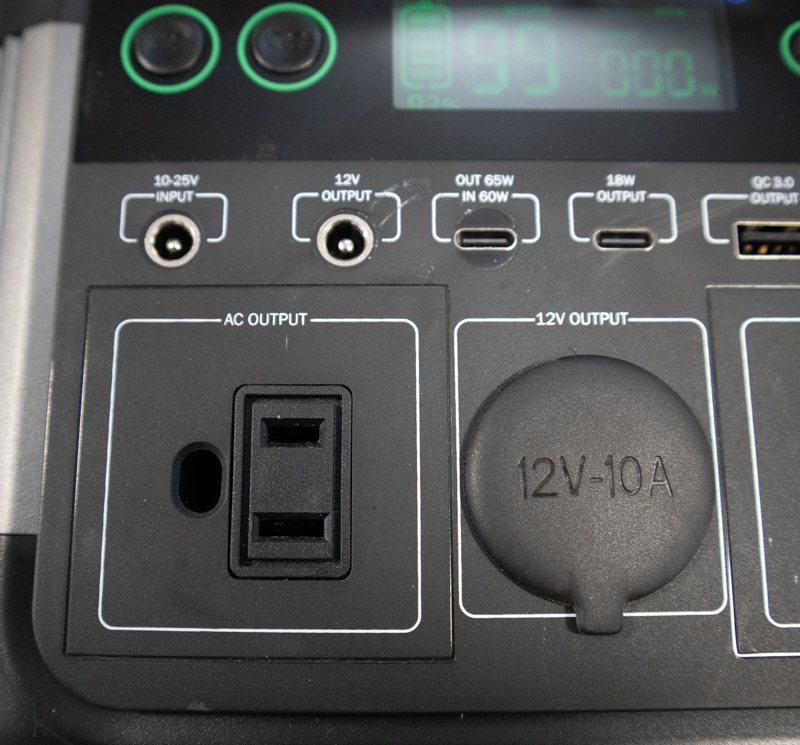 On the left side of the unit is the power buttons (AC and DC power can be toggled on and off independently, which is great if you're using just one type of power).  Both AC ports can be used simultaneously, and support both 2 and 3 pronged plug US 120V AC plug types (as long as the total devices connected aren't exceeding the rated power limits).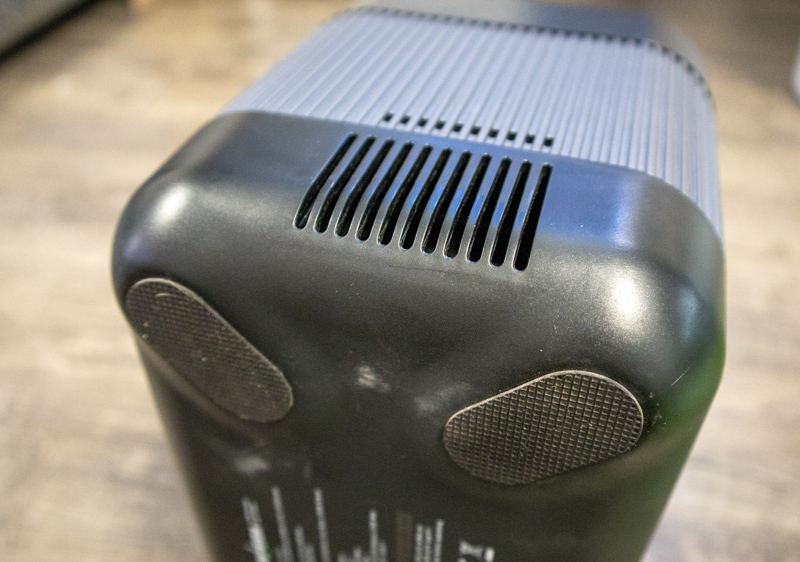 The side of the Puleida Portable Power Station has a small fan, which I never noticed at all if it even came on (I'm guessing my laptop's fans were much louder and covered any fan noise from this unit during use).  On the bottom are some decently rugged rubber feet so it doesn't slide around on hard surfaces. The plastic used throughout feels like it can take some abuse, it's not the cheap brittle stuff that you sometimes see in devices like this. The power station survived being bounced around the back of a loaded car for a lake day, placement on rocks and dirt, use in full sun, and more during the review period.  The handle (pictured at the top of this review) is quite solid and ergonomic, no complaints there.
Setup and Use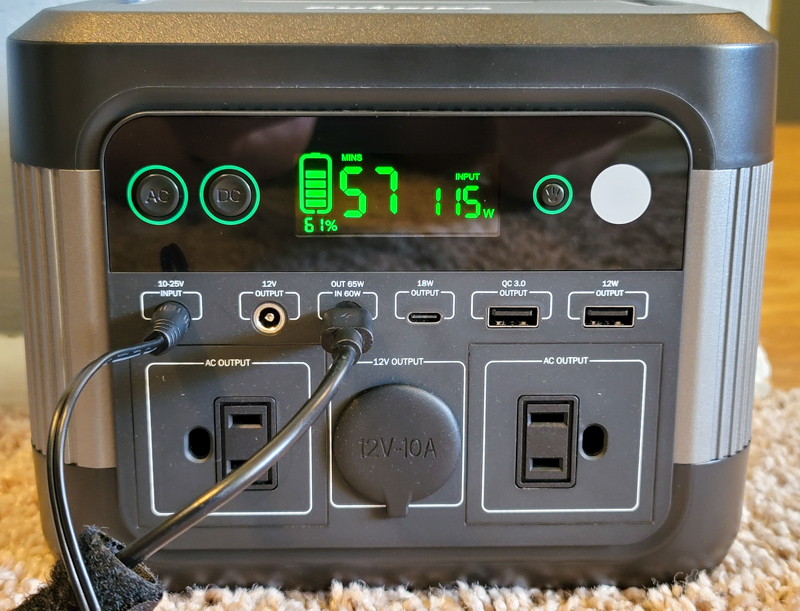 The Puleida Portable Power Station offers a wide variety of ways to charge it up: wall-plug AC @ 60 watts, USB-C power delivery input @ 60 watts, solar panel DC @ 60 watts, car DC input @ 60 watts, or combine the USB-C PD input with any of the others for up to 120 watts and a much faster recharge. I immediately tested the unit with both the wall plug and a USB-C power delivery plug and it registered 115 watts input and charged quite fast (I believe their 2.5 hours empty-to-full with dual-charging claim).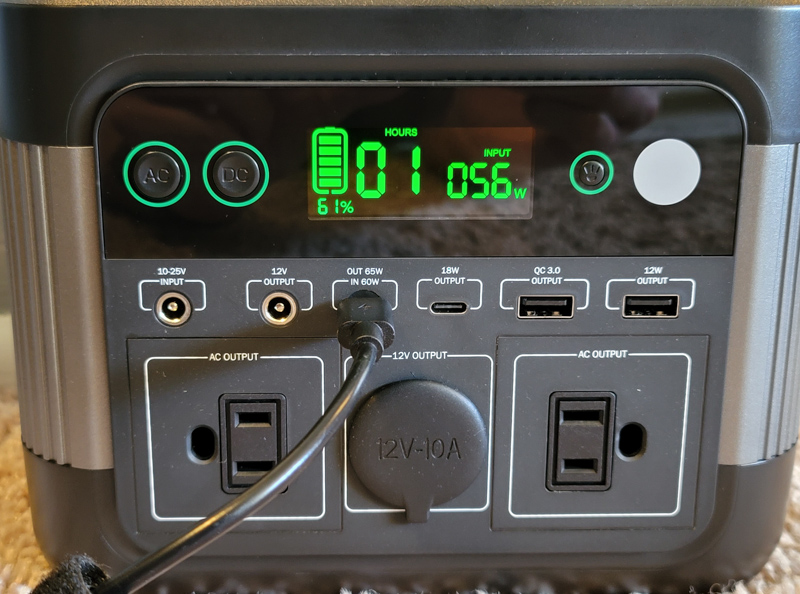 I found the USB-C power delivery charging to be quite handy, I have USB-C PD plugs all over the house since all our laptops/tablets/phones can charge from them, so charging up the Puleida Portable Power Station is convenient anywhere in our house. This is really useful, I get annoyed with keeping track of proprietary chargers for each of the many devices I've bought or reviewed.  In this case, after testing out the included AC adapter, I returned it to its box and simply used the PD charging method.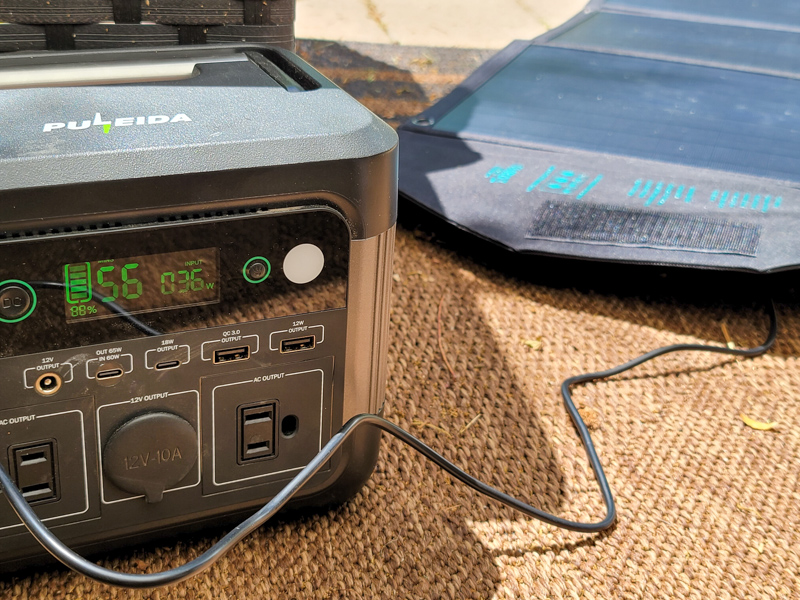 I hooked up my CHOETECH portable solar panel on a bright sunny day using a DC barrel plug cord (not included), and the Puleida Portable Power Station accepted up to 60 watts from the panel (though the highest I could get with no clouds and ideal angles was just over 40 watts). While it will probably take a full day of sun to charge the power station from empty, it's nice to have that option if we ever have an extended camping trip or power outage.  Even gas generators are obviously dependent on fuel, but as long as there's some light in the day I can get a bit of power indefinitely in emergencies from this combination. You could set this up in a tiny-home or RV or camper for a daily charge and nightly power scenario fairly easily.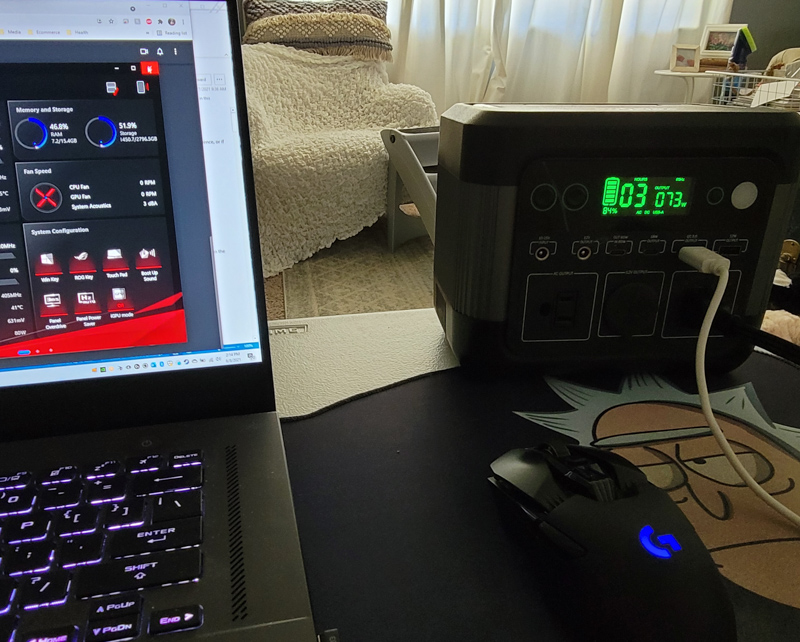 Speaking of power outages, I had the opportunity to fully test the Puleida Portable Power Station in a blackout: our city lost power for half a day in the middle of a workday.  While the Bluetti AC200P power station ran our internet modem and router, the Puleida Portable Power Station was perfect for running my work devices.  I loved the estimated-time-to-empty so I wasn't guessing on how long I'd have until it was dead, and under a normal workload it was giving me full AC power estimated to last more than 4 hours. I could have tweaked my laptop power settings to sip less juice and last much longer, but with the solar panel backup option and an 8 hour battery life on the laptop itself I wasn't too worried. It was very nice to have a reliable and easy-to-use portable power source for exactly this type of situation. I even added a small fan to the mix after taking this picture as our house started to heat up in the summer sun.
We also took the Puleida Portable Power Station to a lake day where I used it along with the MECO High Pressure Air Duster to inflate kayaks. This is where I ran into my first minor issues with the power station: it didn't seem to like wattage peaks (spikes that are common with AC devices like refrigerators/freezers). I was able to get it working on a low setting on the air blower (which drew less than 100 watts once running).  I'm not sure how high the MECO air duster was peaking when it started up, but I got repeated errors when turning it on (the Puleida Portable Power Station just displayed "ERR" on the screen) and I had to power cycle it and try a few times until it was running.  This wasn't a deal breaker since it eventually worked, but it's something to be aware of, especially if you plan on using this device to power something like a freezer or refrigerator (you wouldn't want a wattage peak throwing an error in the middle of the night when a compressor kicked on and thus not running all night).
What I like
Dual charging input options – USB-C power delivery is especially convenient
Estimated-life-remaining timers and good information displays
USB-C Power Delivery output as well as AC outlets and a wide variety of other outputs
What I'd change
Has issues with wattage peaks
Final thoughts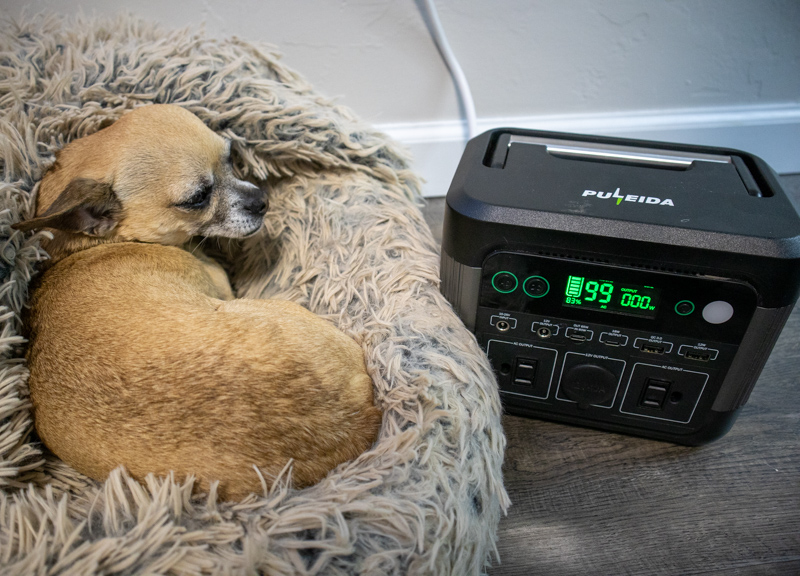 The Puleida Portable Power Station is a great little portable power station, with enough inputs and outputs to meet a variety of power needs. If you need something pumping out near or over 300 watts, it may not be the best fit for you.  It was great for all our laptops/tablets/smaller-appliances, but struggled with higher wattage devices like the air blower I tested.  The Lithium-Ion battery chemistry should mean a pretty decent lifespan, and it worked well during the review period, but I'm always leery of unknown companies and how long the products will last. At around 7 pounds, it's roughly the same weight and size as my forever-puppy rescue Chihuahua, so their marketing material turned out to be spot on.
Price: $299 (on sale for $219 with coupon at time of review)
Where to buy: Amazon
Source: The sample for this review was provided by Puleida.