We use affiliate links. If you buy something through the links on this page, we may earn a commission at no cost to you. Learn more.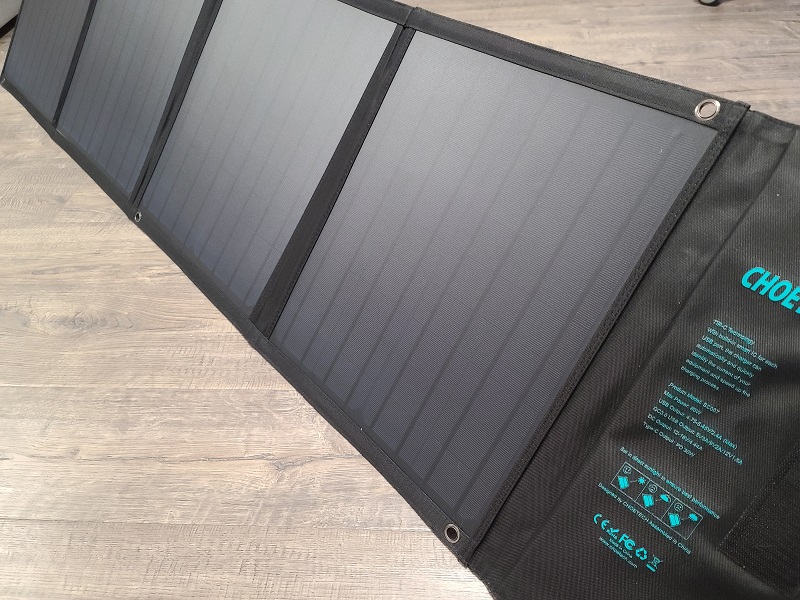 REVIEW – My outdoor adventures are usually of the less-than-one-day variety, so I often don't need device-recharging options beyond small portable chargers.  However, I've been wanting to do multi-day camping/hiking trips and the CHOETECH Portable Solar Panel charger looks like a good option for keeping phones/tablets/laptops charged for these types of adventures.  It could also be a good option for RV/camper users, or even tiny homes or off-the-grid cabins, if your only electrical need is for portable devices.
What is it?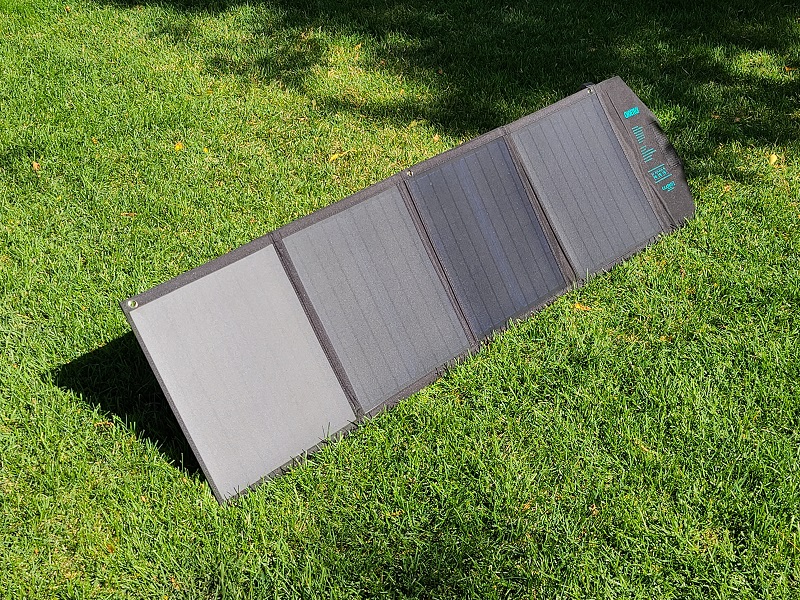 The CHOETECH Portable Solar Panel charger review is a portable solar charging station, capable of charging multiple devices at once.  This product is designed to let you continue to operate electrical devices away from the grid.  It's 80W maximum output means you can expect to fast-charge smaller devices if they're capable of fast-charging standards, while it can also charge something like a laptop as well- though you wouldn't be able to operate something like a gaming laptop indefinitely – more on that later in the review.
What's in the box?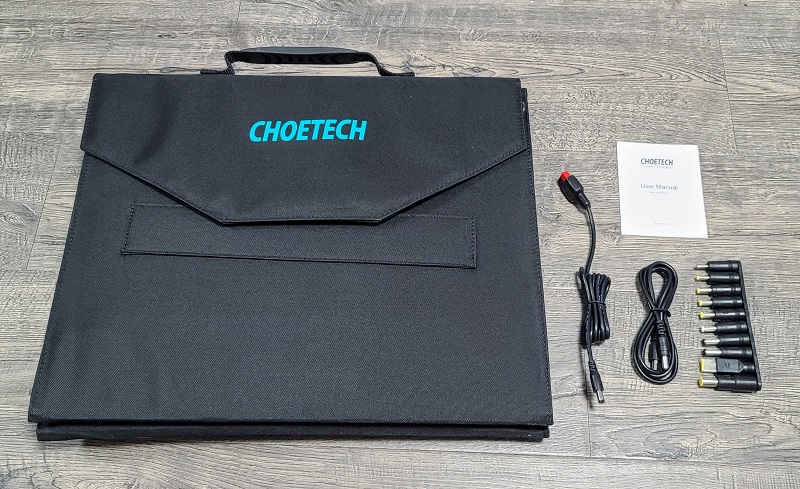 CHOETECH 80W Portable Solar Panel charger
1 x 10-in-1 connector for various ports
1 x DC-Anderson cable
1 x DC-DC cable
1 x User manual
Hardware specs
Peak output: 80W
Solar conversion rate: up to 23%
Voltage: 18V
Current: 4.44A
Open Circuit Voltage: 21.6V
Short Circuit Current: 5A
Operating Temperature Range: -10℃~60℃
Overload Protection: CE / FCC / RoHS Certified, voltage regulator technology
DC Output: 12-18V/4.44A
Type C Port Output: Power Delivery 3.0 / 30W
USB-A QC Port Output: Quickcharge 3.0 compatible (18W)
USB-A port 2 output: 5V / 2.4A
Weather Resistance: IPX4 (for the panels, the port area on the back is not sealed)
Design and features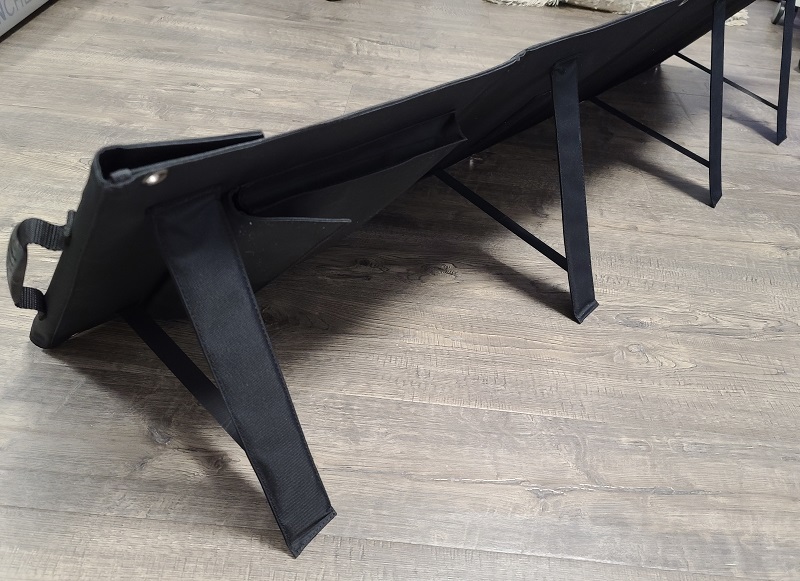 The CHOETECH Portable Solar Panel charger is quite compact when folded, about the size of a small briefcase and just over 8 pounds.  It easily unfolds and has rigid stands to position the panel at a 45-degree angle, ideal for collecting as much sunlight as possible.  The ports for charging are tucked into a pocket on the back, and everything uses Velcro to stay in place.  The velcro seems to be good quality, and stitching is good.  Everything feels like it will hold up well over time, at least judged from my few weeks with it.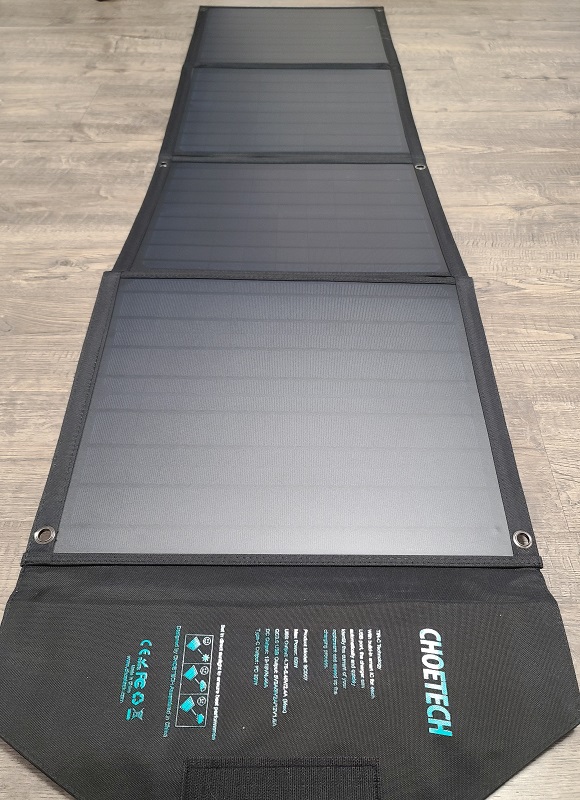 The compact size when folded is nice, and it's surprising how big it is when fully unfolded.  The solar panel area is 54 inches long by 16 inches tall, quite a bit of sun-soaking capability.
Never miss one of our posts again. Sent MON, WED, and FRI with the latest gadget reviews and news!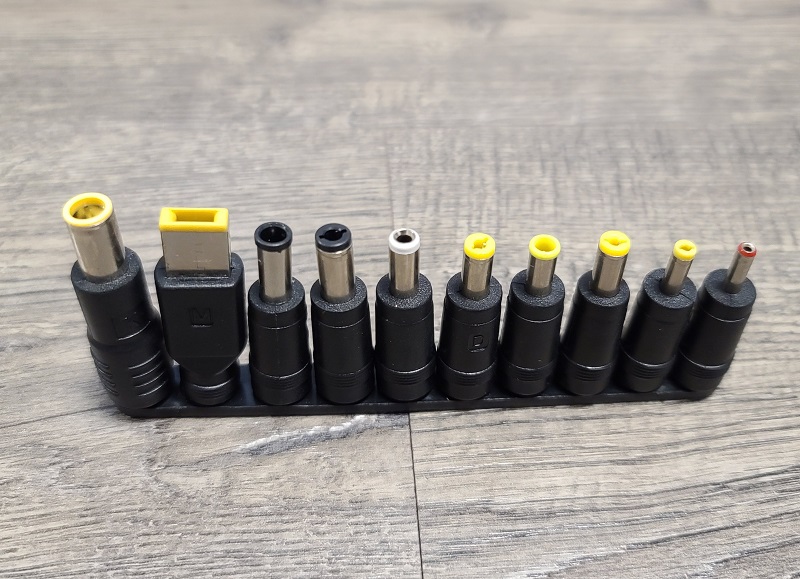 The 10 in 1 DC connector set seems to be of good quality and the one barrel plug that matched an air-blower I tested worked perfectly.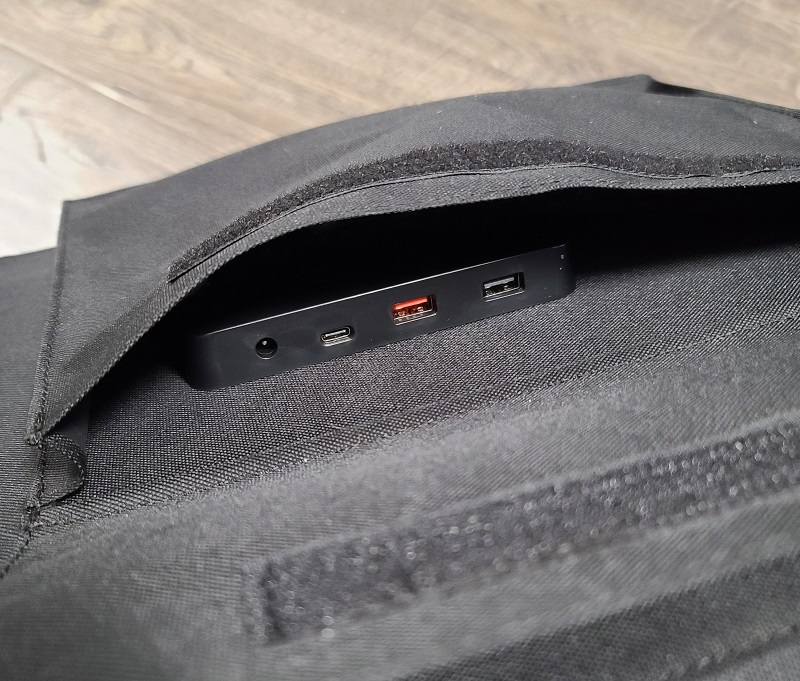 On the back of the CHOETECH Portable Solar Panel charger is the connectors for charging.  From left to right in the picture above we have DC power output, USB-C with power delivery, USB-A with quick-charge 3.0, and standard USB-A.  The manual notes that this area is not weather-sealed, and I don't see an easy way of sealing this up for any kind of water exposure.  I think the IPX4 rating will really only help for dust-resistance on the solar panels, as this compartment is fairly well dust-protected during use.  Water would be a different story, and I wouldn't want to subject it to anything more than a light drizzle.
Installation and setup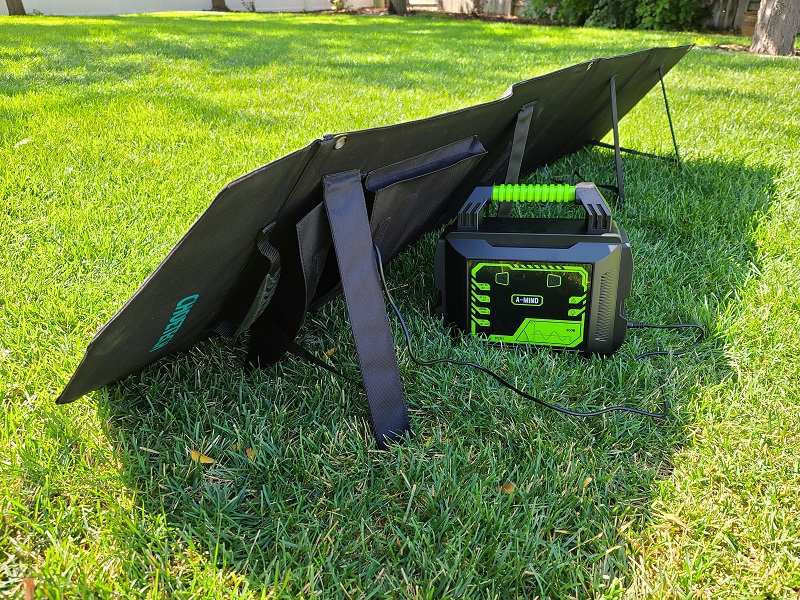 Installation is extremely easy, you simply unfold the panel of the CHOETECH Portable Solar Panel charger and flip out the four stiff stands on the back.  Then plug in the device(s) and you're done!  I didn't realize how much shade we had in our back yard until testing this though, I had to move it every 30-60 minutes to keep it in direct sunlight.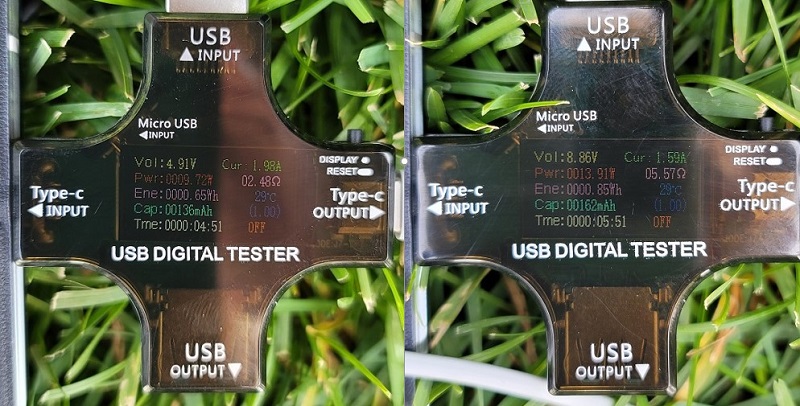 I connected various devices (Apple Macbook Pro 15, Samsung Galaxy Tab S7+, Samsung Galaxy Note 20 Ultra, and various batteries) and tested power statistics with each individually and while multiple devices were charging simultaneously.  The max wattage I observed was 15 watts on the Macbook, which matched in-system power statistics.  Other devices mostly registered around the 10W mark, which is good for mobile devices and portable small battery packs.
This 15 Watt maximum may be an incompatibility with the 2018 Macbook pro and the PD charging standard used by CHOETECH here, but I get up to ~90 watts with other PD (power delivery) plugs.  The manufacturer specs report that PD should go up to 30 watts.  I do have one other USB hub that limits at 15 Watts with the Macbook, so I hesitate to say the CHOETECH Portable Solar Panel charger is the issue here.  Regardless, 15 or 30 watts isn't enough to fully use this laptop's potential, and any more power-hungry gaming laptops would want a lot more (higher end ones use 230 watt AC bricks or even more).
I connected a 300 WH power station (large battery pack) which was nearly depleted, and charged for the entire day.   The end result was about a 15% increase in the battery level, so it would take multiple days of good sunlight to recharge a large backup battery.  I had hoped to use the combo of the CHOETECH Portable Solar Panel charger and the power station for an upcoming 100+ mile multi-day ride on an e-bike, but at the rates observed I wouldn't be making much of a dent in my bike charging needs, so I'll simply need to bring extra batteries (or pedal harder).
For camping or simply being anywhere off the grid though, this CHOETECH Portable Solar Panel charger would be great.  It's able to charge tablets, phones, and laptops at a decent rate under even partly cloudy conditions.
What I like
Seems to handle charging multiple devices at decent wattages even in non-ideal conditions
Compact size and easy portability
What I'd change
Mixed weather resistance ratings – having IPX4 panels but a non-sealed area on the back negates the usefulness of the weather resistance
It would be nice to see some kind of indicator showing how much potential power is "on tap" – like an LCD screen showing current wattage input/output.
Higher single-device power capability, some phones can take 50+ watts quick charging now, and laptops could easily use the full 80 W from the panel if allowed.
Final thoughts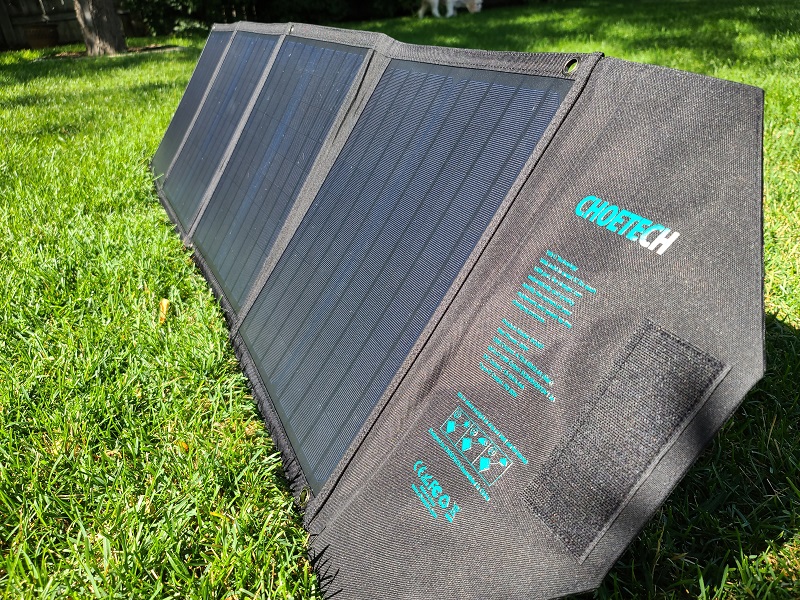 After multiple days using the CHOETECH Portable Solar Panel charger to charge all my daily-use devices, I think it would be a good solution to off-the-grid stints like camping or cabin stays.  The overall good build quality also inspires confidence in long-term durability (though this is the hardest part to judge with short review periods, especially for electrical components).
Price: $179.99
Where to buy: Amazon
Source: The sample for this review was provided by CHOETECH.