We use affiliate links. If you buy something through the links on this page, we may earn a commission at no cost to you. Learn more.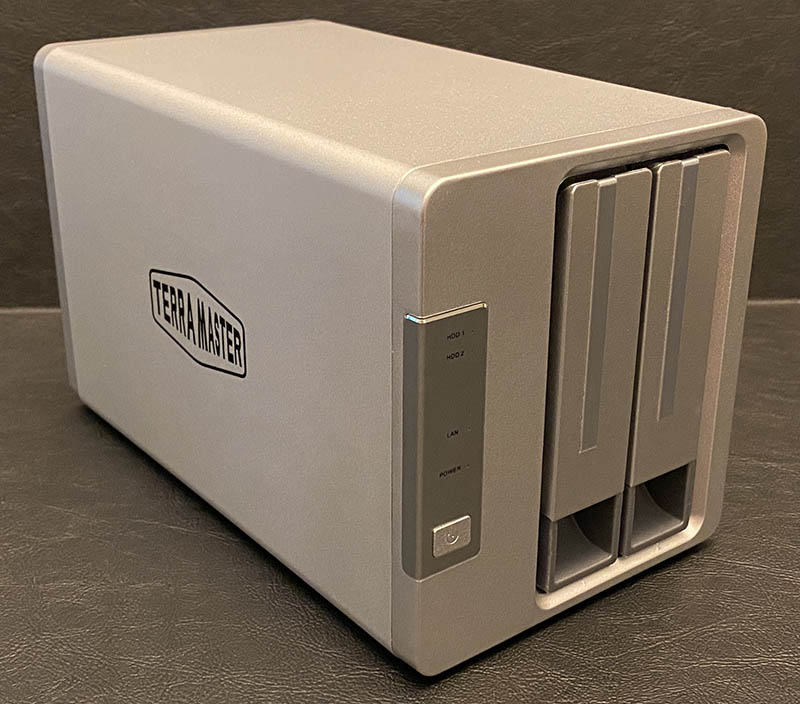 REVIEW – Earlier this year, Mike reviewed the TerraMaster F5-422, a profession grade 5-bay network attached storage (NAS) device.  The 422 series is TerraMaster's latest small to medium business class network storage solutions. But for many of us WFHers, a 5-bay NAS might be a wee bit of overkill. So when TerraMaster offered up the F2-422 to review, I thought a 2-bay storage device that offers the same functions and features as its bigger sibling would be an ideal upgrade to our home network. So, let's check it out.
What is it?
The TerraMaster F2-422 is a ten gigabyte ethernet (10GbE) 2-bay professional network attached storage device designed for small to medium businesses. The F2-422 is powered by an Intel quad-core 1.5 GHz (turbo boost up to 2.3 GHz) processor with 4GB (upgradeable to 8) DDR3 memory, a 10Gb ethernet port, two 1Gb ethernet ports, and AES NI hardware encryption.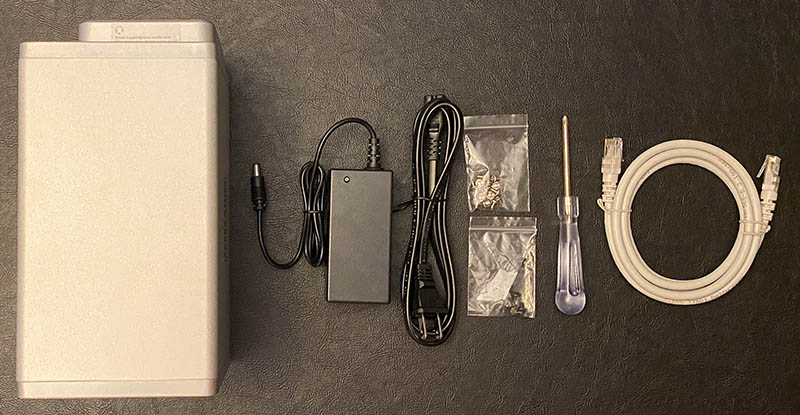 What's in the box?
F2-422 NAS 
Power adapter and cord
RJ-45 network cable
Phillips screwdriver
Screws
Quick setup guide and warranty card
Hardware specs

For a small two bay NAS, the F2-422 has some pretty impressive specs…quad core processor, up to 8GB of RAM, dual 1GB ethernet and USB 3.0 ports, 10GB ethernet port, all back by a 2-year warranty.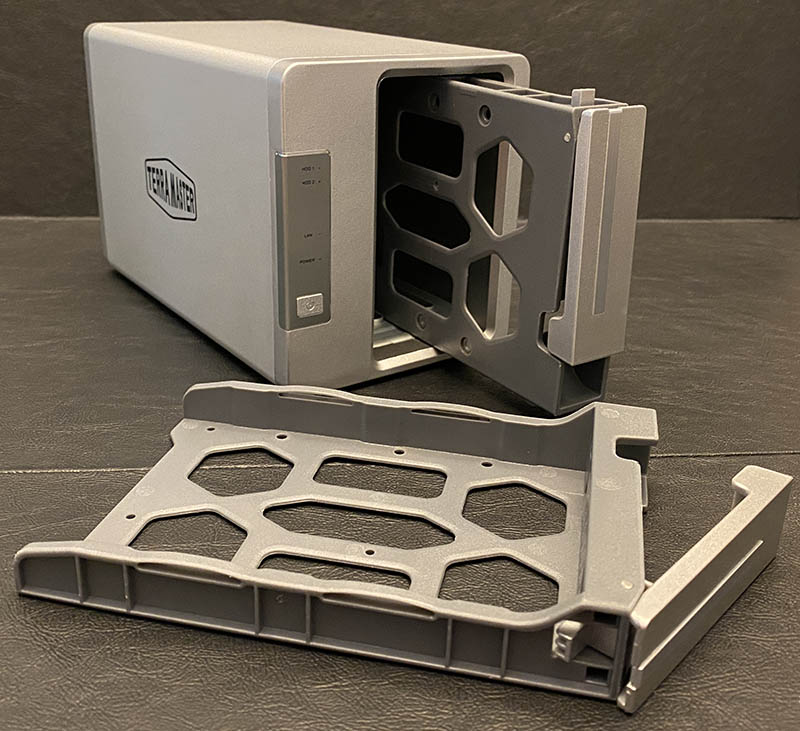 Design and features
The main body of the enclosure is made from aircraft grade aluminum with plastic end-caps. The front has dual bays slots with plastic trays that click/lock into place.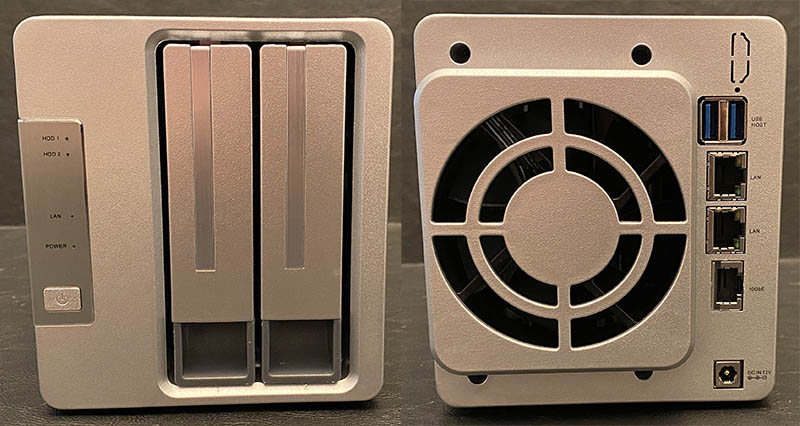 Along with the power button, there are four small LED indicator lights that show the status of power, LAN and hard drive activity. The back of the F2-422 has a 80mm cooling fan, 2 x USB 3.0 ports, 2 x 1Gb ethernet ports, 1 x 10Gb ethernet port, and power connection.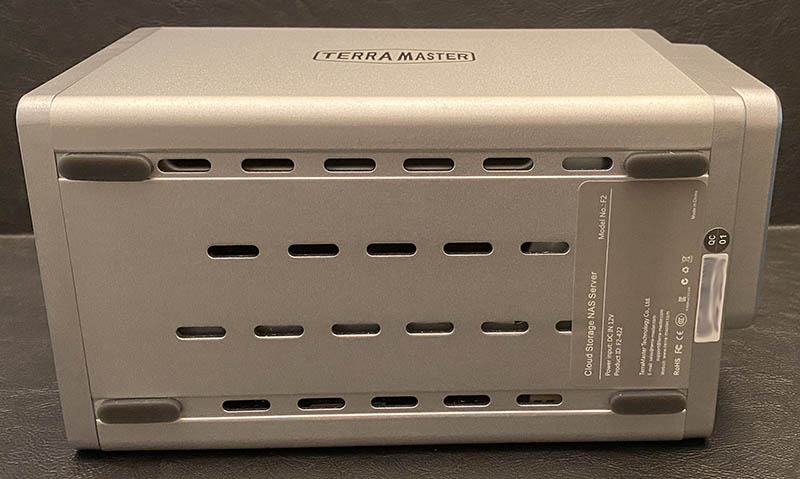 The base of the enclosure has twentyish cutouts to optimize airflow thru the interior; allowing cool ambient/outside air to flow over the electronics and out the back thru the exhaust fan to minimize heat buildup. The base has rubber feet to keep the metal housing from scratching surfaces and reduce movement/vibration.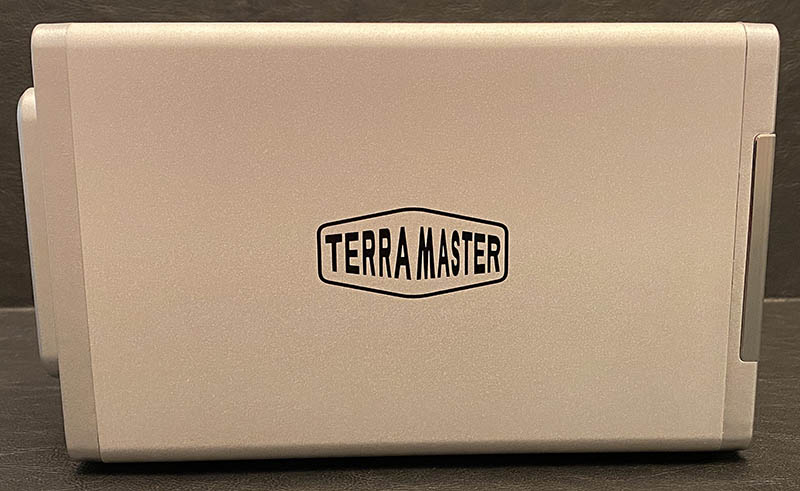 Build Quality
The TerraMaster F2-422's build quality is OK and gets the job done but that is about as far as I'll go. The metal center housing is nice but the plastic end caps and trays could be better constructed and feel a wee bit cheap/breakable. But since this is really a setup and forget device especially on the hardware front, it most likely doesn't matter at all.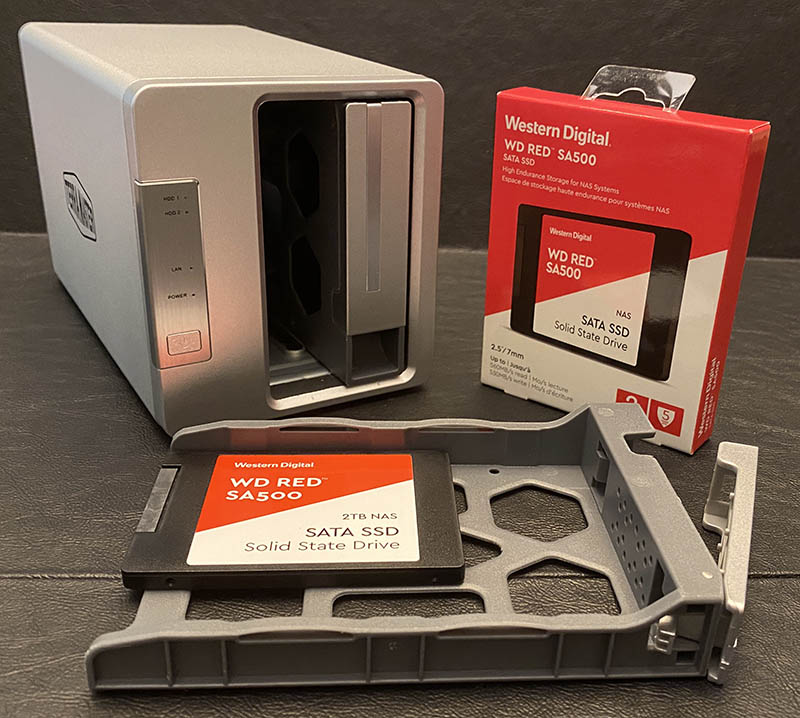 Setup
Both bays can accommodate either 3.5″ SATA HDD, 2.5″ SATA HDD, and/or 2.5″ SATA SSD drives. The F2-422's maximum storage capacity is 32TB (16 TB x 2) with no RAID backup. I did the math and 2TBs of capacity is enough to store all of our irreplaceable files, pictures, videos, etc. with a good amount of room to grow into. After much research, consultation with several network (nerd) buddies, and a bunch of YouTube videos I decided to splurge on two 2.5″ NAS specific solid state drives. And after setting everything up and several weeks of use…I have zero regret paying the extra money for faster performance and near silent operations.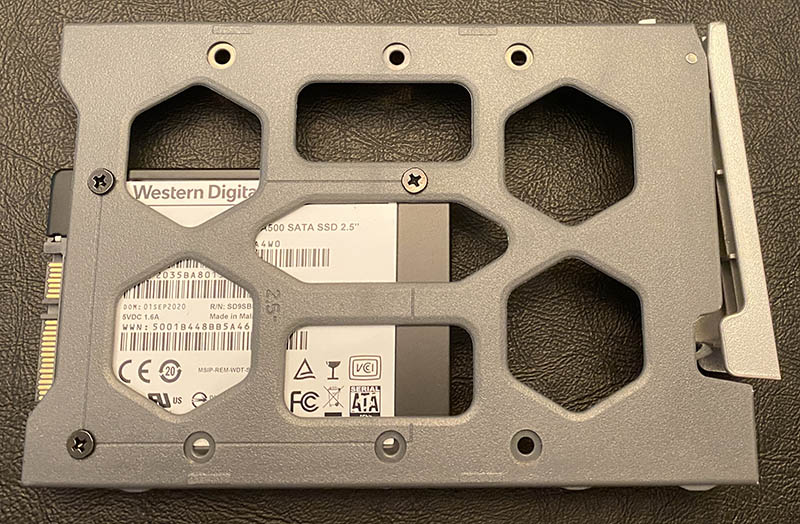 Screwing the drives into the trays is quick and easy (especially with the included Phillips head screwdriver). Once secured, the drives/trays slide and lock smoothly into place with a click.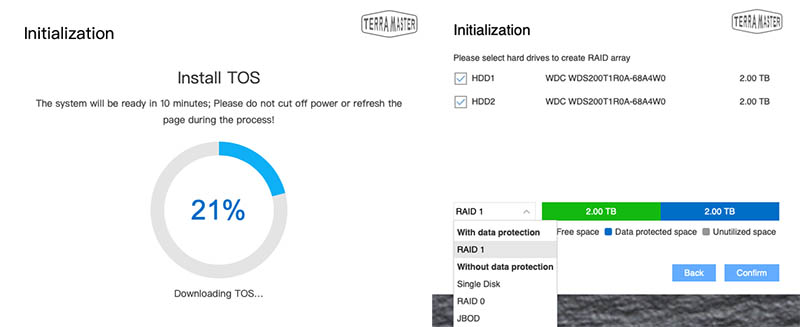 Once the drives are installed, simply plug in the power and (provided) ethernet cable into the back of the F2-422. Then download the TerraMaster desktop software, press the power button, and the program will walk you thru formatting the drives, installing the TerraMaster Operating System (TOS), configuring your RAID backup, and setting up the admin and user accounts. Other than making a few decisions on setup and backup options, I found this to be a simple and easy part of the process.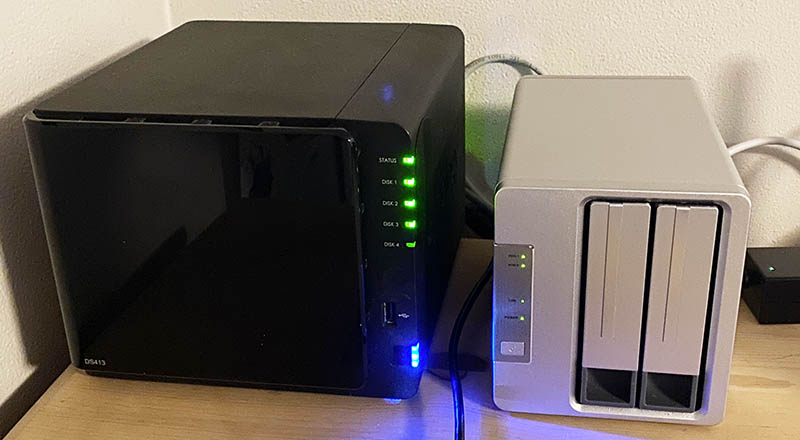 Performance
While I am not doing any quantitative testing or using this in an office setting, there is no doubt the F2-422 is an excellent upgrade from my old NAS. This was very apparent as I was transferring about half a terabytes worth of data from our 4 year old Synology to the TerraMaster. I did the move over a day in moderately-sized chunks (vs everything @once) and the old drive struggled to keep up. Now I grant you the old NAS uses 3.5″ spinning hard drives while the F2-422 is using very zippy, NAS optimized SSDs…definitely not a fair fight. During the transfer, you could so hear the Synology chugging along (think Chitty-Chitty Bang Bang). The HDDs were clicking and spinning with the fan running a majority of the time. Where the TerraMaster was completely silent; I don't believe the fan ran at all and the aluminum case was cool as cool can be.
The F2-422 is not only dual gigabit (with failover and Link Aggregation support) capable but for those fortunate to have 10Gb ethernet, TerraMaster promises speeds up to 670MB/s read and 650MB/s write. Even though we do not have a business class setup, I've found the F2-422 extremely fast with nearly instant response when I access it from anywhere in our home network.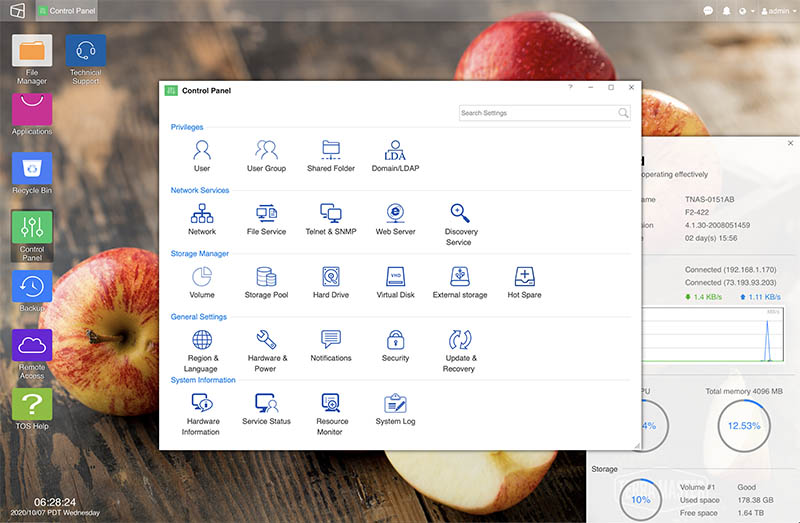 The TerraMaster operating system (TOS) is good. Now I am not a true network aficionado but like I said, I've setup and "managed" many NASs over the years. While TOS isn't as polished as others I've used, it more than meets my needs. As you would expect, TOS enables you to monitor and manage the system with TerraMaster providing in-house and third party solutions for everything from managing automated Cloud backup to running Plex, media servers, email servers, etc. 
What I like
Easy to setup and configure
TOS is simple and intuitive to manage NAS
Supports up to 10Gb ethernet
Backed by a 2 year warranty
What needs to be improved
Build quality could be better
No front facing USB port
Final thoughts
As I discussed the TerraMaster NAS and the SSD vs HDD drive debate with several of my tech buddies, all of them commented on how the Cloud is the future…and I have to disagree at least a little. While I have thousands of images and tons of data in my iCloud account, I still firmly believe in onsite storage with redundant and offsite backups. Admittedly this is perhaps a bit old school for many of you, but the wife & I prefer having a "physical" copy of our irreplaceable images and important data/files in hand. The TerraMaster 2-bay F2-422 network storage device is an excellent choice for those who want just that. The F2-422 is easy to setup, zippy, responsive, and simple to manage. And while the TerraMaster operating system and hardware isn't quite as polished as other NAS's I have used, TOS definitely gets the job done.
Price: $359.99
Where to buy: Amazon
Source: The sample of this product was provided by TerraMaster.