We use affiliate links. If you buy something through the links on this page, we may earn a commission at no cost to you. Learn more.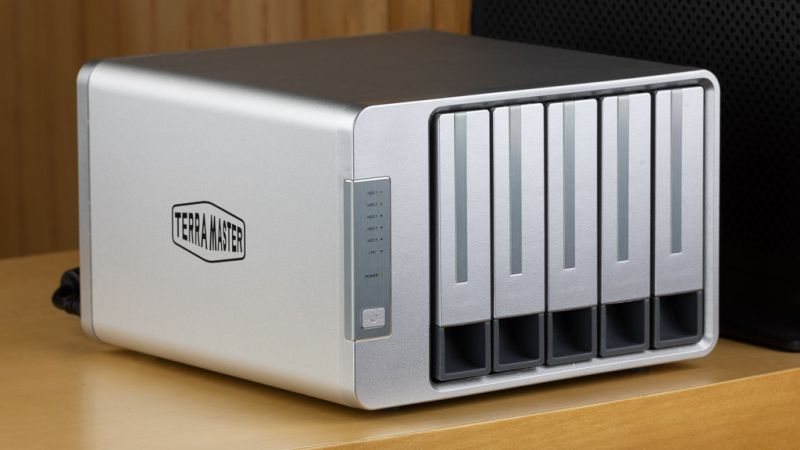 REVIEW – I have many backup drives in many forms, but one thing I didn't have was I Network Attached Storage (NAS) device. That was until the review offer for the TerraMaster F5-422 came along.
What is it?
The TerraMaster F5-422 is a 5-bay professional NAS.
What's in the box?
F5-422 NAS
Power Adapter
Screwdriver
Network cable
Disc labels
Disk mounting screws
2 extra rubber feet
Quick Start guide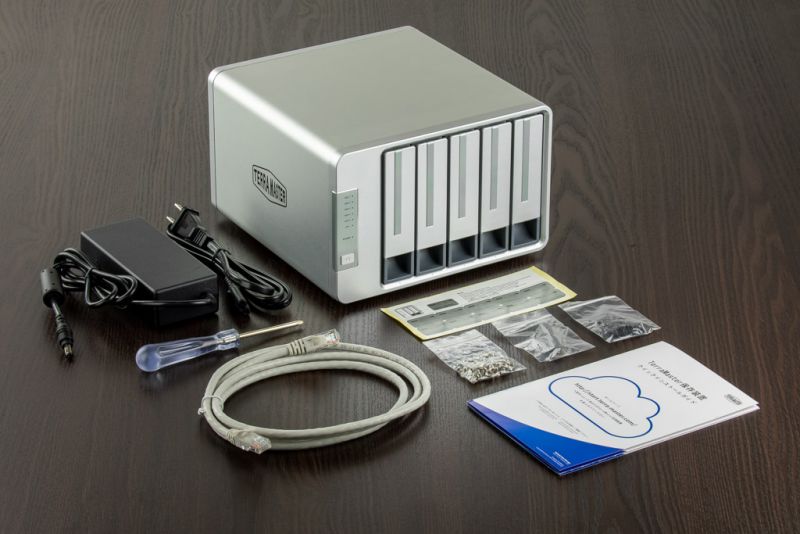 Hardware specs
Intel® Celeron® J3455 (X86 64-bit) quad core processor 1.5GHz (max burst up to 2.3 GHz)
4GB System Memory (12GB max)
5 Disk Slots
80TB (16TB x 5) max capacity
Two 1GbE network jacks
One 10GbE network jack
Two USB 3.0 ports
Design and features
The TerraMaster F5-422 Professional NAS features a 10 Gigabit Ethernet port, two 1 Gigabit Ethernet ports, and a quad-core 1.5 GHz processor that provides bandwidth capable of supporting concurrent access for up to 500 users. Along with its 4GB DDR3 memory and AES NI hardware encryption, it is suitable for small and medium-sized commercial storage servers.
When using the 10GB ethernet port, the F5-422 is capable of read and write speeds reaching 650MB/s and 670MB/s, respectively. Designed with professional users in mind, the F5-422 is suitable for 4K video editors and users with large data and strict speed requirements.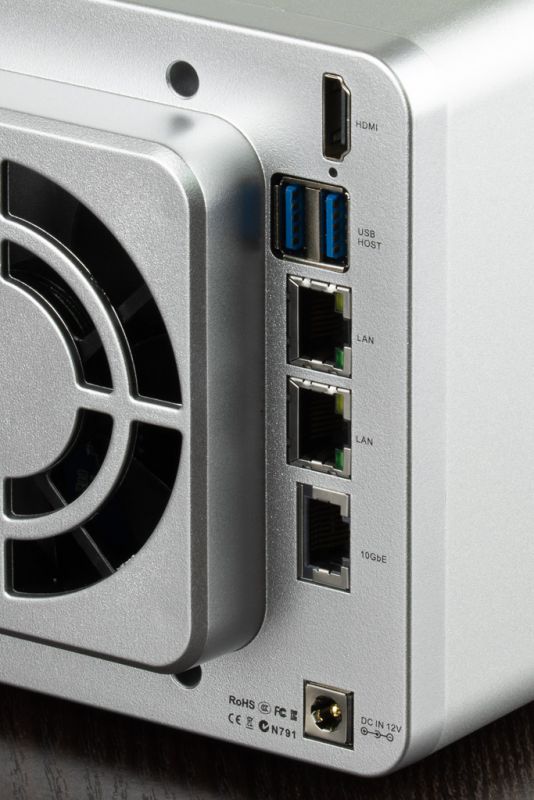 The two Gigabit network interfaces also support network aggregation and failover. This means that if you require it, you could have two separate network connections. If one connection fails, the Internet connection can be maintained, reducing the possibility of downtime. Aggregation means that two connections can be used to increase your connection speeds for multiple connections.
I installed two 3.5″ 4TB Western Digital Red NAS drives. The drive trays are very easy to remove by simply flipping a lever. There are also holes in the tray to install 2.5″ drives.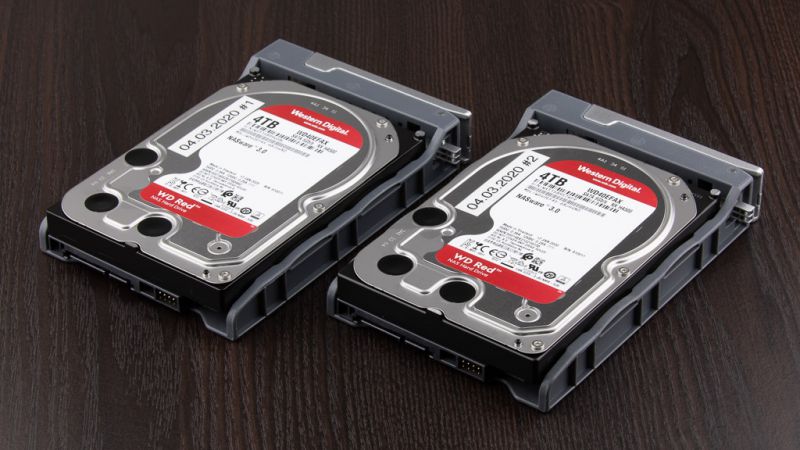 Although you can use the File Manager in the web interface to transfer files, it's recommended to use SMB or AFP file service for large files. When you launch the File Manager in the web interface, you'll be shown instructions on how to do this. I've mapped various folders from the F5-422 NAS to drive letters, making the copying of files easier.
TerraMaster also offers a mobile app that enables you to connect to your F5-422 via the internet. The app is very easy to set up and use. Simply install it and enter the ID that you specify in the Remote Access portion of the TOS and you'll be able to access your files from anywhere.
You can also connect an external drive to the USB port and access the files on the drive and/or use that external drive as a backup for the NAS. I really like this feature as it's one less thing I have to plug into my main computer.
There's also an option to install an SSD drive in one of the drive bays and use that drive to speed up the read-write with a combination of hard disk and SSD cache. This can improve performance by more than 20%.
Setup
The setup process was less than spectacular. I started the TNAS desktop software, and it found my drive on the network. I selected it and chose "Login" and was presented with a password prompt. The manual doesn't cover this but there was a card in the box that said to go to https://start.terra-master.com so I did. I saw along the way that the "Username of the TOS system's default administrator is admin" – so I figured that probably meant "password" and not username. I tried that and a browser window opened to the IP address of the NAS. That's where I started to initialize it.
During the initialization, you have the option of doing an "Auto download and install" of the TOS, or a manual download and install by browsing to the file on your computer. I had already downloaded the files from Terra-master, unfortunately, there are two files and this step doesn't specify which one to use. I went to choose the Auto option only to find out it was disabled. So I had to choose the manual option.
The initialization process includes setting up a secure email and sending a verification code. The "Send Code" button started a 60-second countdown, but I had no idea what that meant. I did not receive the email, so I chose the "Can't receive email? Skip This" option. Later the email eventually arrived.
Upon getting to the "Format RAID" step, the format failed. I'm using two brand new 4TB NAS drives, and there should have been no reason this failed. I chose the "Hard Drive Initialization" option, to which I was presented with a prompt that the drives listed below will be initialized, but there were no drives listed. This left me in a stuck state.
I hit the back button in the browser window, which brought me to a login dialog. I logged in and was presented with the TOS desktop. The storage stats looked good, and the status was good. I successfully uploaded a file to the NAS so apparently everything was working.
I installed the web server app for testing some web page stuff I do. The FTP works great for transferring files as well. There are a variety of apps such as cloud services, email server, FTP Server, Etc.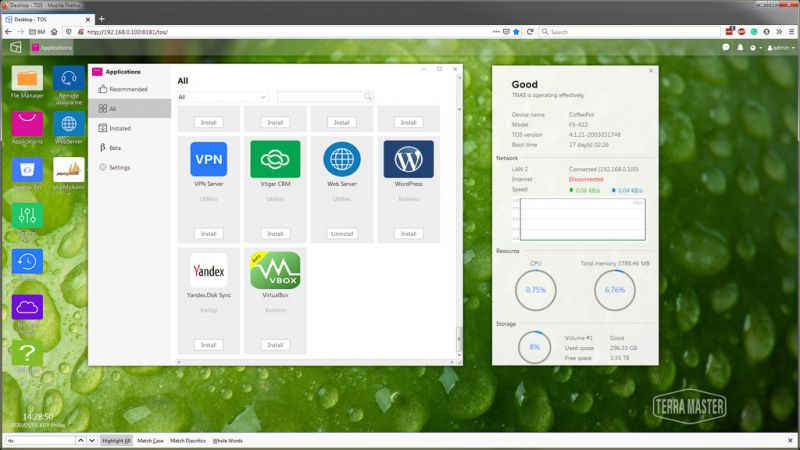 The Windows desktop software doesn't provide much for features. You can use it to launch the browser interface, map a drive, and change the IP address. There are some links to the TerraMaster website, but other than that you won't really need to use it for much, you can do almost everything through the browser interface.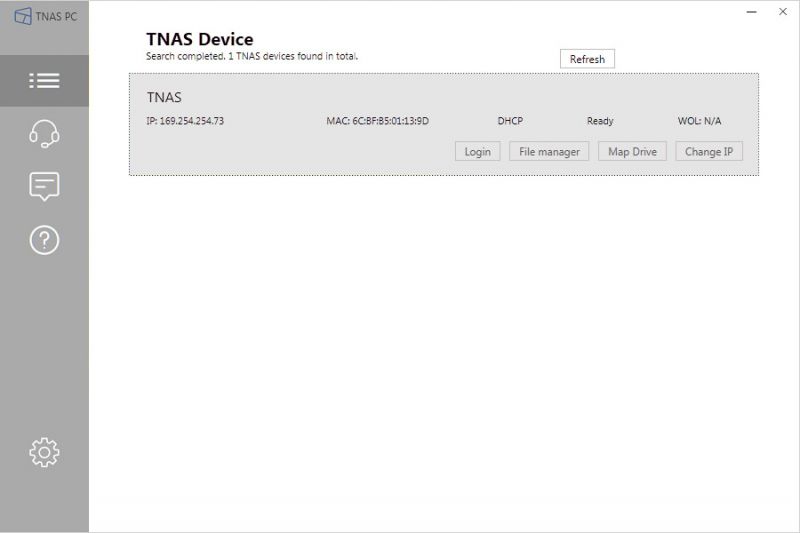 What I like
Ability to install software
Multi-User capability
USB ports for additional external drive connection
What I'd change
TerraMaster could definitely put together a more comprehensive user manual.
Final thoughts
Despite having a few issues setting up the F5-422, I found it to be very nice. It does everything I need it to do and more. I especially like the ability to run a web server, which I use for testing. Although I think they could use a better user manual, there are quite a few videos on their website that explain how to do various tasks.
Price: $599.99
Where to buy: TerraMaster and Amazon
Source: The sample of this product was provided by TerraMaster.