We use affiliate links. If you buy something through the links on this page, we may earn a commission at no cost to you. Learn more.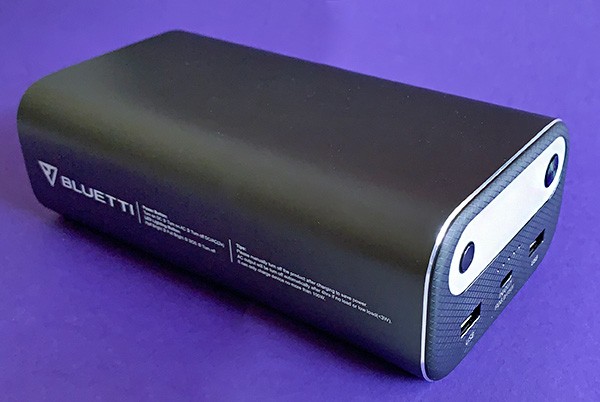 REVIEW – Are you one of those people who believes you can never be too thin or have too many portable device chargers? Me, too. I depend on my iPhone, iPad, Apple Watch, and a collection of Bluetooth speakers—and they all need to be charged repeatedly. Portable chargers can help to keep you on the go and not be constantly searching for an outlet somewhere. One such charger is the Maxoak Bluetti AC10 Outlet Power Bank—a powerhouse of a charger that can charge just about anything.

What is it?
The Maxoak Bluetti AC10 Outlet Power Bank is a versatile, TSA-approved portable charger that can easily recharge or power any smart device. It can also charge a laptop using its AC outlet. It has four available ports: USB-C, USB 3 (2 ports), and AC plug.
Hardware specs
Capacity: 99Wh/26756mAh.
One AC120V/100W (Peak Power:140W) output
One 45W USB-C recharge and discharge port

 

Two USB 3 ports
Emergency LED Lighting/SOS Function

 

Battery Management System with overcharge/over-voltage/overcurrent/shortcircuit/overheat Protection)
Peak power: 140W

In the box
99Wh Portable AC outlet Power Bank
30W AC Adapter
USB Type-C Cable
User Manual
Carry Bag

Design and features
Let's get this out of the way: The Maxoak Bluetti AC10 is heavy. Maxoak states that it's lightweight, which may be technically true when compared to other massive chargers, but adding 2.75 lbs. to a travel bag will press serious carrying weight into your shoulder. However, with serious weight comes serious power. And is this thing is powerful. The AC10 is rated at 99Wh (watt-hours) which is exactly the maximum the TSA will currently allow. This means that you can legally use the AC10 on an airplane when traveling. Remember air travel? Me neither.
Weight aside, the Maxoak Bluetti AC10 is an impressive charger in many ways. It looks and feels extremely well made. Its finely-machined aluminum body is a joy to hold—except there's no handle so it can be slippery if you're not careful.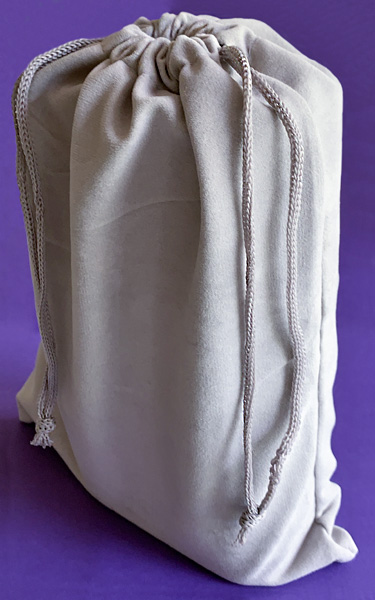 Although it's small enough to easily fit into a carry-on bag, the AC10 is not tiny like those chargers that will power a smartphone only one time before they need recharging themselves. This beast will charge a smartphone an average of 7-8 times—a good thing for long flights. A 13 in. MacBook Pro will completely recharge 1.5 times, more than doubling available time for getting work done. More than one item can be simultaneously charged, so a smartphone, laptop, and iPad can be charged at the same time. Note: keep in mind that what you charge and how you use the AC10 determines how many charges you can get from it. 
The AC10 can also be used for picnics, camping, or any other outdoor activity where there's no available electricity. One downside is that the AC10 is not waterproof, so keep it protected from the elements. It comes with a draw-string bag to keep out dust and dirt, but the bag itself is not waterproof.
There are two round black buttons on the front of the AC10. One is for operating an included flashlight. The other button is for turning on the ports for charging. There's a bit of a learning curve of pressing once (hold for 1 second) for the front ports, then hold for one second again to activate the AC rear port. Whatever. I would have rather had the ports have their own buttons.
So, we know that the AC10 will charge devices. That's great, but what sets it apart from the competition? For one, there's the flashlight. This light has two brightness settings with a flashing light for emergencies. As a flashlight, it's okay, but nothing special. Any smartphone flash is brighter and more useful.
But there are a couple of nice features on the Bluetti AC10 that I've come to appreciate more and more as I use it.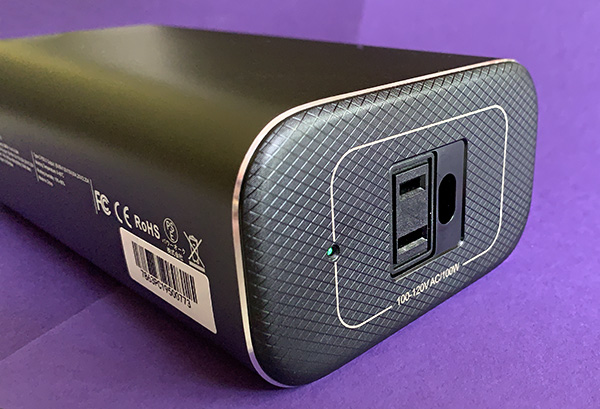 The AC10 has what is called pass-through charging. All this means is that while the AC10 is being charged when plugged into a wall outlet via USB-C, it can still be used to charge other devices using its other three open ports—two USB 3 and built-in AC plug-in outlet.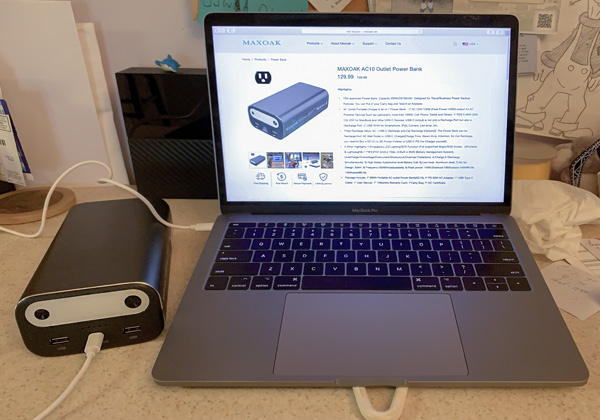 The AC10's single USB-C port is what's called an in/out port. This port doubles as a charger for USB-C devices (such as a newer MacBook) as well as the recharge port for the AC10 itself—just not at the same time. This USB-C port can be connected to an external power source for recharging in three different ways: A wall outlet (using the included USB-C cable with 20V plug), another USB-C charging device, or a 12V car charger (the "cigarette lighter port") using an optional 12V to USB-C cable.
What I like
TSA approved
Powerful, yet will easily fit in bag
Solid build quality
AC port for powering small devices
What I'd change
Heavy for its size
Expensive

Final Thoughts
Yes, the Maxoak Bluetti AC10 Outlet Power Bank is heavy for its size and it's expensive. But there is enough versatility to justify its weight and cost. I usually have it sitting on my kitchen counter (where I keep my devices that need charging), but I also carry it with me as I roam the house. I fully plan on using it for travel once we are allowed to resume our normal lives after Covid-19. The AC10 is small(ish), easy to use, and powerful enough to charge or power everything in my EDC bag and then some. It's a keeper.
Price: $129.99 US ($20.00 coupon code: bluetti16 , 16% off on AC10, start date: 05/11/2020 12:01 AM PDT, end date : 06/30/2020 11:59 PM PDT)
Where to buy: Amazon
Source: The sample of this product was provided by Maxoak.