We use affiliate links. If you buy something through the links on this page, we may earn a commission at no cost to you. Learn more.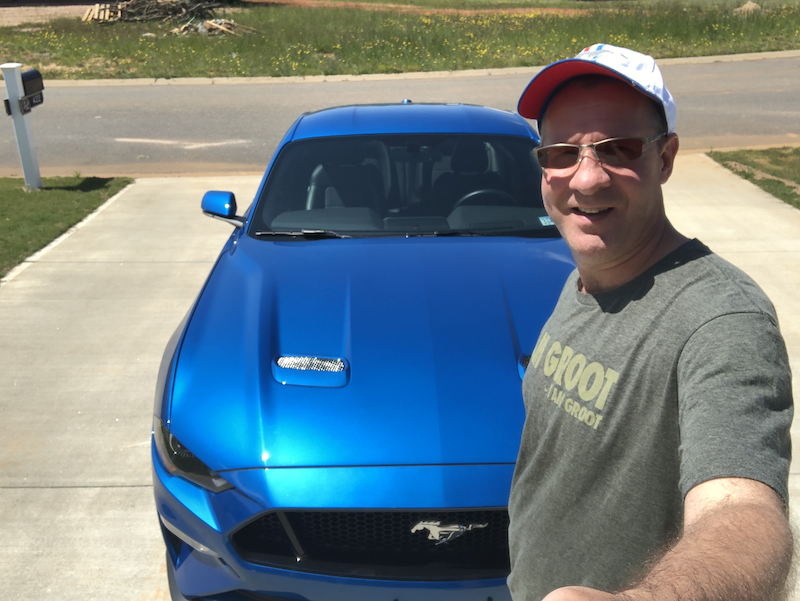 REVIEW – When I looked back at the pictures that I've taken with my iPhone over the last few years, I realized that many of them were pictures of my wife and I visiting somewhere.  We have pictures at a covered bridge in Illinois, Neuschwanstein castle in Germany, an apple orchard in Virginia, and a Krispy Kreme in South Carolina.  These days, with COVID-19 around, we aren't doing much traveling, but once it clears we'll head back out again.  As we begin taking more pictures, I think it might be handy to have a selfie stick to help us get more of the background in our pictures; this is why I'm testing the V-Grip.
What is it?
The V-Grip Selfie Grip by Adonit is a small, collapsible selfie stick with a Bluetooth shutter remote.
What's in the box?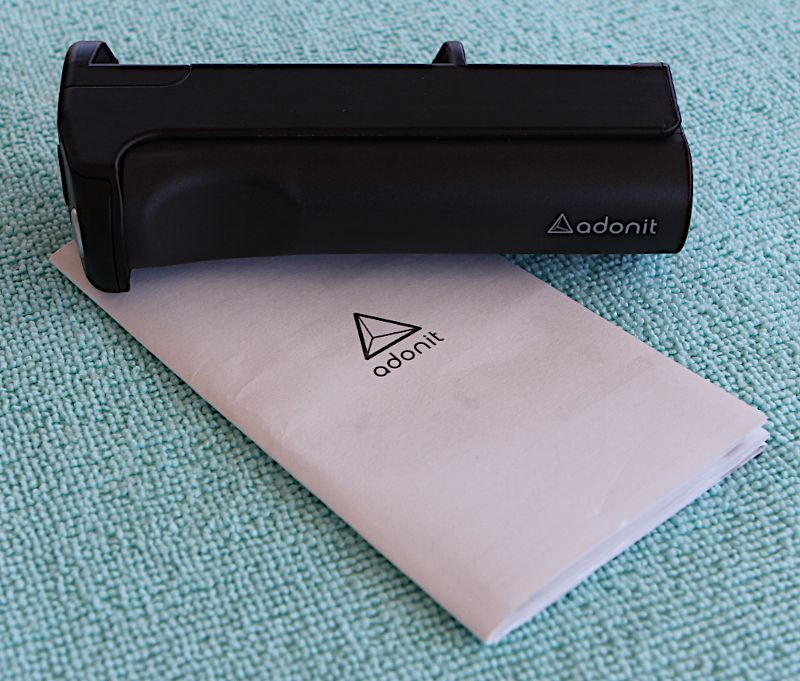 The selfie stick with shutter remote
A user manual with 3 small pages of instructions in English
Hardware specs
Bluetooth remote with 30-foot range
Compatible with iOS and Android
4.5 inches long (when collapsed)
13.5 inches from handle to grip (when extended)
Grip for phones that are 2.5 to 3.25 inches wide
3.3 ounces
¼ inch standard screw for tripods
Cold shoe mount for LED lights
Design and features
The V-Grip is a black, plastic gadget that looks ready to grab and hold.  On top is a detachable remote with a silver button.  One side is the spring-loaded grip that holds the phone, and the other is the handle that slides down to reveal the extendable arm.  It has a very compact design that will easily fit into a jacket pocket or the front pocket of a backpack, and its construction seems sturdy and durable.
Installation and setup
The first step to setup the V-Grip is to pair the Bluetooth remote with my iPhone 8.  Using my thumb, I slipped the remote out and set it next to the phone.  I clicked the silver button, and a small green LED began blinking.  In the Bluetooth settings, I looked for Adonit V-Grip, but nothing appeared.  I turned the remote off (hold the button for three seconds) and on, but the phone still couldn't find it.  I had a similar problem with my work phone, an iPhone XS.  I finally got it working with my daughter's XR.  I then went back to my phones and eventually got it to pair with both.  The Bluetooth doesn't seem to be very reliable.  It always connects eventually, but sometimes it takes a few tries, a problem that I don't have with other Bluetooth devices.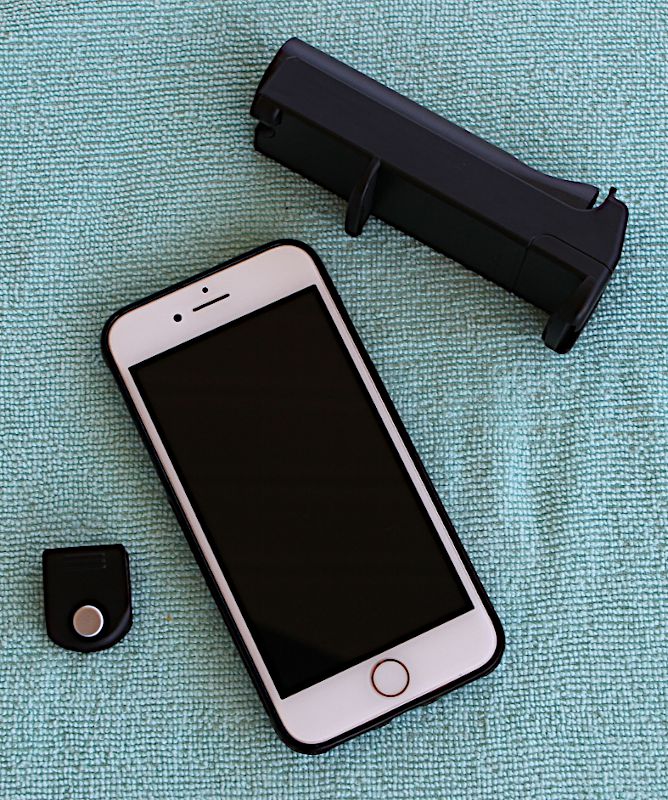 The second step is to push the top part of the grip up with my thumb while inserting the phone.  The spring is pretty strong and didn't have any problems holding onto my phone.
The third step is to slide the handle out of the grip and extend it to its full length.  Holding the selfie stick in one hand and the remote in the other, I'm ready to go!
Never miss one of our posts again. Sent MON, WED, and FRI with the latest gadget reviews and news!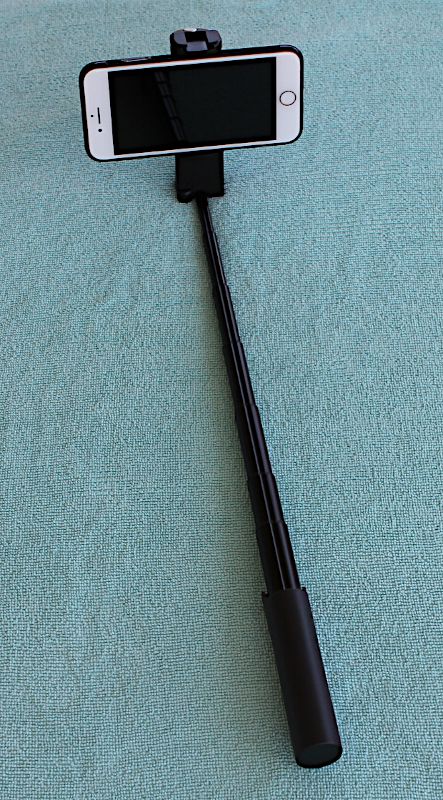 Performance
Although the V-Grip had some problems pairing, once paired it worked perfectly every time.  Each click of the small button resulted in a single picture taken.  It also worked with videos; the first click started recording, and the second click stopped.
The hinge that connects the grip to the arm rotates just over 180 degrees, so the good news is that I'm able to rotate it to any angle that I need to get the right shot, whether horizontal or vertical.  The bad news is that this hinge is a bit too loose and has problems holding my XS, a heavier phone, in place.  There's a small screw that, if tightened, would help with this, but the plastic molding is in the way.  I used a small screwdriver and tried to tighten it from an angle, but because I couldn't get a firm set, the only thing I accomplished was stripping the screw.  If Adonit added a small notch in its design, this problem would go away.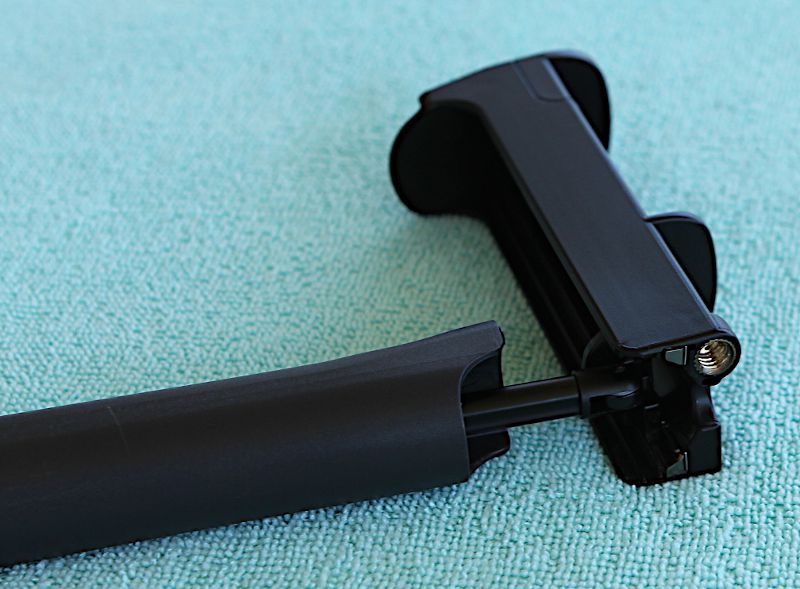 The handle has a thoughtful indention in the grip, perfectly placed for my finger to hold it steady while shooting.  Overall, Adonit's gadget worked as intended.  I was able to take pictures without any problems.  I think this is a great way to take a selfie and include a bit more of the background.
Extra Features
With a little pressure, the remote pops open.  It reveals an easily replaceable, CR2016 battery, a size that can be found on Amazon.
When I looked on Adonit's website, there were no less than four photos of the V-Grip with a small tripod, which is why I think I can be forgiven for thinking that it had a small tripod built-in.  Unfortunately, it does not, and the small print at the bottom of the page is clear to say that a tripod is not included.  The V-Grip does, however, have a standard ¼ inch threaded screw hole on the bottom, which worked perfectly with the tripod that I use with my DSLR, though admittedly that was a bit overkill.  Additionally, the handle can rotate 90 degrees without extending, allowing it to function as an adjustable stand.  It's a poor-man's tripod, simple but functional.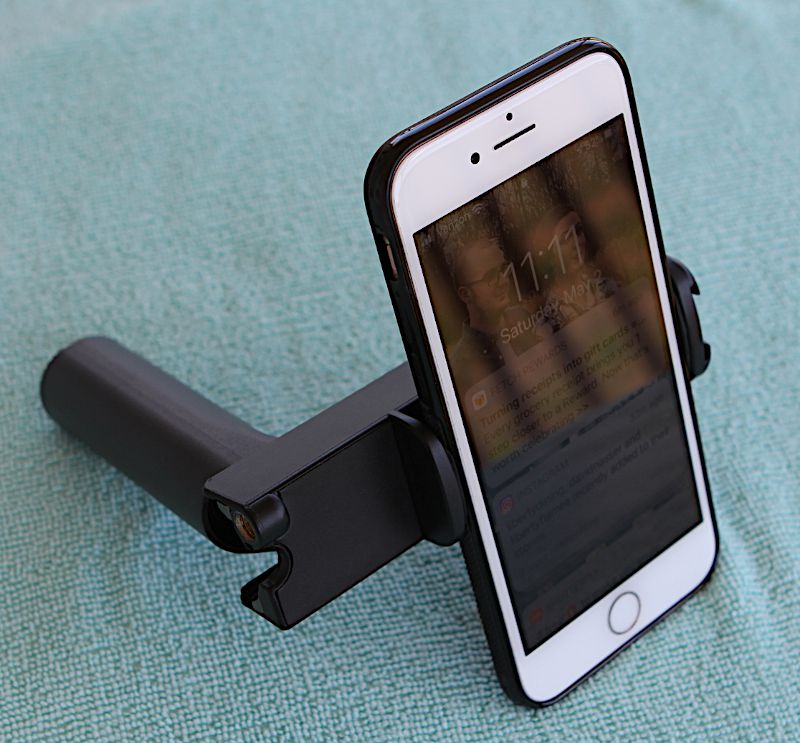 There's a pair holes on the handle for a wrist strap, but no wrist strap is included.  There's a cold shoe mount on top for using with a small LED light or microphone, though Adonit doesn't sell either.
The V-Grip sells on Adonit's website for $35, which is a puzzling price point.  Most selfie sticks on Amazon cost $10 to $20 cheaper.  Many come with built-in tripods, and some are even made of aluminum.  Given the problems that I experienced and the lack of a tripod or wrist strap, it seems a bit expensive to me.
What I like
What I'd change
Improve Bluetooth pairing
Make it easier to tighten the hinge
Lower the price to be more competitive
Final thoughts
It's fun to take selfies; they create wonderful memories of the great experiences in our lives, especially when those experiences are shared with friends and family.  The V-Grip Selfie Grip is a lightweight, compact selfie stick that makes it possible to capture the pictures you want.  It does, however, have a couple of problems and a higher price point that make it difficult to whole-heartedly endorse.  I encourage you to take a look at Adonit's gadget, but I also encourage you to look around at some of the other products on the market.
Price: $34.99
Where to buy:  Adonit's online store and Amazon
Source: The sample for this review was provided by Adonit.