We use affiliate links. If you buy something through the links on this page, we may earn a commission at no cost to you. Learn more.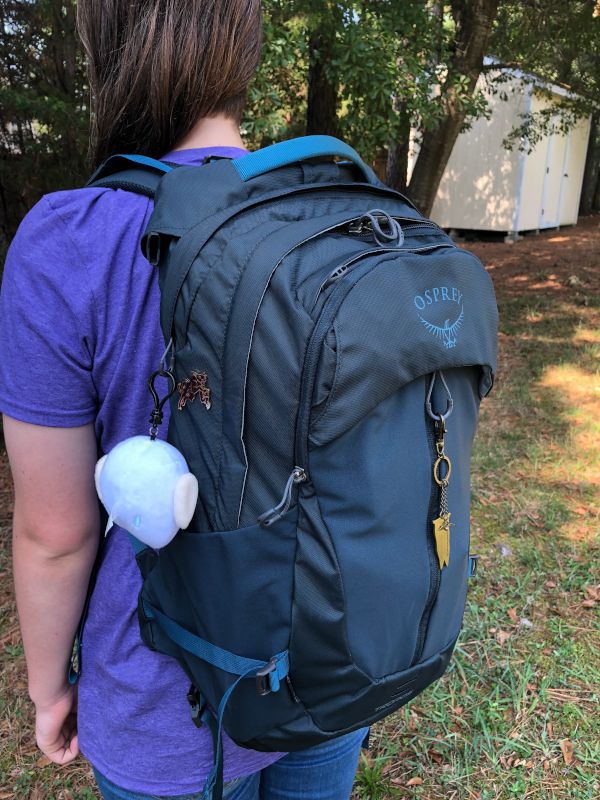 REVIEW – My daughter is heading off to college this fall, and she needs a backpack.  All the buildings that she will use (dorms, classrooms, cafeteria, gym) are on one main campus, which means that she will be doing a lot of walking. She needs a backpack that is strong enough and large enough to hold everything that she needs for a day's worth of classes, including textbooks.  It needs to have a protected compartment for her laptop, a cubbyhole for her phone, and spots for her water bottle and a small umbrella.  Last but not least, it needs to be comfortable. Is the Tropos everyday backpack by Osprey the right tool for the job?  Read on to find out!
What is it?
The Osprey Tropos is a large, everyday backpack that's good everywhere from town to the trail.
What's in the box?
The backpack
A tag that lists some of the features
An Osprey sticker
Hardware specs
Dimensions: 21 in high, 13.4 in wide, and 10.5 in deep
Weight: 2.69 pounds
Volume: 2075 cubic inches
Fabric: Nylon
Design and features
Osprey makes a lot of backpacks, so many that it can be a bit intimidating to find the one that's right for you.  To help with this, Osprey has created a Packfinder tool on their website.  You answer some questions, and it recommends a set of backpacks and rates how well they will suit your needs.  For example, if you were to select the following options:
Male
Everyday backpack
Short trips (1 to 5 hours)
Normal weight gear
Side pockets for water bottles (required)
Laptop sleeve (required)
Secondary purpose:  Travel
Less than $200
Then the Tropos would show up as one of the choices, and Osprey rates it as an A- for suitability. This is a very cool tool, and I encourage you to check it out.  (And just to be clear, my daughter is not a male, but the backpacks for guys are a bit larger than the equivalent ones for gals, and my daughter wanted that extra space.)
Installation and setup
When we took the backpack out of the box, we had three initial impressions.  One, this is a big bag.  I'm sure there are bigger packs for hiking and camping or for backpacking across Europe, but for an everyday bag, I don't think you're going to be lacking for space with the Tropos.  Two, this is a very attractive bag.  My daughter chose Kraken Blue for her color; it's a nice slate blue kind of color, and I really like it.  They also have grey, black, red, and green, if you'd prefer something different.  Three, this is a well-constructed bag.  It's made from Nylon, and everything from the outside to the zippers to the straps feels tough and rugged.  I think this backpack is going to last through 4 years of college and well beyond.
Other than removing the tags, there's not really much set up to do, except for deciding what goes into each part of the back.  My daughter loaded the backpack up with all the things she'll normally carry around with her and then added a few pins and other decorations to personalize it. Here's how it turned out.
The front of the bag has a stretch pocket, which she will probably use for small items of clothing, such as gloves, a hat, or a scarf.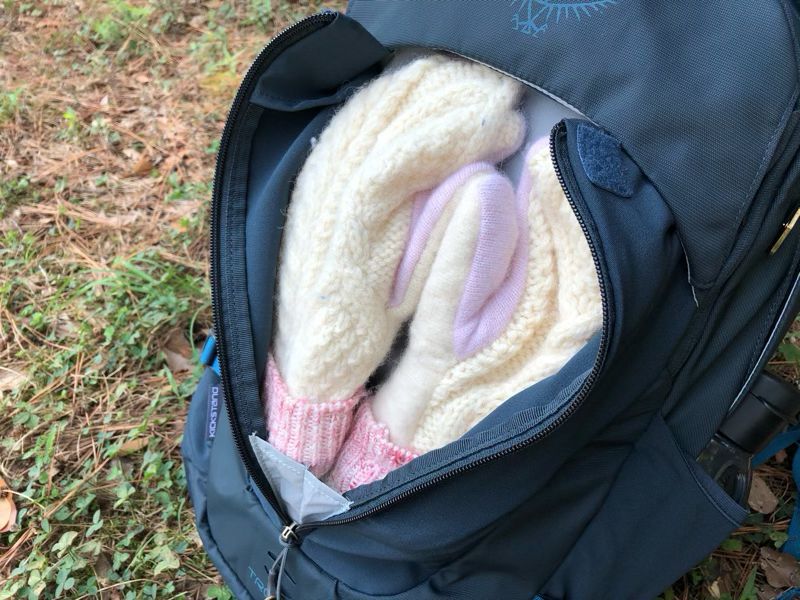 The next one is an organization pocket that she loaded with pens and pencils and dropped in a calculator as well—guess who has Statistics her first semester!  This pocket is a lot deeper than this picture shows, so she could certainly put a lot more in there.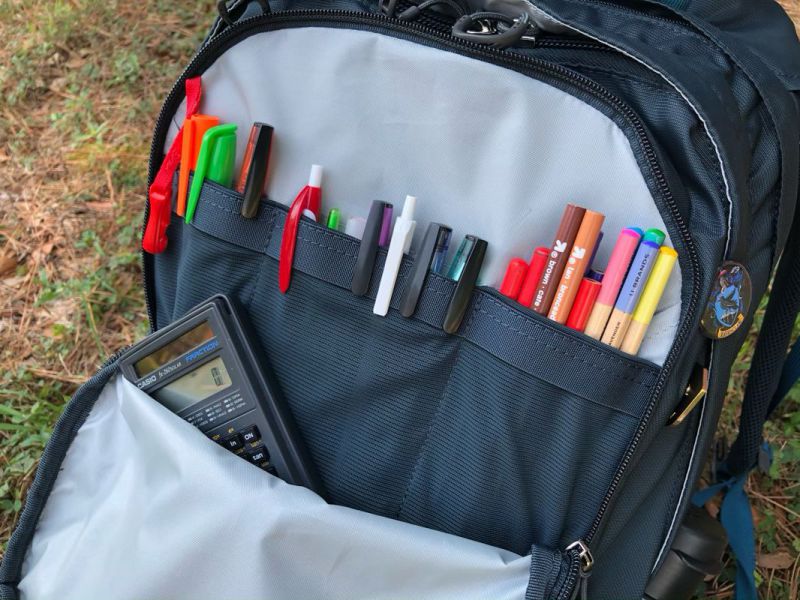 This pocket also has a key clip.  Though her dorm lock uses a key card instead of keys, she'll be able to put car keys here eventually.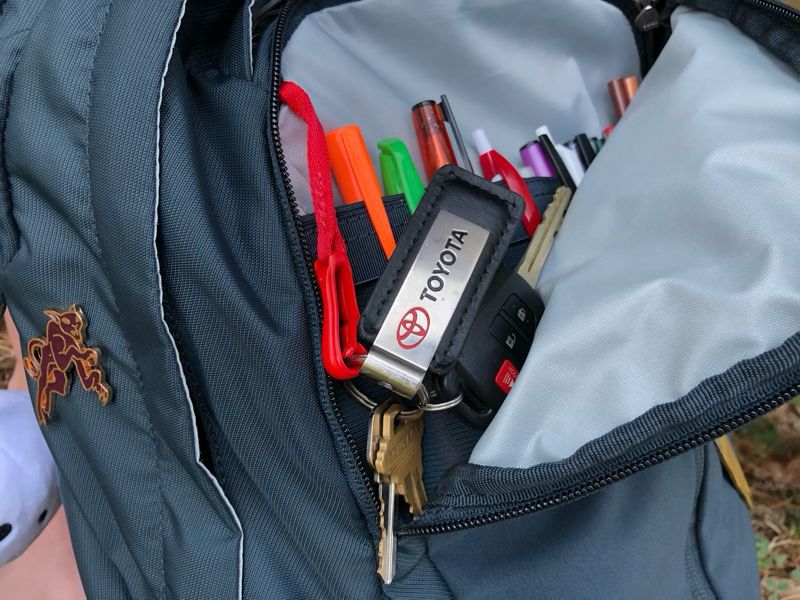 Up top is a small, easy to access compartment where she put her phone with ID and debit card.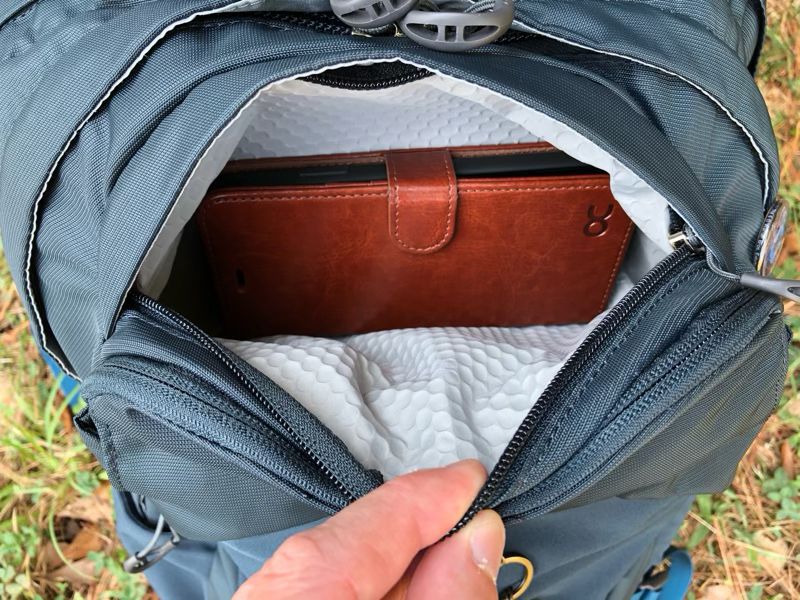 The next pocket is the main storage compartment of the backpack.  When the compression straps are fully extended, it can really hold a lot of stuff.  My daughter plans to put her textbooks in here as well as her laptop and Beats headphone case.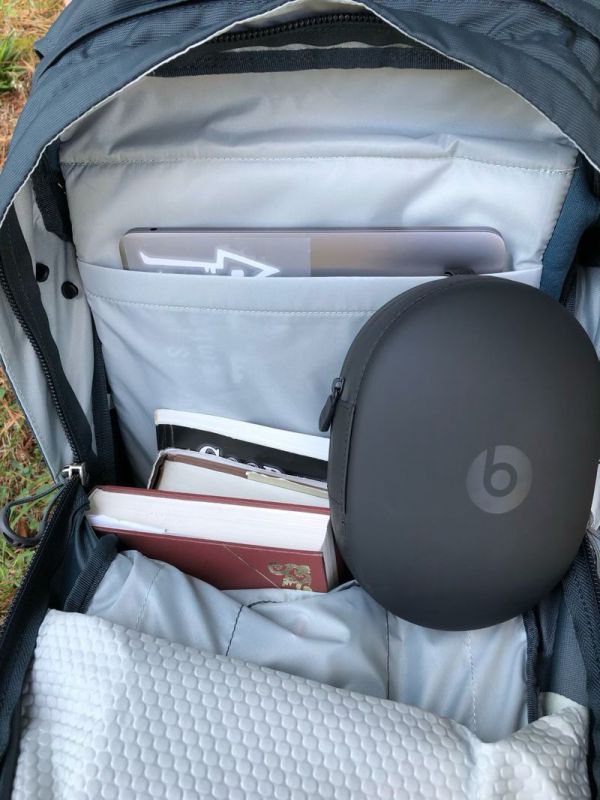 This brings me to my only complaint about this backpack:  There's not much padding for her laptop.  To be fair, the sleeve where she put the laptop is actually intended for magazines, and the final pocket is where the laptop is supposed to go.  But there's not much padding there either, and she was afraid that her laptop could be damaged as there was not much on either side to protect it.  Additionally, there's no padding at the bottom of either of these areas, although the kickstand (see below) will help some with that.  As a comparison, I brought out my SwissGear backpack and checked its laptop compartment.  I estimate that the padding on both sides is nearly twice as thick, and there's padding at the bottom where the laptop rests.  I don't think this is a deal-breaker by any means, as there is some padding, and her laptop will have books and other things around it.  I think her laptop will be fine, but this is an area where Osprey could make an improvement.  On the bright side, the laptop compartment is large and can easily hold a 17-inch laptop along with cables, a mouse, a power brick, and so on.
The final pocket, the one where the laptop is intended to go, is deep but fairly narrow.  This is where my daughter plans to put her notepads and an organizer.  It also has a separate, zippered area, perhaps intended for cables.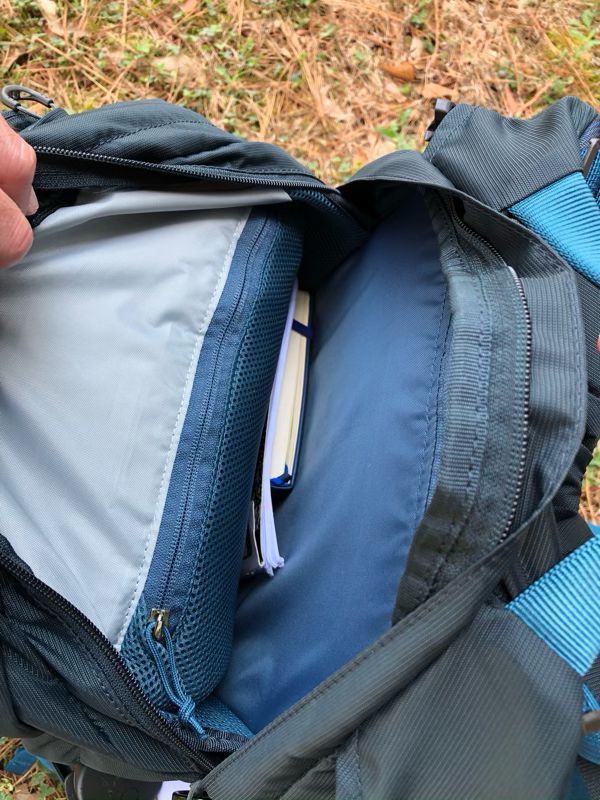 Performance
When my daughter first put on her fully-loaded backpack, she was less than happy.  It road high up on her back, and she felt like it was pinching her shoulder muscles.  For a moment we were worried that this would not be a pack that she could use while walking for long periods, but then we began to adjust the straps.  First, we loosened these straps at the base of the shoulder straps; this lowered the backpack so that it sat further down on her back and spread out the shoulder straps to distribute the weight more evenly.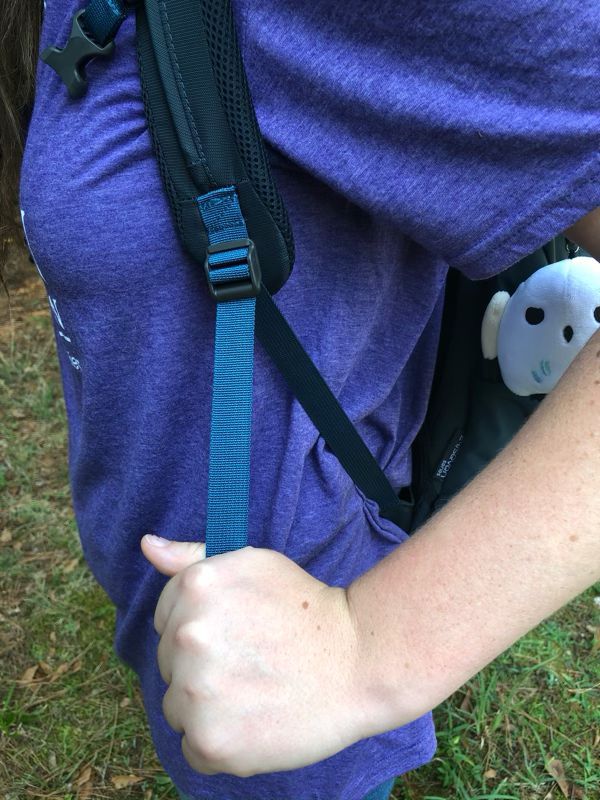 Second, we tightened these straps at the top of the bag, which tilted it into an upright position and made it feel lighter.  Suddenly her backpack was comfortable, and a smile appeared on her face.  At that point, we knew this is a backpack that she could carry all day without discomfort.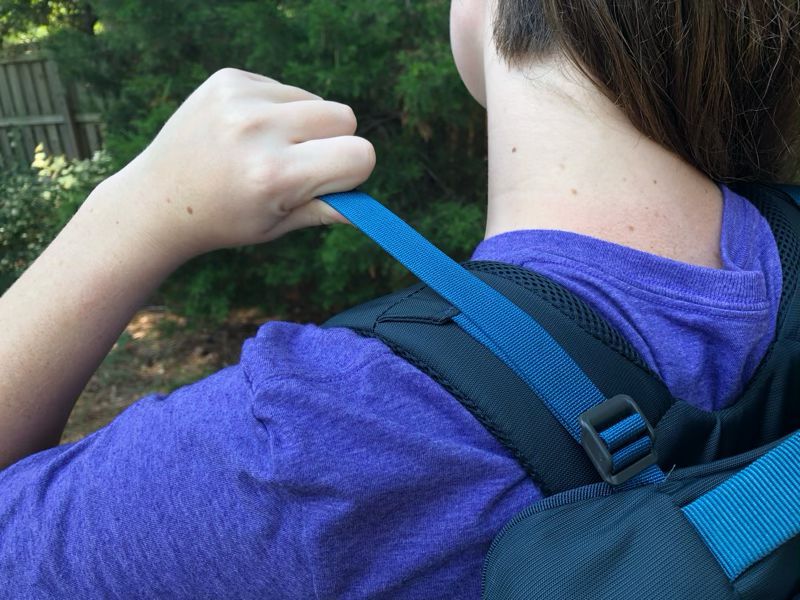 The Tropos has upper and lower compression straps, which are designed to horizontally loosen or tighten the bag and keep the contents snug.  The upper straps, however, get in the way of using the zippers.  For a student who is transferring things into and out of her bag all day, this could really become an annoyance.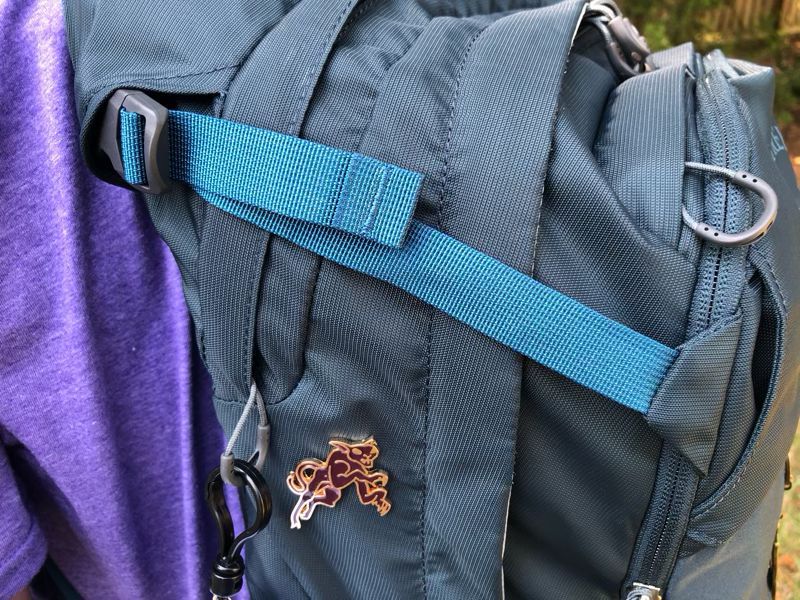 Fortunately, Osprey had already anticipated this issue.  They added a "tuckaway garage" where the upper straps can be unbuckled and tucked out of the way.  Perfect!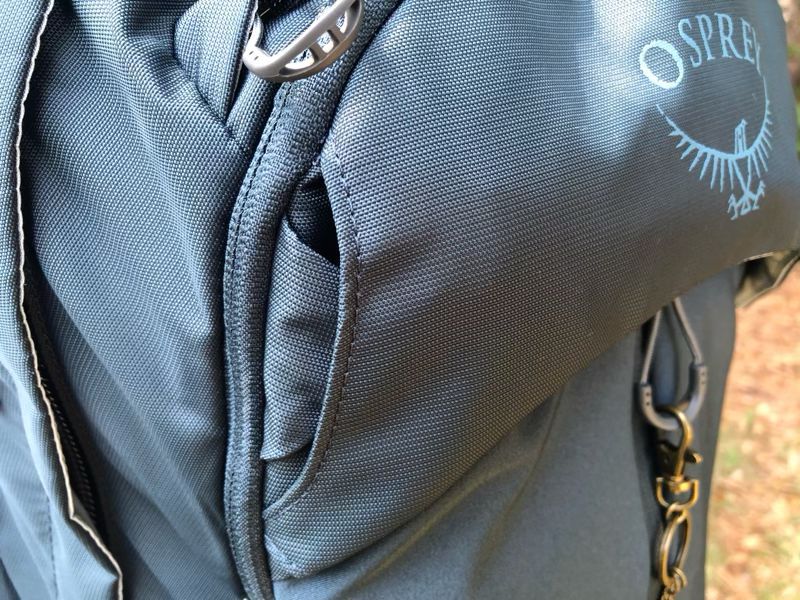 Did I mention previously that this bag is big?  It's easily big enough to hold our Yorkie, who looks ready for class.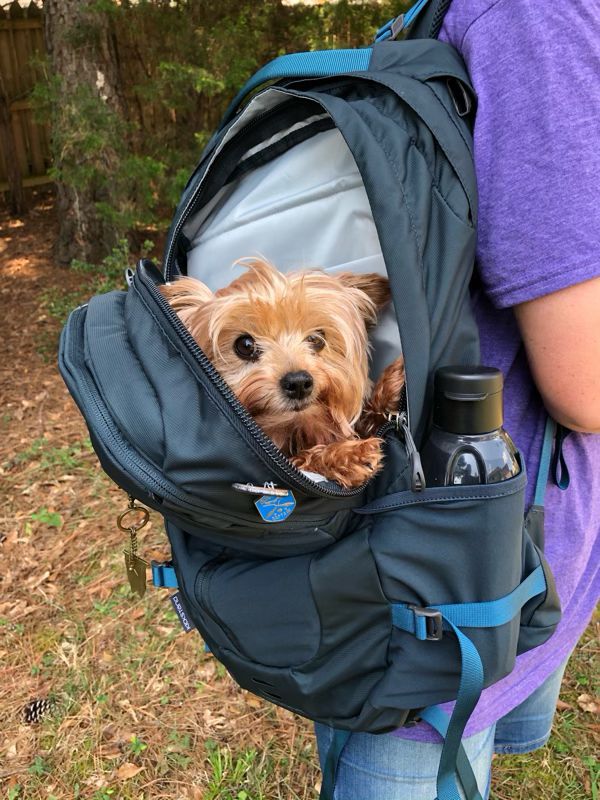 Extra features
The Tropos has a number of extra features that we appreciate.  On each side is a stretch mesh pocket that is perfect for a water bottle and a small umbrella.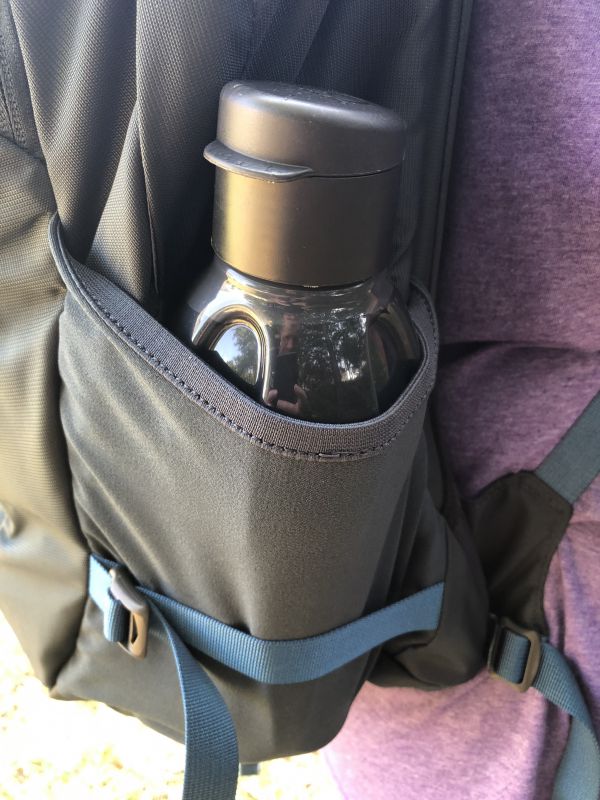 Integrated into the Tropos are 3 curved, metal bars:  one is at the back of the top, and the other two are at the front and back of the bottom. They serve two purposes.  The bottom bars function like a kickstand to keep the bag standing upright when placed on the ground.  To make this steady, it's helpful to have a few heavy items in the bag, such as books, and to the have bottom compression strap opened up, which we've done to fit everything.  This kickstand is a nice feature, as the laptop is less likely to get stepped on if the backpack remains upright; plus it should keep things from spilling out if she leaves a compartment open.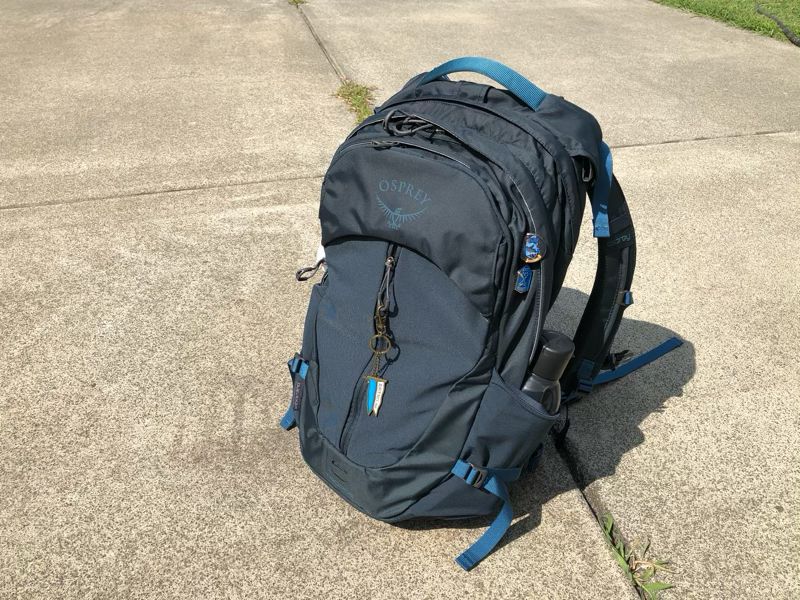 The back two bars are part of Osprey's Airspeed ventilated backpanel system.  The basic idea is to slightly keep the backpack off of the wearer's back, thus allowing it to breathe.  The bars are curved and conform to the shape of the back, and there's a taut mesh panel along the back that keeps the separation.  I think that my daughter is going to find this wonderful when she's trekking from one end of campus to the other on a hot day.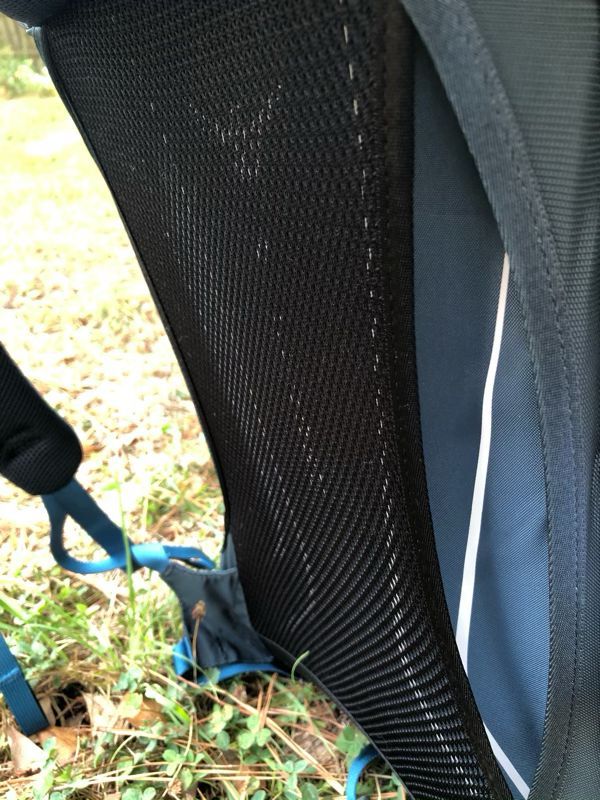 The Tropos includes a handful of other features, including a clip on the shoulder straps for holding glasses, straps across the waist and chest for added stability on hikes, a spot on the back to add a blinker when hiking near traffic, and little circle grips on the zippers to make them easier to use.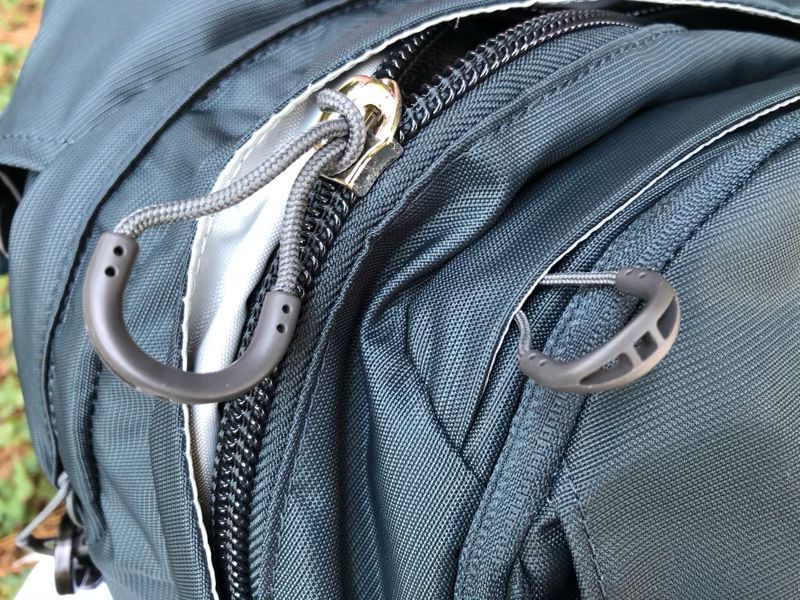 One final test
I can't find anything on Osprey's site about whether this backpack is waterproof.  It rains a lot where she's going, so I think this is important to know.  To find out, I put the backpack under the sprinkler in our yard for 10 minutes. Yes, I really did this.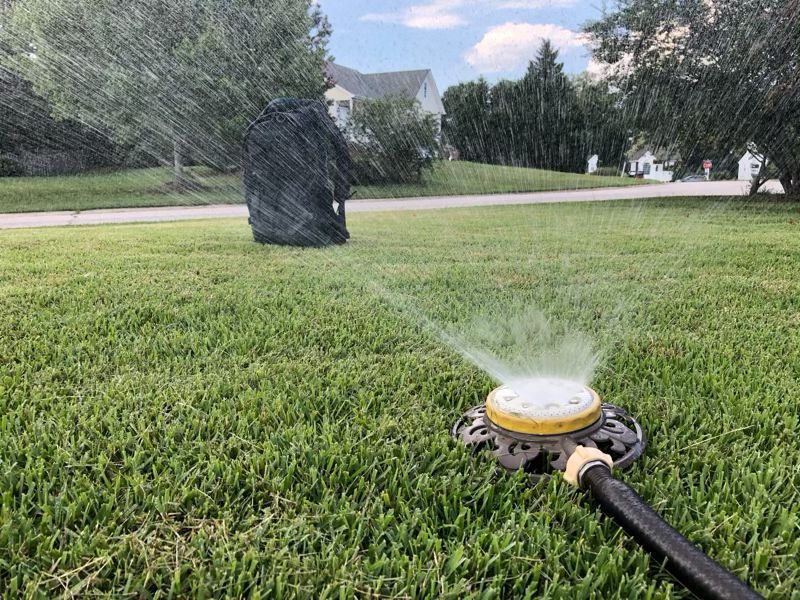 What was the result?  There was a lot of water beaded on top, which looked promising, but when I opened up the bag, only 1 pocket remained completely dry, the one where her phone goes.  None the others were soaking wet, but they weren't dry either.  As Osprey doesn't claim that this is a waterproof backpack, this isn't a surprising result.  My daughter will have to rely on an umbrella to keep to keep her school supplies dry.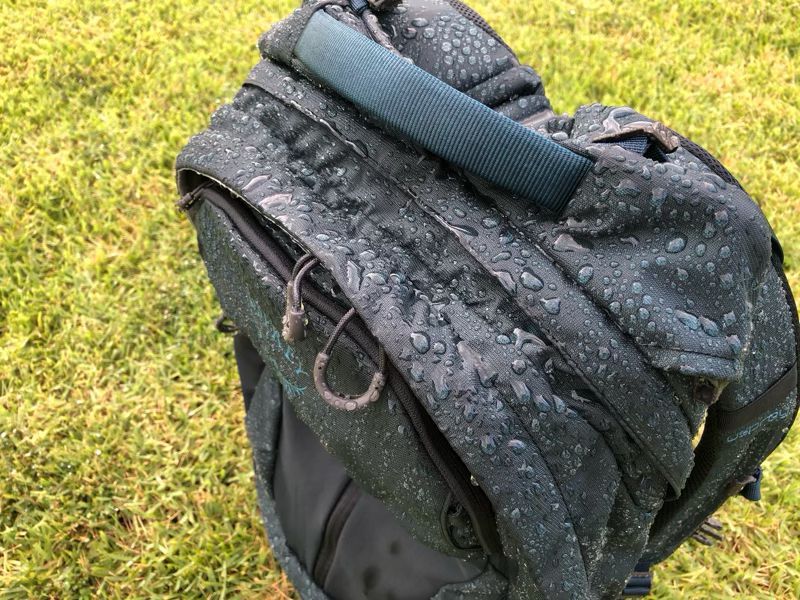 What I like
Durable construction
Lots of room
Adjustable straps to maximize comfort
Ventilation system
Plenty of extra features
What I'd change
More padding for the laptop pocket
Final thoughts
My daughter is looking forward to college—she's counting the days—and as a parent, I now have one less thing to worry about.  Her books and her laptop will be in good hands while carried around in Osprey's Tropos backback.  I think she's going to love it, and I think it will serve her well for years to come.  If you're looking for a large everyday backpack, I commend the Tropos to you.  If you're not sure what backpack to get, check out Osprey's Packfinder Tool.
Price: $150
Where to buy:  Osprey's online store.  Their website also lists local stores that carry their bags, so you can handle them first and get them fitted properly. It's also available from Amazon.
Source: The sample for this review was provided by Osprey.