We use affiliate links. If you buy something through the links on this page, we may earn a commission at no cost to you. Learn more.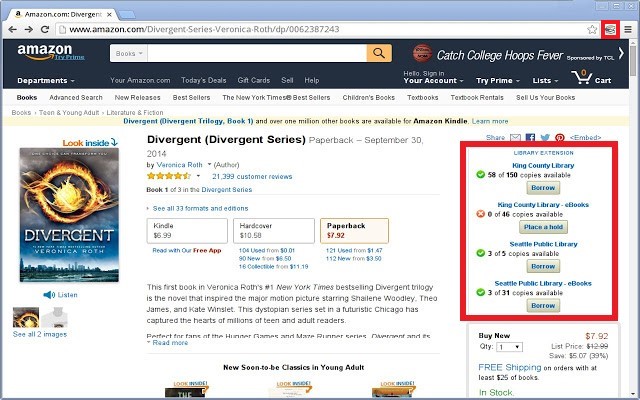 NEWS – Do you have some books, ebooks, or audiobooks that you want to read but don't necessarily want to purchase them? There is a Chrome extension available called Library Extension which will check to see if the books you are looking up online are available from your library. After adding the extension to Chrome from the Chrome Web Store, you'll see a book icon show up next to the address bar as shown in the screenshot above.
Before using it for the first time, you'll need to set up the extension. Clicking on the book icon allows you to do that (right-clicking on it and selecting "Options" allows you to alter the setting after the first-time setup). You'll need to select your state and add your libraries from the drop-down list, after which, it will show you if the particular book, ebook, or audiobook you are looking for is available from one of your local libraries. You'll see the results show up on the website you're searching as shown in the screenshot above (the results may be located on the right, left or center of the webpage).
It is important to know that this extension will only work if you are visiting the following sites to look for books:
amazon.com
amazon.ca
amazon.co.uk
amazon.com.au
amazon.de
audible.com
arbookfind.com
barnesandnoble.com
bookdepository.com
chapters.indigo.ca
goodreads.com
books.google.ca
books.google.co.uk
books.google.com.au
books.google.com
librarything.com
You can find the Library Extension on the Chrome Web Store. Happy free reading!