We use affiliate links. If you buy something through the links on this page, we may earn a commission at no cost to you. Learn more.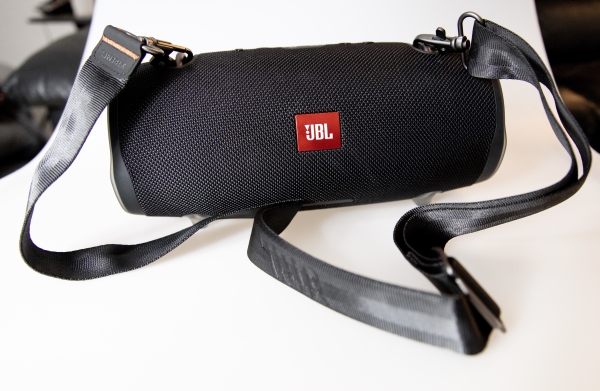 REVIEW – Over the past 2 years, I have tested and reviewed a few Bluetooth speakers. I love the portability and convenience they provide. The previous Bluetooth speaker that I reviewed was made by JBL, and I really like it. However, I wanted a speaker from JBL that is lighter to be portable and waterproof so that I could take it to the beach and not worry about it getting wet and therefore damaged by the water. I was very thrilled when JBL sent me their Xtreme 2 Waterproof Bluetooth Speaker to test and review.
What is it?
The JBL Xtreme 2 is a portable IPX7 rated waterproof Bluetooth speaker that uses four drivers and two JBL Bass Radiators to produce a dynamic sound. It also has a built-in rechargeable 10,000mAh Li-ion battery that provides up to 15 hours of playtime. It features a USB charge out port, integrated hooks and a detachable strap with a bottle opener. There is an accompanying JBL Connect+ app and feature that allows you to connect more than 100 JBL Connect+ enabled speakers for additional volume.
What's in the box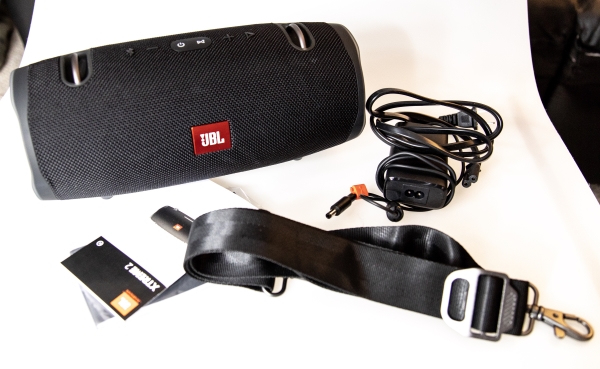 1 x JBL Xtreme 2 Speaker
1 x AC Power Adapter
1 x Carrying Strap
1 x User Guide
Design and features
Specifications
Output power: 2 x 20 Watts
Music playing time: 15 Hours
Bluetooth version: 4.2
Battery capacity: 10,000 mAh
Charging time: 3.5 Hours
Waterproof: Yes
Power Bank: Yes
Voice Assistant Integration: Yes
JBL Connect+: Yes
Speakerphone: Yes
Audio Input: 3.5 mm
Auto Power Off: Yes
Dimensions: 5.35" x 11.33" x 5.19"
Weight: 5.27 lbs., 2.39 kg
This JBL speaker is sort of oval-shaped and wrapped in a waterproof speaker grille. There is a prominent JBL branding plate in red on one side.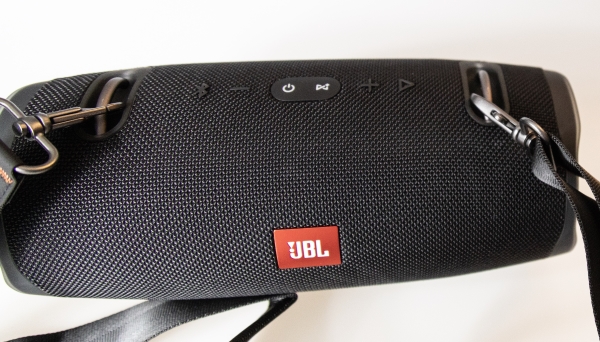 On another side of the speaker, there are 2 built-in metal bars on each side that allow you to attach the carrying strap. In between the metal bars, are the touch controls. As shown in the following picture from the top down there is the play/pause/forward/answer/hangup control, the volume up control, the JBL Connect + control, the on/off power control, the volume down control and the Bluetooth control.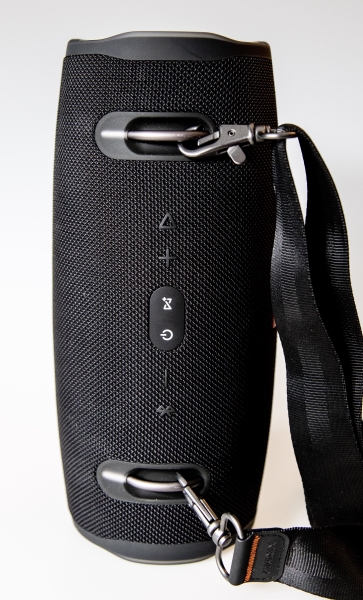 On the side of the speaker opposite to the controls, there is a waterproof rubber door/cover that protects the ports. The ports as shown below from left to right are the 1/8″ auxiliary jack, a non-user service port, a USB output port for charging accessories and the power port.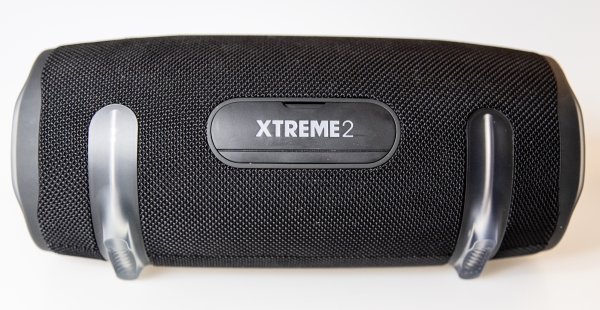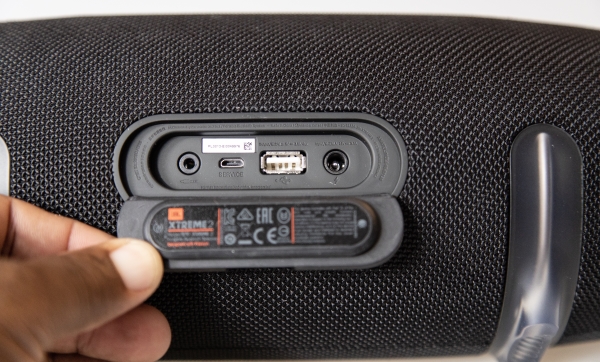 On each of the two ends of the speaker body, there is a speaker covered by a flexible waterproof membrane. These areas should not be handled and should be protected from sharp objects and/or impact.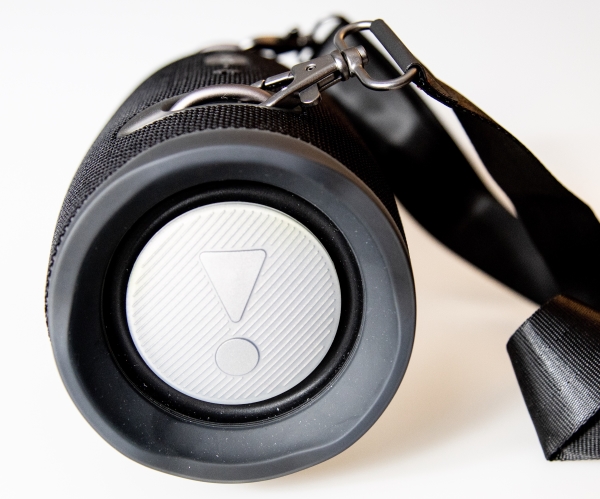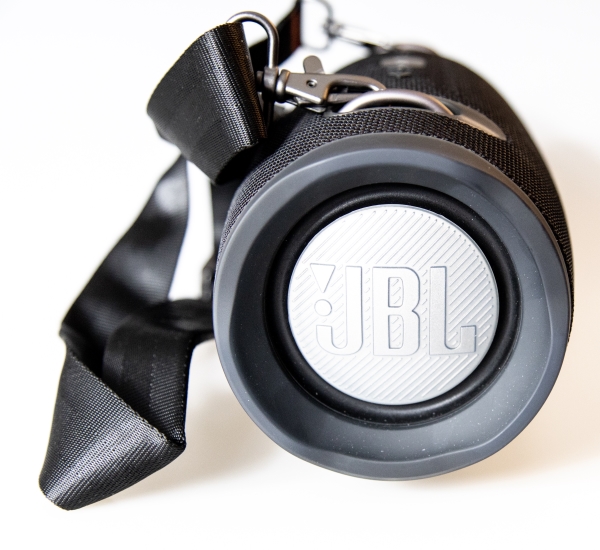 Performance
This JBL Bluetooth speaker is attractive right out of the box. It is wrapped in a black hard waterproof grille with speakers on each end. Once I took it out of the box, I plugged in the included AC adapter to charge it. One of the first things I noticed is that there is no charging indicator light to let you know that the speaker is charging and when the charging is completed. I let it charge for a few hours and then I was ready to start testing. Once you power it on and press the Bluetooth button, it is the usual simple process tho connect to your mobile device, and it does so easily. After that, playing music is straightforward. Indoors it sounds like the volume is adequate, but outdoors like on the beach, it is only loud enough for people within approximately 10 feet of the speaker to easily hear the music. The regular ambient sounds on the beach drown it out after that distance. The speakers on the side are covered in a waterproof material, but not a hard grille. This is a major concern for me since they are vulnerable to being accidentally punctured/damaged.
JBL also includes the JBL Connect+ feature on this speaker. This feature allows you to connect to 100 plus additional JBL speakers that have a similar built-in feature. You have the option of adding them in stereo or party mode. In stereo mode, one speaker is added as the left channel and the other as the right. See more about the JBL Connect+ functions in the following app screenshots: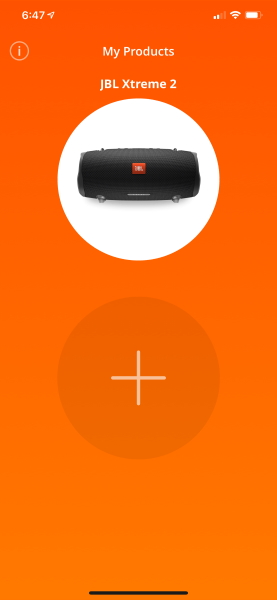 Here is a short video all about this speaker:
What I like
Build quality
Waterproof feature
Overall sound produced
Connectivity
Carry strap option
What I'd change
Needs a charging indicator LED
Needs more volume
Hard grill protection over the speakers
Better user guide
Final thoughts
I am a fan of JBL Bluetooth speakers and the sound they produce as well as the build quality. In terms of build quality, this speaker is well built with the exception of the vulnerable speakers on each end that are covered by a soft membrane.
I have used it on multiple occasions at the beach, and the battery was still going strong after over 7 hours of non-stop playing. I have also had water splash on it with no problem.
In terms of sound, it produces quality sound but lacks the expected power, especially based on its size and weight. Indoors the sound is adequate, and on a quiet day outdoors, it would likely be loud enough. However, any place where there is relatively normal ambient noise, it lacks the power to be the "life of the party". Don't get me wrong, I like the speaker, and if I had 2 of them and used them together with the JBL Connect +, they would likely be adequate. But as a stand-alone speaker, its versatility is limited.
Price: $299
Where to buy: Amazon, JBL Website
Sample: The sample for this review was provided by JBL