We use affiliate links. If you buy something through the links on this page, we may earn a commission at no cost to you. Learn more.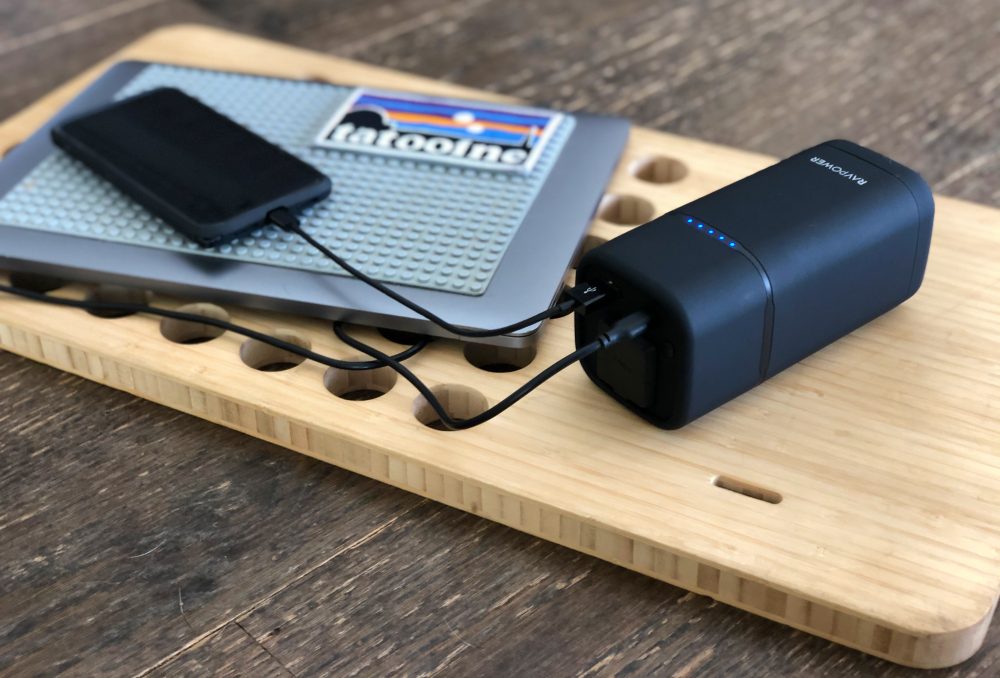 REVIEW – The devices we love always seem to need a charge. From iPhone or Android to tablets and laptops, they all need power. USB-C power banks have changed things in that you can juice up your USB-C laptop now, but what if your laptop isn't USB-C equipped? Enter the PD Pioneer from RAVPower complete with an AC outlet. Let's look closer.
What is it?
It's all in the name. The RAVPower PD Pioneer 20,000mAh 80W AC Portable Laptop Charger. But should you need more details, it's a big battery with two USB ports (1A, 1C) and an AC outlet.
What's in the box?

The first thing you'll find inside the box is a very well made ballistic EVA storage case.

A quick unzip reveals all the goodies.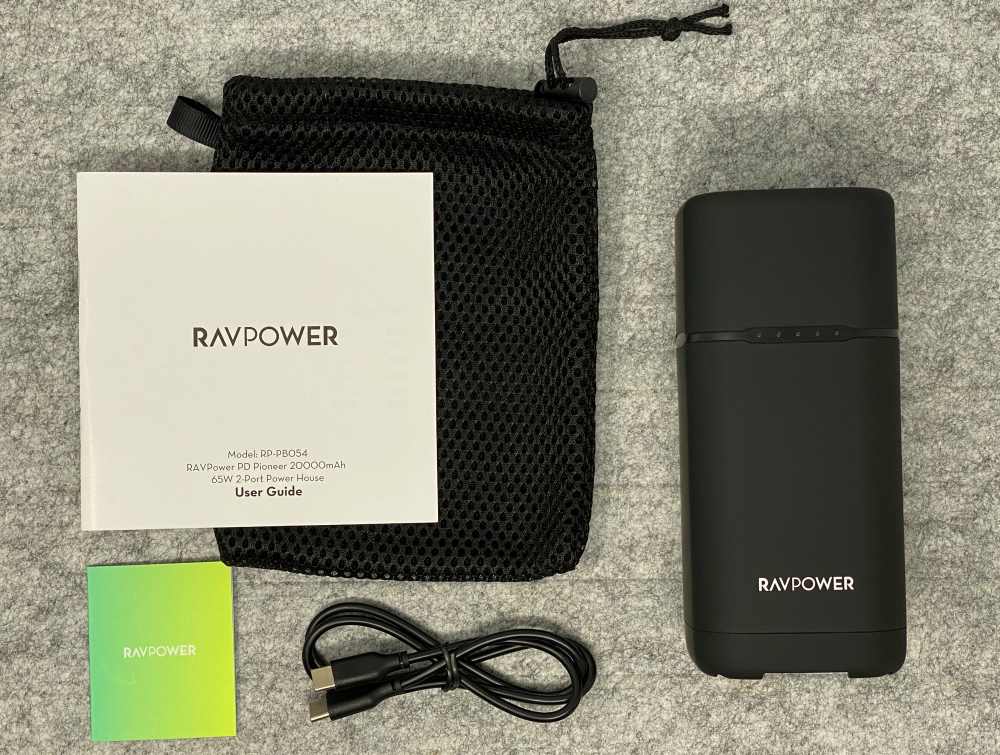 RAVPower Portable Power House (RP-PB054)
USB-C to USB-C Cable (60cm/23.6in)
Carrying Pouch
Storage Hard case
User Guide and brand card
Hardware specs
Battery Capacity: 20,000mAh/74Wh
USB-C Input: 5V or 9V⎓3A, 12V⎓2.5A, 15V⎓2A, 20V⎓1.5A
USB-A Output: QC 3.0 5V⎓2.4A, 9V⎓2A, 12V⎓1.5A
USB-C Output: 5V or 9V⎓3A, 12V⎓2.5A, 15V⎓2A, 20V⎓1.5A
AC Output: 110-120V/60Hz 100W Max. 80W Rated
Rated Capacity: 3,300mAh, 20V⎓1.5A
Dimensions: 6.9 x 6.9 x 14.6 cm / 2.7 x 2.7 x 5.8 in / 23.3oz
Design and features
First and foremost, this is a battery pack with a different form factor than most. The squared canister shape is easy to pick up and will either stand tall or lay on its side equally well. The whole thing is a nice soft-touch black.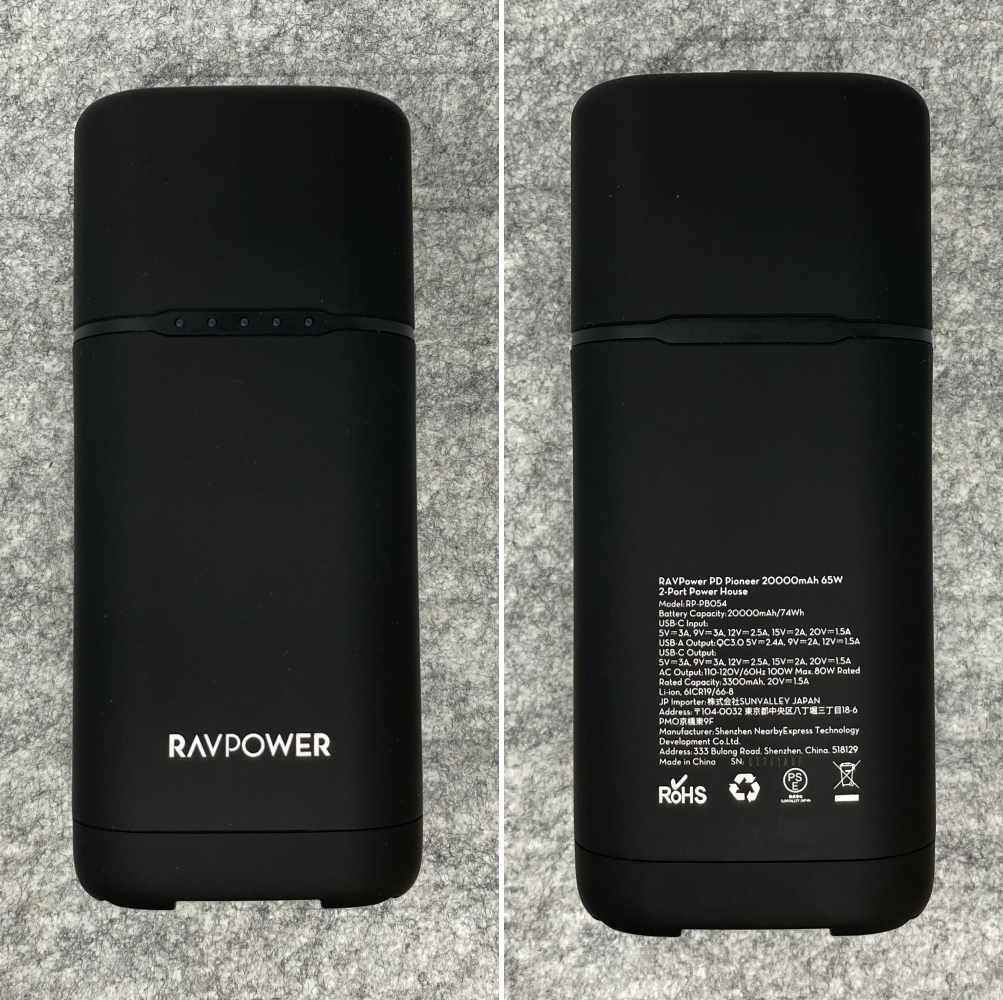 There's a 5-stage LED on the front panel that will show you the current charge level. All the fine print on the back including an incorrect 65W mention as this is an 80W unit. (The Amazon listing notes this as a packaging issue).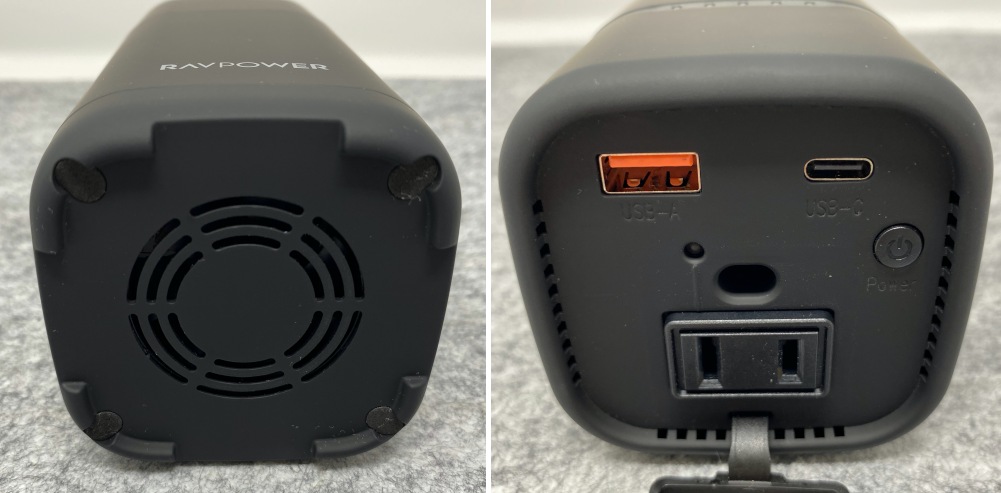 On the bottom, the four notched corner feet surround a circular vent allowing an internal fan to keep things cool. Up top the power button is accompanied by USB-C and USB-A ports along with an AC outlet protected by a snap-fit cover that slightly covers another LED. That hole in the middle that looks like a bass port is just a negative space that allows 3-pronged plugs to work with the 2-spade outlet.
Setup
After unboxing, connect the Power House (the name printed on the back of the unit) to a USB-C power source. RAVPower includes a USB-C cable but you'll need to bring the adapter. Since this is a "laptop" charger, I used my MacBook Pro wall adapter to charge it. For later reference, it charged in about 2.5 hours from nearly dead (during the review period). RAVPower suggests using an adapter that provides at least at 30w of power and have some good options themselves available separately.
The LED will slowly blink with the each of the 5 LEDs joining as the charge progresses through each 20% of the total battery. When fully charged all the lights will turn off.
You are now ready to charge just about anything. To check the charge level, just press the power button on the top (note: LEDs will remain lit for about 30 seconds and pressing the button again will not make them go off). Connect a USB-A or USB-C cable to the battery and then to y0ur device and the charge will start automatically.
To use the AC outlet you will need to connect your wall adapter and then press and hold the power button to turn on power to the outlet. You will know it's on by the illuminated green LED next to the outlet. Press and hold again to turn it off.
Performance
So this is a pretty big battery. 20,000mAh big. That's roughly 4 iPhone 11 charges or a full laptop charge depending on the laptop. However it's still small enough to drop in your carry-on for a flight (hopefully sometime soon for all of us). The airline regulation is batteries with 100Wh or less. This clocks in at 74Wh and it's labeled as such so you're good to go.
The USB-C and USB-A charging ports work as you would expect. Connect the cable required by the device you want to charge and get to it.
This is the first portable pack that I've used with an AC outlet. It's a cool addition and absolutely broadens the scope of what and how you can charge. The best real world example of that is my MacBook Pro 13″.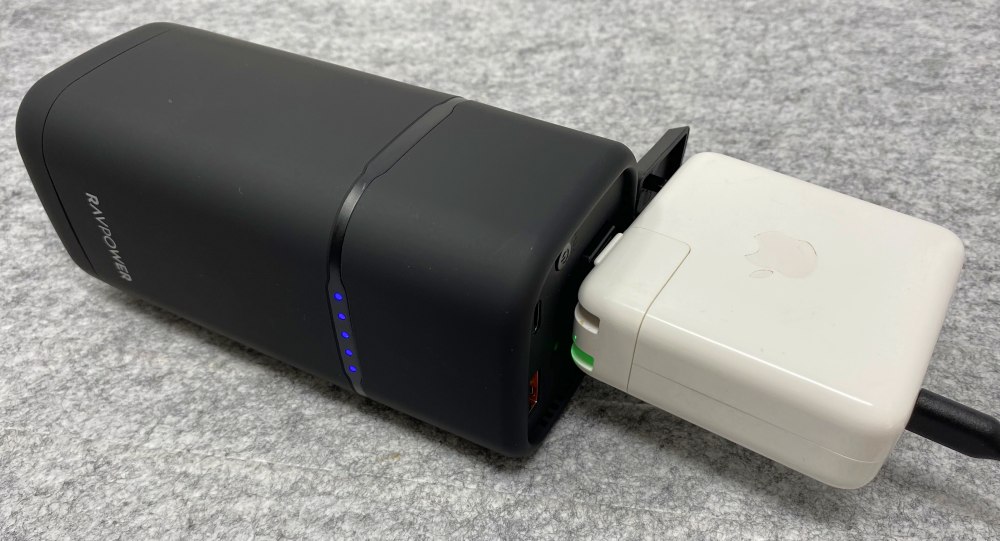 I can use the cable that RAVPower included and charge from the Power House at 30W using the PD USB-C port. Or I can get up to 80W if I use my MacBook charger (87W) in the AC outlet. Above you can see the full charge LEDs and the green AC port active LED reflecting into the MacBook charger.
Sometimes it comes down to how close you are to empty and what you're working on as you could be draining faster than you're charging so it's a great option to have. Looks a little less awkward with a smaller GAN charger and more traditional chargers with the brick in the center of the cable will be cleanest.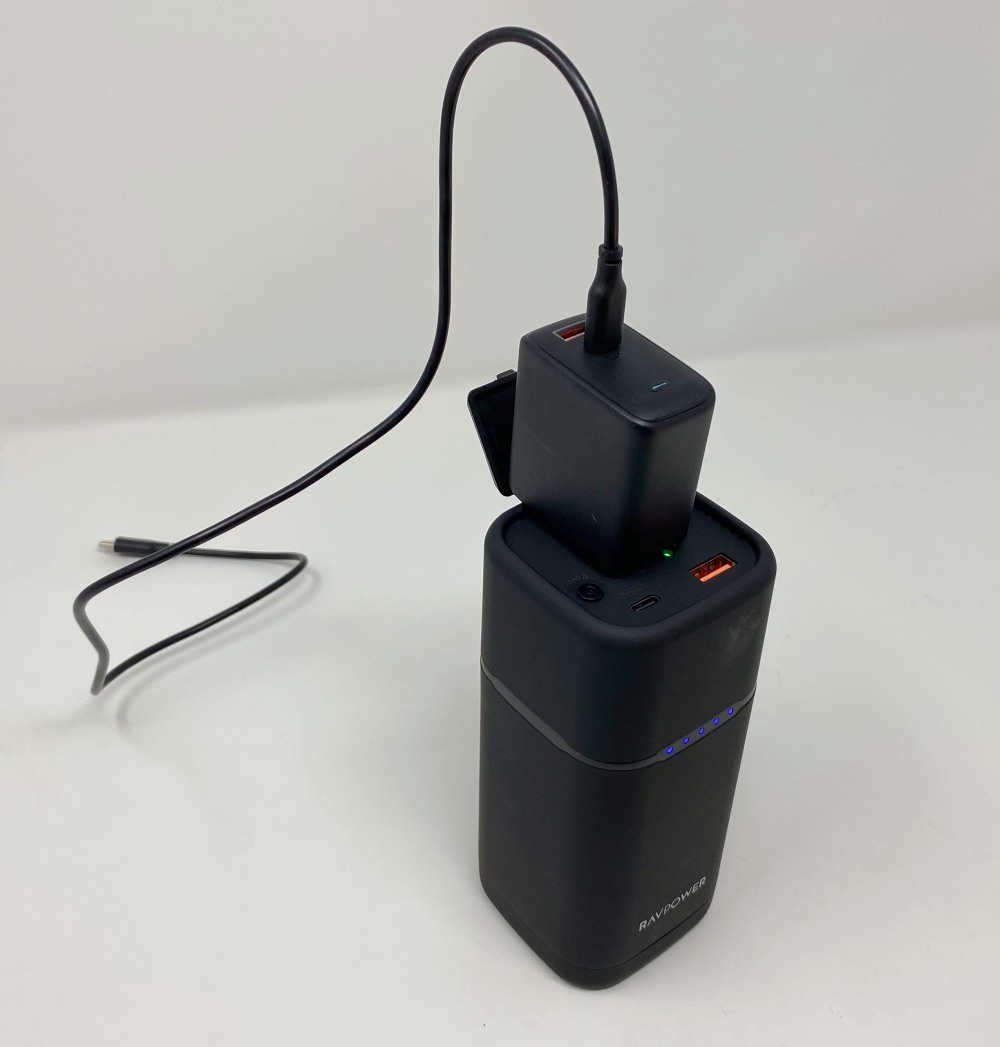 It is important to know that the rated capacity is up to 20V so it won't power your espresso machine or a hair drier. Just check the label on any devices you're hoping to power if you want to be sure.
To avoid heat issues RAVPower included a fan on the Power House. It kicks on depending how much load you're asking for. I was able to charge my iPhone from the USB-A port without it coming on, but using the USB-C to charge my iPad resulted in it kicking on after a couple minutes.
The fan isn't super loud, but if you try to use this battery somewhere really quiet it will be noticeable. For reference, it's a little louder than a MacBook Pro fan. I also noticed that it's quieter, but higher pitched if standing upright, and louder but lower pitched when on its side so the fan is definitely adjusting speed.
The Power House will happily charge from all ports simultaneously. Yes, even the AC port as well. Obviously the more you ask it do, the less efficient it will be per device. Additionally the Power House supports pass through charging so you can connect it to power while still charging from whichever USB port you aren't using to charge.
What I like
20,000mAh with output options of USB-C, USB-A and an AC outlet
Unique squared canister shape fits water bottle pockets
Clear LED indicators
Ballistic EVA storage case
What I'd change
Wish it didn't need the fan, but not a deal breaker
It's possible an AC adaptor could block the USB ports
Final thoughts
A bigger power bank is always a good accessory to have around and one that includes USB-A, USB-C and an AC outlet makes for an ideal solution. The RAVPower Power House charges quickly and adapts to your multi-device charging needs.
Price: $89.99
Where to buy: Amazon or RAVPower
Source: The sample of this product was provided by RAVPower