We use affiliate links. If you buy something through the links on this page, we may earn a commission at no cost to you. Learn more.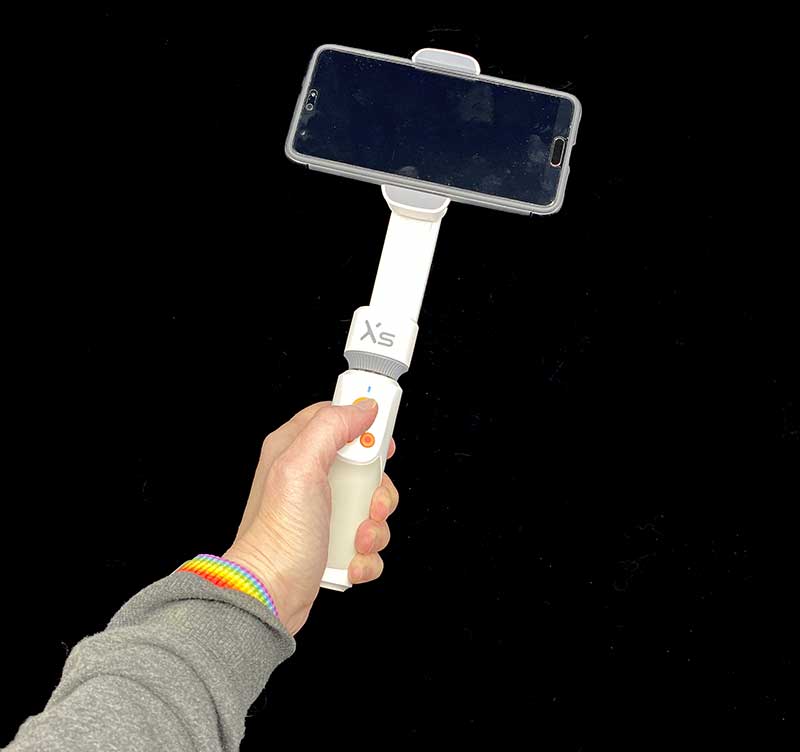 REVIEW – If you think selfie sticks are awesome accessories for your phone, then you will want to check out the ZHIYUN Smooth XS Phone Gimbal Stabilizer. It's a selfie stick on steroids. Let's check it out.
What is it?
The Smooth XS Phone Gimbal Stabilizer from ZHIYUN is a handheld (or tripod mounted) selfie stick that has built-in controls that can rotate the phone and capture images and video at the press of a button.
What's in the box?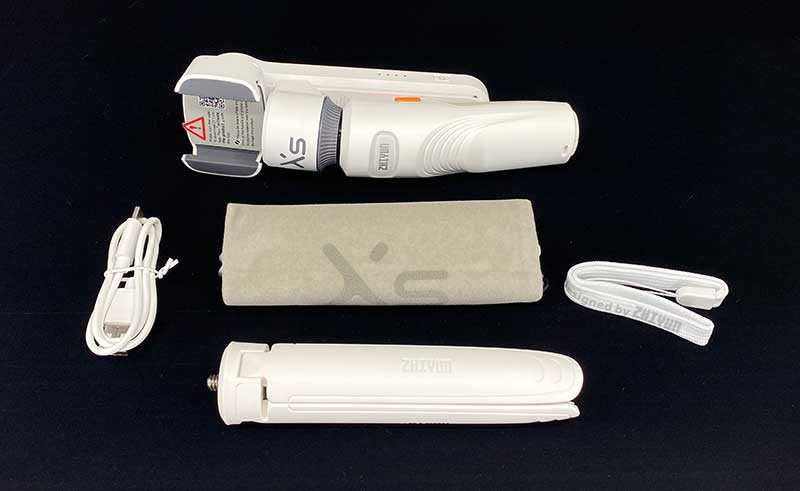 ZHIYUN Smooth XS Phone Gimbal Stabilizer
Folding tripod stand
USB-C charging cable
Lanyard strap
Storage bag
Instruction sheet
Design and features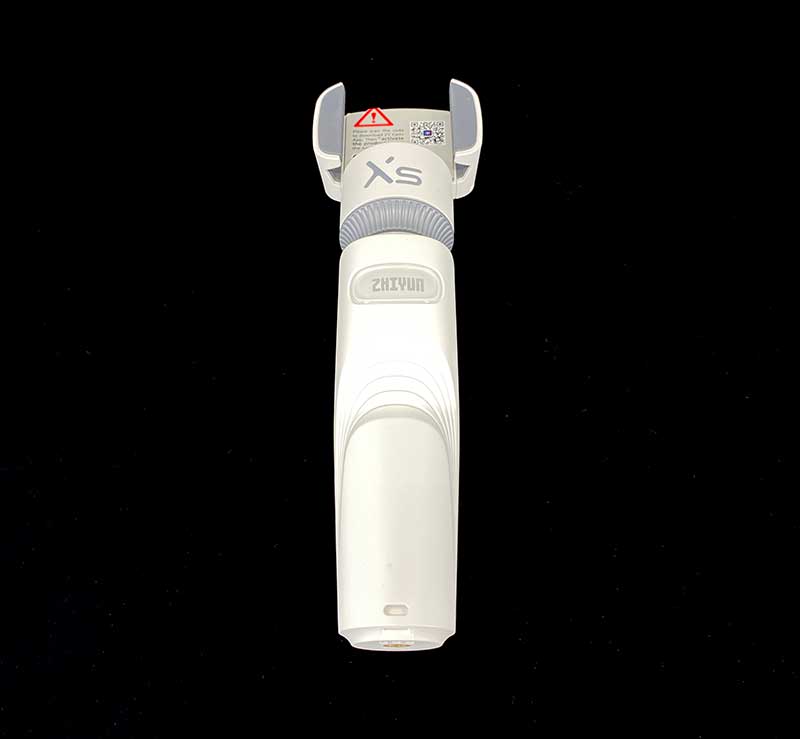 The Smooth XS collapses down into a travel-friendly form factor when it's not being used.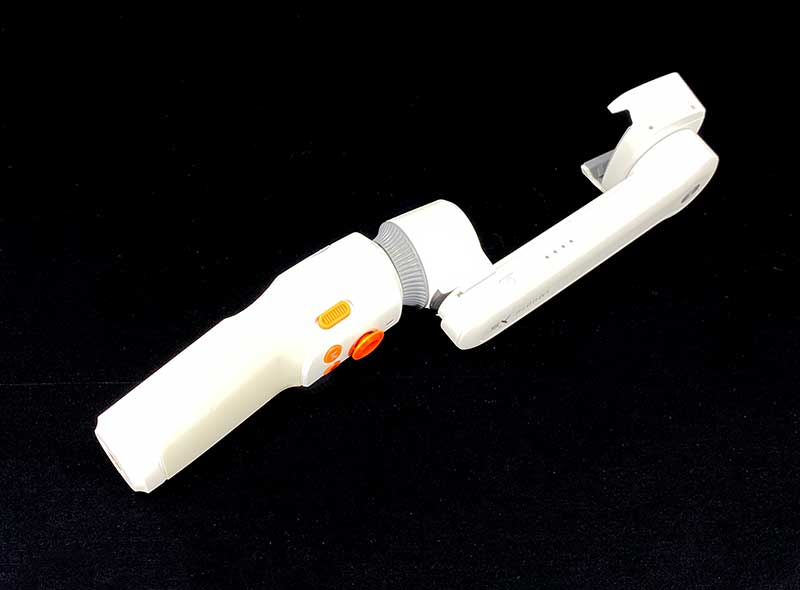 The phone holder slides upward from the handle and is also the battery for the device. It has a power button and 4 LEDs that show the battery charging and battery level status.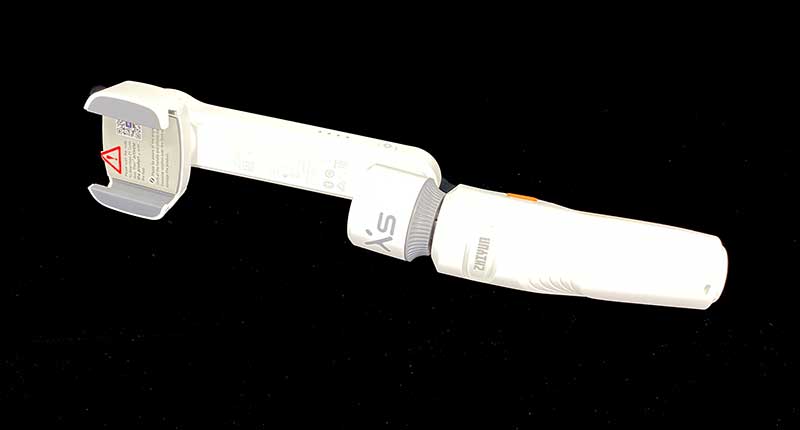 Never miss one of our posts again. Sent MON, WED, and FRI with the latest gadget reviews and news!
It has a built-in holder for your phone. The holder has rubber lined spring-loaded jaws that pull apart so that you can place your phone between them. I always find these types of holders a little awkward and "pinchy" to use. It's the type of thing that a 3rd hand would help out a lot.
It's important to note that the phone holder jaws are small and don't work well if your phone is in a case like my iPhone 11 Pro Max shown above. You can see that the edge of the iPhone is securely seated in one side of the holder, but not on the opposite side.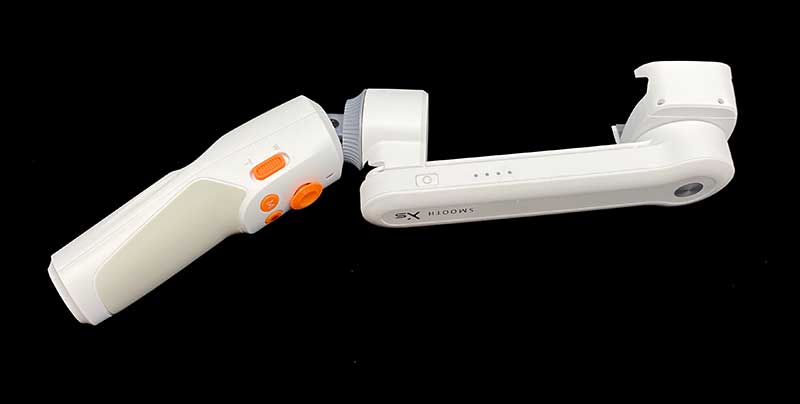 The phone holder can be pulled out of the handle and pivoted up to 90 degrees.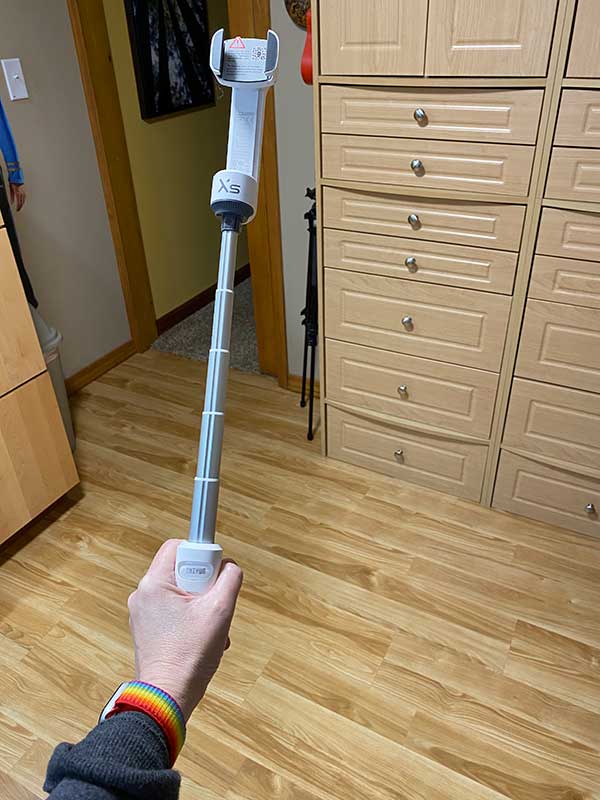 It also has a nice telescoping handle feature that I didn't even realize was there because there is just one little image in the included instruction sheet that shows it. The pivot feature (shown above) isn't mentioned at all.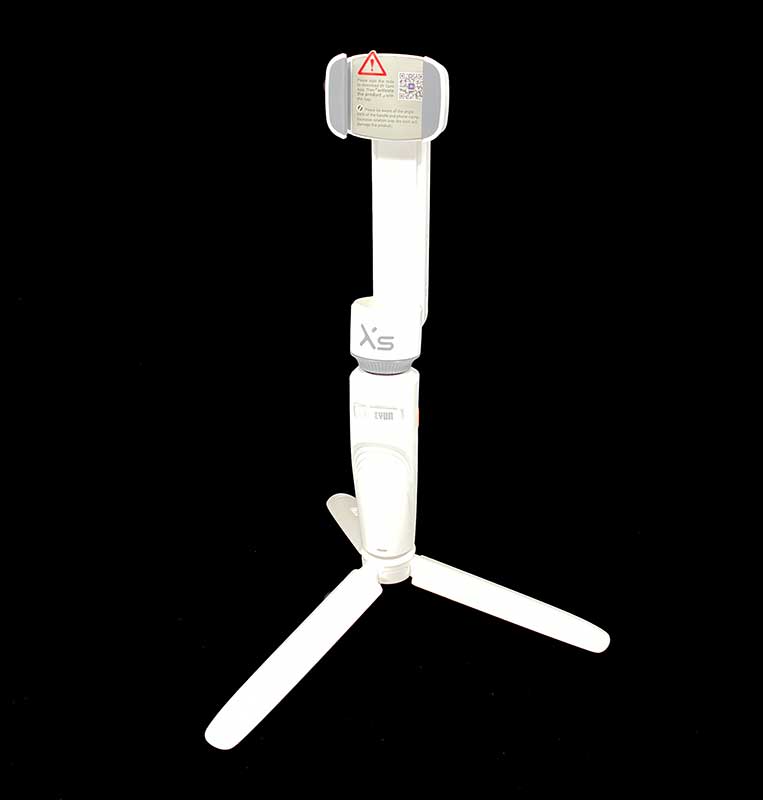 In addition to holding the Smooth XS in your hand, you can also mount it on the included small folding tripod or any tripod that you happen to have.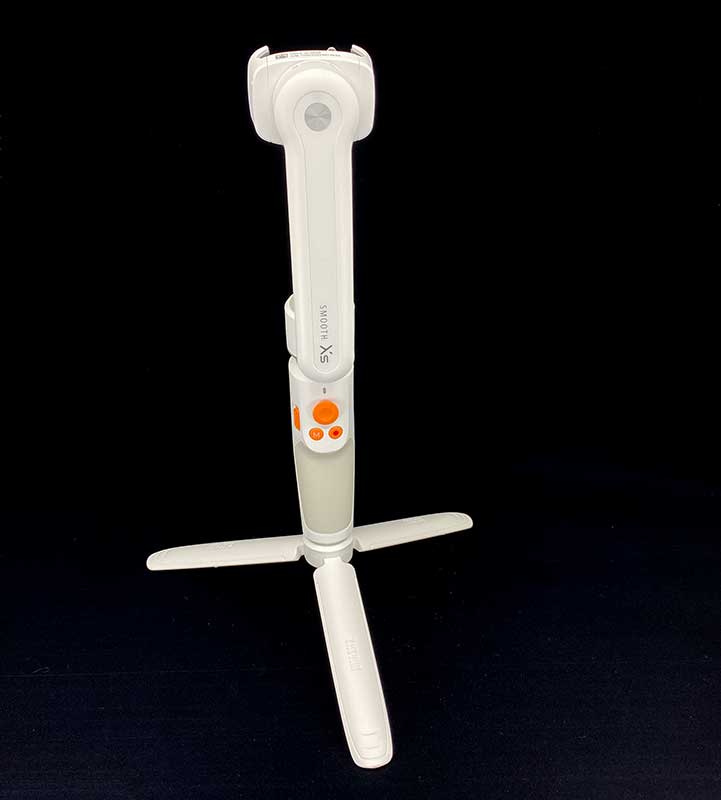 The bottom of the Smooth XS has a threaded socket that works with any standard tripod.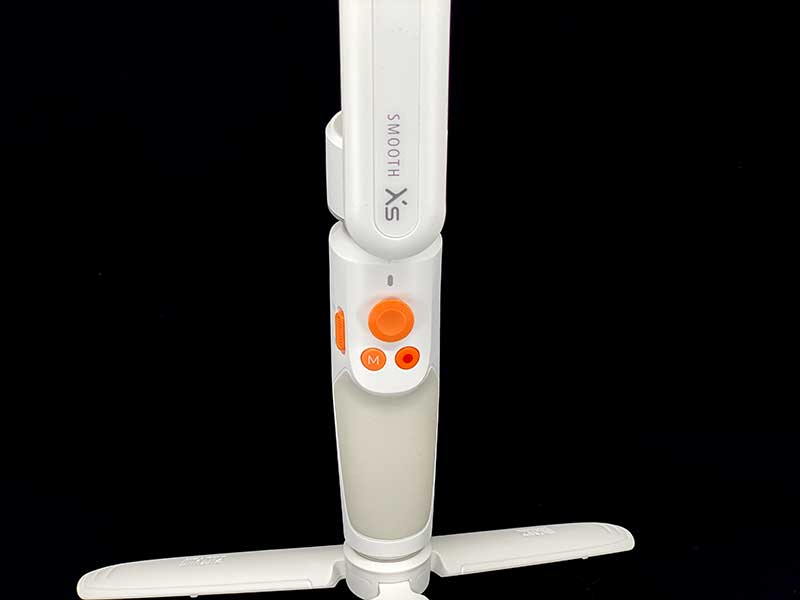 The handle of the device has a joystick-like button that you can move up/down/left/right. Doing so will rotate or pivot the phone.
There's also a memory button that you can use to set the phone back to horizontal/level. Other buttons include a record button and a zoom button. There is one caveat to using these buttons… You have to use a proprietary app from Zhiyun.
The ZY Cami app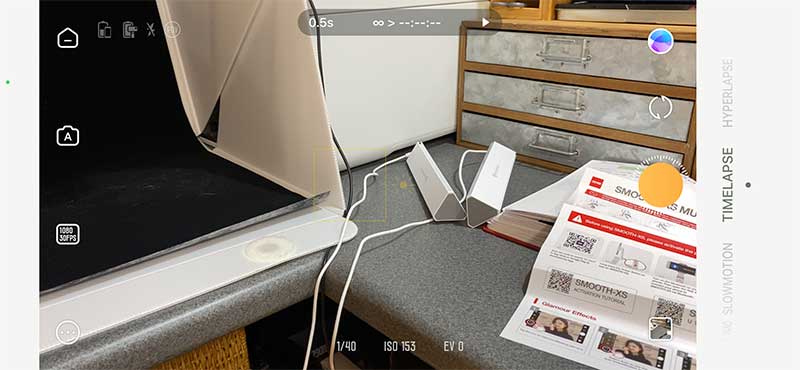 You can use the Zhiyun with your phone all by itself if all you need is the stabilizer feature, but with the ZY Cami app, it will do extra things like automatic panorama images and timelapse videos. The only downside is that you have to sign up for an account to use it which is annoying.
Using the Zhiyun Smooth XS Phone Gimbal Stabilizer
First of all, it's important to realize that this is only a 1-axis gimbal. It's really more of a selfie stick with built-in camera controls and a motorized holder that you can use to rotate/pivot the phone.
See it in action
The video above gives you an idea of how the controls operate.
The video above compares using the Zhiyun with an iPhone 11 Pro Max and just handholding the iPhone 11 Pro Max. Is it just me, or does the handheld video look better?
Note that no phone holder like the one reviewed here is going to take out the bounce from walking.
What I like
Folds down into a small module that isn't too bulky
Telescoping handle
What should be improved
Make phone holder jaws larger
Allow zoom feature to work with stock camera apps
Don't require the user to make an account in the app just to use it
Final thoughts
I have mixed feelings about the usefulness of the Zhiyun smartphone gimbal stabilizer. I like the features in the app that allow automatic panoramas and timelapse videos, but it's possible to get those features with 3rd party apps or even some stock camera apps. I also think the holder itself can be difficult to use especially if you use a case on your phone. If the Smooth XS was more than just a 1-axis gimbal, I would appreciate it more, but I think I'll just skip the $75 and handhold my phone.
Price: $74.99
Where to buy: Amazon
Source: The sample for this review was provided by ZHIYUN.