We use affiliate links. If you buy something through the links on this page, we may earn a commission at no cost to you. Learn more.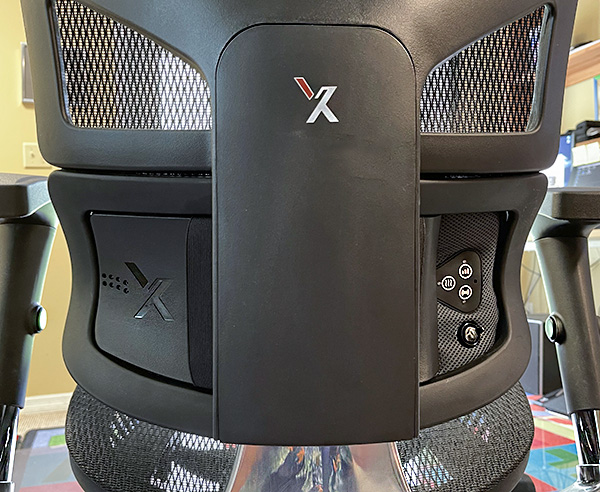 REVIEW – Last year, I reviewed The X-Chair X2 K-Sport Mgmt Chair (long name) and it has become my daily WFH chair. Then in February of this year, I reviewed another X2-HMT K-Sport Mgmt Chair with an added heat/massage function for the lower back. I really like the heat and massage therapy (HMT) option, but the chair isn't the "wide-butt" model that my original chair is (don't ask). Now my much-thinner wife uses that chair and loves it. Which brings us to this: The Elemax Cooling, Heat, and Massage Unit. This add-on is identical to the HMT unit, with an added dual-fan cooling element. The question is, "Does it work?"

What is it?
The X-Chair Elemax is a Cooling, Heat, and Massage option that fits into the dynamic variable lumbar (DVL) section of most X-Chairs. It includes dual fans along with warming and massage elements. As with the HMT option, the massage function has a constant or variable massage cycle with 2 levels of massage intensity.

Specs
Width: 14.5 In.
Height: 9.5 in.
Battery charging: USB or wall outlet
Battery life: 1.75 hours (15-minute runtime X 7)

Design and features
The Elemax can be fitted onto an existing X-Chair or can be ordered with a new chair. I'm reviewing the separate add-on that attaches to my original X-Chair. 
Everything inside the box is basic: the Elemax unit, a hard-plastic plate that snaps over the Elemax once installed, a USB cable with a companion plug. I recommend charging when not using the chair because the cords can get in the way.
I won't go into any heat or massage opinions as it was covered in this review. I will say that I enjoy both. The massage feels good and you get a few choices of vibration. The heat setting is nice on cooler days or if your back is sore. However, I can't use it in summer because … it's summer.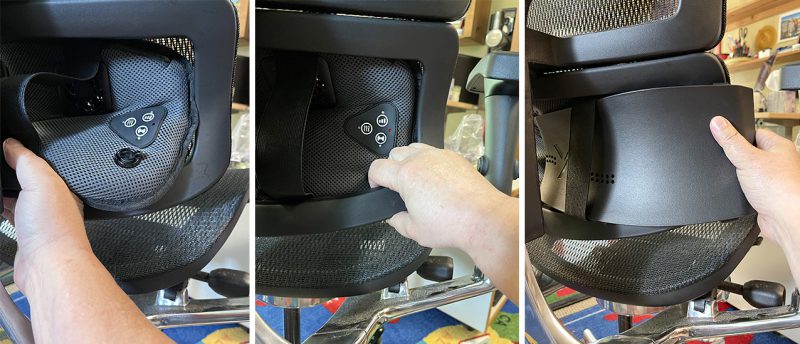 Installing the Elemax was fairly easy. Instructions are short and kinda vague. There are two wide straps attached to the Elemax not mentioned in the installation guide. I asked X-Chair and was told the straps are for other styles of chairs that X-Chair makes and to ignore them, so I did. Once the edges of the Elemax were pressed into the lip of the DVL, a hard plastic piece snaps into place securely holding the Elemax in place. That's it.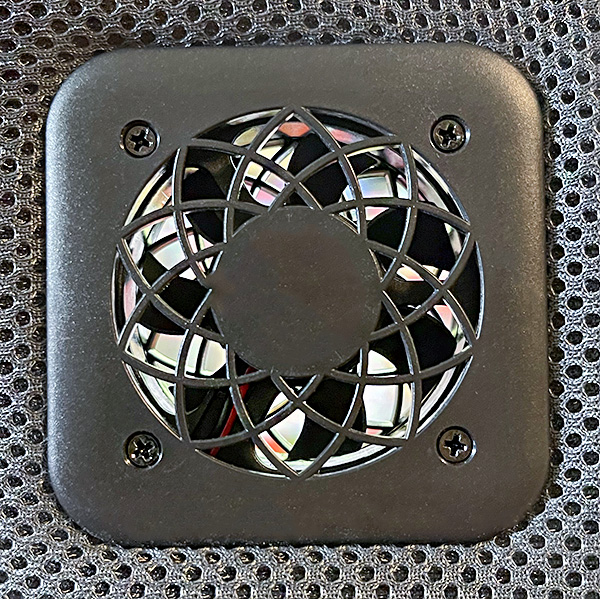 Never miss one of our posts again. Sent MON, WED, and FRI with the latest gadget reviews and news!
The Elemax has the added benefit of cooling via dual built-in fans that blow directly on the lower back. When running, the fans work great and are as quiet as can be. 
The fans (and the heat and massage functions) are designed to run for 15 minutes (cycles) and shut off. Seven cycles can be run before batteries need recharging (20 cycles using massage only) via a covered charging port. So unless you have the X-Chair always plugged in at all times, you won't be able to run the functions for 8 hours.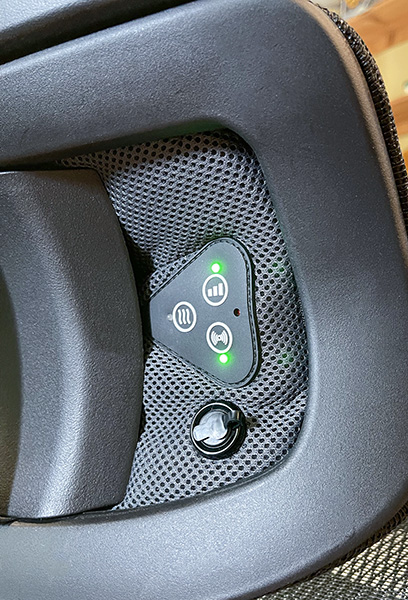 The cooling button is now part of the heat setting. It only requires an additional press to switch from heat to fans. Otherwise, all the buttons are in the same place as on the HMT option.
While Elemax's ability to help you stay cool when working is a great idea, I have a couple of issues with it.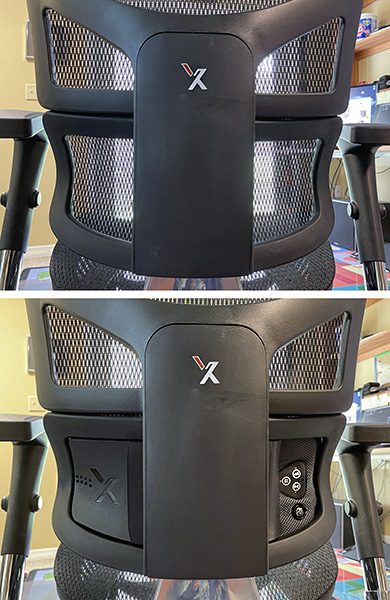 When my back is pressed against the lumbar (DVL) section of the X-chair, I cannot feel any breeze from the fans. It's only when I lean forward that I can feel the cooler air. However, I don't sit like that—I like to keep my lower back firmly pressed into the DVL. It's okay to leave it on for some cooling, but it's not really enough to bother.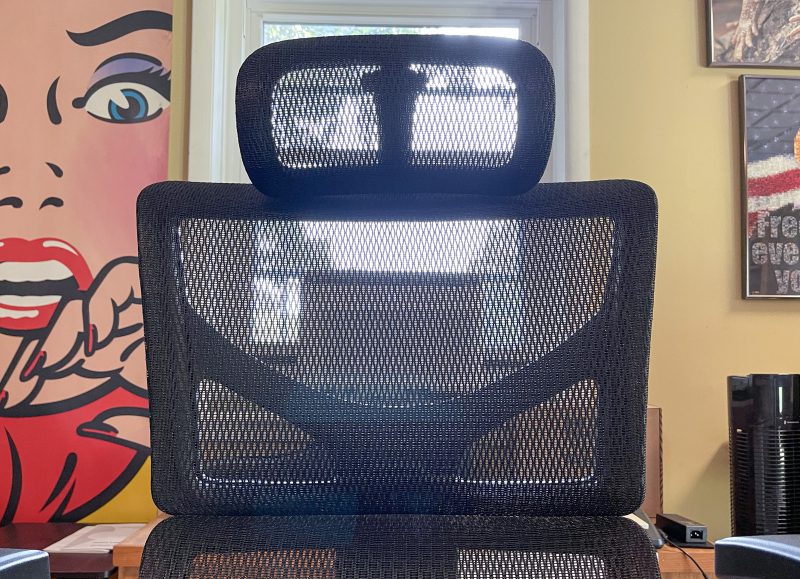 Then there's the mesh. My X-Chair has a mesh fabric instead of the available leather. I chose mesh for its breathability, which is important in humid Florida summers despite air conditioning. The mesh on the DVL is almost completely blocked with the Elemax installed. Because my window AC unit in my backyard studio building is behind me, I actually get more cooling to my lower back when the Elemax is not in place. Of course, I don't get the benefits of heat (in cooler days) and massage, so it's a quandary.

What I like
The heat and massage work great
Cooling fans are quiet
What I'd change
The fans don't cool as much as I had expected.
Instructions could be more thorough

 

Final Thoughts
I really like the heat and massage elements of the Elemax, but you can already get that in the less expensive HMT unit. While you might appreciate the Elemax's cooling aspect, it left me a bit underwhelmed. If given a choice, I would buy the HMT option over the Elemax and save some money. 
Update 9/8/21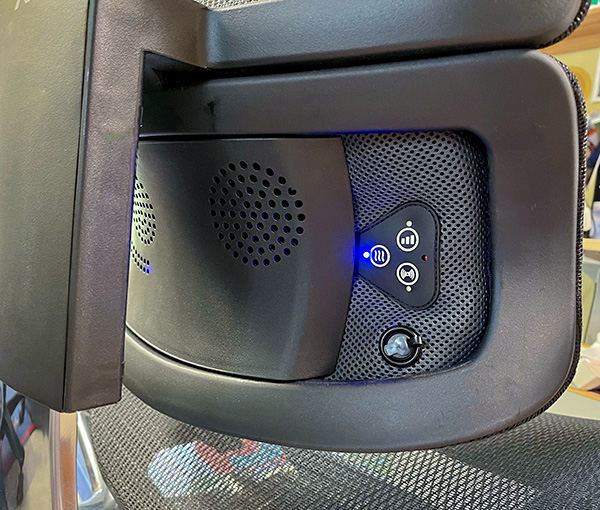 Last July, I reviewed the X-Chair Elemax Cooling, Heat and Massage Unit, an add-on to the X-Chair. I was critical of its cooling mode because airflow from the fans was inadequate. It turns out that X-Chair sent me the wrong plastic cover—it blocked the airflow of the fans. Well, that explained it! X-Chair sent a proper cover complete with holes that line up with the fans. Now I could feel the breeze when in cooling mode. Yet, I still prefer the window AC unit that's behind me to do the cooling. It just works better with a stronger breeze going through the X-chair's mesh. However, if you're in a home office with central heat/AC and have an X-chair, adding the Elemax with its fans may make you feel cooler in the dog days of summer as well as provide heat and massage for sore backs.
Price: $159.99 US  (HMT sells for $129.99)
Where to buy: XChair.com
Source: The sample of this product was provided by X-Chair.