We use affiliate links. If you buy something through the links on this page, we may earn a commission at no cost to you. Learn more.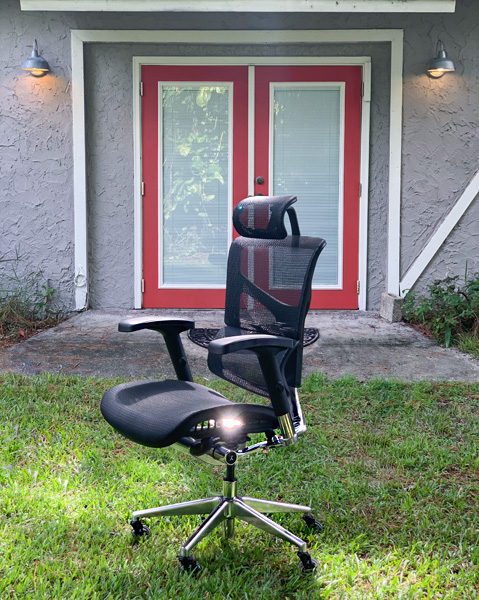 REVIEW – One of the results of the 2020 Covid-19 pandemic is that many people have gone from working at an office to working from home—me included. I haven't been to my office since March. Thanks to technology, I've been able to perform my job from my backyard studio building. If fact, working from home has been so successful within our division, we are debating returning to the office once the pandemic is over and continue working from home. All of this has led to a redefinition of the term "home office" for me. Since I now sit for 8-10 hours per day, my back began to rebel. It was time to re-think my office chair and that led me to the X-Chair. 
What is it?
The X-Chair is an office chair that comes with 10 ergonomic adjustments to better fit any body. Options include a headrest, upgraded wheel casters (locking or non-locking), and choice of materials—mesh, memory foam, and leather.
Specs
Chair width: 25.5-26.5 in.
Chair Height (without headrest): 37.5-40 in.
Chair Height (with headrest): 45-49 in.
Seat height: 17.5-21 in.
Note: Specs may differ depending on the chair.
Design and features
The X-Chair comes in many "flavors" that can be customized to suit just about any preference or body shape—something that can induce humility. Let me explain. When I was offered the X-Chair to review, I had a choice of any chair they made. After studying the many options, I decided on their X2 K-Sport Mgmt chair because of its softer and breathable K-Sport mesh. In my poorly insulated and humid Central Florida backyard studio building, a breathable mesh helps prevent back sweats from occurring.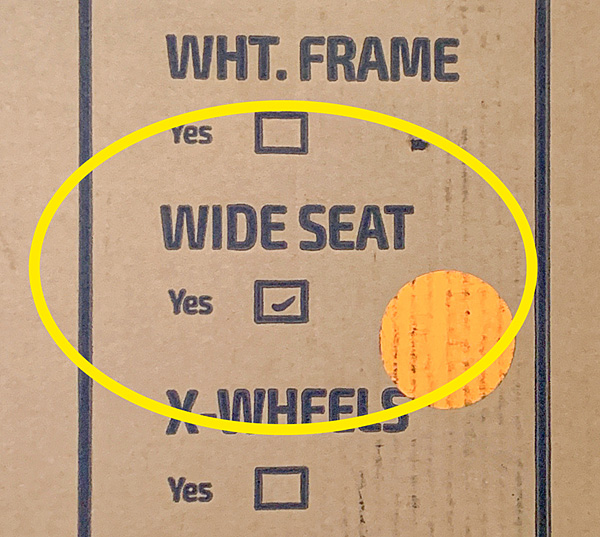 I chose the red option since I thought it would photograph better. However—when I provided my asked for height and weight, X-Chair "suggested" I opt for the wider seat which unfortunately only came in black. So I swallowed my pride and ordered the black version to support my wide posterior. To add insult to injury, when the chair arrived, Wide Seat was checked off on the shipping box. It took my lovely wife 10 minutes to stop laughing. I may need to lay off the candy and start walking.
There are 4 versions in the X-Chair range I'm reviewing. The least expensive X1 Flex Mesh Task Chair has fewer adjustments, but many features. The X2 K-Sport Mgmt Chair (this review) is a step-up from the X1 with upgraded mesh and more adjustments. X3 ATR Mgmt Chair comes with molded foam seats and and "Advanced Tensile Recovery" fabric (ATR) for added support and comfort. Finally, the top-of-the-line X4 Leather Exec Chair comes in either leather or Brisa—a polymer fabric softer and more breathable than leather according to X-Chair. Note that X-Chair makes other X-styled chairs not reviewed here.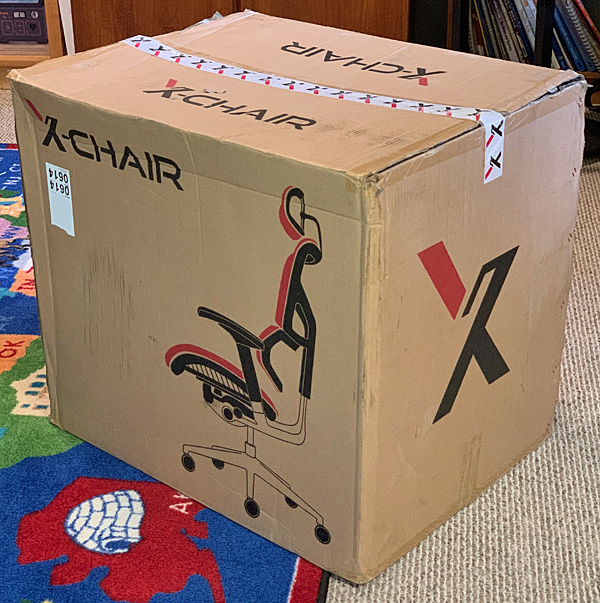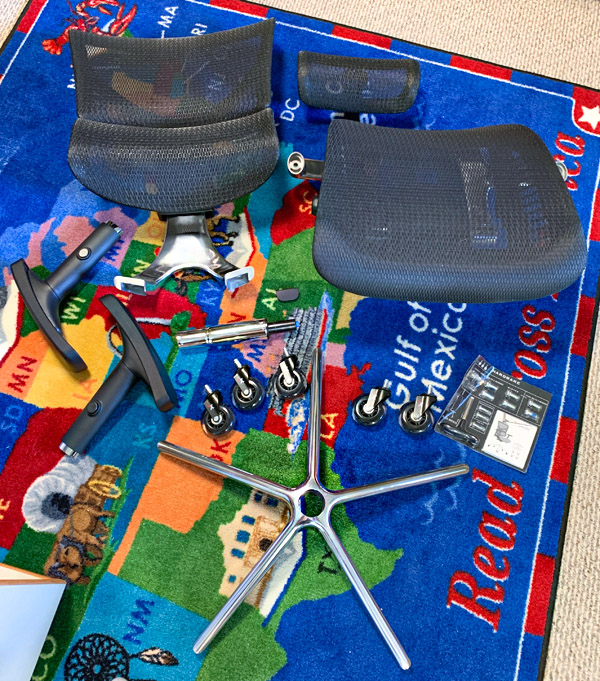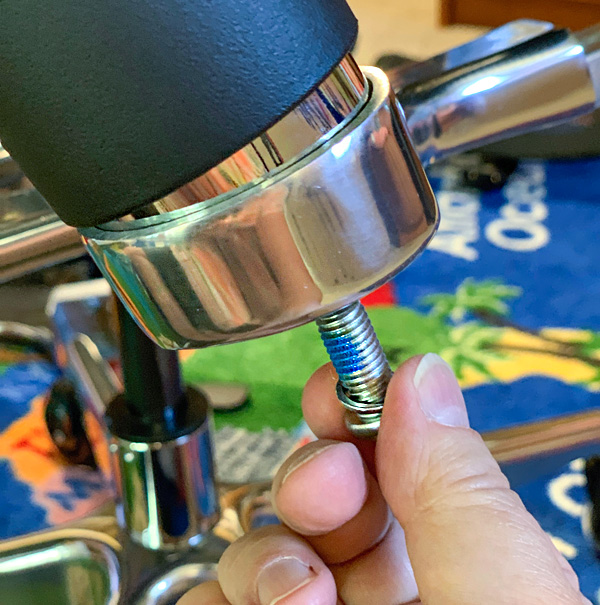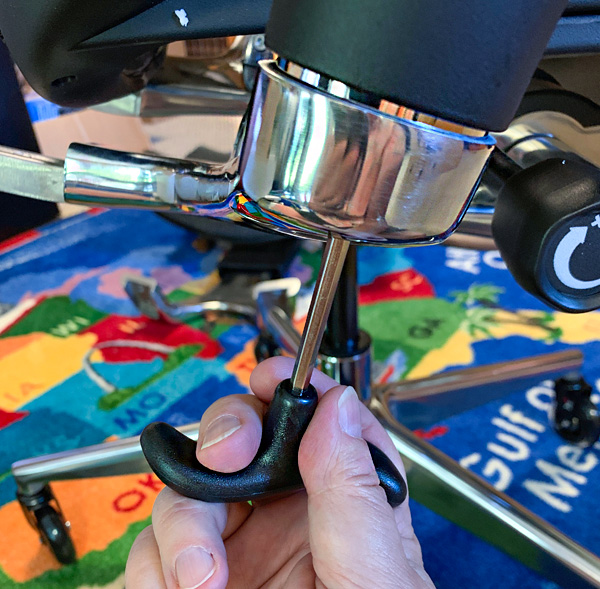 The X2 K-Sport Mgmt Chair arrived in a large, heavy (appx. 60 lbs.) box containing the X-Chair in pieces. Complete instructions were supplied and it was fairly simple to assemble. X-Chair supplied the parts and tools required—all good quality. Because I stopped to photograph the assembly steps, it took about 30 minutes. Your time to assemble should be about 15 minutes. A couple of things to watch for during assembly are making sure you read the correct instructions (they can differ depending on which chair you purchased) and remembering to raise and lower the seat to "set" the hydraulics.
Since there are 10 adjustments to the X-Chair, let's start at the top with the optional headrest and work down to the wheels.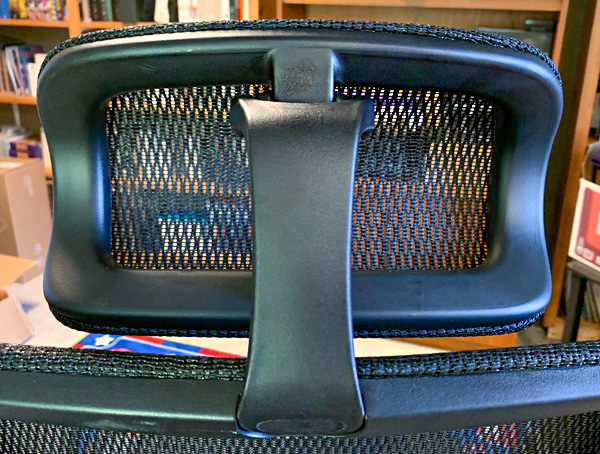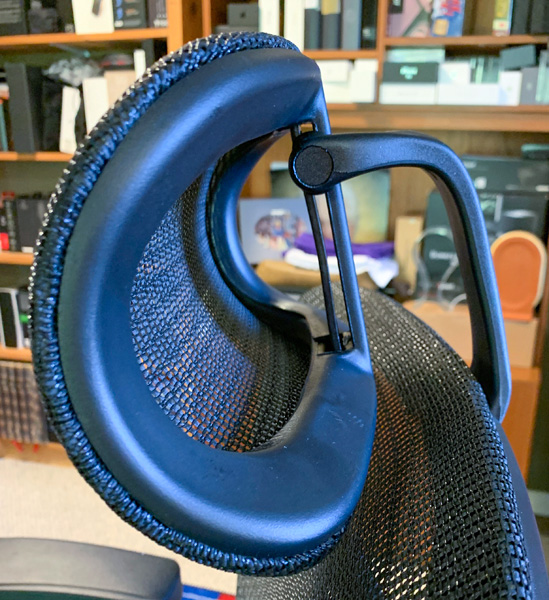 The X-Chair headrest is an extra-cost option. Its contoured mesh-covered frame is designed to match the curve of the back of the neck. It has a 4 in. height adjustment range. It can be angled, much like a car seat headrest. While I appreciate the headrest, I'm not convinced it's a necessity. I suggest first using the X-Chair without ordering the headrest to see if you really want or need it. It can be ordered separately later if desired.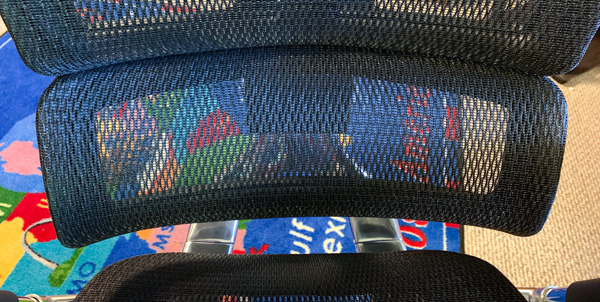 The seatback has a height adjustment range of 2.5 in. with half-inch increments. This may not seem like much, but you can feel the difference with each half-inch adjustment. Attached to the bottom of the seatback is what X-Chair calls the Dynamic Variable Lumbar (DVL) Support. The DVL does not have or need any adjustment. It constantly adjusts forward and backward depending on how you move in the seat. How high up or down the DVL support fits into your back depends on the seatback height since they're attached. Adjusting the seat back and headrest into the right position can take a few tries to get just right. I recommend trying different settings for a few days and it should become clear what your most comfortable setting is.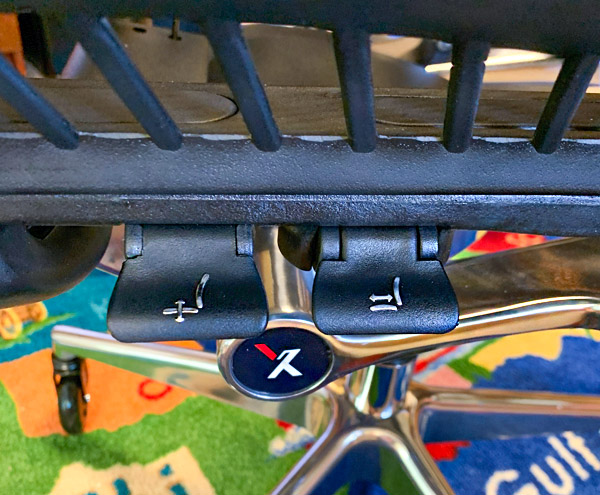 How the X-Chair tilts back is adjustable in a couple of ways. There's a lever that can lock and unlock the tilt mechanism. I originally had this locked—that's how I've always done it with other office chairs—until I realized that tilt can be a good thing. On the right side of the chair under the seat, there's a knob that can be turned to adjust the tension of the tilt—how easy the chair will tilt as you lean back. X-Chair calls this SciFloat Infinite Recline and they recommend that it be left unlocked. As I was adjusting the tension, I set it to the least resistance, which when leaning back, made me feel like I was going to fall backward out of the chair. Turning the knob clockwise (many, many times) slowly applied enough resistance so that leaning back felt more natural while providing a secure feeling. This is another X-Chair adjustment that will require many settings until you reach your desired comfort level.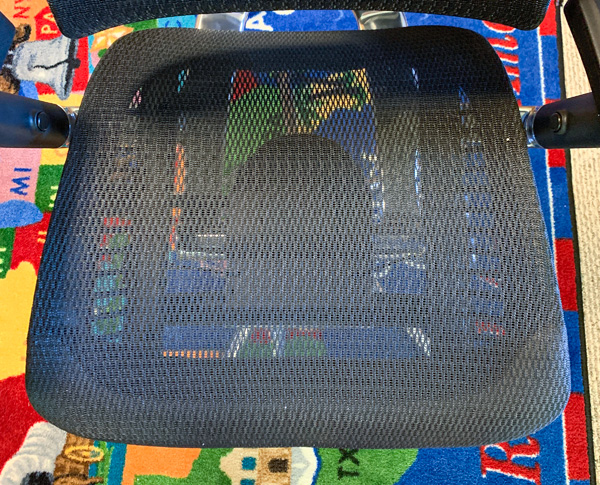 The (wide) seat has just the right amount of "spring" when you sit down. It's supportive, yet the stretchy mesh gives a bit so it doesn't feel like you're sitting on a bench. The same is true for the seatback. As you lean back, it gives just enough to provide support and comfort. I don't find myself constantly squirming and repositioning myself to relieve soreness or to get comfortable.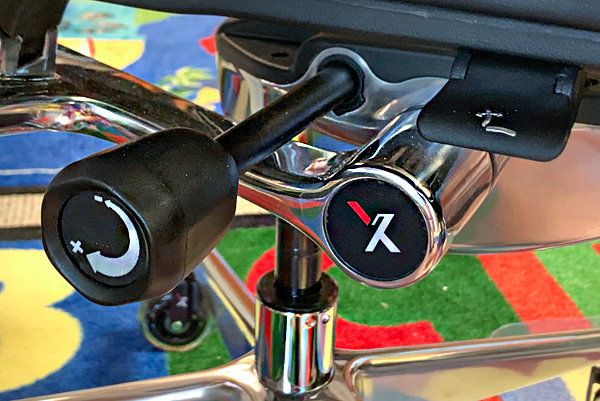 X-Chair recommends that seat height be set so that your feet are flat on the floor and the knees are at a 90° angle. This adjustment felt strange to me because previously I've always had my office chair set higher. It's taking some getting used to as I adjust (get it?) to X-Chair's recommended seat height, but I have to admit: It feels more comfortable. 
In addition to seat height, there's seat depth, meaning that the X-Chair's seat can slide forward and backward. This is an important (and often overlooked) setting as it can affect blood circulation in legs. If your leg goes to sleep while sitting, the seat depth should be changed. Both seat height and depth have adjustable levers below the seat.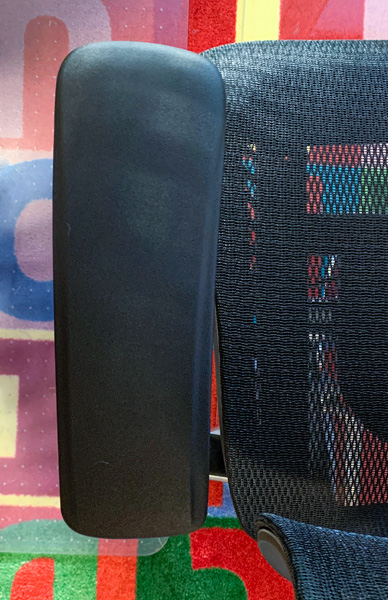 The X-Chair's firmly padded armrests are height adjustable (like almost any office chair). However, the arms can swivel out (or in), slide forward, backward and side-to-side. There's little reason that the arms can't be positioned to the right spot for the most comfort. Also, the arms can be easily re-positioned throughout the day if desired.
The 5-wheeled aluminum base of the X-Chair is heavy and solid-feeling. During assembly, the chair seat assembly slides down onto the base holding it firmly in place. There's no wobbly feeling to the chair as I've had with cheaper chairs in the past.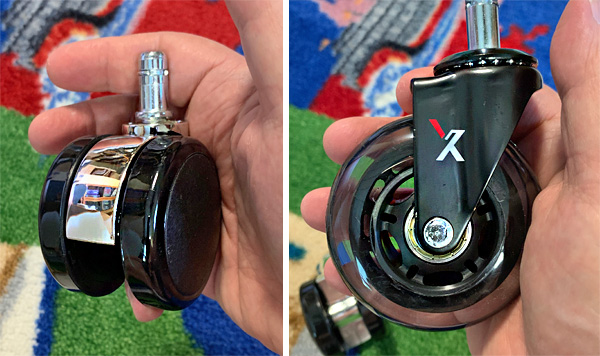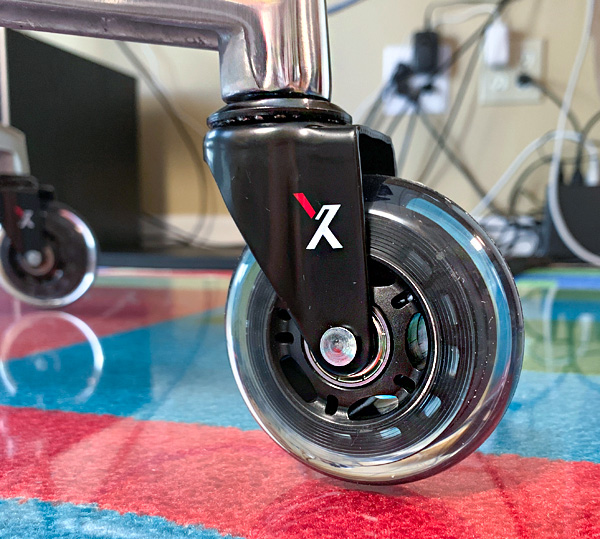 Although standard casters are supplied, I opted for optional non-locking X-Wheel Blade casters (locking version is available). The X-wheels look like what you find on a skateboard or a good pair of roller-blades. The polyurethane wheels spin more freely and are nicer to hard floors and carpet than standard casters. My chair mat is glass (reviewed here) and the wheels roll almost too easily. Even so, at $50, this upgrade is recommended. They also look really cool.
The X-Chair X2 K-Sport Mgmt chair is as comfortable (and less expensive) as the Herman Miller Aeron chair I used at an office where I previously worked. 
What I like
Almost infinite adjustments
Extremely comfortable
Tough, breathable mesh fabric
Smooth optional casters
What I'd change
More expensive than many office chairs
The wide seat version only available in black

Final Thoughts
If I was only using my home office on nights and weekends for freelance work (as I've done for the last many years), I probably wouldn't have bothered with a better chair. However, working from home for the last 5-6 months for 8-10 hours per day has seriously re-arranged my priorities in office furniture. The X2 K-Sport Mgmt chair fits perfectly into my "new normal" (I hate that term). It's extremely comfortable and easily adjustable as I sit hour after hour glued to my computer. Now all I need to do is get off my wide seat and go walking from time to time.
Price: $989.98 US  — Chair ($799.99), Headrest ($90), Wide Seat ($50), non-locking wheels ($49.99)
Where to buy: Xchair.com and Amazon
Source: The sample of this product was provided by X-Chair.