We use affiliate links. If you buy something through the links on this page, we may earn a commission at no cost to you. Learn more.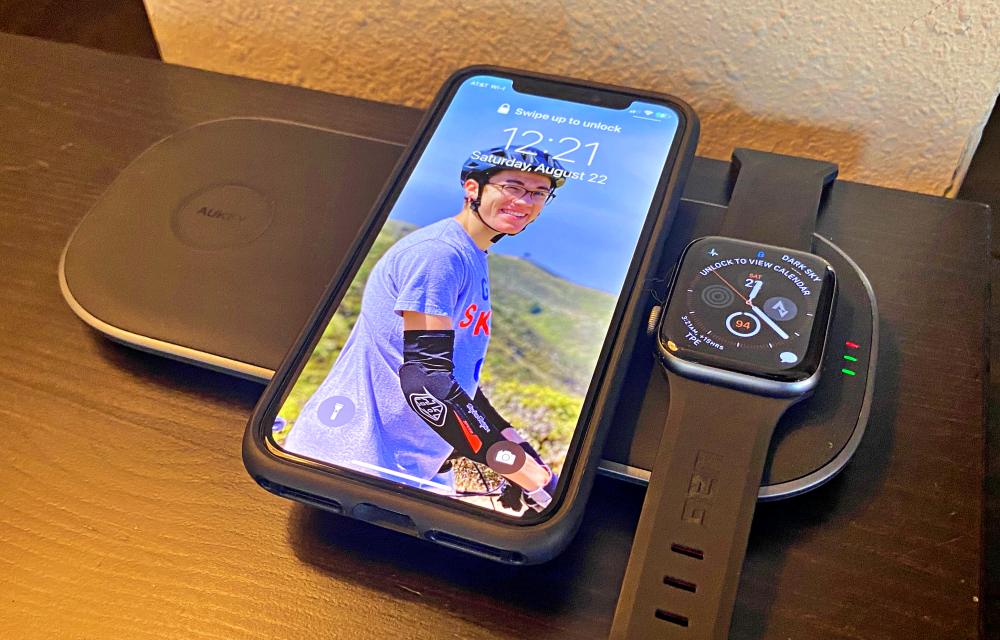 REVIEW – There's a few key places around the house where it's super handy to be able to charge your devices. Aside from the bedside table where charging (especially an Apple Watch) is a requirement for me, there are definitely other places you may want to charge up. The living room is one of those for us as it's where we hang out and also where I tend to sit when I'm updating the software on my devices – something the Apple Watch demands a power connection for. Aukey's new Graphite Trio Wireless Fast Charger fits my needs exactly. Sound interesting? Come on in.
What is it?
Aukey's Graphite Trio is a speedy wireless charger designed to support 2 Qi devices as well as an Apple Watch if you supply your own cable.
What's in the box?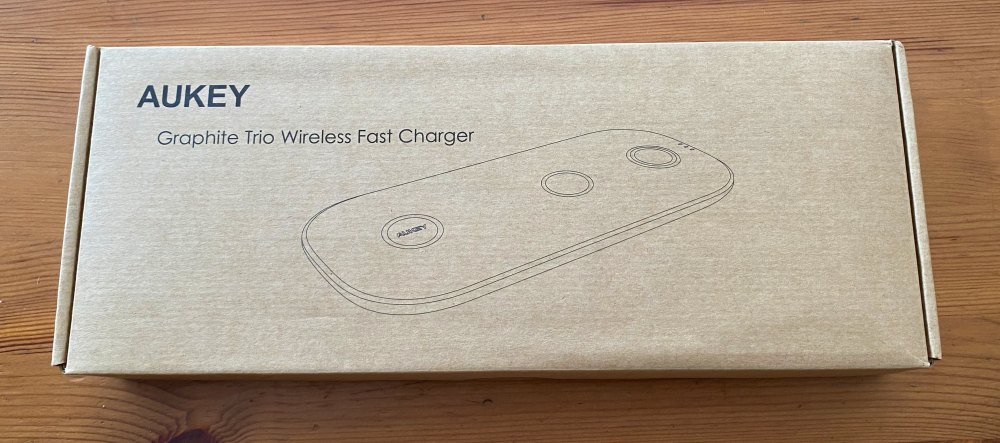 Graphite Trio wireless charger
Power adapter
User Manual
Warranty Card/Sticker
Hardware specs
Power: AC Adapter Input – AC 100-240V 0.8A 50/60Hz | Adapter Output/Device Input – DC 12V 3A (36W total)
Device Output: Qi positions – 5w, 7.5w, 10w | Internal USB – DC 5V 1A | Total power – 25w
Indicators: 3 bi-color LEDs on device (red/green)
Dimensions: Device – 210 x 91 x 16mm and 189g | Adapter – 64 x 63 x 29mm and 156g
Design and features
The top of the charger has two Qi charging locations identified by raised circles and a location for installing your own Apple Watch charging cable.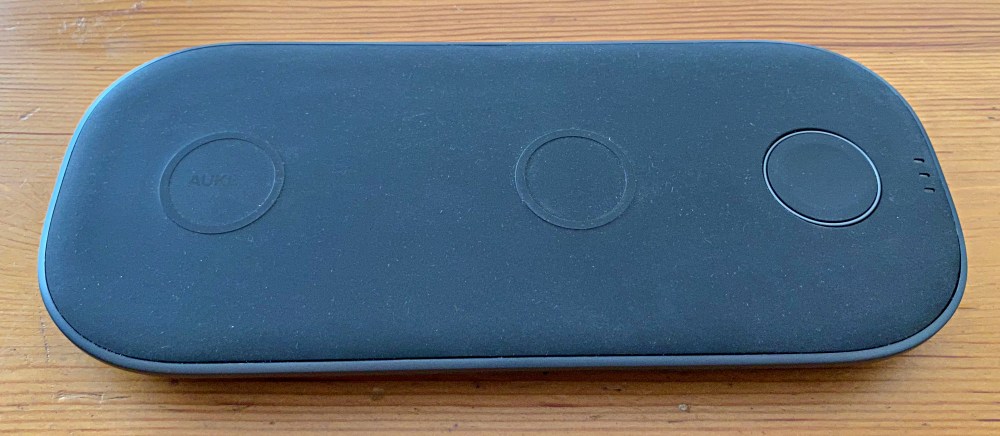 There are 3 LEDs on the right side of the charger that help to communicate that the device is powered and if a Qi device is charging properly from one of the pads.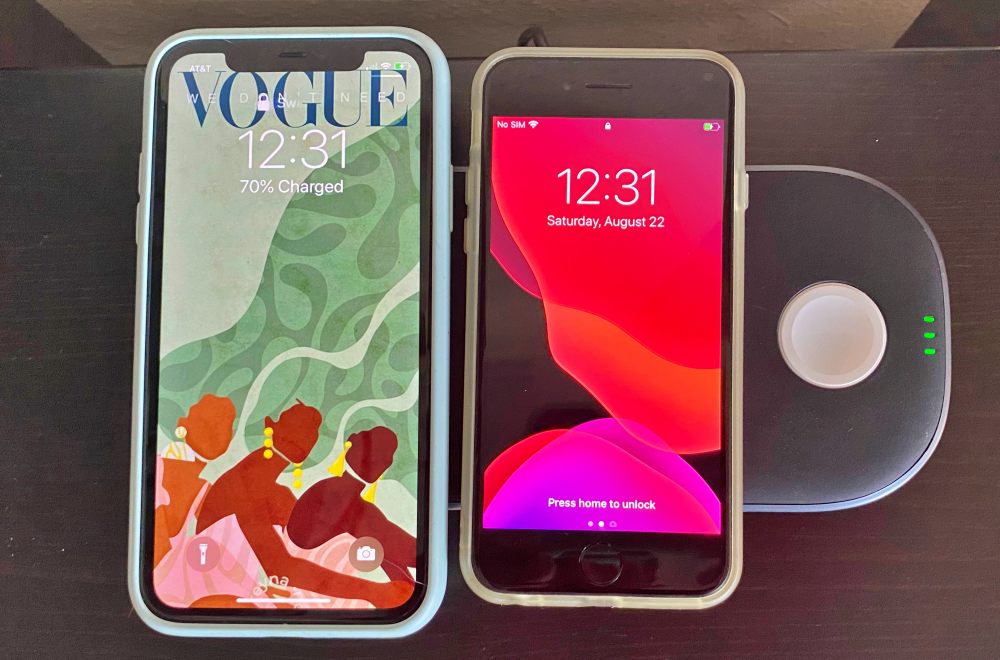 A single barrel jack on the back supplies the power to the entire unit.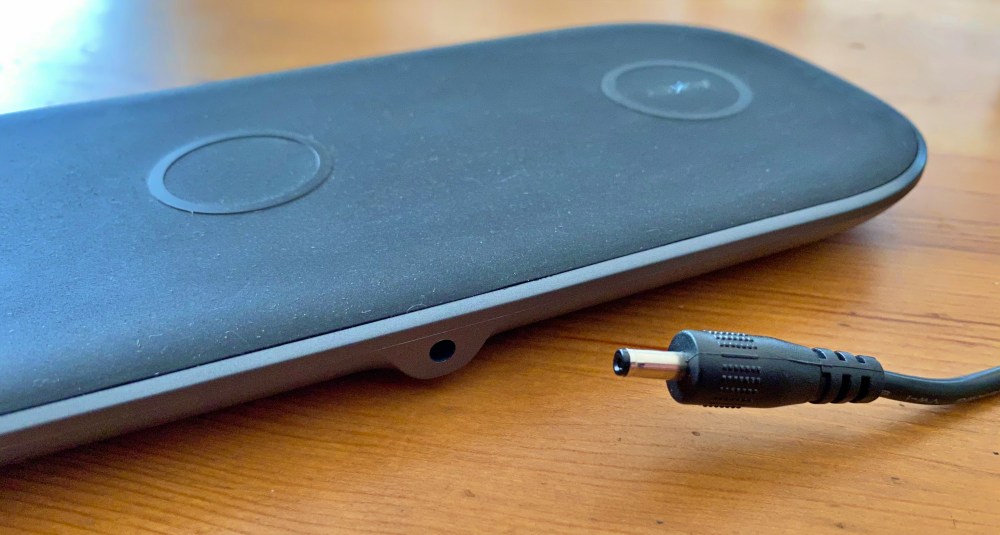 Underside, a removable panel exposes a USB port for connecting an Apple Watch charging cable and a maze-like cable-management system for keeping it neatly tucked away.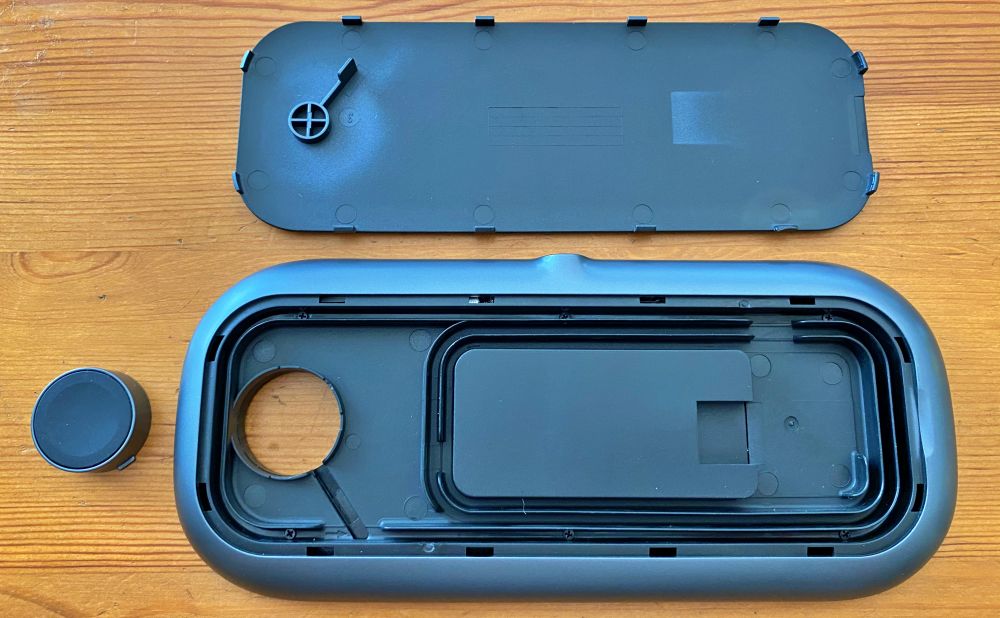 Setup
I'll assume if you're looking at the Graphite Trio Charger that you're an Apple Watch user. If not, you'll only need to follow the first step here to set up the product for Qi charging.
Unpack everything and connect the wall adapter to the barrel jack on the back of the unit. The first of three LEDs will turn green showing that the unit is correctly receiving power. You're now set up to use either of the Qi charging locations.
The Apple Watch location won't do anything until you add your own Apple Watch Charger cable. To do this, disconnect the power cable to the Trio and flip the unit over.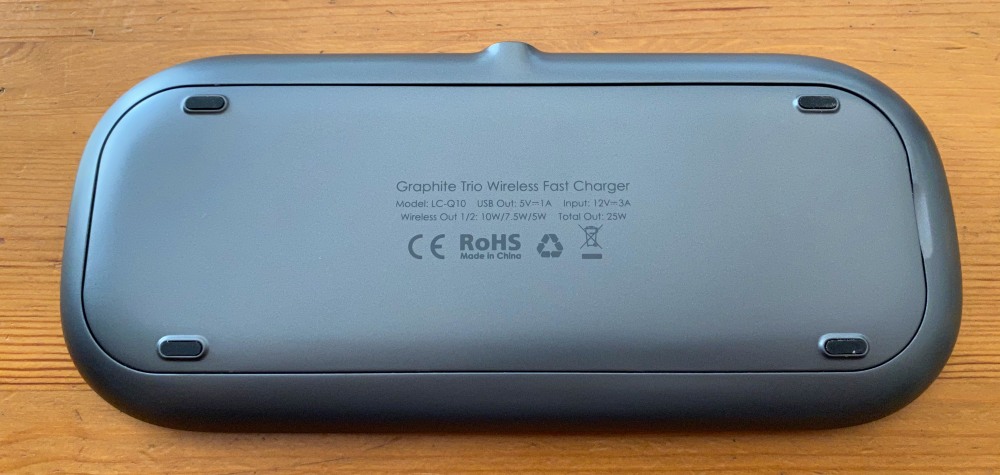 Use the finger scoop on the right end to pop off the bottom plate. Inside there's a fun race track for you to push your cable into.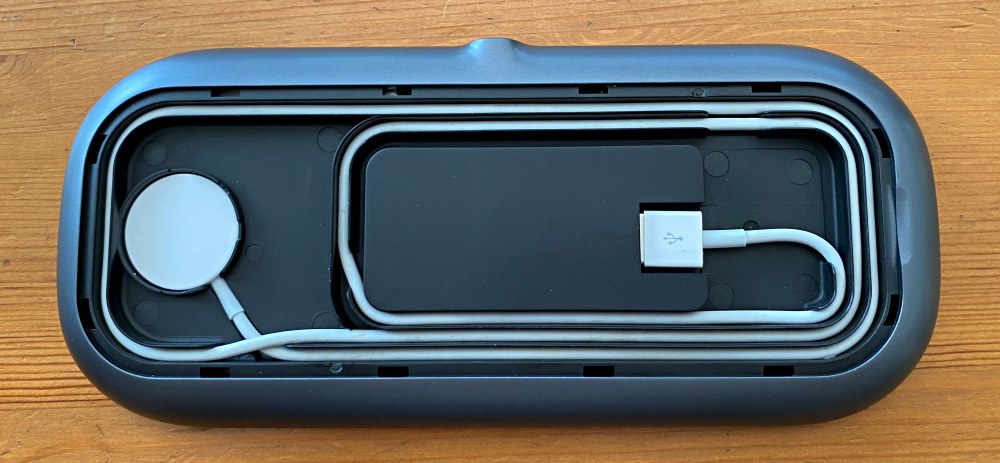 Start by placing the watch module (charging side down) and then wedge the cable into the outermost track until you finish a loop. Cross to the 2nd track and then loop around again until you get to the USB port. Insert the USB connector and then tuck any remaining cable into place. Replace the bottom cover, flip the unit over and reconnect the adapter.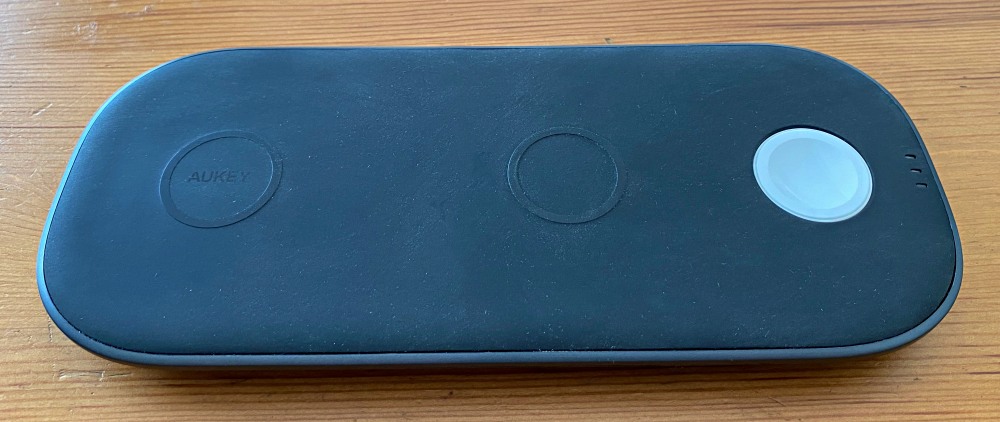 You're now able to charge your Apple Watch as well.
Performance
As you may have seen me write before; I love it when things just work. Drop a Qi compatible device into place and it starts charging. The corresponding LED will change from Red to Green when a device is placed correctly and receiving a charge. They're aligned as follows…
Top LED ~ Left pad
Middle LED ~ Right pad
Bottom LED ~ Power to charger is present

The Apple Watch charges (and shows you it's charging) as you would expect since it is an Apple cable you've installed into the Trio Charger. The circular charge pad fits into the cavity with some good resistance and will hold its position.
It is possible to push too far resulting in it sitting proud and tilted which you can then dial in from the top. Similarly, if you push down from the top with your thumb, you can get it to sink where you'll have to open the bottom to correct it. Seeing as it's a magnetic connection between the watch and the charger, you shouldn't ever need to apply force, so I doubt this will happen other than during initial setup.
The top surface of the charger has a rubbery feel which is great for keeping anything exactly where you set it. Unfortunately it has a nasty side effect of picking up every bit of dust and lint like a magnet. A quick wipe with a damp rag will solve that, but you'll be doing it regularly.
The wall charger has a permanent cable with a barrel connector. It works just fine, but you are limited to the ~4′ cable length without a way to extend.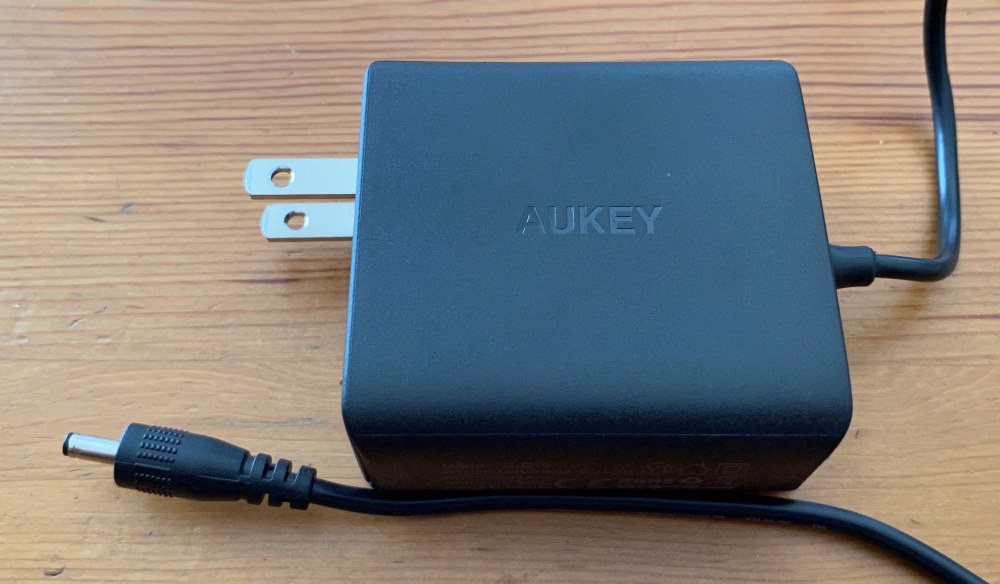 Other than that the Graphite Trio Charger works flawlessly. Some really thick cases might not work or those with a wallet backside, but this Otterbox with a Pop-Socket had no issues charging.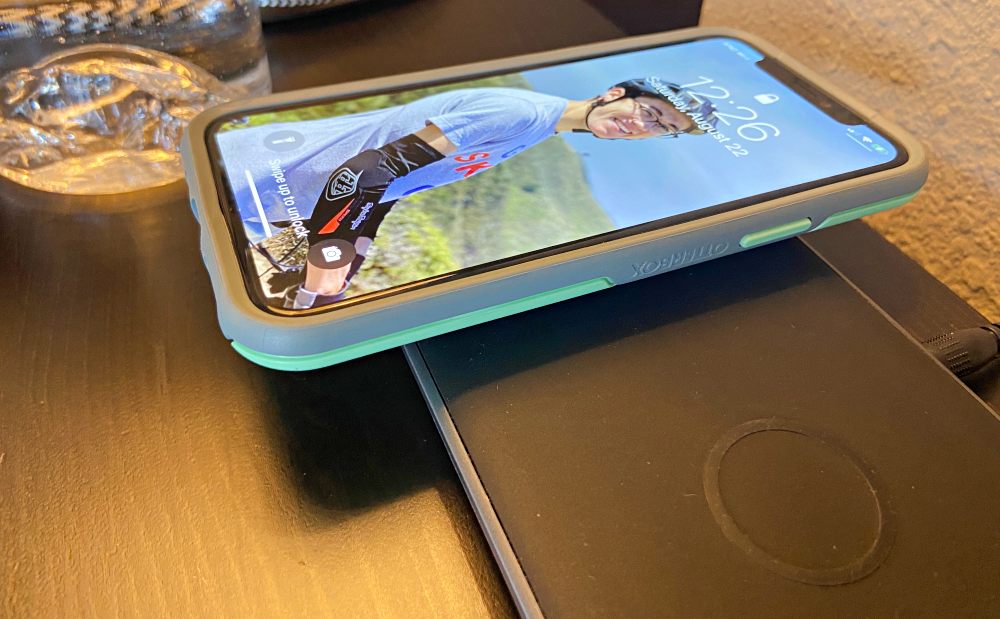 One pair of wireless earbuds in their case required more precise placement, but the embossed circles on the Trio helped find the sweet spot.
What I like
3-1 charger
Power supply included
Enough room for larger phones side by side
What I'd change
Use a non-lint-magnet surface material
Final thoughts
Wireless charging is super convenient as I'm sure you're all aware. The Graphite Trio Wireless Charger from Aukey is a great solution for anyone looking for a dual Qi charger, and if you're an Apple Watch wearer it's even better. Keep in mind you'll need to bring your own Apple Watch cable, but that's not an uncommon request accessories make.
Price: $35.99
Where to buy: Amazon
Source: The sample of this product was provided by Aukey