We use affiliate links. If you buy something through the links on this page, we may earn a commission at no cost to you. Learn more.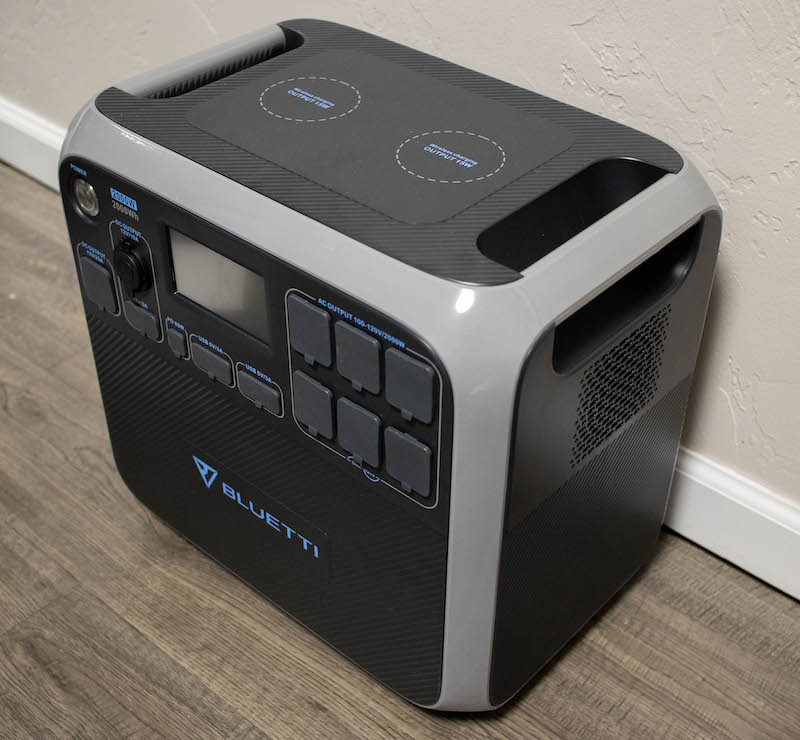 REVIEW – It seems like every few months we're reminded of the fragility of our modern infrastructure with events like earthquakes, winter storms in Texas, pandemics, and other disasters.  The Bluetti AC200P 2000Wh/2000W Portable Power Station is an option for emergency battery backup, and on paper it would also be great for RV/cabin use or in areas where power outages are common as a battery backup for your personal "grid".  I've tested and used this monster power station for a few weeks, and I'll try to distill my many thoughts into something coherent for you.
What is it?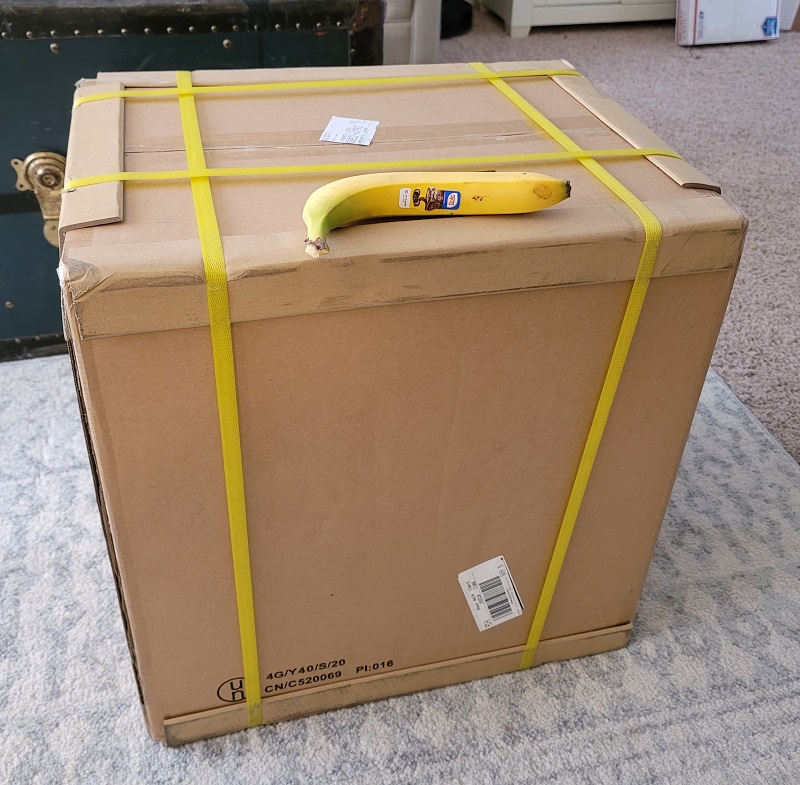 The Bluetti AC200P 2000Wh/2000W Portable Power Station is a large "portable" power station.  I put portable in quotes because it stretches the definition a bit, but technically I suppose it is.  This power station has a large energy storage capacity, and the ability to output to up to 17 devices at once at up to 2000 Watts (enough for nearly anything electric).
What's in the box?
Included in the (huge) box is the Bluetti AC200P 2000Wh/2000W Portable Power Station, a 400 Watt AC wall charger with US 3-prong plug, a PV Solar Charging Cable (MC4 to XT90), a Car Charging Cable ("Car" to XT90), an XT90-To-Aviation Plug (input), the user manual, warranty card, and Certificate of Qualification.  Everything was very well packed, double boxed and reinforced.  I tweaked a lower back muscle trying to move the giant package into my house.
Hardware specs
Battery details: LiFePo4 Cells, 2000 Wh, 3500+ cycles to 80% degradation, 3-6 month shelf life (recommended top-up charge schedule), MPPT Charge Controller management system and low battery protection
Estimated charge times:  800 Watt Refrigerator – 2.1 hours, 60 Watt CPAP Machine or Laptop Power Delivery – 28 hours, 12 Watt fan – 140 hours, 100 Watt LCD TV – 17 hours
Size: 16.5 x 15.2 x 11 inches (42 x 39 x 28 cm)
Weight: 60.6 pounds (27.5 kg)
Safety systems: Battery Management System (BMS) Short Circuit Protection, Voltage Control, Temperature Control
Design and features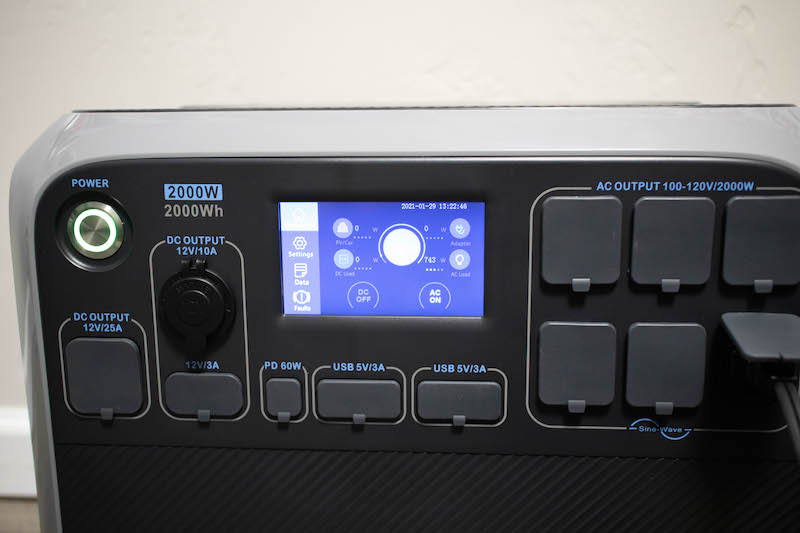 I really like the layout of the Bluetti AC200P 2000Wh/2000W Portable Power Station.  A decent screen takes the top center area, flanked by a plethora of power output ports – arranged AC ports on the right and DC ports on the left.  The power button has a nice LED ring light to indicate it's on and feels like it's built to last for decades (a trend that will continue throughout this product).  Most of the exterior is a glossy or matte tough ABS plastic material and seems like it would take a ton of punishment without complaining.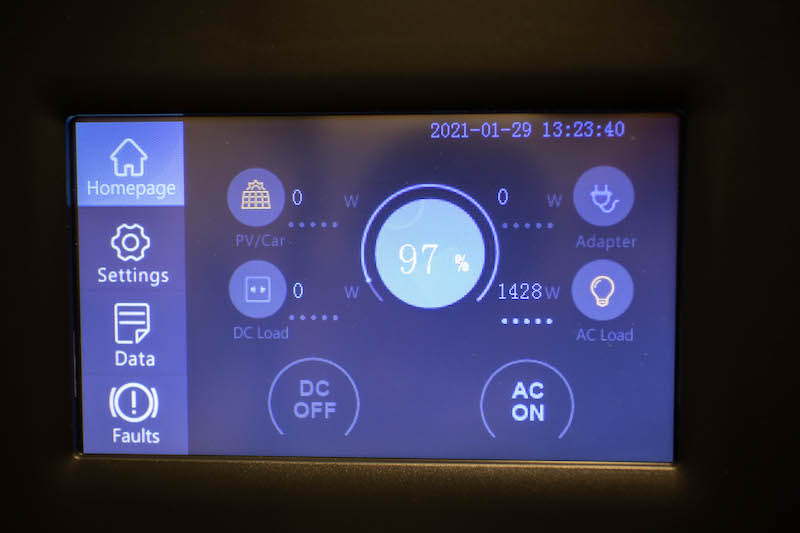 The screen itself is easy to read and the menus are fine (I've seen better, but I've definitely seen and used worse as well).  The touch interface is listed as a resistive type, but if it is then it's probably the best resistive screen I've ever used.  Interacting with it felt like using any modern capacitive touchscreen. I like that the main default view lists important information at a glance like which ports are turned on, and instantaneous power draw.  The one thing I'd have really liked to see here would be an ETA-until-dead based on current power draw.  I couldn't find this information anywhere during operation, and it seems like it would be the most useful piece of info, especially if you're powering things during an outage or overnight.  The banks of AC and DC ports have to be turned on to be used, and they're all-or-nothing for each type.  The "ECO" mode (on by default) automatically shuts things off after some time if nothing is being used, preventing phantom drain if you forget to turn off the Bluetti power station.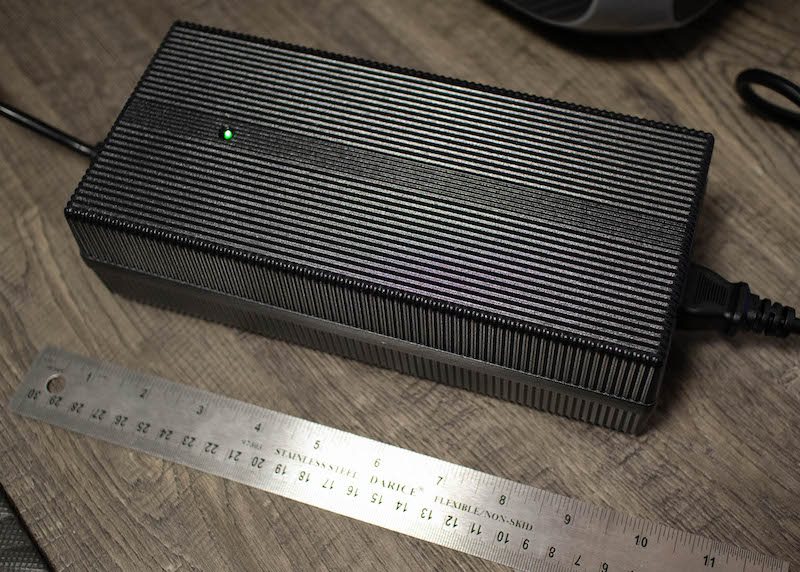 The massive 400 Watt power brick resembles your typical laptop brick but is at least 2 or 3 times the size you're used to.  It does a good job of charging the Bluetti AC200P 2000Wh/2000W Portable Power Station from any standard wall outlet.  The trend of tankiness continuess here, it looks built to last through an apocalypse.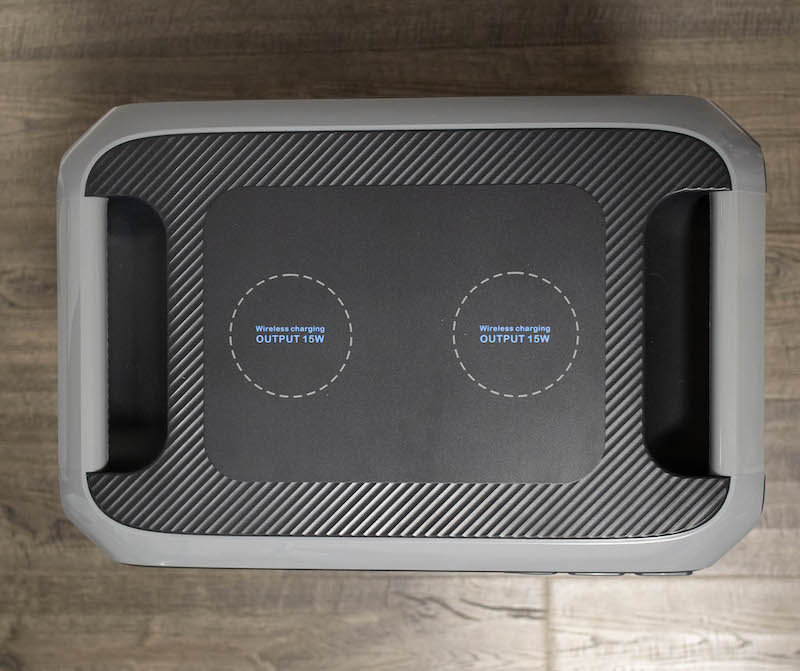 The view from the top shows the two wireless charging pads and two carrying handles, as well as the striped pattern design.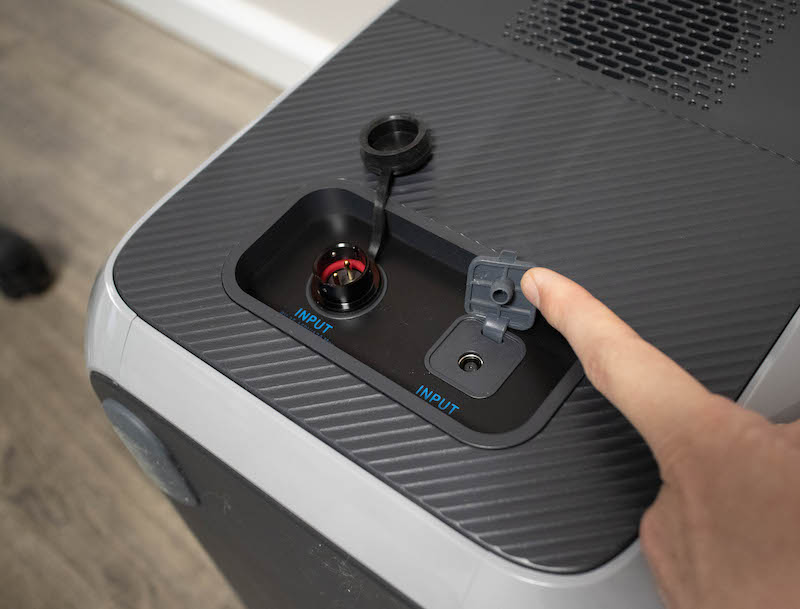 The left bottom side has two power inputs: the AC input, and a DC car/solar input.  Interestingly, Bluetti sells an AC adaptor that can be used on the DC input as well, to allow for faster charging from AC power with 2 adaptors.  I didn't have this to review, so I couldn't test it, but this is a nice feature if you need to be recharging it quickly.  Above these is a vent for the fan.  I never heard this kick on, but I was testing in February in Utah so I'd bet that with outdoor use in warmer climates it would see more use.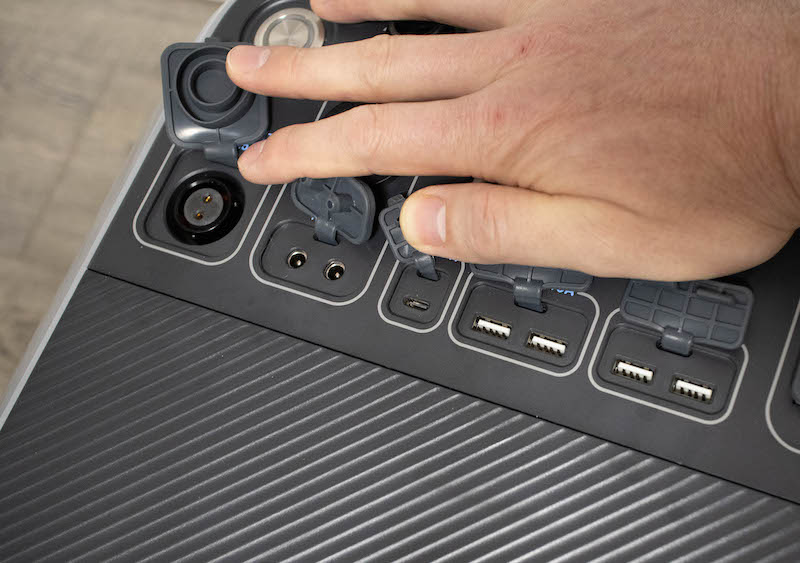 Pictured here are the DC outputs:
1 x DC 12V/25A
2 x DC 12V/3A, 4 x USB-A 5V/3A
PD (power delivery – commonly used on modern laptops) 60 W USB-C Fast Charge (20V/3A, 15V/3A, 12V/3A, 9V/3A, 5V/3A)
I tested the PD and USB-A ports, as well as the car-cigarette-lighter style DC output port.  All worked as expected, though the low 3A output on the USB-A ports means slow charging, fast charging is only supported on the USB-C PD port.  I was getting the rated 60 Watts on PD on multiple laptops, and my 2018 Macbook Pro could theoretically recharge ~20 times from dead from this power station.  I didn't have the patience to fully test this.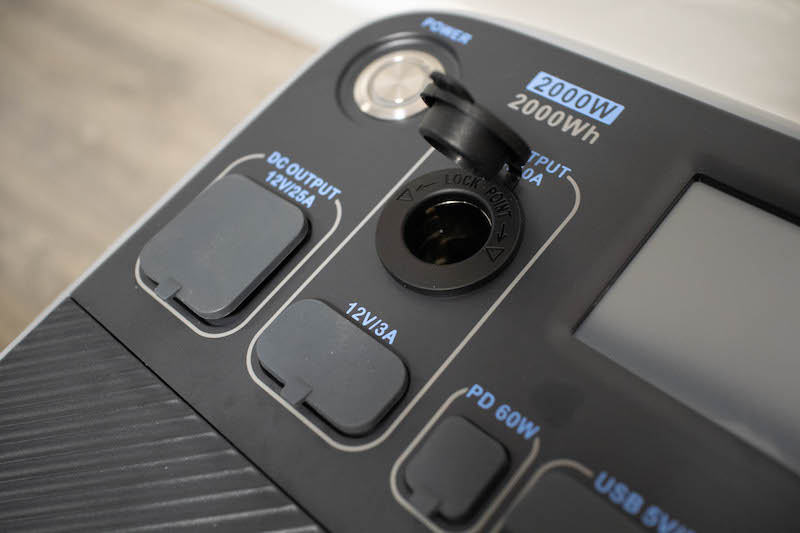 And one more DC output I couldn't get in the last shot:  DC 12V/10A locking – I don't have anything that would plug into this, but since everything else worked flawlessly I'd expect this to be good as well.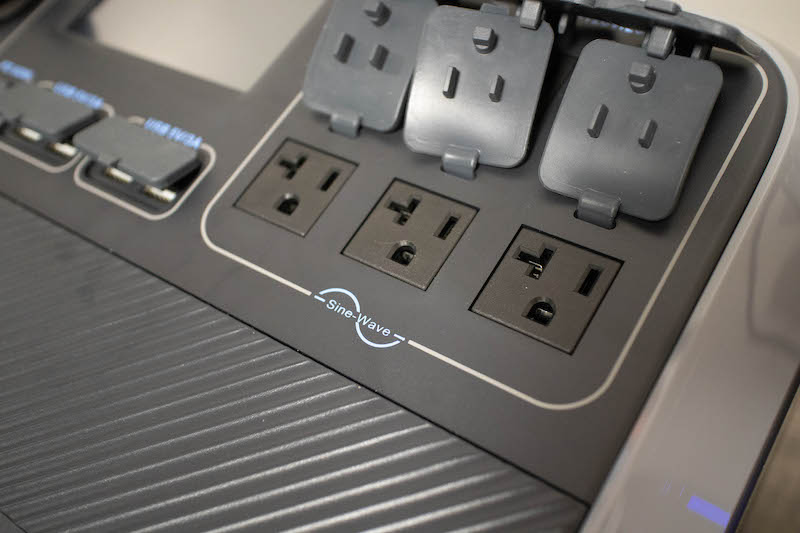 There are 6 x AC110V outlets (all Pure Sine-Wave).  All of these can be used simultaneously, for a maximum sustained power output of 2000W shared between them.  I pushed a single port up to sustained 1500W and the Bluetti AC200P 2000Wh/2000W Portable Power Station had no issues at all doing this for an hour.  Obviously, the higher the wattage you draw, the faster the battery drains on the power station.  If you're pulling the maximum 2000 Watts, you'd drain this monster in about an hour.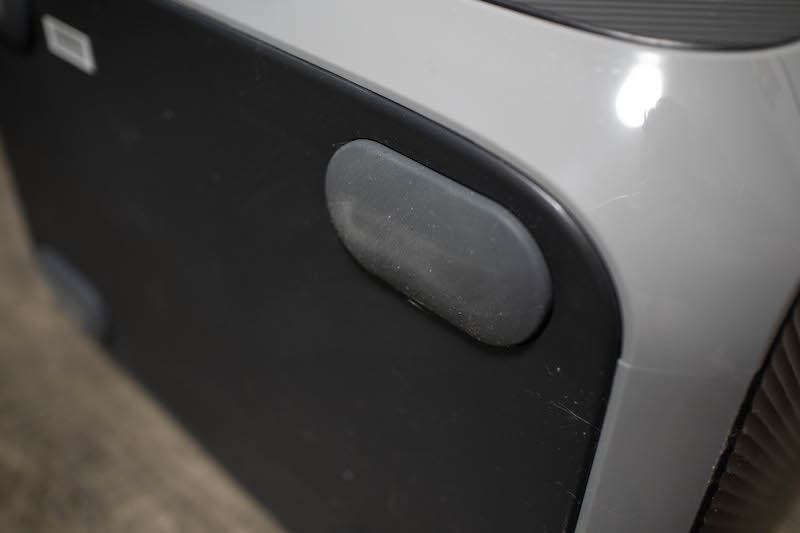 On the bottom are  rugged  feet.  These seem to be rubberized and provide a nice grip on most surfaces so the power station doesn't move.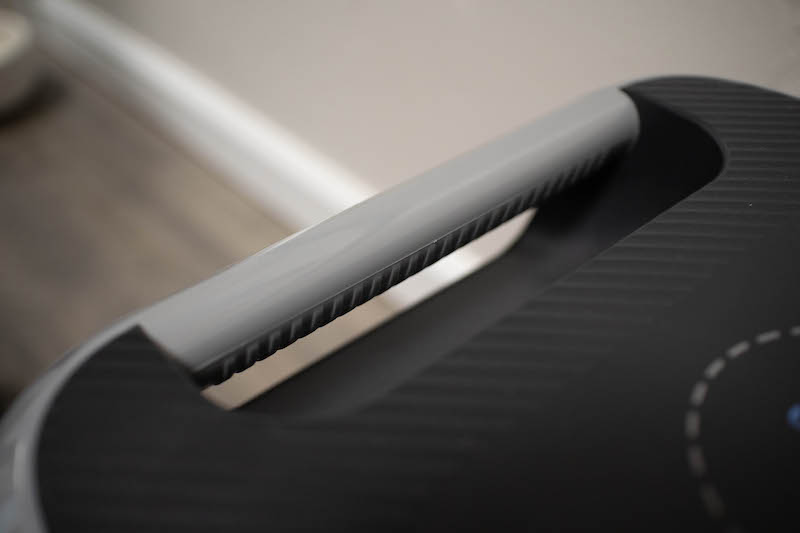 The handles are very sturdy with no flex.  I was able to move the Bluetti AC200P 2000Wh/2000W Portable Power Station around fairly easily, but at over 60 pounds this is not something you would want to do frequently.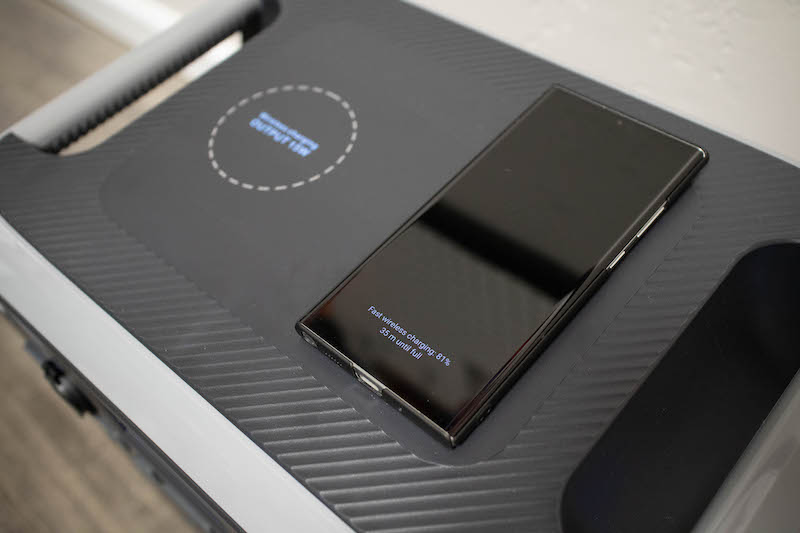 The wireless charging supports up to 15 watts for both pads, so if you use both they will split the output between them.  They are only single-coil, so it can be a bit tricky to get your device's charging area in just the right spot.
I wanted to talk about the battery cells for a moment, because they set the Bluetti AC200P 2000Wh/2000W Portable Power Station apart from many of the competitors I researched while testing for this article.  Most power stations and battery backup devices on the market use Lithium Ion batteries, while the Bluetti uses LiFePo4 (Lithium Iron Phosphate) cells – the same higher quality and longer-life type used in many modern electric vehicles.  These cells are selected for vehicle use because of the long life, safety, and stability.  Rated battery degradation is over 3500 discharge/recharge cycles to degrade to 80%, where lesser batteries would be 2500 or even lower.  This makes the Bluetti an even better choice than most for some situations, like use in a solar off-grid installation.
I obviously couldn't test long term storage in a 30 day review period, but I did leave it untouched for a week, and it was at exactly the same percentage/voltage that I started with, so it seems like it will hold a charge for quite a while.
Installation and setup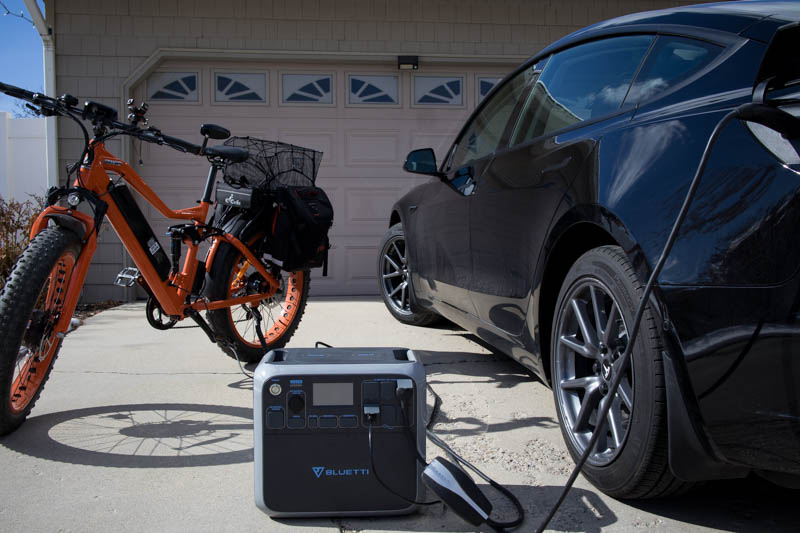 Setup and installation was about as simple as you'd expect: unbox and plug in the AC adaptor to charge (my review unit was at about 70%, it's estimated to take 6 hours of AC charging from dead to full, with the optional 2nd AC adaptor they say this can be as fast as 3.5 hours), then press the power button to start using the Bluetti AC200P 2000Wh/2000W Portable Power Station.  When I was assigned this review, I had a pipe-dream of mounting it on my heavy duty E-Cells Monarch electric bike and doubling my range up into the mountains.  This dream was shattered by the reality of the size and weight of this beast: even though on paper my rear rack and bike can handle the weight, it was just too unwieldy to mount it.  However, I look forward to bringing the Bluetti on future excursions to rapidly charge my bike for multiple rides in a single day (instead of travelling to a long AC wall charge between rides).  My bike is a 1500 WH model, so the Bluetti AC200P 2000Wh/2000W Portable Power Station should be capable of doing a single full recharge.  To charge a Tesla and get a few meager miles of range you would need a generator bonding plug (in my picture above I plugged directly in – this didn't work).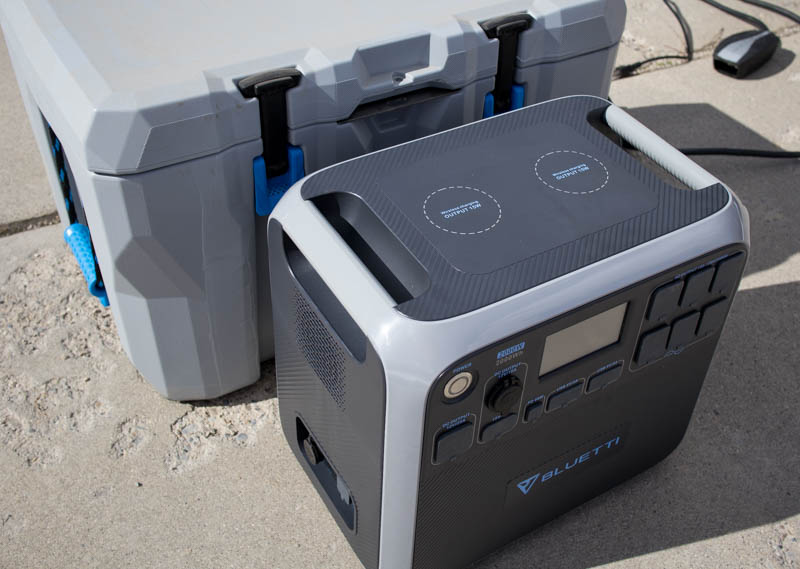 The Bluetti AC200P 2000Wh/2000W Portable Power Station is portable, it's roughly the same size as a small cooler.  I could see this being a great product for RV/car camping trips if you need to run a small appliance or CPAP machine for extended periods.  It would also be great integrated into a solar grid for a small cabin/tiny-home/RV scenario.  This would allow some lighting and maybe a small refrigerator to run overnight, then recharge via solar during the day.  I could see it being good as an emergency backup power source as well, you could even integrate it into your existing setup for seamless recovery in case of a power outage: it can power essential things while being plugged in and charging from the wall, so as long as your power usage doesn't exceed the charging rate it can operate indefinitely and then automatically just keep working from battery backup if the power is cut.
What I like
Ease of use
Massive power storage for the size
Large number of both AC and DC ports
Rugged build, seems built to last
2000 W output allows for power-hungry devices (for a short time)
Higher quality battery cells – many competitors use lesser ones
What I'd change
An estimated time-to-empty at current draw would be hugely useful
I'd like to see an option to keep it at 80% instead of 100% when always plugged in for better battery cell health (but maybe this isn't as important for LiFePo battery cells?)
USB-A ports are all standard charging – would have liked fast-charging options on these
Final thoughts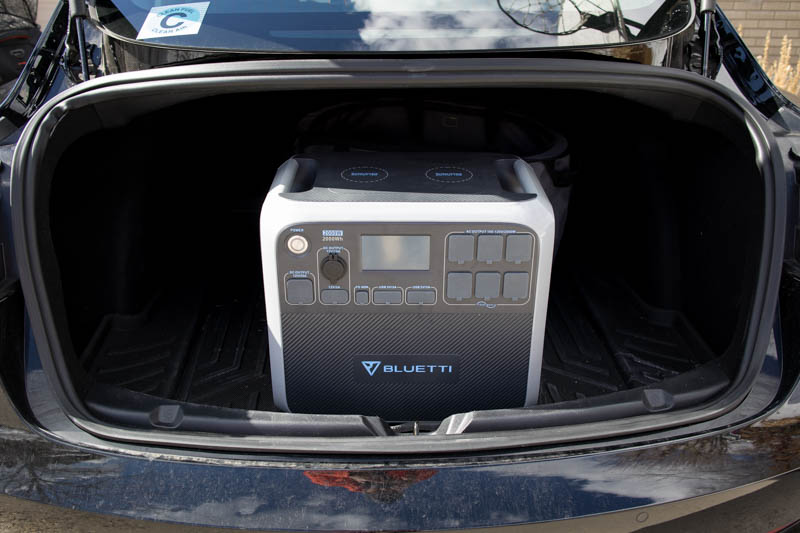 The couple of weeks spent with the Bluetti AC200P 2000Wh/2000W Portable Power Station left me impressed.  This power station can do pretty much anything I can throw at it with ease, the build quality seems to be solid.  The specs are competitive with other models on the market, and it exceeded my expectations at nearly every step of the way.  Two out of two thumbs up!
Price: $1999 (on sale for $1799/$1798 on Bluetti and Amazon at time of review)
Where to buy: Bluetti or Amazon
Source: The sample for this review was provided by Bluetti