We use affiliate links. If you buy something through the links on this page, we may earn a commission at no cost to you. Learn more.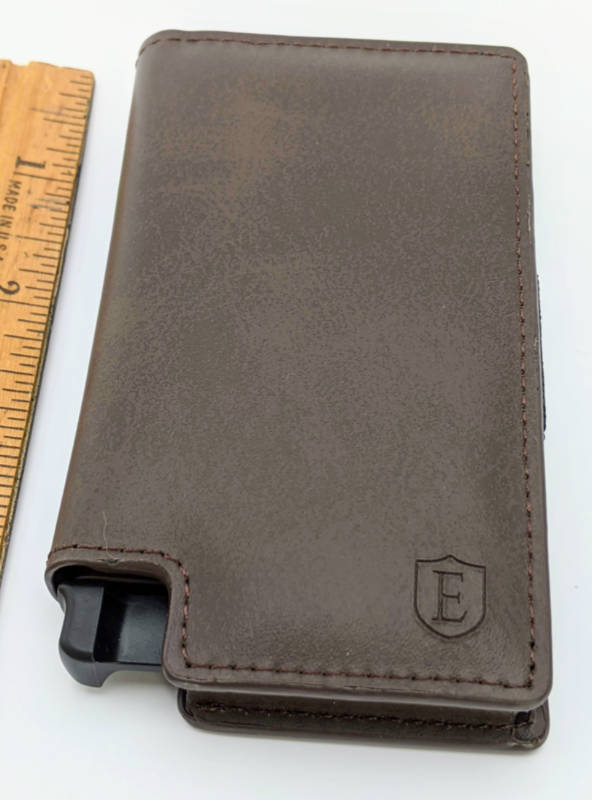 REVIEW- The Ekster Parliament wallet used to be a windshield. I wondered if I'd cut myself during this review but no fingers were harmed in the evaluation of this wallet. The Parliament is a bi-fold wallet made from polyvinyl butyral and an aluminum card case. That may not sound romantic but it looks pretty good. And the trigger at the bottom ejects cards upwards for selection and use.

I usually carry the Allett Nylon Original, which is the thinnest, lightest wallet I've used. It isn't beautiful after 5 years wear but the design of the card pockets is very functional and makes the wallet slim in any pocket.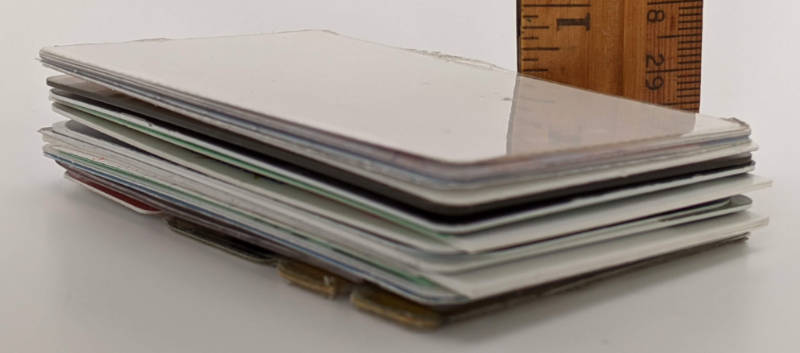 This many cards go in my Allett wallet and it's under 1/2″ thick at its widest point when closed.
This is not a head-to-head review but some comparisons may be useful. I will be objective and we'll see if the features of the new Parliament knock my old standard off its favored position. I gave the Parliament 10 days of use as my only, and every-day-carry wallet. (And I may carry it even longer.)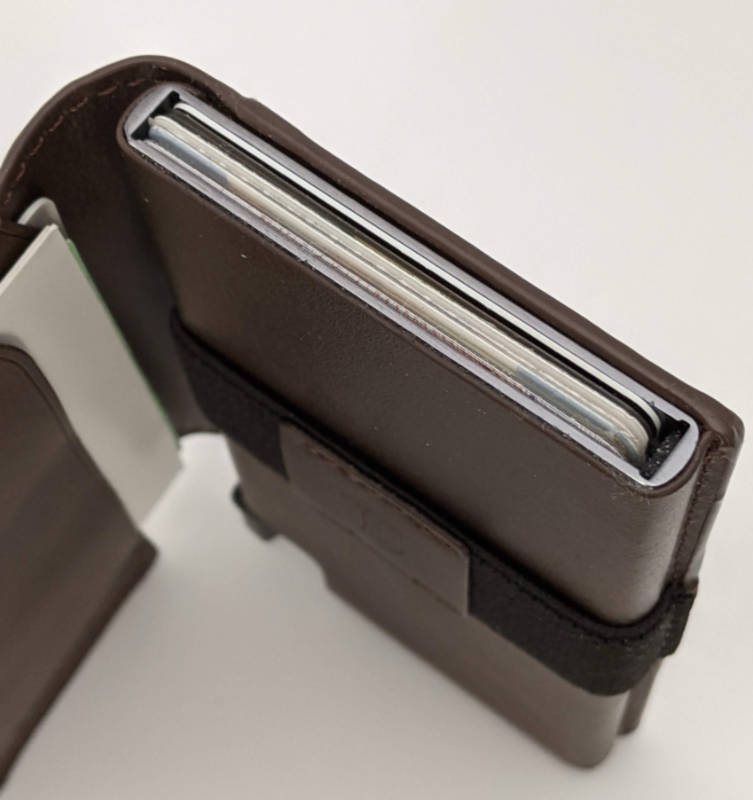 What is it
I have a hard time saying 'vegan leather' the same way I have a hard time saying 'almond milk'. (How do they milk almonds?) But that's the term Ekster uses for the stuff from which this wallet is constructed. The Parliament wallet from the 'Recycled Collection' is made from reclaimed automotive windshields instead of animal skin. There is PVB laminate in your windshield which keeps it from shattering into flying shards during a crash. Ekster found a way to reclaim and reuse the normally discarded material. I think that's great. The company claims the wallet is biodegradable (but hopefully not before you are finished using the product).
The aluminum main storage compartment is RFID protective.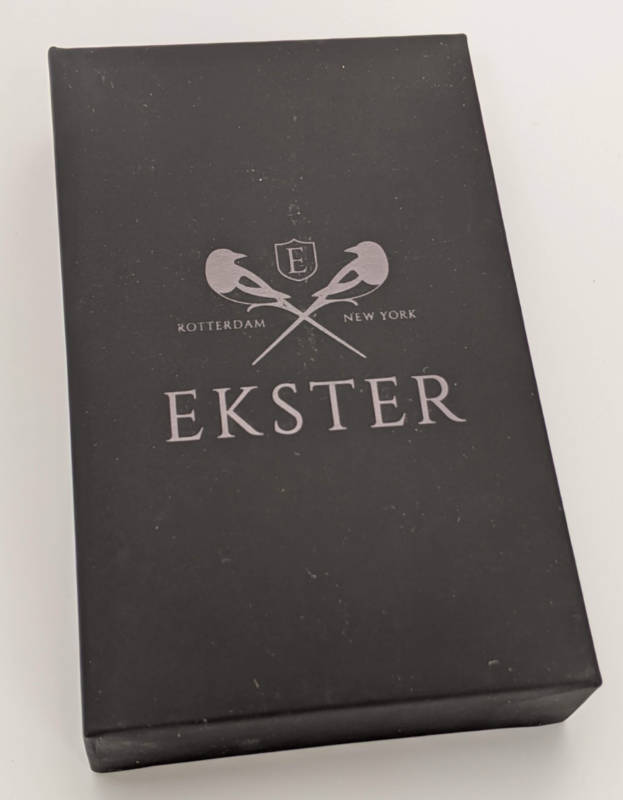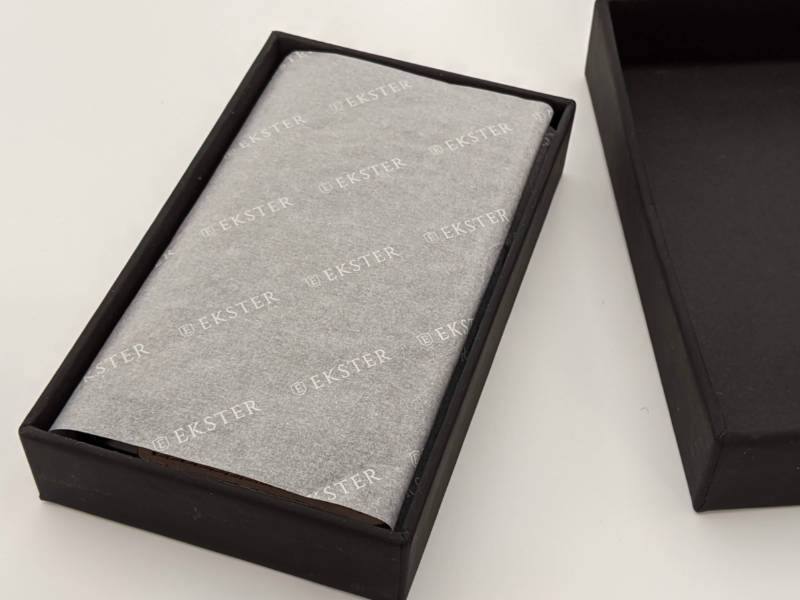 What's in the box
One Ekster Parliament wallet, 'Earth' color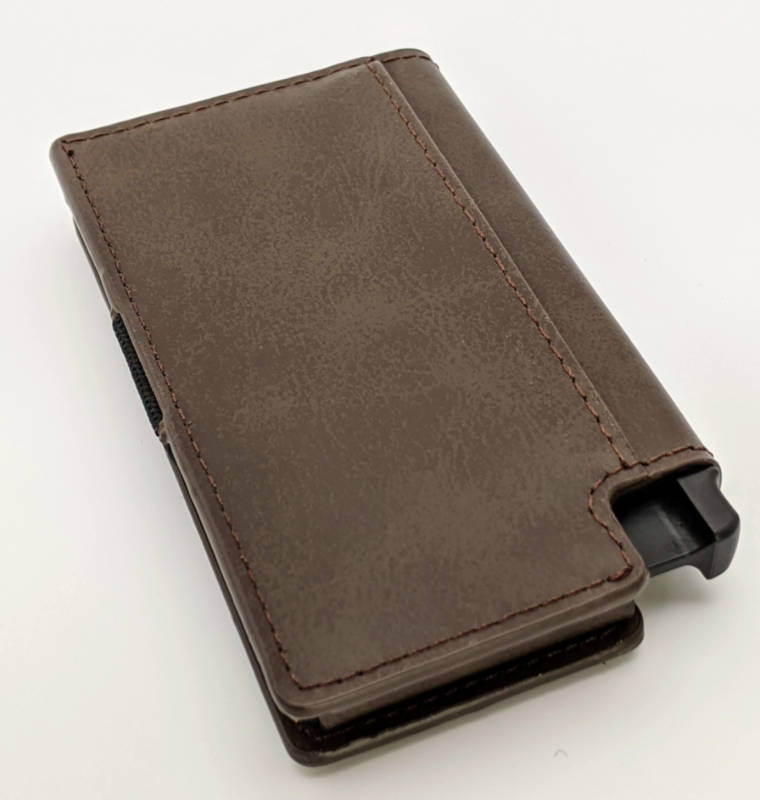 Specs
Weight empty: 2.8 oz (vs. Allett Original Nylon 0.7oz)
Weight loaded: 4 oz (variable per number of cards & cash)
Height: 4.38"
Width folded: 2.5"
Width open: 5.38"
Thickness: .75" at thickest point
Color: 'Earth' (medium brown)
Design and features
The Parliament has a card eject trigger that extends your stored cards upwards in a staggered configuration, enabling you to choose any of the cards you need to remove, without having to pull out the entire 6-7 and fan through them. This wallet could be a good fidget device, if you'd enjoy that therapy.
The trigger device that makes the cards come up is not spring loaded but more of a lever, so you're not going to shoot your cards across the room.
The Ekster website claims the Parliament holds "1-12 cards". Counting all of its spaces that should be correct. I was able to fit 7 cards into the main storage compartment, which is more in line with their online manual. Of my 7 cards, 4 of them are made of laminated paper or thin plastic. I could not fit 7 cards of credit card thickness in the main storage compartment. I placed one store membership card plus 3 business cards in the two folding flap front cover slots. There is an additional slot on the back of the Parliament for 1-3 more cards. An elastic band is inside for folded cash. The more you load that band and the slot in the inside of the cover, the thicker the wallet will be.
The company offers free returns within 30 days and a one year warranty to protect your wallet purchase.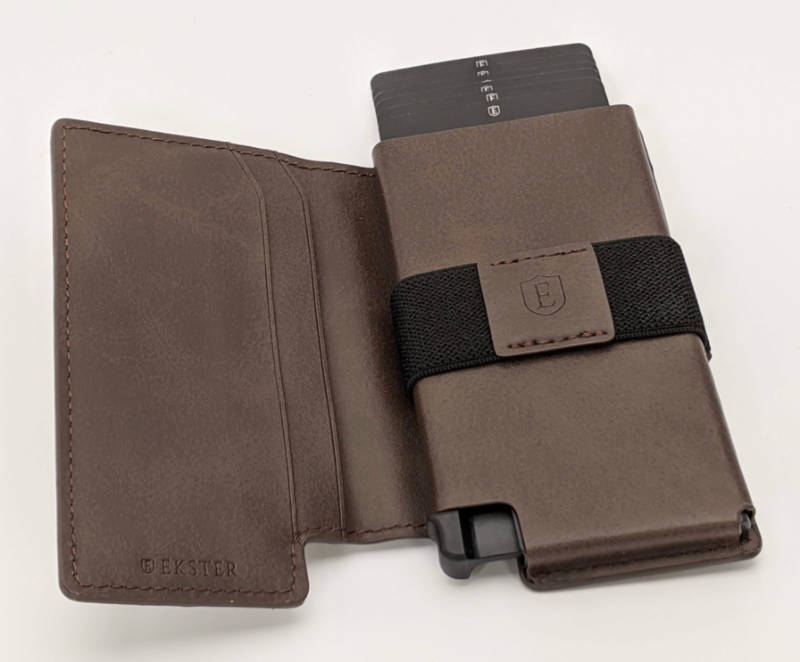 Setup
Press the eject button to extend the Ekster demonstration cards and remove them, but check out the information on them. Place your cards into the Parliament's main compartment, the inside cover slots, and back slot as you wish.
Testing and observations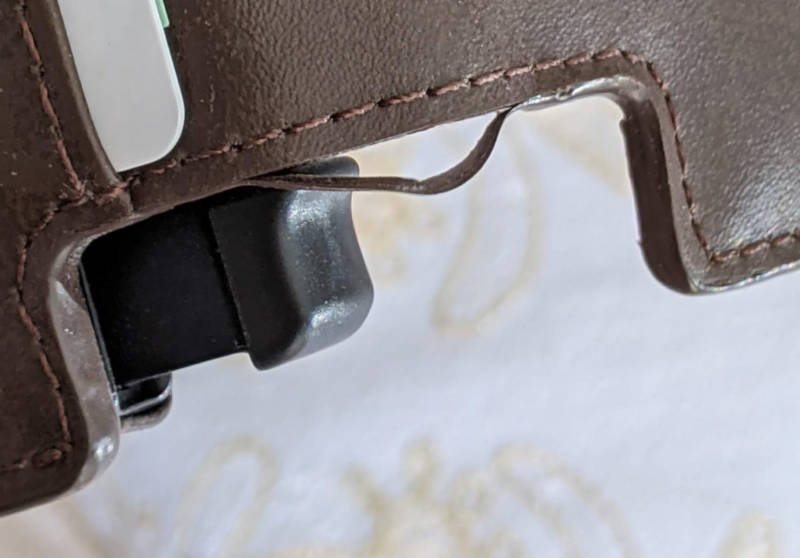 After four days use, the rubbery edge sealing material came loose and dangled at the bottom of the cover fold. On day nine the same thing happened at the top of the fold. I removed the loose material.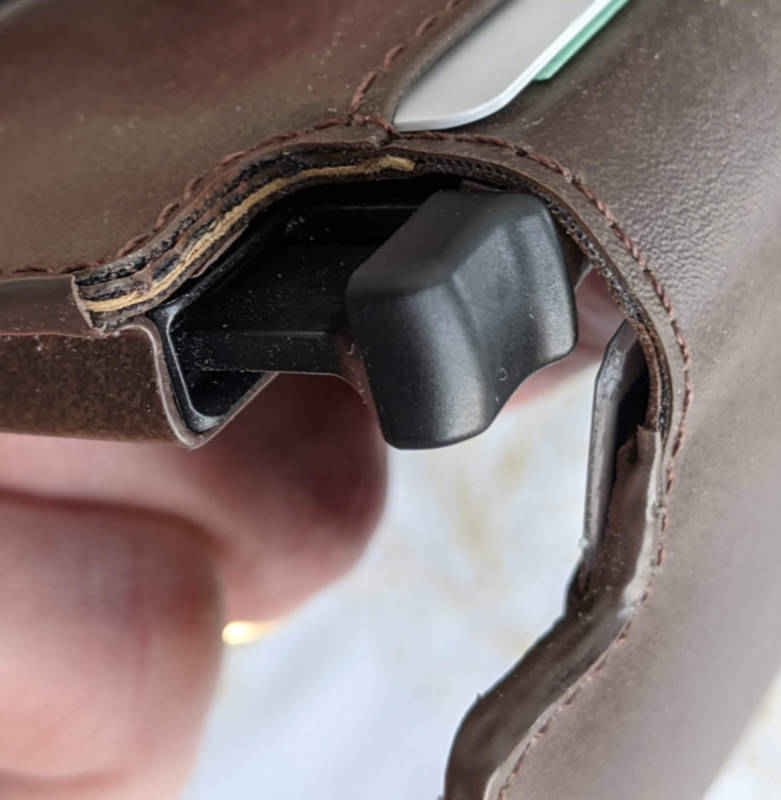 I may hide the unsightly edge next to the eject trigger by tinting it with a brown marker – – but then I'd be making cosmetic improvements to an $84 wallet with a brown marker!
I carry my wallet in a front pants pocket. In jeans, I often have my wallet in front of my cellphone in the same pocket. My Allett wallet and phone fit ok in the same jeans pocket.
The Parliament does not fit comfortably in my jeans pocket with my cellphone. Even the wallet by itself makes a noticeable protrusion at my thigh, although no one said they noticed. Your experience may be different.
With the Parliament in my back pocket, it was not comfortable when I was seated. I imagine it would cause wear in jeans or other slacks if carried in a back pocket due to the rigidity of the aluminum main card compartment. I'm a medium frame kind of guy so for me to sit on a wallet it has to be really flat. The Parliament could not be my back-pocket wallet. Maybe it could be back pocket carried if one is standing, or their pocket is large enough for the user to push the wallet towards the hip when seated.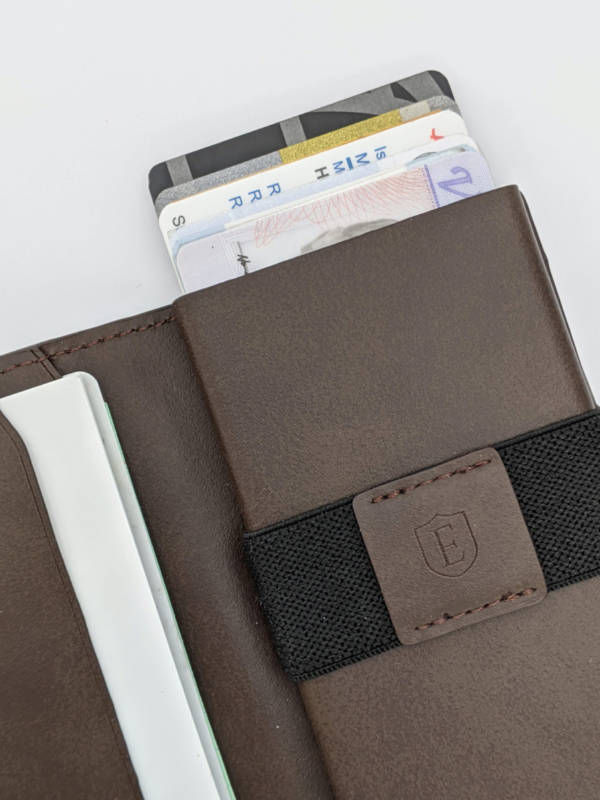 The card furthest back sits highest when the cards are ejected and that seemed the easiest to draw out quickly. I put my main credit card there. The laminated thin cards in the middle of my 7 in main storage were more difficult to quickly remove, so I usually pushed down cards I didn't need in order to grasp the one or two I needed to withdraw.
Since the Parliament edge material had already deteriorated, I removed the elastic cash band with a sharp knife, since I carry cash separately from my cards. The wallet was thinner with that strap gone and therefore more suitable for my style of carry.
What I like
The card eject mechanism is fun to use and convenient. Ekster's use of routinely discarded material is great. The Parliament's appearance seems almost as good as leather wallets and it develops a bit of a patina with use. The RFID protection is a super feature. This wallet grew on me and I started to like it more each day, especially with the cash strap gone.
What I'd change
The edge seal material certainly needs to be evaluated and refined.
A model with no cash strap might be attractive to some.
Until I removed the cash strap I found the Parliament to be thicker than I can comfortably use even when I decreased the number of cards I usually carry. To make the wallet thinner might limit its usefulness as it would require a decrease in the card capacity.
Would I spend $84 for a wallet? Not for myself. And wallet gift-giving is a dicey proposition. Wallets may be in a category with wedding rings or shoes – you need to be told which one to buy, and they really need to be tried by the user, for certainty.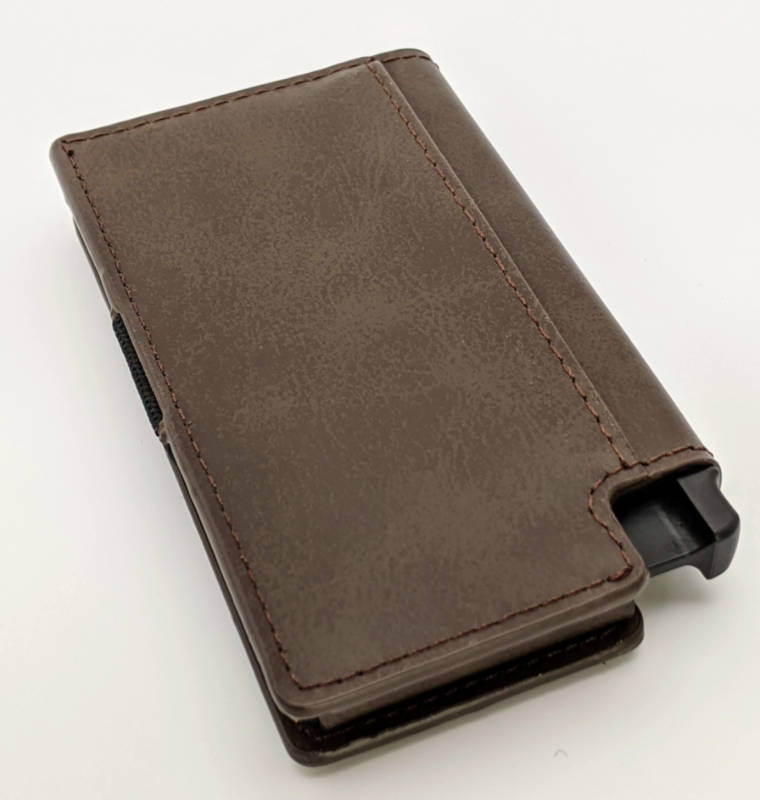 Final thoughts
The Parliament Recycled wallet may be suited for minimal card and cash carriers. It might work best as a front pocket wallet, or for those who'd keep it in a purse, backpack or briefcase. And you might like using the card ejection feature. The Ekster Parliament wallet has unique features including the recycled material construction and seems well made overall, except for the edge seal. If the configuration is to your liking the Parliament might be of interest. A leather version is available at a lower price.
Price: $84
Where to buy: ekster.com
Source: The sample for this review was supplied by Ekster.